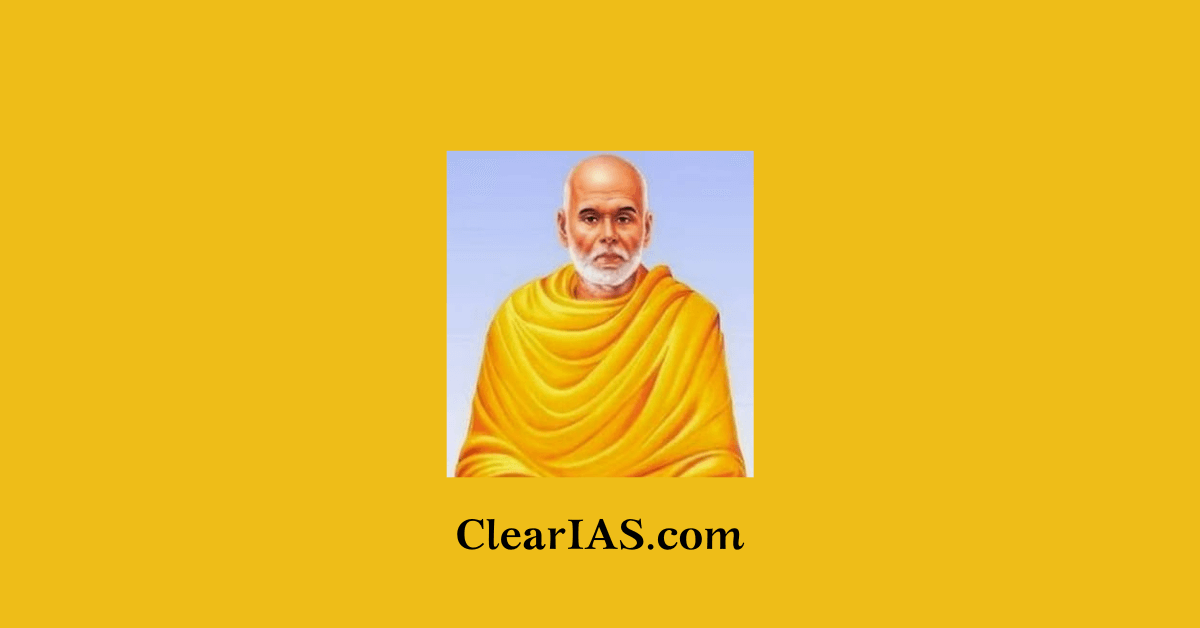 It is important to know about the fight of Sree Narayana Guru against the caste system for social equality in the caste-ridden Kerala society of the 19th and 20th centuries. Read this Article to know more about Guru and his message to the world.
In 1888, back in a day when only Brahmins were allowed to install idols, Narayana Guru visited Aruvippuram, a village located in the southern district of Thiruvananthapuram. He picked up a rock from Neyyar River and consecrated it as Lord Shiva. His reply to a group of agitated Brahmins who reached the spot the next day was "this is not a Brahmin Shiva, but an Ezhava Shiva". The Brahmins left tongue-tied. It was the turning point in a significant change in the social structure of the day.
Related link: Socio-religious movements in India
Who was Sree Narayana Guru?
Sree Narayana Guru is considered as a hero and prophet of the Kerala Renaissance. Born to Madan Asan and Kuttiyamma in an Ezhava family in 1856, in Chempazhanthy village near Thiruvananthapuram, he grew up to be a social reformer, philosopher, and educationist. The Guru, who was a scholar in Hindu philosophy and Sanskrit, dedicated his life to eradicating the social and economic backwardness of the Ezhavas and other underprivileged groups. He was born into an Ezhava family during a time when a caste-based society in Kerala severely oppressed members of such communities, known as Avarna.
Sree Narayana Guru has a vision of a world where all humanity is united. The Guru made efforts to get rid of whatever was preventing society and the human mind from anything that stood in the way of such. The Shiva idol on the stream made the first sound of that attempt in 1888. Those who see the statue only as a temple statue are unable to comprehend the act's conceptual underpinnings. It is committed to realizing the potential of philosophy to change people both internally and externally.
Important teachings of Sree Narayana Guru:
The Guru's great message that 'one caste one religion and one god is mankind' is the most discussed in society.
Vidya's purpose is to know and communicate, not to debate or win.
Whatever a man's religion may be, as long as it improves him as a person, it is acceptable.
When acting for one's own benefit, one should also consider others' needs.
Ask not, Say not Think not caste.
It is not right to be lazy.
Liquor is poison Make it not, Sell it not, Drink it not.
Whatever may be the difference in men's creed, dress, language, etc they all belong to the same kind of creation; there is no harm at all in their dining Together or having marital relations with one another.
Devoid of dividing walls of caste or race or hatred of rival faith we all live here in Brotherhood.
His contributions:
In order to give everyone, especially members of the lower caste and oppressed groups in society, the ability to practice their religion, the Guru went on to establish more than 40 temples throughout the state of Kerala.
The Guru also led the 'Vaikom Satyagraha' protest movement against caste discrimination, untouchability, and inequality.
In order to promote the virtues of cleanliness, education, devotion, agriculture, handicrafts, and trade, the Guru founded the Sivagiri foundation in 1924.
He dedicated a temple to Lord Shiva and placed a slab with the phrases Truth, Ethics, Compassion, and Love written on it. In Kerala's Aruvippuram hamlet, this was the first time a Hindu idol was ordinated by a non-brahmin, which set off an anti-caste movement against the upper-caste people.
In his poetry, he conveyed the essence of Indianness and emphasized the unity that underlies the world's seeming diversity.
He also founded an Advaita Ashram in Kalady.
He kept mirrors in place of idols in one of the temples he erected in Kalavancode. This represented his teaching that each person possessed a spark of the divine.
He wrote various books in different languages. A few of them are Advaitha Deepika, Asrama, Thevarappathinkangal, etc.
He was also known for his 'liberating humor'. Once when Guru was asked by a judge whether burning or burying was the right way to dispose of dead bodies, he replied, "Crush them in an oil press, they will make good manure." When the judge wailed, Guru asked him: "Why? Will it hurt?"
Conclusion:
The path to enlightenment and liberation, according to Guru, was modern education and learning English. However, it is saddening to see that Guru's writings still don't find a place in Kerala's syllabuses. To counter the propaganda and polarisation efforts of Hindutva groups, Kerala and the rest of India must treasure and celebrate the secular and pluralistic legacy of Narayana Guru.
We can perceive that Sree Narayana Guru, a pioneer in social work and philosophy, envisioned a future in which all people would live in harmony. Anything that was hindering society and the human mind was attempted to be removed by Sree Narayana Guru. The Guru also wanted to build a community that was above the bounds of caste and religion. Similarly, from this, we can understand religion and God from the perspective of Sree Narayana Guru. What Sree Narayana Guru says about religion in this article makes it abundantly evident that self-identification is every religion's ultimate objective.
Article written by: Krishnapriya JR