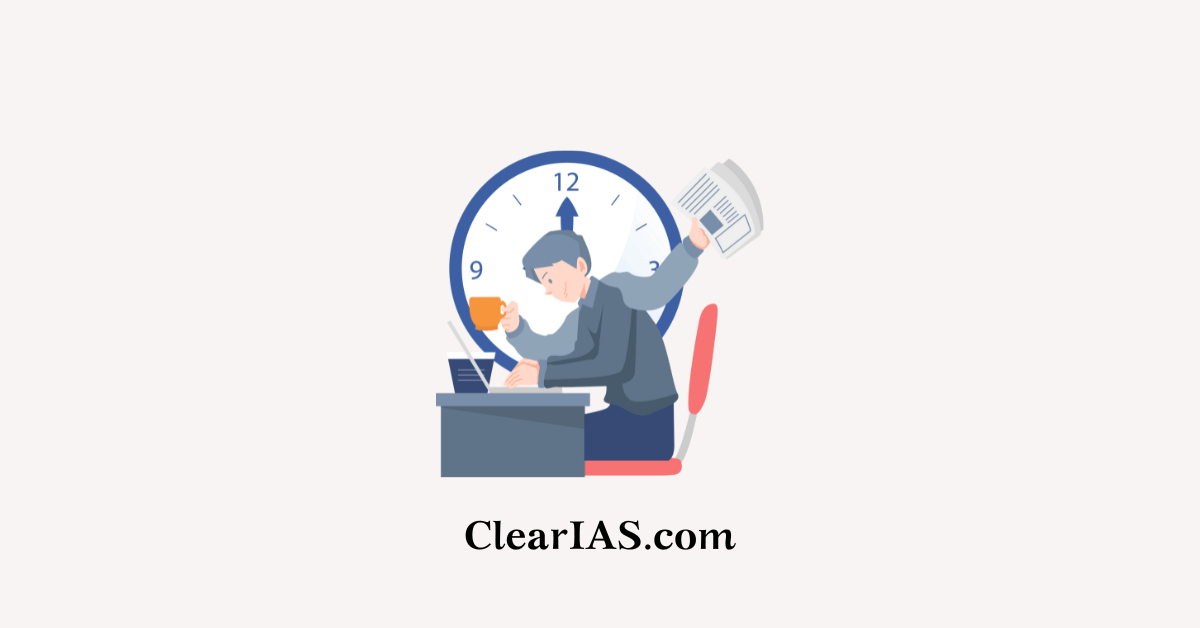 Step-by-step guide for effective time management strategy for UPSC Civil Services Exam (CSE) preparation.
UPSC (Union Public Service Commission) Civil Services Exam is one of the most prestigious and challenging examinations in India. It is arguably considered the toughest exam in India. Aspirants spend months, in some cases years, preparing for this highly competitive exam.
Because of the nature of the exam and the vastness of the syllabus, sometimes it becomes difficult for some aspirants to fulfill the demand of this exam on time.
This clearly indicates that one of the key elements of this exam that sets successful candidates apart is their ability to manage time effectively during the preparation phase.
Time Management Strategy for UPSC CSE Preparation
During the preparation of the UPSC IAS exam, time management is important for covering the vast syllabus, revising multiple subjects, and maintaining a balanced lifestyle.
In this article, we will discuss a detailed and easy-to-follow time management strategy for UPSC CSE exam preparation.
Understand the Syllabus and Exam Pattern
Before getting into any preparation strategy, it is important to familiarize yourself with the UPSC IAS exam syllabus and pattern.
The UPSC CSE exam consists of three stages: the Preliminary Examination (Civil Services Prelims), the Main Examination (Civil Services Mains), and the Personality Test (Interview).
Each stage has a specific syllabus, and understanding it thoroughly will help you plan your study schedule better.
Create a Study Plan
Developing a well-structured study plan is the foundation of effective time management. Start by allocating sufficient time to each subject and topic based on the syllabus and your strengths and weaknesses.
Break down the vast syllabus into smaller, manageable segments and set achievable daily, weekly, and monthly targets. Ensure that your plan allows for both, subject-wise study and time for revision and practice.
Prioritize Subjects and Topics
While preparing for the UPSC IAS exam, it is important to prioritize subjects and topics based on their weightage and relevance in the exam.
For example, topics like Indian Polity, History, Geography, and Current Affairs hold significant importance and should be given higher priority. Allocate more time to these subjects but ensure not to neglect others entirely.
Time Blocking Technique
Time blocking is an effective technique to manage your time efficiently. Allocate specific time blocks for studying different subjects or topics.
For example, you can dedicate the morning hours to subjects that require more focus and concentration, and the afternoon for revision or practicing mock tests. Stick to the allocated time blocks strictly to maintain consistency in your preparation.
Divide Hours of Study for Prelims and Mains Effectively
Preparing for both the Preliminary Examination (Civil Services Prelims) and the Main Examination (Civil Services Mains) requires a strategic approach to time management.
Each stage has different requirements, and allocating your study hours efficiently will ensure effective preparation.
Include Breaks and Leisure Activities
During the UPSC exam preparation, another factor to consider is avoiding burnout. Integrate short breaks in your study schedule to relax and revive your mind.
Keep yourself engage in leisure activities such as reading, sports, or hobbies to reduce stress. Take care of your mental and physical well-being for staying focused and productive.
Make Use of Technology and Online Resources
Due to the popularity of the exam, there are plenty of materials in the market, use technology and find the relevant ones to enhance your preparation.
Numerous online platforms offer UPSC study materials, test series, and video lectures. Utilize these resources to complement your preparation and save time in gathering study material.
However, ensure that you use trusted and reputable sources to avoid misinformation.
Set Realistic Goals
Set achievable goals for maintaining motivation and momentum during preparation. Be realistic about the amount of syllabus you can cover within a specific time frame.
Celebrate your achievements, no matter how small, and learn from any setbacks. Adjust your goals as you progress to align them with your strengths and weaknesses.
Test Yourself with Mock Exams
Taking mock tests is an integral part of UPSC IAS exam preparation. It not only helps you assess your knowledge and understanding but also familiarizes you with the exam pattern and time constraints.
Schedule regular mock tests and simulate the exam environment as closely as possible. Analyze your performance to identify areas that require improvement and focus on them during revision.
Emphasize Revision
Revision is the key to retaining information and strengthening your understanding of the subjects. Allocate a significant portion of your study plan to revision.
Create concise notes for quick review and revisit them regularly. During revision, focus on both static and current affairs topics to ensure comprehensive preparation.
Avoiding Information Overload
With the internet, there's so much information available, but not all of it is important for the exam. Choose wisely what you study and don't spend too much time on less important topics. Instead, focus on understanding the main subjects well.
Limit Social Media and Entertainment
While taking breaks is necessary, be careful not to spend too much time on social media and entertainment. They can take up a lot of time and distract you from your study plan.
Stay Consistent and Flexible
Consistency is essential for success in any endeavor, and UPSC IAS exam preparation is no exception. Stick to your study plan, follow the time blocks, and be disciplined in your approach.
However, it is also important to remain flexible and adapt to unforeseen circumstances or changes in your progress. Be open to making adjustments to your plan when necessary.
Conclusion
Effective time management is a skill that every UPSC aspirant should have. The journey of UPSC preparation is demanding, but with a well-structured study plan, prioritization, and consistent effort, it becomes achievable.
Remember that time management is not just about studying for long hours but also about maintaining a balanced lifestyle that supports your preparation. Stay focused, be disciplined, and believe in your abilities.
With determination and the right time management strategy, you can turn your UPSC IAS dream into reality. Good luck!
Article Written By Priti Raj