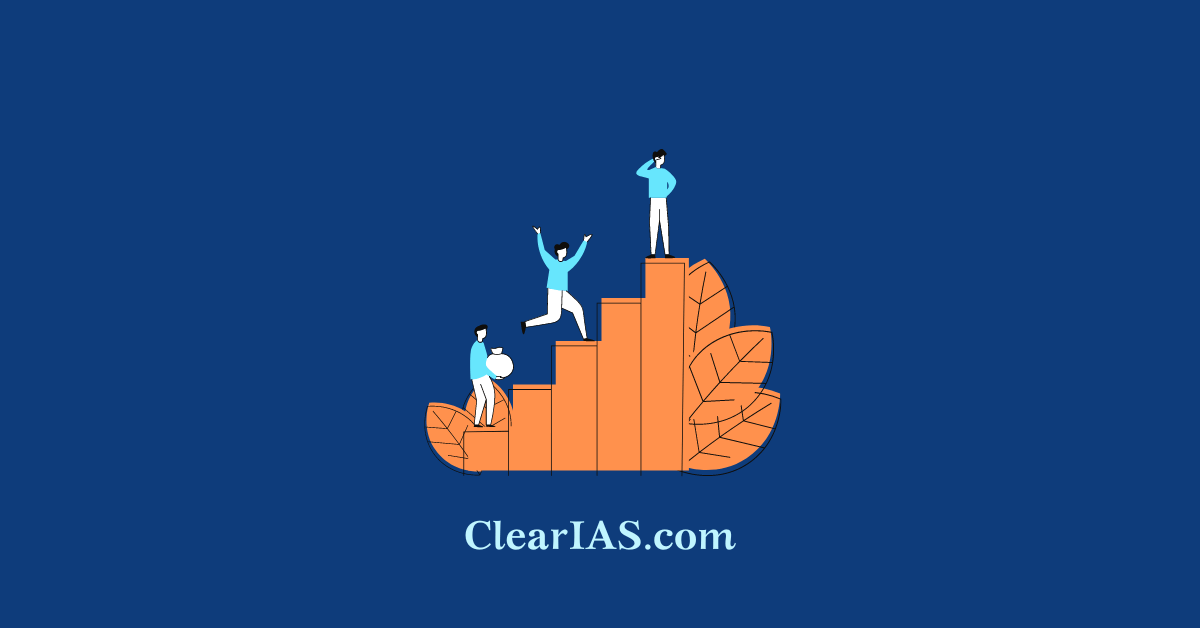 A list of toppers who cleared the UPSC exam in the first attempt. What makes them different from other candidates? Can anyone clear UPSC CSE in their first attempt?
"It always seems impossible until it's done". – Nelson Mandela
The UPSC CSE is a highly competitive and prestigious exam conducted by the Union Public Service Commission of India. It serves as the gateway to a wide range of administrative positions in the Indian government, including the Indian Administrative Service (IAS), Indian Police Service (IPS), and Indian Foreign Service (IFS), among others.
UPSC CSE exam is considered one of the toughest exams, yet achievable. Several factors are responsible for the success that makes one candidate ahead of another.
Always remember that the same paper is attempted by every person appearing in the exam still only a fraction of candidates succeed in getting a rank. These differences are nothing but the approach toward the examination of every candidate.
It is worth noting that every year there are candidates who have secured a job on their first attempt. These are those candidates who have shown dedication, perseverance, comprehensive preparation, the right guidance, and a thorough understanding of the exam throughout their journey.
List of Toppers Who Cleared UPSC in the First Attempt
Here we have mentioned a handful of selected candidates who succeeded in their first attempt. These people are a great source of inspiration and a pool of learning for the candidates appearing or willing to appear in the UPSC CSE exam.
| | | |
| --- | --- | --- |
| Name | Rank | Year |
| Divya Tanwar | 438 | 2022 |
| Siddharth Singh | 432 | 2022 |
| Satyam Gandhi | 10 | 2021 |
| Adarsh Kant | 149 | 2021 |
| Mamta Yadav | 556 | 2020 |
| Ananya Singh | 51 | 2019 |
| Neha Banerjee | 20 | 2019 |
| Kanishak Kataria | 1 | 2018 |
| Shreyans Kumat | 4 | 2018 |
| Srushti Jayant Deshmukh | 5 | 2018 |
| Koya Sree Harsha | 6 | 2017 |
| Saumya Sharma | 9 | 2017 |
| Dr. Neha Jain | 12 | 2017 |
| Anmol Sher Singh Bedi | 2 | 2016 |
| Saumya Pandey | 4 | 2016 |
| Kothamasu Dinesh Kumar | 6 | 2016 |
| Tina Dabi | 1 | 2015 |
| Artika Shukla | 4 | 2015 |
| Renu Raj | 2 | 2014 |
| Saketa Raja Musinipally | 14 | 2014 |
| Ananya Das | 16 | 2014 |
| Ajay Kumar Dwivedi | 17 | 2014 |
| C M Saikanth Varma | 18 | 2014 |
| Aman Mittal | 20 | 2014 |
| Bharti Dixit | 5 | 2013 |
| Roman Saini | 18 | 2013 |
| Amrutesh Aurangabadkar | 10 | 2011 |
| Shah Faesal | 1 | 2009 |
| Roopa Mishra | 1 | 2003 |
| Ankur Garg | 1 | 2002 |
| Sorabh Babu Maheshwari | 1 | 2000 |
| Bhawna Garg | 1 | 1999 |
What Makes Them Different from Other Applicants
Candidates who clear the UPSC exam in their first attempt often possess certain qualities and show specific characteristics that set them apart from others. Here are some factors that can contribute to their success:
Clarity of Goals
Successful candidates like them usually have a clear understanding of their career goals and aspirations. They hold a strong desire to serve the nation and make a positive impact through their administrative roles.
Diligent Preparation
First-attempt candidates typically approach the exam with a disciplined and focused mindset. They invest significant time and effort in comprehensive and systematic preparation, covering all the subjects and topics in the UPSC syllabus.
Effective Study Strategies
These candidates develop effective study strategies tailored to their strengths and weaknesses. They create a well-structured study plan, manage their time efficiently, and prioritize topics based on their importance and weightage in the exam.
Consistency and Persistence
Successful candidates maintain consistency in their preparation throughout the entire process. They stay committed to their study schedule, even during challenging times, and persistently work towards improving their knowledge and skills.
Adaptability and Flexibility
The ability to adapt to changing exam patterns and requirements is crucial. First-attempt candidates are often quick to adapt their strategies and study techniques based on the latest trends and updates in the UPSC examination.
Analytical and Problem-Solving Skills
The UPSC exam evaluates a candidate's ability to analyze complex issues and provide practical solutions. Successful candidates have strong analytical and problem-solving skills, allowing them to approach questions and scenarios from different perspectives.
Effective Time Management
Time management is vital in the UPSC exam, as candidates have to answer a large number of questions within a limited timeframe. First-attempt candidates are skilled at managing time during the exam, enabling them to allocate sufficient time to each section and question.
Confidence and Positive Attitude
Candidates who clear the exam in their first attempt often exhibit confidence and a positive attitude. These qualities one can easily analyze by going through some of their interviews. They believe in their abilities, stay motivated throughout the process, and maintain a calm and composed demeanour during the exam.
Can Anyone Clear UPSC Exam in First Attempt?
Yes, it is certainly possible for anyone to clear the UPSC exam in their first attempt. But it will require dedication, persistence, and discipline for a long time. While it is a challenging and highly competitive examination, candidates who possess the necessary skills, knowledge, and preparation can achieve success in their first attempt. Many candidates have accomplished this feat in the past, and it continues to happen in the future as well.
Clearing the UPSC exam in the first attempt requires a combination of factors such as diligent preparation, effective study strategies, consistent hard work, and a strong understanding of the exam. It also depends on the individual's aptitude, dedication, and ability to perform well under the pressure of the examination.
The importance of the right UPSC exam guidance cannot be overstated when it comes to succeeding in the first attempt. A knowledgeable and experienced mentor or guide can provide invaluable support and direction throughout the preparation journey. The right guidance also ensures that candidates adopt effective study strategies, time management techniques, and exam-solving approaches. With proper guidance, candidates can avoid common pitfalls, maintain motivation, and gain confidence in their abilities.
However, it's important to note that not being able to clear the examination in their first attempt does not necessarily mean that they do not possess these qualities. It just needs a harder approach toward its goal in a more focused manner. Never lose hope, always remember,
"We Must Accept Finite Disappointment, But Never Lose Infinite Hope."- Martin Luther King Jr.
Article Written By: Priti Raj