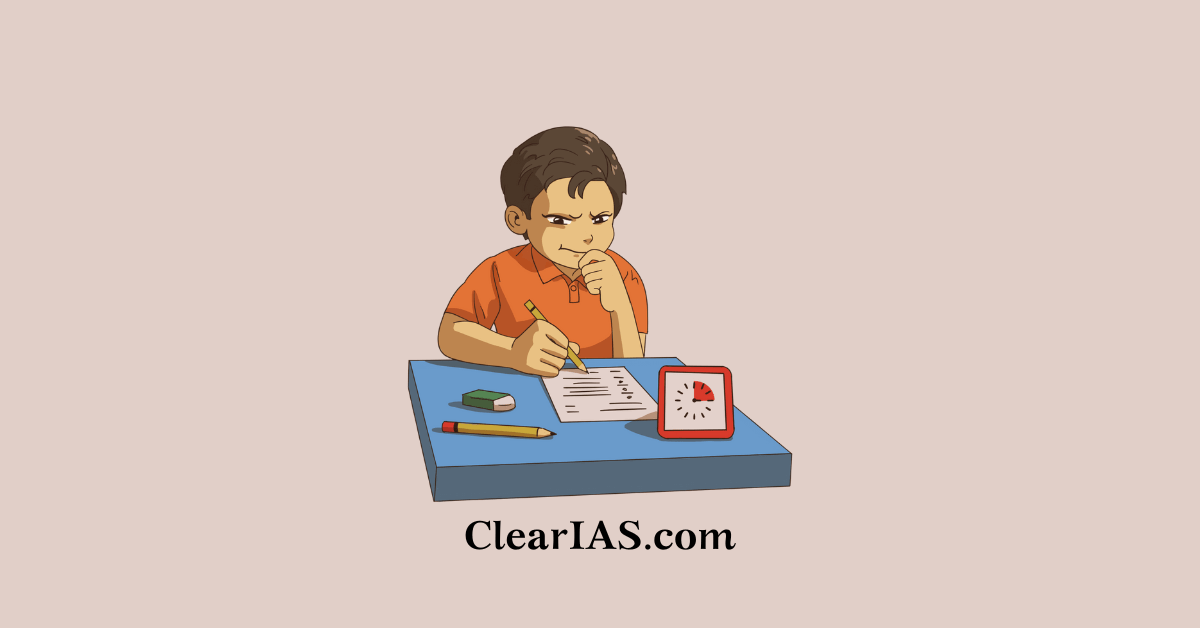 UPSC CSE: Importance of Mock Tests and Previous Year Papers. Let's understand the significance of mock tests and PYQs.
The Union Public Service Commission (UPSC) Civil Services Examination (CSE) is one of the most prestigious and competitive exams in India.
Every year, thousands of aspirants dream of becoming civil servants by clearing this examination, which consists of three stages: the Preliminary Examination, the Main Examination, and the Personality Test (Interview).
To succeed in this highly competitive exam, candidates need to adopt a well-rounded and strategic approach.
Two important aspects of success in the UPSC CSE are mock tests and the previous year's papers.
Understanding UPSC Civil Services Examination
Before we explore the significance of mock tests and previous year's papers, it is important to understand the UPSC CSE's structure and requirements.
The UPSC Civil Services Examination has a vast syllabus covering a wide range of subjects, including general studies, optional subjects, and essay paper.
The Preliminary Examination comprises two papers: General Studies Paper I and General Studies Paper II (also known as the Civil Services Aptitude Test or CSAT).
Once candidates qualify for the Prelims, they proceed to the Main Examination, which includes nine papers in total, comprising four General Studies papers, two optional subject papers, one essay paper, and two language papers.
The Personality Test/Interview is the final stage, where candidates face an interview panel.
Significance of Mock Tests for UPSC CSE
The mock test is the most important component of the UPSC CSE preparation. Let's understand the significance of mock tests for UPSC CSE:
Self-Assessment and Evaluation
Mock tests serve as an important self-assessment tool for aspirants.
They allow candidates to understand their level of preparation and identify their strengths and weaknesses in various subjects.
Regularly taking mock tests helps in understanding one's progress and areas that need improvement.
Time Management
Time management is a skill for the UPSC CSE, especially during the Preliminary Examination.
Mock tests help candidates to solve papers within the stipulated time limit.
Familiarity with Exam Pattern
Mock tests are designed to provide you with the actual examination experience, making an aspirant aware of the exam format, marking scheme, and question types.
This familiarity is invaluable for aspirants in reducing exam-day anxiety and building confidence.
Identifying Weak Areas
Through mock tests, candidates can find out their areas of weakness.
This information is helpful for aspirants in their preparation strategy and dedicating more time to subjects or topics that require improvement.
Revision and Retention
Regularly attempting mock tests also serves as a revision strategy.
It reinforces what candidates have learned and helps in better retention of information.
Significance of Previous Year Papers
Previous Year Papers are another important component of UPSC aspirant's preparation strategy. Let's understand the significance of PYQs for UPSC CSE.
Question Trends Analysis
Previous year's papers provide a great insight into the type of questions asked in the UPSC CSE.
With the help of PYQs, candidates can understand the ongoing exam pattern, subjects, and topics that UPSC asks, helping them focus their preparation effectively.
Realistic Expectations
Going through the previous year's papers provides candidates with a realistic expectation of what to expect in the actual exam.
This helps them prepare mentally for the examination.
Practice Brings Perfection
Solving previous year's papers is a practical way to apply the knowledge acquired during the preparation.
It tests a candidate's ability to recall information and apply it in a time-bound manner, similar to the actual exam.
Strategy Development
Analyzing previous year's papers helps candidates identify trends, such as the weightage of certain subjects or topics.
This information is invaluable in creating a focused study plan and choosing the prioritized areas.
Confidence Building
Successfully solving the previous year's papers can significantly boost a candidate's confidence.
It validates their preparation and allows them to see how far they've come in their journey.
Choosing the Best Mock Tests for UPSC CSE
It is very important for aspirants to choose the right mock test that can significantly boost their preparation level.
In this field, ClearIAS is a renounced name that helps aspirants in clearing the UPSC CSE exam by following a test-based approach which helps to reinforce your learning and eventually helps in your preparation.
ClearIAS now provides a mock test series for UPSC aspirants. Such tests are designed by keeping the ongoing trend in mind that provides aspirants most updated and relevant question sets.
Let's understand the relevance of the ClearIAS test series in detail:
ClearIAS mock tests cover the entire UPSC syllabus for both the Prelims and Mains examinations. Aspirants can choose from multiple options of subject-specific mock tests to customize their preparation.
After taking a mock test, candidates receive performance analytics as well, including a scorecard, and a subject-wise breakdown of their performance. This detailed feedback is paramount in identifying areas that need improvement.
Aspirants can compare their performance with that of thousands of other users on ClearIAS. This feature helps candidates understand their relative standing and motivates them to perform better.
ClearIAS mock tests are accessible 24/7 from any location with an internet connection, making them convenient for aspirants with busy schedules or those in remote areas.
Candidates can check ClearIAS Prelims cum Mains Online Course.
Conclusion
In the journey to clear the UPSC CSE, mock tests and previous year papers are the most important tools that guide aspirants in the right direction. These tools not only help candidates assess their level of preparation but also assist them in their time management and exam-taking skills.
Furthermore, they provide invaluable insights into the examination's trends and patterns, helping aspirants to develop a strategic approach. To maximize the benefits of mock tests and previous year papers, aspirants should incorporate them into their study routine from the early stages of preparation.
Article Written By: Priti Raj