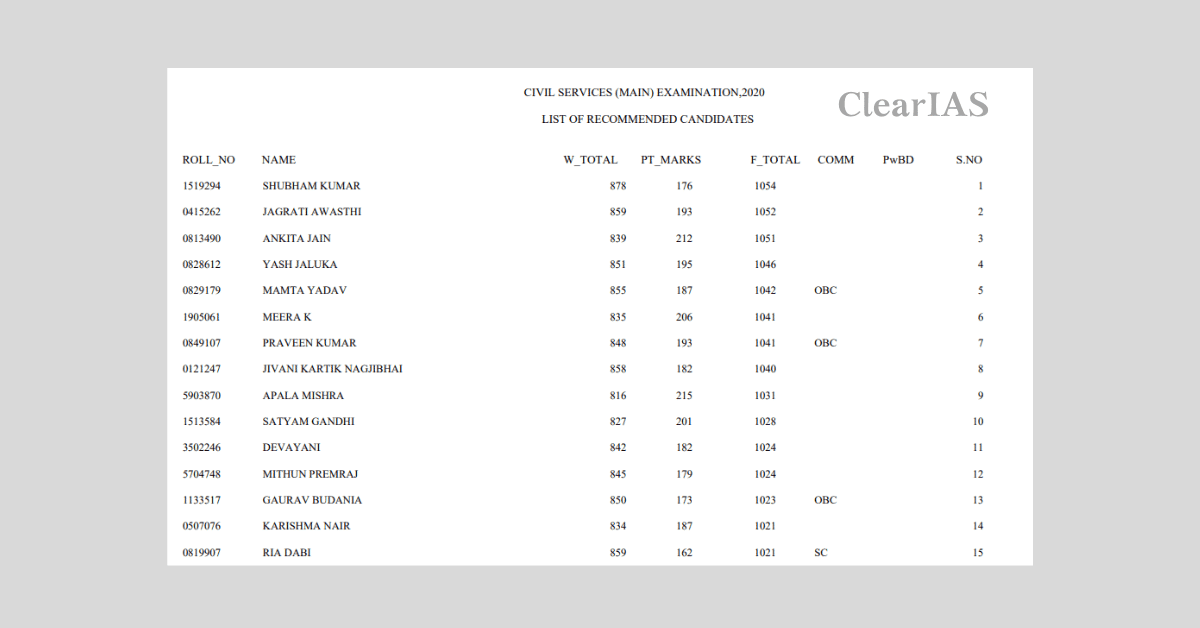 UPSC published the marks of candidates selected in CSE 2020. Know the UPSC Toppers Marks 2020.
Union Public Service Commission (UPSC) released the marks of candidates recommended for selection in Civil Services Examination 2020.
Overall Mains and Interview marks are now public.
The detailed mark sheet is also uploaded.
Rank 1 Shubham Kumar Secures 1054 Marks out of 2025
All India Rank 1 Shubham Kumar secured 1054 marks out of 2025. He got 878 marks in the Mains exam and 176 marks in the Interview.
Jagrati Awasthi finished 2 marks below the topper with 1052 marks.
UPSC Toppers: Marks of Recommended Candidates in UPSC CSE 2020
ROLL-NO NAME W-TOTAL PT-MARKS F-TOTAL COMM PwBD S.NO
1519294 SHUBHAM KUMAR 878 176 1054 1
0415262 JAGRATI AWASTHI 859 193 1052 2
0813490 ANKITA JAIN 839 212 1051 3
0828612 YASH JALUKA 851 195 1046 4
0829179 MAMTA YADAV 855 187 1042 OBC 5
1905061 MEERA K 835 206 1041 6
0849107 PRAVEEN KUMAR 848 193 1041 OBC 7
0121247 JIVANI KARTIK NAGJIBHAI 858 182 1040 8
5903870 APALA MISHRA 816 215 1031 9
1513584 SATYAM GANDHI 827 201 1028 10
3502246 DEVAYANI 842 182 1024 11
5704748 MITHUN PREMRAJ 845 179 1024 12
1133517 GAURAV BUDANIA 850 173 1023 OBC 13
0507076 KARISHMA NAIR 834 187 1021 14
0819907 RIA DABI 859 162 1021 SC 15
0819435 ARTH JAIN 853 168 1021 16
6305704 SARTHAK AGRAWAL 822 195 1017 17
7804829 RADHIKA GUPTA 838 179 1017 18
0833045 SHASHWAT TRIPURARI 852 165 1017 19
1019374 P SRIJA 831 184 1015 OBC 20
0828175 VAISHALI JAIN 835 177 1012 21
7000714 NITESH KUMAR JAIN 805 206 1011 22
6306505 SADAF CHOUDHARY 804 206 1010 OBC 23
5905716 KRISHAN KUMAR SINGH 801 209 1010 24
7100243 VAIBHAV RAWAT 814 195 1009 25
0812086 PULKIT SINGH 819 190 1009 26
1011243 MAITHREYI NAIDU 802 206 1008 27
2625904 DIVYA MISHRA 848 160 1008 28
5400358 PRAKHAR KUMAR SINGH 803 204 1007 SC 29
1140688 DIVYANSHU CHOUDHARY 800 206 1006 30
0850367 Y MEGHA SWAROOP 821 184 1005 31
0834359 RALLAPALLI JAGAT SAI 804 200 1004 32
5605903 NARAYANA SARMA V S 798 206 1004 33
3523891 SIMRANDEEP SINGH 833 171 1004 34
6314095 APARNA RAMESH 825 179 1004 35
6605825 JOSHI MRUNALEE AVINASH 808 195 1003 36
6600314 NARWADE VINAYAK KARBHARI 791 212 1003 37
0801725 VARUNA AGRAWAL 832 171 1003 38
0235299 SRIJAN VARMA 824 179 1003 39
0820057 ANANT DWIVEDI 820 182 1002 40
1203971 ASWATHY JIJI 815 187 1002 OBC 41
0826660 POOJA GUPTA 822 179 1001 42
6310040 KANISHKA 795 206 1001 43
2611884 DIVYANSHU NIGAM 828 173 1001 44
0848437 ANIL BASAK 814 187 1001 SC 45
7802027 JUBIN MOHAPATRA 805 193 998 46
0833402 VINAYAK CHAMADIA 825 173 998 47
5000686 SAI MANASA NC 819 179 998 48
6504977 RAJAT RAVINDRA UBHAYKAR 792 206 998 49
0242525 ABHISHEK SHUKLA 816 182 998 50
0832197 NISHA 818 179 997 51
0846320 ASHISH KUMAR MISHRA 824 173 997 52
0411530 AHINSA JAIN 833 163 996 53
2601392 VIDHU SHEKHAR 827 169 996 54
4121598 UTKARSH KUMAR 825 171 996 55
5904695 JAYANT NAHATA 800 195 995 56
1905118 VEENA S SUTHAN 830 165 995 OBC 57
6414165 FAIZAN AHMED 805 190 995 OBC 58
1114379 JAYANT SINGH RATHORE 813 182 995 59
0802626 PARIKSHIT THOUDAM 805 190 995 OBC 60
1420371 SHAILJA PANDEY 801 193 994 61
1905919 APARNA M B 812 182 994 62
1912075 DHEENAH DASTAGEER 799 195 994 63
2611724 SHIVAKSHI DIXIT 822 171 993 64
6308521 PRANAV VIJAYVERGIYA 817 176 993 65
1015924 ANISHA SHRIVASTAV 791 201 992 66
0820746 VASU JAIN 805 187 992 EWS 67
0227334 APURVA TRIPATHI 805 187 992 68
3526793 AKSHITA GUPTA 810 182 992 69
0809926 SALONI VERMA 790 201 991 70
0852793 LAXMAN TIWARI 848 143 991 EWS 71
1121845 DHRUV KHADIA 830 161 991 SC 72
1134380 KALPESH KUMAR SHARMA 826 165 991 73
3530554 AAYUSH GUPTA 781 209 990 74
1030523 DEVAGUDI MOUNICA 792 198 990 75
3510779 RAHUL DEV BOORA 797 193 990 76
0331265 AKSHAY SIMHA K J 778 212 990 77
2107398 SRISHTI SINGH 836 154 990 OBC 78
0602626 SUBHANKAR BALA 784 206 990 79
0860685 ISHANT JASWAL 813 177 990 OBC 80
0819955 SHAVYA GOYAL 774 215 989 81
0810739 SARTHAK CHOUDHARY 802 187 989 82
1000122 KAVALI MEGHANA 796 193 989 SC 83
1132553 RAVI KUMAR 827 162 989 ST 84
1135829 AYUSHI JAIN 802 187 989 85
0809180 GARIMA NAUTIYAL 782 206 988 86
6400379 RICKEY AGARWAL 806 182 988 87
0821190 VIDITA DAGAR 819 168 987 88
0801843 KRITI CHACHRA 799 187 986 EWS 89
0403743 PRAKHAR JAIN 802 184 986 EWS 90
0850789 ANMOL MITTAL 777 209 986 91
5805379 ADITYA 803 182 985 92
7603033 CHALLAPALLE YASWANTHKUMARREDDY 820 165 985 93
4912772 AAKASH SHRISHRIMAL 806 179 985 94
6618708 MAHAMUNI VINAYAK PRAKASHRAO 812 173 985 OBC 95
6619605 AMRIT JAIN 801 184 985 96
5801473 AISHWARYA SINGH 806 179 985 97
0859920 AYUSH GUPTA 814 171 985 98
5918612 SONU BHATT 791 193 984 OBC 99
2002449 PRASSANNAKUMAR V 791 193 984 100
5803638 DIVYA AKHAURI 794 190 984 101
3517714 RAJESH KUMAR MOHAN 800 184 984 102
0802755 ANMOLAM 812 171 983 103
1107621 RISHABH KUMAR REWAR 804 179 983 OBC 104
0858184 ARCHIT VIRENDRA CHANDAK 821 162 983 105
6900321 KRATI RAJ 798 184 982 OBC 106
0844658 SHUBHANK MISHRA 800 182 982 107
4005181 SHUNMUGA VALLI E G 836 146 982 108
1525618 NIDHI THAKUR 772 209 981 109
0830706 ARCHANA KUMARI 814 167 981 OBC 110
1143613 KHUSHBOO LATHER 804 176 980 111
5813508 ADITYA 815 165 980 OBC 112
1908275 ARYA R NAIR 815 165 980 113
0851400 DALJEET KUMAR 800 179 979 SC 114
0321713 YATISH R 792 187 979 OBC 115
0108398 VAIDYA VALAY ANKITKUMAR 791 187 978 116
1111814 NISHA 793 185 978 OBC 117
6306481 DEEPAK AGGARWAL 795 182 977 118
6301430 HARSHITA 768 209 977 119
6205445 BADDELI CHANDRAKANTH REDDY 793 184 977 120
7301630 K M PRIYANKA 782 195 977 121
0833521 ANSHUL JAIN 823 154 977 122
6110783 ARVIND KUMAR SHAH 806 171 977 OBC 123
0407368 KARTIK SHROTRIYA 775 201 976 124
6409713 MD MANZAR HUSSAIN ANJUM 789 187 976 OBC 125
5601106 SWATHI SREE T 792 184 976 126
5104523 M V N V LAKSHMI SOUJANYA 811 165 976 OBC 127
2603829 KUNWAR AKASH SINGH 799 176 975 128
6408382 SHAHID AHMED 784 191 975 OBC 129
7305116 NISCHAY PRASAD M 780 195 975 130
0860418 VIVEK ARYA 799 176 975 OBC 131
0835760 LAKSHAY KUMAR CHOWDHURY 798 176 974 132
6417967 SHUBHAM KUMAR KHANDELWAL 812 162 974 133
1038446 RICHA KULKARNI 788 185 973 134
1911513 MALINI S 805 168 973 135
0227520 ANSHIKA VERMA 796 176 972 136
3809246 KANDARKAR KAMALKISHOR DESHBHUS 812 160 972 OBC 137
1311770 DUGAD DARSHAN PRAKASHCHAND 815 157 972 138
0843833 HIMANSHU GUPTA 770 201 971 EWS 139
3527570 MEHAK MITTAL 781 190 971 140
1700399 VYOM BINDAL 806 165 971 141
0506978 SHAHANSHA K S 770 201 971 OBC 142
1907480 DEVI P 784 187 971 143
1539042 PRASHANT KIRAN 770 201 971 144
1910924 ANANTH CHANDRASEKHAR 758 212 970 145
3402111 SUCHITER SHARMA 786 184 970 146
1902236 A B SILPA 777 193 970 147
1211189 PONMANI N 797 173 970 SC 148
2608054 ADARSH KANT SHUKLA 788 182 970 149
1901811 MINNU P M 791 179 970 OBC 150
0869525 SHREY SHASHANK 796 173 969 151
1140279 RAKESH KUMAR 779 190 969 OBC 152
0411222 SHUBHAM AGRAWAL 804 165 969 153
0862960 RAHUL L NAIR 779 190 969 154
4123655 RITVIK SRIVASTAVA 801 168 969 155
1904951 ANCHU WILSON 787 182 969 OBC 156
1205797 CATHERINE SARANYA A 796 173 969 OBC 157
2629288 ANJALI VISHWAKARMA 785 184 969 158
0631551 MAYURI MUKHERJEE 804 165 969 159
0864051 ANANYA 786 182 968 160
1406123 NEEHARIKA TOMAR 784 184 968 161
0506764 SATAM NAOMI DASHARATH 775 193 968 162
1913100 SREETHU S S 784 184 968 163
3520121 ROHAN JHA 767 201 968 164
1410227 NARENDRA RAWAT 792 176 968 OBC 165
0419636 AVHAD NIVRUTTI SOMNATH 811 157 968 OBC 166
0828777 ABHISHEK KHANDELWAL 797 171 968 EWS 167
1102114 VAGISHA JOSHI 804 164 968 168
5902644 HARSHIKA SINGH 780 187 967 OBC 169
0859431 RALLAPALLI VASANTH KUMAR 824 143 967 170
6309202 SRISHTI GUPTA 785 182 967 171
1406930 UTKARSHA 802 165 967 172
6400922 LOKESH YADAV 807 160 967 OBC 173
6605665 KASHYAP PARTH JAGDISH 780 187 967 174
0825478 ROMIL SINGH DONK 791 176 967 OBC 175
5808046 SHREYA SINGHAL 760 206 966 EWS 176
6610926 JUIKAR PRATIK CHANDRASHEKHAR 773 193 966 OBC 177
0809800 ABHILASHA SHARMA 757 209 966 178
2640595 RISHI KUMAR 787 179 966 179
4400058 WAIKHOM NYDIA DEVI 792 173 965 OBC 180
1215108 PRIYANGA R A 772 193 965 OBC 181
6611219 SALUNKHE GAURAV RAVINDRA 772 193 965 OBC 182
6625756 DHUMAL PRATIK ASHOK 811 154 965 OBC 183
0831894 ANKIT KUMAR VERMA 786 179 965 184
6300539 KUNAL YADAV 797 168 965 OBC 185
0845280 SANDEEP KUMAR 808 157 965 186
6309770 NISHA 808 157 965 OBC 187
0807658 ASHISH GANGWAR 791 173 964 OBC 188
5914567 GAURAV SINGH 777 187 964 189
6007402 AVINASH KUMAR 799 165 964 190
6504188 ISHA SINGH 770 193 963 191
0820475 GAURAV AGRAWAL 792 171 963 192
0865210 SONAKSHI SINGH 784 179 963 OBC 193
5300257 RINA PRADHAN 773 190 963 OBC 194
0314308 RAVIRAJ AWASTHI 798 165 963 195
4104034 SHUBHAM MOHANKA 797 165 962 196
6304555 NAMAN KUMAR 791 171 962 197
0809646 DIVYANSHU TIWARI 786 176 962 198
6608567 NITISHA SANJAY JAGTAP 783 179 962 199
1110756 MUKUND TIBREWAL 783 179 962 200
5408468 DEWANSH PANDEY 783 179 962 201
0839330 KAJAL 794 168 962 202
6412170 MOHAMMAD AAQUIB 783 179 962 EWS 203
0321358 SIRIVENNELA 786 176 962 204
6303707 CHIRAG JAIN 796 165 961 205
5404840 AYUSH PANDEY 768 193 961 206
1033356 V SANJANA SIMHA 804 157 961 207
0820875 DEEKSHA 806 154 960 208
1902207 K PRASAD KRISHNAN 788 172 960 209
3515649 JAYANT PURI 792 168 960 210
1210900 GOBBILLA VIDYADHARI 773 187 960 OBC 211
0122053 SHANTANU KUMAR JHA 784 176 960 212
0502056 NIRJA ANISH SHAH 753 206 959 213
6300685 PRATIBHA DAHIYA 788 171 959 214
0815568 ISHAN GUPTA 797 162 959 215
0414589 KRISHAN LALCHANDANI 786 173 959 216
1210783 SHAHNAZ I 786 173 959 OBC 217
1022056 KANKANALA RAHUL REDDY 779 180 959 218
5108853 SOMA SEKHAR APPARAO KOTARU 775 184 959 OBC 219
0836171 SHIV NARAYAN SHARMA 796 162 958 EWS 220
0839363 SHASHREK AMBARDAR 754 204 958 221
5415192 SANCHIT GANGWAR 774 184 958 OBC 222
6906232 ASHUTOSH SHRIVASTAVA 787 171 958 EWS 223
0410812 DESAI TUSHAR UTTAM 776 182 958 224
0807575 WASEEM AHMAD BHAT 774 184 958 225
1502698 ASHISH 782 176 958 226
5808420 SHIVAM UPADHYAYA 801 157 958 227
6701206 SAISHA RAJ ORKE 756 201 957 SC 228
7800585 SUMIT KUMAR SINGH 786 171 957 EWS 229
0806663 WAGEESH SHROTRIYA 773 184 957 230
3504855 VINEET AHLAWAT 799 158 957 231
0400024 SHUBHAM BAJAJ 744 212 956 232
0854146 HARSH PARASHAR 755 201 956 233
2107985 BUSHARA BANO 763 193 956 234
3906903 SHRINIVAS M P 758 198 956 235
6501822 PRATHAMESH ARVIND RAJESHIRKE 763 193 956 EWS 236
7002755 DILPREET SINGH 780 176 956 237
1105127 DIKSHA 788 168 956 238
5912088 ARPIT SANGAL 788 168 956 239
0333076 ABHISHEK KUMAR SINGH 788 168 956 240
0208376 SHUBHAM MAURYA 802 154 956 OBC 241
7703594 ANSHUMAN YADAV 785 171 956 242
0817990 SAAHIL KHARE 791 165 956 243
5203187 PURVI NANDA 762 193 955 244
1411419 SAUREESH SAHAI 801 154 955 245
7103876 SUNIL 782 173 955 OBC 246
6314925 ANNAPURNA SINGH 754 201 955 247
0325170 SHOBHIKA PATHAK 795 160 955 248
5901617 RADHIKA SURI 766 188 954 249
1912537 THASNI SHANAVAS 766 188 954 OBC 250
5917104 AKSHITA SRIVASTAVA 748 206 954 251
0328570 ANIRUDH R GANGAVARAM 770 184 954 252
2620685 VAIBHAV JINDAL 775 179 954 253
1024402 AJESH SINGH SENGAR 764 190 954 254
7305066 SURAJ D 759 195 954 255
1901926 RESHMA A L 764 190 954 OBC 256
1907658 ARJUN K 781 173 954 257
0851994 SURYA PRATAP SINGH 772 182 954 OBC 258
6311971 RINKU 781 173 954 EWS 259
0105791 ANKITSINGH RAJPUT 800 154 954 260
3534869 SHIVIA HANGLOO 766 187 953 261
0869396 PUKHRAJ KAMAL 777 176 953 262
6600637 SHIKHAR CHOUDHARY 791 162 953 263
0820713 ANUJ SHARMA 788 165 953 264
0864046 ANKUSH MANGAL 806 147 953 265
1302148 WAGHE SANKET BALWANT 746 206 952 EWS 266
2639736 UTSAV PRASAR 759 193 952 267
0813045 NITISH RAJORA 772 180 952 SC 268
1301954 SHREYANSH SURANA 765 187 952 269
1006790 MD HARIS SUMAIR 773 179 952 OBC 270
0833531 ABHISHEK KATIYAR 807 145 952 OBC 271
0848519 SELVAVINODHINI V 797 155 952 272
5103826 DHEERAJ KUNUBILLI 784 168 952 OBC 273
0803989 ABHISHEK VASHISHTHA 809 143 952 274
3523545 SHRUTI BANSAL 794 157 951 275
5916366 PRIYA YADAV 780 171 951 OBC 276
5807699 MEGHNA JAIN 791 160 951 277
0414569 NITISH AGARWAL 773 178 951 278
0844592 ARPIT JAIN 786 165 951 EWS 279
1034400 ARUN BALGOTRA 780 171 951 280
7812479 RISHABH RUNWAL 791 160 951 281
6414021 ALTAMASH GHAZI 780 171 951 282
0860842 AHMED HASANUZZAMAN CHOUDHURY 769 182 951 283
1105771 MAYUR KHANDELWAL 788 163 951 284
0848592 SHANU DIMRI 777 173 950 285
0841099 NIDHI 796 154 950 286
6309789 NITISH GUPTA 779 171 950 287
0808702 VIJAY WARDHAN 785 165 950 EWS 288
1034203 NARAYAN AMIT MALEMPATI 763 187 950 289
0843992 SANDEEP RAJORIYA 782 168 950 290
0109904 ATUL TYAGI 782 168 950 291
5417903 ABHILASHA KOUR 779 171 950 EWS 292
1912886 C B REX 799 151 950 293
6416311 SIDDHARTH DHAPOLA 823 127 950 294
6418209 PRINCE KUMAR 777 173 950 295
2627999 RAHUL KUMAR DUBEY 767 182 949 296
0811573 ARPIT CHAUHAN 784 165 949 297
0844684 NIKHIL AGARWAL 784 165 949 298
1900398 ALEX ABRAHAM P J 792 157 949 299
7305017 THEJAS U P 792 157 949 300
6602784 SAURABH GOYAL 770 179 949 301
0811393 ABHIJEET SIROHI 775 173 948 302
4125695 HARSHA PRIYAMVADA 758 190 948 303
0631763 ARUNEESH SHUKLA 788 160 948 304
5803801 AASHISH MADANLAL RAWLANI 761 187 948 305
1403250 TUSHAR MEHRA 769 179 948 306
1900240 MERLIN C DAS 747 201 948 OBC 307
6307757 SHELLY 764 184 948 308
5202122 PREKSHA JAIN 780 168 948 309
1906939 ALFRED OV 761 187 948 310
1906444 S GAUTHAM RAJ 764 184 948 311
0513137 DARADE PARMANAND PRAVIN 769 179 948 OBC 312
2206975 AYUSH MAURYA 761 187 948 313
3531167 RUPINDER KAUR 775 173 948 SC 314
0830307 ADITYA SINGH CHAUHAN 791 157 948 315
0837684 SARA ASHRAF 786 162 948 OBC 316
1032412 P GOUTHAMI 775 173 948 OBC 317
0600206 INDRASHIS DATTA 796 151 947 318
6300142 SHREYA TYAGI 754 193 947 319
0866861 SHASHVAT SANGWAN 779 168 947 320
3518290 ANKITA PUWAR 782 165 947 321
1128629 AKASH CHOUDHARY 774 173 947 OBC 322
0867729 HIMANI MEENA 781 165 946 ST 323
6307862 AMAN SINGH LOHAN 753 193 946 324
6628638 PATIL ANAND ASHOK 789 157 946 PwBD-2 325
0334460 NETRA METI 770 176 946 OBC 326
7005641 ABHISHEK SAINI 773 173 946 OBC 327
3515208 ANIKET DUGGAL 795 151 946 328
0838319 SANDHI JAIN 792 154 946 329
0870930 JAYANTI JHA 769 176 945 330
7000356 KIRANDEEP KAUR SAHOTA 733 212 945 SC 331
7004948 PAWANJOT KAUR 780 165 945 332
0502919 SAMIKSHA RATNESHCHAND JAIN 777 168 945 333
0864976 SACHIN CHAUBE 785 160 945 334
6701617 VISPUTE SHRIKANT YASHVANT 766 179 945 OBC 335
3501797 SAHIL SANGWAN 763 182 945 336
0868529 SUMIT KUMAR PANDEY 790 155 945 EWS 337
6608416 DIVYA ARJUN GUNDE 787 158 945 338
1510543 OM PRAKASH GUPTA 780 165 945 OBC 339
7811158 PALLAVI VERMA 776 168 944 OBC 340
0412599 ABHI JAIN 743 201 944 341
2202811 ARPIT R PARAKH 765 179 944 342
1219804 PRADEEP K 760 184 944 OBC 343
4002490 ARUN PANDIANATHAN M 750 193 943 OBC 344
0825713 NIKITA YADAV 753 190 943 OBC 345
6123623 SAURABH YADAV 748 195 943 OBC 346
6804670 ROHIT NEMA 783 160 943 OBC 347
6001651 ANAMIKA 749 193 942 EWS 348
6602383 SUHAS LAXMAN GADE 749 193 942 SC 349
0836083 SAMEER KISHAN 749 193 942 OBC 350
1221427 SIVA RAMAN N U 782 160 942 OBC 351
6621039 MISAL SAGAR BHARAT 796 146 942 EWS 352
6626017 GUNJAL SURAJ BHAUSAHEB 790 151 941 OBC 353
0311208 MEGHA JAIN 754 187 941 EWS 354
1013697 SOUMITH RAJU KANCHANAPALLI 773 168 941 OBC 355
6309227 SIDDARTH GOWRAV 775 165 940 SC 356
1913371 GOKUL S 742 198 940 PwBD-2 357
0911170 MANOJ KUMAR 770 170 940 OBC 358
2602273 SHUBHANSU KATIYAR 764 176 940 OBC 359
4101122 ABHINAV KUMAR GUPTA 768 171 939 OBC 360
6602556 MHASKE ANIL RAMDAS 782 157 939 OBC 361
0815407 APOORVA BHARAT 793 146 939 SC 362
0860612 NITIN YADAV 784 154 938 OBC 363
1042995 CHILUMULA RAJANIKANT 743 195 938 OBC 364
0850825 RICHA RATHI 759 179 938 EWS 365
5603048 VIMALA M 762 176 938 OBC 366
0328924 PRAJWAL 754 184 938 EWS 367
0107696 KESHVALA SANJAYKUMAR S 784 154 938 OBC 368
4100677 NARENDRA KUMAR 769 168 937 ST 369
0802075 HIMANSHU NIGAM 772 165 937 SC 370
5204869 HEMANT KALAL 731 206 937 OBC 371
7903082 BHANU PRATAP SINGH 766 171 937 EWS 372
0807580 SRISHTI 755 182 937 SC 373
1701035 ABHISHEK 758 179 937 OBC 374
0805146 PAWAN KUMAR YADAV 786 151 937 OBC 375
4108785 BHAWANA KUMARI 772 165 937 EWS 376
0844429 MAHENDRA SINGH 777 160 937 OBC 377
2200297 PRAKASH KUMAR CHOUDHARY 766 171 937 OBC 378
0835238 SHALOO 753 184 937 OBC 379
0120602 PARMAR PINKESHKUMAR LALITKUMAR 791 146 937 SC 380
4911682 LENIN VATSAL TOPPO 749 187 936 ST 381
5602894 KIRITHIKA CM 757 179 936 OBC 382
6701988 ARPITA ASHOK THUBE 779 157 936 OBC 383
5602126 U VIBU KRISHNAA 763 173 936 OBC 384
0306172 SAGAR A WADI 767 168 935 OBC 385
5602292 KOWSALYA MURUGASAMY 747 187 934 OBC 386
0837022 GIRDHARI LAL MEENA 774 160 934 ST 387
0851928 PARAS RANA 777 157 934 EWS 388
1539948 MOHIBULLAH ANSARI 763 171 934 OBC 389
6300718 DEVENDRA KUMAR 744 190 934 OBC 390
1542798 ADITYA SAURABH 769 165 934 OBC 391
3530463 KIRAN YADAV 765 168 933 OBC 392
6112854 ASHISH KUMAR VERMA 782 151 933 OBC 393
5801192 RAJAT KUMAR PAL 772 161 933 OBC 394
1038871 NAVJYOTI MISHRA 740 193 933 EWS 395
0227677 NIKHIL YADAV 756 176 932 OBC 396
3536844 UMESH KUMAR 775 157 932 PwBD-2 397
1000810 SURANA ANKITA MAHAVIR 759 173 932 EWS 398
1316499 ADITYA CHANDRABHAN JIWANE 775 157 932 SC 399
0830571 JHA AMANKUMAR RAMANKUMAR 752 179 931 EWS 400
1004471 SHESHADRINI REDDY SURUCONTI 749 182 931 EWS 401
1303696 AMOL MURKUT 749 182 931 OBC 402
1902029 ANEEZ S 757 174 931 OBC 403
0102956 SUTARIA AAYUSHI PANKAJ 732 198 930 SC 404
0809470 BHARAT SINGH 770 160 930 SC 405
6622553 ADITI SIHANIYA 759 171 930 OBC 406
6905248 SHIVAM PRAJAPATI 786 143 929 SC 407
1912411 SIBIN P 768 161 929 OBC 408
6408511 PUSHKAR VERMA 764 165 929 OBC 409
0505315 PARICHAY KUMAR 772 157 929 OBC 410
4120620 SAURABH SINGH 744 184 928 OBC 411
5918257 RAKESH SINGH 763 165 928 EWS 412
0853576 VARSHITHA ADEPU 766 162 928 OBC 413
6306417 ATUL KUMAR 782 146 928 OBC 414
1215182 NITHYA RADHAKRISHNAN 763 165 928 OBC 415
4122638 MAHATO AMITKUMAR SIDHIPRASAD 767 160 927 OBC 416
0816548 DHEERAJ YADAV 770 157 927 OBC 417
3802840 AKSHAY PRAMOD SABADRA 776 151 927 EWS 418
1206807 HARI PRASANTH M R 757 170 927 OBC 419
2601218 RAVINDRA KUMAR GUPTA 756 171 927 EWS 420
1907786 HARIPRASAD KK 751 176 927 OBC 421
0841269 GAVIT GOGNA 740 187 927 OBC 422
7815605 ZEBA KHAN 756 171 927 OBC 423
1201718 THAMARAI PRIYA M 773 154 927 OBC 424
1122922 DIVYANSH SINGH 765 162 927 OBC 425
0330606 PHADTARE ANIKET ASHOK 789 138 927 EWS 426
4912182 AKASH KUMAR SHUKLA 755 171 926 EWS 427
6316644 SACHIN YADAV 739 187 926 OBC 428
1907871 SANDRA SATHEESH 755 171 926 EWS 429
6601355 WANI SHRIRAJ MADHUKAR 747 179 926 OBC 430
1414831 AMIT RANJAN 772 154 926 OBC 431
6617826 AKOLKAR RAKESH MAHADEV 750 176 926 OBC 432
0810422 SHIVENDRA PRATAP 769 157 926 SC 433
0110416 RAHUL KUMAR MEENA 764 162 926 ST 434
3500115 AMRITPAL KAUR 739 187 926 OBC 435
4006781 G ARAVINDH 750 176 926 OBC 436
0858729 AYUSH SRIVASTAVA 780 146 926 EWS 437
0827998 RAVI KUMAR MEENA 761 165 926 ST 438
6417293 SUMAN NALA 758 167 925 OBC 439
0868228 ABHISHEK YADAV 754 171 925 OBC 440
1034604 THIRUPATHIRAO GHANTA 732 193 925 OBC 441
6627077 VAIBHAV BANGAR 760 165 925 OBC 442
5914018 GAURAV GOSWAMI 746 179 925 OBC 443
1907372 JAYAKRISHNAN V M 757 168 925 SC 444
6626680 JADHAV SHUBHAM PANDURANG 752 173 925 OBC 445
0860143 VIKAS MAHATO 761 163 924 OBC 446
5806209 FAISAL RAZA 734 190 924 OBC 447
6110586 ROHIT KUMAR SHAH 764 160 924 OBC 448
6622078 RAUT AMAR BHIMRAO 740 184 924 OBC 449
1415801 S MOHAMMED YAKUB 745 179 924 OBC 450
4118833 RITESH SINGH 737 187 924 OBC 451
0506360 ARJUN G S 748 176 924 OBC 452
3801725 NAGARGOJE SHUBHAM BHAUSAHEB 762 162 924 OBC 453
0818472 RISHABH 764 160 924 EWS 454
6612909 PAWAR OMKAR MADHUKAR 736 187 923 OBC 455
1905733 SHWETA K SUGATHAN 758 165 923 OBC 456
1522523 RASHMI RANI 739 184 923 SC 457
4200577 TENZIN SEMKYI OGEN 736 187 923 ST 458
0419255 T PRATEEK RAO 750 173 923 SC 459
4800154 VIKAS 743 180 923 OBC 460
0843193 SHIVAM SIDDHARTH 744 179 923 OBC 461
6409488 MOHIT RAWAT 760 163 923 EWS 462
7915899 VIVEK PANKAJ 761 162 923 SC 463
1027486 BABITARANI SWAIN 772 151 923 OBC 464
7202135 BHEDA VIVEK PRAVINKUMAR 730 193 923 OBC 465
3809236 PUKE NITIN GANGADHAR 763 160 923 EWS 466
0845849 DHARMENDRA KUMAR 783 140 923 EWS 467
0304207 BINDU MANI R N 751 171 922 OBC 468
6610658 DUDHAL ABHISHEK DILIP 757 165 922 OBC 469
1910753 SABEEL POOVAKUNDIL 747 175 922 OBC 470
1138727 DEVENDRA PRAKASH MEENA 749 173 922 ST 471
6619268 POOJA KUMARI 776 146 922 OBC 472
0820473 ANITA YADAV 757 165 922 OBC 473
0854777 SIMRAN 770 151 921 SC 474
6505687 AJESH A 753 168 921 OBC 475
1313463 PRANAV VINOD THAKARE 756 165 921 OBC 476
3403664 JAY VIKAS 748 173 921 SC 477
2207582 REHAN KHATRI 762 159 921 SC 478
0837970 MANSI 764 157 921 ST 479
0862354 SHAKTI SINGH ARYA 763 158 921 EWS 480
1906413 ASWATHY S 770 151 921 OBC 481
6411169 DHIMAN CHAKMA 719 201 920 ST 482
0834000 RAHUL MEENA 758 162 920 ST 483
6703160 VRUSHTI JAIN 744 176 920 EWS 484
1906728 PRETTY S PRAKASH 747 173 920 OBC 485
5803933 TUSHAR ANAND 744 176 920 OBC 486
0838112 MITHUN BISWAS 788 132 920 SC 487
0506355 YADAV SURYABHAN ACHCHHELAL 752 168 920 OBC 488
6208252 MADHUSUDHANA RAO IJJADA 769 151 920 OBC 489
0412727 DEEPANSHU GEED 717 202 919 OBC 490
7904229 KUMAR KESHAV 729 190 919 OBC 491
6409002 SAUMYA ANAND 754 165 919 SC 492
2000344 MOHAMED JAVED A 704 215 919 OBC 493
4110487 RAKESH RANJAN 745 173 918 OBC 494
7003405 RAJDEEP SINGH 733 185 918 SC 495
1908432 NEENA VISWANATH 745 173 918 OBC 496
2001969 SUBRAMANIVELAN J 750 168 918 OBC 497
5108526 SURAPATI PRASANTH KUMAR 769 149 918 SC 498
1314645 MODAK SHRIKANT RAMRAO 783 135 918 OBC 499
0840542 SUNNY RAJ 752 165 917 SC 500
1408330 WAYKOS ABHIJIT JINCHANDRA 757 160 917 OBC 501
3802944 MUNDE YASHWANT ABHIMANYU 774 143 917 OBC 502
0809822 HARISH JAIN 768 149 917 EWS 503
0328962 MALASHREE M V 746 171 917 OBC 504
0100589 HARSHIL R MEENA 730 187 917 ST 505
3518552 MANPREET SINGH SUDAN 766 151 917 EWS 506
6809925 PRAKHAR PANDEY 763 154 917 EWS 507
0304389 KANKANALA ANIL KUMAR 763 154 917 EWS 508
0846597 JASHWANT YADAV 752 165 917 OBC 509
5910654 RIYA SINGH 740 176 916 SC 510
3807582 MUSALE ANUJA ANANT 712 204 916 OBC 511
0867270 RAJESH RANJAN 745 171 916 OBC 512
6619296 YADAV RANJIT MOHAN 748 168 916 EWS 513
1902158 NIVEDITHA RAJ 743 173 916 OBC 514
2638192 ATUL SAGAR 737 179 916 OBC 515
1302496 PAWAR BANKESH BABARAO 745 171 916 OBC 516
3803145 KULKARNI ANIKET LAXMIKANT 755 160 915 EWS 517
0705038 RAVI MEENA 744 171 915 ST 518
3800621 URJA VIKAS JAIN 709 206 915 OBC 519
1304372 RATHOD ASHWIN BABUSING 758 157 915 OBC 520
7813183 ARJIT MAHAJAN 736 179 915 OBC 521
0865256 ANKIT MISHRA 744 171 915 EWS 522
3802596 SWAMI SHUBHAM VAIJANATH 714 201 915 OBC 523
0854939 AAKASH SHARMA 744 171 915 ST 524
6613115 KULKARNI SHRIKANT MADHAV 736 179 915 EWS 525
0236584 KISHLAY KUSHWAHA 746 168 914 OBC 526
1525595 JAYA SNEH 735 179 914 OBC 527
1908229 ANAKHA V 738 176 914 OBC 528
4106691 PRANJAL PRATEEK 716 198 914 OBC 529
6311962 SUMIT PAUL 737 177 914 OBC 530
6315686 HEMANT KUMAR 732 182 914 OBC 531
0825558 URVASHI SENGAR 741 173 914 OBC 532
0802436 ANAND KUMAR SINGH 730 184 914 EWS 533
7000668 CHANDNI CHAUHAN 757 157 914 SC 534
5813072 NIRANJAN KUMAR 743 171 914 OBC 535
1104754 PANKAJ RATHI 739 175 914 EWS 536
0832772 HIRDESH PATEL 754 160 914 OBC 537
6303503 AVINASH ANSHUL 735 179 914 OBC 538
5811366 BASANT SINGH 741 173 914 OBC 539
1134618 SUMIT BHAMBOO 749 165 914 OBC 540
0325555 GUNDRATHI PRUTHVINATH GOUD 720 193 913 OBC 541
0509213 KAMBALE SHARAN GOPINATH 704 209 913 SC 542
5813679 CHANDRASHEKHAR MEHRA 767 146 913 SC 543
3525627 SHWETA KAMBOJ 755 158 913 OBC 544
2623809 ALTAP MAHAMMAD SHAIKH 751 162 913 OBC 545
1406593 ANUPAM JAKHAR 751 162 913 OBC 546
0830131 AKSHAY RANJUMESH 775 138 913 EWS 547
0861671 RATAN JANA 759 154 913 SC 548
8200399 BAIRY RUTHVIK 767 146 913 OBC 549
6308478 AYUSH YADAV 752 160 912 OBC 550
1402365 TANVI SONI 719 193 912 SC 551
0829908 SHUBHAM YADAV 763 149 912 OBC 552
0849376 ATUL SONI 761 151 912 OBC 553
2108090 ARUN KUMAR SINGH 741 171 912 SC 554
0314525 RAGHAVENDRA N 747 165 912 ST 555
0105708 SUMIT GOVINDBHAI MAKWANA 755 157 912 SC 556
0203487 VIPIN KUMAR DWIVEDI 769 143 912 EWS 557
0509432 KHAN AASIM KIFAYAT KHAN 752 160 912 OBC 558
6614699 MHETRE SAYALI NARAYAN 744 168 912 OBC 559
1014635 PERUMALLA DIVYA 746 165 911 OBC 560
6619770 GARUD MADHURI BHANUDAS 713 198 911 EWS 561
6303361 ANKIT TAXAK 721 190 911 EWS 562
0841098 SATINDER KAUR 738 173 911 SC 563
1307735 SNEHAL VASANTRAO DHOKEY 716 195 911 OBC 564
1133603 ROSHAN MEENA 754 157 911 ST 565
6605612 LANDE SACHIN DEVRAM 738 173 911 ST 566
6300704 RANDHIR KUMAR 729 182 911 OBC 567
0817640 VIKAS AGARWAL 751 160 911 EWS 568
3902558 SYED ZAHED ALI 749 162 911 OBC 569
6316174 AASHISH KUMAR 739 171 910 OBC 570
5603215 KRISHNA KUMAR S 748 162 910 OBC 571
0848352 CHOUDHARI SWAPNIL YADAORAO 733 177 910 OBC 572
3901037 SHRIDEVI B V 737 173 910 OBC 573
7904256 ABHISHEK GOSWAMI 734 176 910 OBC 574
1212303 RISHMA B J 745 165 910 OBC 575
1213068 SURYA U 723 187 910 OBC 576
6628654 POOJA ASHOK KADAM 742 168 910 PwBD-2 577
4401952 HEIKRUJAM PRASANJEET 745 165 910 OBC 578
0813123 VISHAL DHAKAD 759 151 910 OBC 579
1212238 SWAATHI RATNA S 723 187 910 OBC 580
0822521 MANISH KUMAR 739 171 910 SC 581
0803114 VIKASH KUMAR 770 140 910 OBC 582
3900259 SHAKEERAHMED A TONDIKHAN 745 165 910 OBC 583
8204102 KOTE ANIL KUMAR 759 151 910 OBC 584
0206973 RAJ ANAND 748 162 910 SC 585
0815624 ABHIJEET SINGH 730 179 909 EWS 586
3807755 PALWE VIKAS BALASAHEB 738 171 909 OBC 587
0831035 RAGHVENDRA MEENA 749 160 909 ST 588
4002961 MOHAMED RISWIN I 752 157 909 OBC 589
1102893 RAJESH KUMAR MEENA 744 165 909 ST 590
0870851 VISHAL SARASWAT 724 184 908 EWS 591
6312365 ANIMESH RANJAN 729 179 908 PwBD-1 592
5600112 SWATHIKA R P 729 179 908 OBC 593
0411260 DAMINI DIWAKAR 746 162 908 EWS 594
0833019 HEMANT KUMAR MEENA 732 176 908 ST 595
0823638 AMAN PRAKASH MEENA 746 162 908 ST 596
1906732 MUHAMMAD SAHID 729 179 908 OBC 597
3504423 AMRINDER SINGH 718 190 908 SC 598
0624780 CHINTHNIDHI K 762 146 908 SC 599
4200379 DIPENDRA ADHIKARI 746 162 908 EWS 600
7303192 PRAMOD ARADHYA H R 735 173 908 EWS 601
0816069 RAJAT KUNDGIR 740 168 908 OBC 602
1540677 VIKAS KUMAR 758 150 908 SC 603
1045348 BAYYAPUREDDY CHAITANYA 773 135 908 EWS 604
5904631 ADITYA KUMAR 714 193 907 OBC 605
3515615 PANKAJ KUMAR 750 157 907 EWS 606
0800892 SANTOSH BHAVIRI 736 171 907 OBC 607
1218171 UTHAYAKUMAR R 745 162 907 SC 608
1040781 B ADITHYA 727 179 906 SC 609
0815700 SACHIN AGRAWAL 741 165 906 EWS 610
1802749 IQBAL RASOOL DAR 744 162 906 EWS 611
6316389 MAHIMA MADAN 712 193 905 PwBD-3 612
1305599 VINOD KUMAR MEENA 729 176 905 ST 613
6610251 GHOGARE HARSHAL BHAGWAN 745 160 905 EWS 614
3526743 DHEERAJ THAKUR 765 140 905 ST 615
1021889 ABHISHEK ANDASU 711 193 904 SC 616
6619610 VIDYAGAR AJINKYA ANANT 744 160 904 SC 617
1910194 ARUN K PAVITHRAN 744 160 904 SC 618
6300774 RAJHANS KUMAR SINGH 731 173 904 EWS 619
0820459 SUDHANSHU NAYAK 756 148 904 ST 620
0600832 KSHETRIMAYUM DEEPI CHANU 739 165 904 SC 621
7808273 NIMISHI TRIPATHI 719 184 903 EWS 622
0843906 DEEPAK GUPTA 743 160 903 EWS 623
1110337 SANJEEV MANDIA 727 176 903 ST 624
3400940 AMIR BASHIR 705 198 903 ST 625
2642153 ABHISHEK RANJAN 765 138 903 SC 626
1128298 LALIT MEENA 719 184 903 ST 627
0800608 RAVINDRA KUMAR MEENA 746 157 903 ST 628
0514658 GAIKWAD NILESH SHRIKANT 731 171 902 SC 629
0503713 PAGARE HETAL KAILASH 718 184 902 SC 630
5904878 SHUBHAM SINGH 715 187 902 SC 631
1503199 VIVEKANANDA SHUKLA 712 190 902 EWS 632
6620589 VADAK RAVIRAJ HARISHCHANDRA 731 171 902 EWS 633
0842323 MAHIMA TOMAR 739 163 902 EWS 634
0836048 MUPPA ASHOK 741 160 901 EWS 635
1140625 KULDEEP MEENA 733 168 901 ST 636
1104356 YOGESH MANDHAIYA 744 157 901 ST 637
0804200 ANU BENIWAL 730 170 900 EWS 638
3524636 AMRITPAL SINGH 757 143 900 SC 639
6705505 KUNAL UTTAM SHROTE 721 179 900 ST 640
6607449 SAYALI ASHOK GAIKWAD 690 209 899 EWS 641
0822444 VIKASH SENTHIYA 731 168 899 EWS 642
0844262 SANDEEP KUMAR MEENA 753 146 899 ST 643
0812533 SATYAM TIWARI 749 149 898 EWS 644
1119868 MANISH KUMAR MEENA 730 168 898 ST 645
1144708 SULEKHA JAGARWAR 699 198 897 ST 646
5006749 SAHITYA V 707 190 897 SC 647
1313274 MANKAR SUBODH RAMESH 735 162 897 SC 648
6601201 MORE SHIVHAR CHAKRADHAR 732 165 897 EWS 649
0243997 PRABHAKAR SINGH 729 168 897 EWS 650
0830500 PRATEEK GAHLOT 751 146 897 SC 651
1008311 KOTA KIRAN KUMAR 701 195 896 SC 652
6624171 KELKAR SUBHRAMANYA BHALCHANDRA 745 151 896 EWS 653
4120103 SHAILENDRA SINGH 745 151 896 SC 654
1109881 LALITESH KUMAR MEENA 758 138 896 ST 655
0857885 ANITA MEENA 736 160 896 ST 656
0332147 K DHARAMVEER CHOWHAN 731 165 896 ST 657
0831598 JITENDRA KUMAR MEHRA 742 154 896 SC 658
6311297 KAMAL SHARMA 719 176 895 EWS 659
3809863 DHOTRE SUMITKUMAR DATTAHARI 716 179 895 SC 660
6301955 AVNISH TRIPATHI 740 155 895 EWS 661
2602992 PRATEEKSHA SINGH 710 184 894 EWS 662
6314486 DHAWLENDU 729 165 894 EWS 663
1304344 BHAWARE DIKSHA ARUN 723 171 894 SC 664
6307947 VISHAL CHAUDHARY 714 179 893 ST 665
6627475 GAURAV KUMAR 753 140 893 SC 666
7006102 LAKSHIT SAREEN 706 187 893 PwBD-1 667
0845526 ADITYA MAHAR 711 182 893 ST 668
1101537 BHARTI MEENA 720 173 893 ST 669
5918225 AJAY KUMAR 710 182 892 SC 670
1417462 SMRITI SINGH 743 149 892 SC 671
1206220 A RAGHUL 724 168 892 SC 672
5812279 HATCHINGHOI HAOKIP 698 193 891 ST 673
6310247 UDIT PUSHKAR 731 160 891 SC 674
0820757 SHREYA CHOUDHARY 729 162 891 SC 675
1211341 D KUDIARASU 756 135 891 SC 676
1103654 KRISHNA GOPAL MEENA 733 157 890 ST 677
6407947 STANZIN WANGYAL 730 160 890 ST 678
5920750 ADITI SINGH 725 165 890 SC 679
3900048 CHAVAN KIRAN GANGARAM 718 171 889 SC 680
0828578 POOLICHARLA RAMANAIAH 742 146 888 SC 681
6201328 DONEPUDI VIJAY BABU 726 162 888 SC 682
1043197 SUNIL KUMAR DHANWANTA 731 157 888 SC 683
1103704 ANURAG MEENA 745 143 888 ST 684
1421904 GAUTAM RAI 700 187 887 SC 685
1016792 EADULA VEGINI 697 190 887 SC 686
2631466 SUMIT KUMAR 744 143 887 SC 687
1522676 RAHUL KUMAR 730 157 887 SC 688
1220330 R PRABHU 710 176 886 SC 689
7912071 ARYENDRA PAL SINGH 714 171 885 SC 690
6628545 SUDARSHAN NANASAHEB SONAWANE 720 165 885 SC 691
0837478 VINEET BANSOD 734 151 885 SC 692
5813815 VIKRANT KUMAR SINGH 745 140 885 SC 693
1140534 DEEPAK KUMAR 734 151 885 SC 694
3507896 RAVINDER KUMAR 711 173 884 SC 695
1126951 RAJKUMAR MEENA 702 182 884 ST 696
4116164 VARUN KUMAR 746 138 884 SC 697
1104622 NIDHI CHOUHAN 713 171 884 SC 698
0415490 SHLOK WAIKAR 704 179 883 SC 699
0870845 NELLI HARIKA 690 193 883 SC 700
7914074 KUMAR SAURABH 715 168 883 SC 701
2617046 TWINKLE SINGH 710 173 883 SC 702
0828582 RAVI KUMAR CHAUDHARY 704 179 883 SC 703
0840414 ANURADHA 731 152 883 SC 704
0510492 DOKE AJAY KASHIRAM 734 149 883 ST 705
0867328 RIJUL 759 124 883 SC 706
0302381 MAMATHA G 726 157 883 SC 707
0328481 ABISHEK B N 729 154 883 SC 708
1113684 DINESH KUMAR MEENA 703 179 882 ST 709
5603865 SHRIYASH K S 720 162 882 SC 710
1137490 AVDHESH MEENA 722 160 882 ST 711
1120745 MANISHA MEENA 733 149 882 ST 712
6305264 DEOWRAT VASANTRAO MESHRAM 741 140 881 SC 713
3808062 SWAPNIL PRABHAKAR NISARGAN 722 159 881 SC 714
1142172 VIVESH 743 138 881 SC 715
0833220 HEMANT KUMAR 696 184 880 SC 716
6209505 JUVVANAPUDI MAHESH 731 149 880 SC 717
5813899 PUSHPENDRA GEHLOT 721 159 880 ST 718
1131604 PANKAJ KUMAR MEENA 734 146 880 ST 719
1135302 VIKAS MEENA 742 138 880 ST 720
1102649 PRADEEP KUMAR MEENA 729 151 880 ST 721
1304305 RAJAK PIYUSH RAMPRASAD 709 171 880 SC 722
6112338 SHIVANSU KUMAR 706 173 879 SC 723
1218104 RAJIV K 739 140 879 SC 724
7301533 SOURABH K 728 151 879 SC 725
5810504 DIVYANSHI SINGH 729 149 878 PwBD-1 726
0803971 BHAISARE SHUBHAM ASHOK 732 146 878 SC 727
1009799 BENDUKURI MAURYA TEJ 691 187 878 SC 728
7304367 MURARI LAL 721 157 878 SC 729
7203017 MANGERA KAUSHIK BHANUBHAI 721 157 878 SC 730
5601362 VINOD C 701 176 877 SC 731
1313822 MADKE PIYUSH SUDHAKAR 684 193 877 SC 732
0859735 GAJENDRA KUMAR MEENA 726 151 877 ST 733
3520118 AMANDEEP KAUR 703 173 876 SC 734
0848826 DEVARWADE K A 722 154 876 ST 735
0105483 MANGALAM KOMAL HARSHADBHAI 697 179 876 SC 736
0843610 SUBHASH CHANDRA MEENA 683 193 876 ST 737
3410820 MAJID IQBAL KHAN 714 162 876 ST 738
1132161 SIDDHARTH KUMAR MEENA 716 160 876 ST 739
2603162 UTKARSH NARAYAN 716 160 876 SC 740
0305306 SANDEEP KUMAR PS 722 154 876 ST 741
7100453 MINTU LAL MEENA 727 149 876 ST 742
6303370 SHEETAL BHAGAT 699 176 875 SC 743
0309301 VAISHAKH BAGEE 710 165 875 SC 744
6317038 PRIYANSHU KHATI 719 151 870 PwBD-1 745
0865489 KUMAR SAUMYA 709 160 869 PwBD-1 746
1046010 KALLAM SRIKANTH REDDY 697 171 868 PwBD-1 747
6317041 SHATRUNJAY KUMAR 710 157 867 PwBD-1 748
6806315 DIXIT SWAROOP RAVINDRA 675 162 837 PwBD-3 749
5603118 RANJITH D 683 138 821 OBC PwBD-3 750
0316193 SANTHOSHA H 617 151 768 OBC PwBD-3 751
0332830 AMRUTH HV 604 162 766 PwBD-3 752
1410116 RUKMINI BANERJEE 590 160 750 PwBD-3 753
0814844 PREETI BENIWAL 577 160 737 PwBD-5 754
5906275 SHUBHAM AGARWAL 581 151 732 PwBD-3 755
1547265 ATUL RANJAN 543 176 719 PwBD-5 756
4400574 LOUREMBAM NELSON MANGANGCHA 530 176 706 OBC PwBD-3 757
3519397 DAVY GOYAL 528 160 688 PwBD-3 758
0833767 UMAP JAIJEETSINHA JARICHAND 537 138 675 PwBD-3 759
0844402 ARADHANA GUPTA 446 124 570 PwBD-5 760
3500134 VISHWAJEET CHAUDHARY 300 165 465 OBC PwBD-5 761