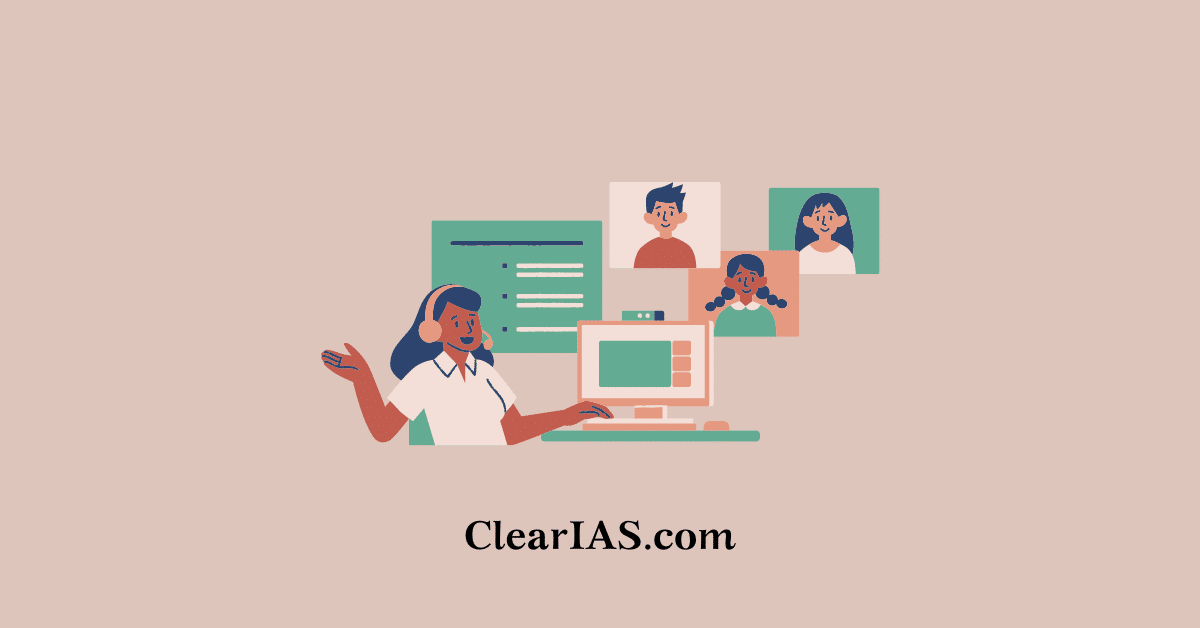 Which is better for UPSC CSE coaching – online or offline? What are the advantages and disadvantages of online and offline coaching for UPSC preparation?
The journey of UPSC (Union Public Service Commission) CSE preparation is very challenging. During this journey, aspirants might need guidance at multiple stages.
A very prominent question that often comes to the mind of aspirants at the beginning of their journey that which type of coaching will be better for their UPSC CSE preparation – online or offline.
Let's understand it here.
Which is Better for UPSC CSE Coaching, Online or Offline?
It's hard to choose between these options. So, here in this article, we will provide you with all the advantages and disadvantages of offline coaching and online coaching institutes to help you make an informed decision.
UPSC CSE Online Coaching: Advantages and Disadvantages
The online coaching method for the UPSC Civil Services Exam has several advantages and disadvantages as well. Let's understand both the pros and cons of online UPSC CSE preparation.
Advantages of Online Coaching
There are multiple advantages of online coaching, a few important ones are:
Flexibility and Convenience
Online coaching provides the advantage of flexibility. Aspirants can access lectures and study materials from the comfort of their homes, office, or any other location of their choice which eliminate the need for daily visit to coaching institutes.
This flexibility allows candidates to create personalized study schedules that suit their individual learning pace and time.
Access to Diverse Resources
There are a pool of online study material for the UPSC CSE exam including both paid and unpaid courses. Aspirants can freely choose their study materials, mock tests, and video lectures.
Online coaching platforms often provide a wide range of resources, including current affairs updates and mock tests as well, enhancing candidates' exposure to different topics and diversity of learning.
Expert Faculty from Across the Country
Online coaching enables candidates to learn from expert faculty members of their choice regardless of geographical constraints.
Renowned educators from diverse regions can provide unique insights to aspirants at any place and at any time, helping students understand complex concepts more effectively.
Disadvantages of Online Coaching
Though online coaching has multiple advantages it has several disadvantages as well.
Lack of Direct Interaction
One of the key downsides of online coaching is the absence of direct, face-to-face interaction between the mentor and the learner.
This lack of personal engagement might be disadvantageous for some aspirants who require more attention and guidance during their journey and can hinder their interactive learning environment.
Self-Discipline
The flexibility of online coaching requires a high level of self-discipline.
Without a structured schedule, some students might struggle to maintain a consistent study routine and they may become prone to procrastination. This reason can hinder their preparation journey.
Limited Personal Interaction
While online platforms offer doubt-clearing sessions and forums, the level of personal interaction with instructors might not match that of offline coaching and aspirant might not feel connected to their mentor in this journey.
Digital Fatigue
Prolonged screen time and a lack of physical interaction could potentially lead to digital fatigue and a sense of isolation which is not good for the human brain in any sense.
UPSC CSE Offline Coaching: Advantages and Disadvantages
Offline coaching has like a traditional method of preparation for UPSC CSE aspirants for decades. The structured classroom environment, face-to-face interaction with their mentors, and the sense of community often attract students to this style of coaching.
So here, we are presenting some key advantages and disadvantages of offline coaching as well to help them make up their mind considering all the possible outcomes:
Advantages of Offline Coaching
Here we have mentioned all the major advantages of offline coaching:
Structured Learning Environment
Offline coaching institutes offer a structured learning environment to aspirants for years. This method is often comfortable for candidates as they have been involved in this method of studying since their childhood.
For this reason, the scheduled classes, people interactions, and the physical presence of teachers can provide them with a more organized approach to UPSC CSE preparation.
Real-time Doubt Clarification
One of the most prominent benefits of offline coaching is immediate doubt clarification.
Students can ask questions and get instant answers from experienced educators, fostering a better understanding and this makes it easy to understand the next topic.
Regular Assessments
Many offline coaching centers conduct regular tests and assessments, helping candidates evaluate their progress in an exam-like environment and identify areas that need improvement.
Disadvantages of Offline Coaching
The cons of offline UPSC coaching are:
Time and Location Constraints
Offline coaching requires candidates to be physically present in a specific geographical location. This might not be feasible for candidates with a job or for those who live far from the coaching center.
Limited Faculty Options
While offline coaching provides access to local educators, candidates might miss out on the insights of famous educators from different regions.
Things to Consider Before Making a Choice
The decision between online and offline coaching depends on an individual's learning style, preferences, and circumstances. Before making a choice, aspirants should consider the following factors:
Learning Style: Those who prefer self-imposed learning and flexibility might move towards online coaching, while students who prefer a structured environment might opt for offline coaching.
Availability: Candidates with busy schedules or geographical limitations must consider their suitability before making any choice as well.
Interaction Preference: It is important to consider the importance of their interaction preference with their mentors as it is an important part of the learning process in this UPSC preparation journey.
Resources and Quality: Always assess the resources, study materials, and faculty credentials offered by both online and offline coaching options.
Budget: Consider the financial aspect as well, as offline coaching might involve additional costs for commuting and study materials.
Interested aspirants can check a ClearIAS online and offline program for UPSC CSE preparation.
Also, ClearIAS provides mock tests to help aspirants in the preparation journey.
Conclusion
The debate about which is better for the UPSC CSE will continue. Each mode has its own set of advantages and disadvantages, making it important for aspirants to assess their individual needs and preferences.
A balanced approach that incorporates the benefits of both modes could be the key to achieving success in the UPSC examination.
Remember, the choice of coaching is a personal one, and what matters most is the dedication, consistency, and hard work put into the preparation journey.
Also read: IAS Coaching Now Online!
Article Written By: Priti Raj