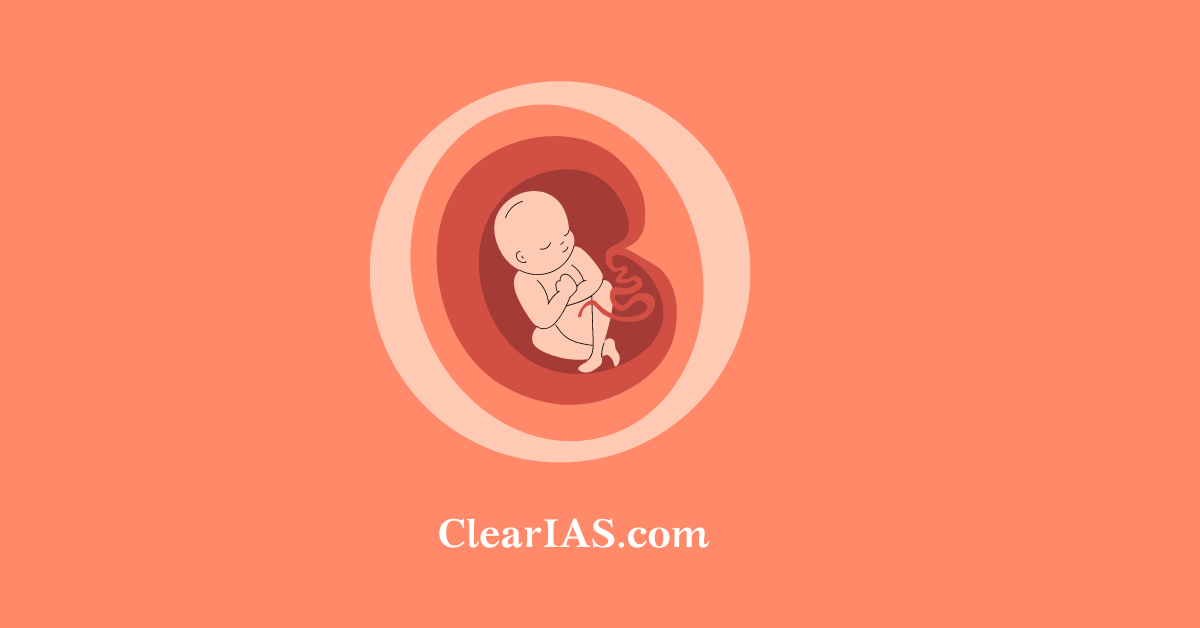 The scope of abortion laws has been widened by the Supreme Court to permit single women to end 24-week pregnancies. What are India's current abortion laws? Have you given any thought to the morality of Indian abortion legislation? To learn more, keep reading.
In India 7 million abortions are taking place annually.
About 50 percent of total abortions in India are considered illegal.
The Medical Termination of Pregnancy Act and related Rules regarding abortion were clarified by the Supreme Court recently.
The SC noted that under Article 21, a woman's right to reproductive freedom is an integral component of her freedom.
The Supreme Court also ruled that denying an unmarried woman access to a safe abortion breaches her autonomy and freedom.
Evolution of the Medical Termination of Pregnancy (MTP) Act
Abortion has been legal in India since 1971.
When the original act was first put into effect in 1971, access to a medical abortion up to 12 weeks of pregnancy required the approval of one registered doctor, and access to an abortion up to 20 weeks required the approval of two doctors.
Through an amendment in 2003, new rules were introduced in the MTP Act to allow the use of misoprostol (a newly discovered abortion medicine) for medical termination of pregnancy for up to seven weeks.
The original MTP Act was updated more comprehensively in 2020, and the revised law became effective in September 2021.
Important provisions of the MTP Amendment Act,2021
The amendment raised the maximum gestational age at which a woman may obtain a medical abortion from 20 weeks under the MTP Act of 1971 to 24 weeks.
However, under this updated upper limit, abortion rights can only be used in certain circumstances.
Now, a single qualified medical professional's opinion might be used to access the MTP up to 20 weeks into the pregnancy.
From 20 weeks up to 24 weeks, the opinion of two registered medical practitioners would be required.
If a doctor's recommendation is provided and authorization is requested for at least one of the following reasons, it will be granted under this Act's provisions.
If the pregnant woman faces a risk to her life by the continuation of the pregnancy.

If the continuation of pregnancy results in grave injury to the woman's physical or mental health.
Grounds for termination of pregnancy up to 24 weeks
After seeking the opinion of two registered medical practitioners, the pregnancy can be terminated up to 24 weeks of gestational age under the conditions given below:
If the woman is either a survivor of sexual assault or rape or incest;
If she is a minor;
If there is a change in her marital status during the ongoing pregnancy (due to widowhood or divorce);
 If she suffers from major physical disabilities or she is mentally ill;
Termination of pregnancy on the grounds of fetal malformation incompatible with life or the possibility of a seriously handicapped child being born;
If the woman is situated in a humanitarian setting or disaster or stuck in the emergency as declared by the Government.
Pregnancy beyond 24 weeks
Abortion is performed based on fetal abnormalities in cases where pregnancy has progressed over 24 weeks.
A four-member Medical Board, established in each state under the MTP Act, must grant permission for this type of abortion.
What are the exceptions?
The modified Act also authorizes one certified medical practitioner to perform an abortion at any stage of pregnancy if it is urgently required to preserve the pregnant woman's life, regardless of any of the aforementioned restrictions.
What are the laws in the case of unmarried women?
According to the modified 2021 MTP Act's provisions, unmarried women may also have an abortion in the aforementioned circumstances because the requirement for a spouse's agreement is not mentioned.
But if the woman is a minor, the guardian's approval is required.
Does the act resolve worries about privacy?
MTP act has clauses that guarantee an abortion-seeking woman's right to privacy.
According to Section 5A of the MTP act, registered medical providers may only "disclose the name and other particulars of a lady whose pregnancy has been terminated" to a person who has been authorized by law.
If this medical personnel violate or otherwise violate the woman's privacy, they could spend up to a year in jail, pay a fine, or even both.
What sections of the Indian Penal Code deal with abortion?
Indian Penal code contains sections related to miscarriages
Section 312 of the
IPC
This section effectively makes unconditional abortion illegal in India. Under this section, a person who "voluntarily causes a woman with child to miscarry" is liable for punishment.
He/she may be punished with a jail term of up to 3 years or a fine or both unless it was done in good faith where the purpose was to save the life of the pregnant woman.

Section 313 of the IPC
Under the provisions of this section, a person who causes the miscarriage without the consent of the pregnant woman, irrespective of the stage of her pregnancy, shall be punished with life imprisonment or a jail term extending up to 10 years, as well as a fine.
What problems are there with the MTP Act being implemented?
According to the Rural Health Statistics 2019–20 report from the Ministry of Health and Family Welfare, there is a 70% shortfall of obstetrician-gynecologists in rural India.
Critics have noted that because the MTP Act bans deliberate abortion, it forces women to get unauthorized abortions in unsanitary and hazardous settings.
According to statistics, many of India's 80,000 unsafe and illegal abortions per year that are done result in maternal death.
Conclusion
The Medical Termination of the Pregnancy Act, 2021 offers some hope to those who want to legally end their unintended pregnancies as well as to women who desire access to safe abortions.
India still has to take additional steps to limit and ultimately eradicate the practice of illegal abortions.
To permit the termination of pregnancies, the government must ensure that all professional standards and laws are upheld countrywide in hospitals and other healthcare facilities.
Article Written by: Jis John Sebastian