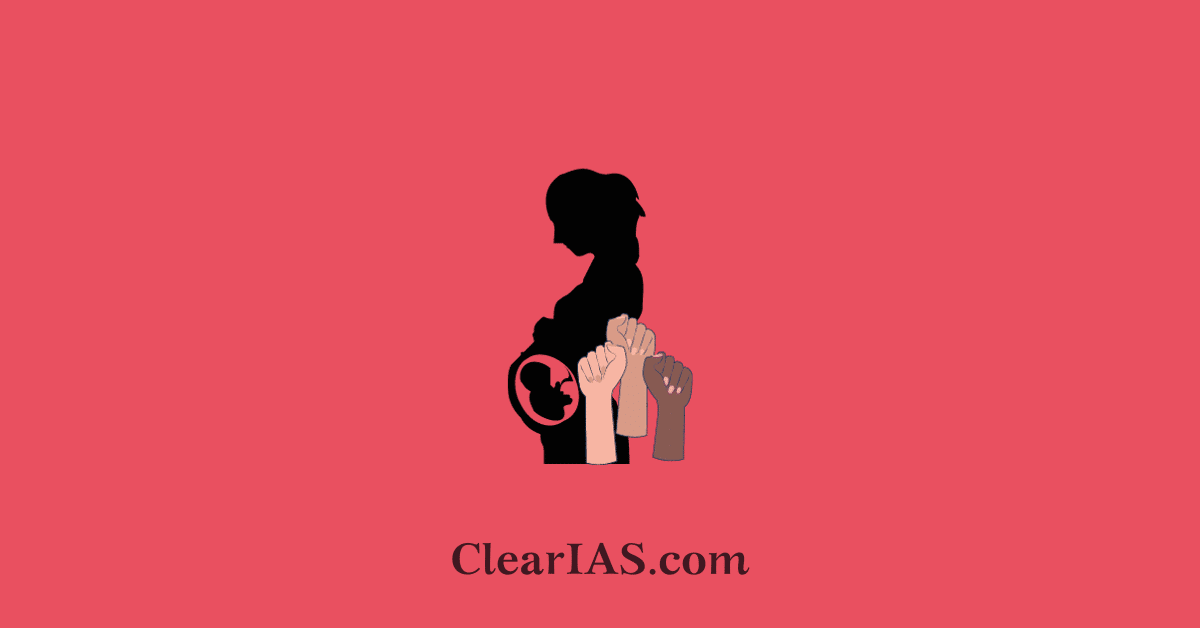 Reproductive rights of women are related to multiple human rights, including the right to life, the right to be free from torture, the right to health, the right to privacy, the right to education, and the prohibition of discrimination. Read here to learn the significance of recognizing the reproductive rights of women.
Reproductive rights are a fundamental component of women's human rights, encompassing a range of rights and choices related to their reproductive health and autonomy.
These rights are essential for women's well-being, equality, and empowerment.
The States have obligations to respect, protect, and fulfill rights related to women's sexual and reproductive health.
Critical aspects of reproductive rights of women
Right to Bodily Autonomy: Women have the right to make decisions about their bodies, including whether or when to have children. This includes the right to access contraception, the right to terminate a pregnancy (where legal), and the right to choose when and how to become a parent.
Access to Contraception: Women have the right to access a range of safe and effective contraceptive methods to make informed choices about family planning. This includes access to education about contraceptive options and affordable, barrier-free access to contraception.
Safe and Legal Abortion: In places where abortion is legal, women have the right to access safe and legal abortion services. Access to abortion is a critical component of reproductive rights, and restrictive abortion laws can have negative consequences for women's health and autonomy.
Prenatal and Maternal Care: Women have the right to access quality prenatal care, safe childbirth, and postnatal care. Adequate healthcare during pregnancy and childbirth is crucial for the well-being of both the woman and her child.
Freedom from Coercion and Discrimination: Women have the right to make reproductive choices free from coercion, discrimination, and violence. This includes the right to refuse sterilization, abortion, or other reproductive medical procedures without their informed consent.
Education and Information: Women have the right to access comprehensive, accurate, and non-biased information about their reproductive health. This includes sex education that empowers individuals to make informed choices.
Access to Assisted Reproductive Technologies: Women who wish to have children through assisted reproductive technologies, such as in vitro fertilization (IVF) or surrogacy, have the right to access these services and to make decisions about their reproductive future.
Protection from Harmful Practices: Women have the right to be protected from harmful practices, such as female genital mutilation (FGM), forced marriages, and child marriages, which can have severe consequences for their reproductive health and rights.
Reproductive Healthcare Services: Women have the right to access comprehensive reproductive healthcare services, including screening for sexually transmitted infections, treatment for reproductive health conditions, and access to skilled healthcare professionals.
Privacy and Confidentiality: Women have the right to privacy and confidentiality when seeking reproductive healthcare services. Medical information should be kept confidential unless the woman chooses to disclose it.
Support for Parenting: Women who choose to become parents have the right to support and resources to ensure the well-being of themselves and their children. This includes access to parental leave, childcare, and support for working mothers.
Advocacy and Legal Protection: Women have the right to advocate for their reproductive rights, and governments are responsible for enacting and enforcing laws and policies that protect and promote these rights.
Violation of women's reproductive health rights
Despite the obligations, violations of women's sexual and reproductive health and rights are frequent. These take many forms, including:
denial of access to services that only women require;
poor quality services;
subjecting women's access to services to third-party authorization;
forced sterilization, forced virginity examinations, and forced abortion, without women's prior consent;
female genital mutilation (FGM); and
early marriage
Violations of women's sexual and reproductive health and rights are often due to deeply ingrained beliefs and societal values about women's right to make choices.
Patriarchal concepts of women's roles within the family mean that women are often valued based on their ability to reproduce.
Early marriage and pregnancy, or repeated pregnancies spaced too closely together often as the result of efforts to produce male offspring because of the preference for sons has a devastating impact on women's health with sometimes fatal consequences.
Women are also often blamed for infertility, suffering ostracism, and being subjected to various human rights violations as a result.
Reproductive rights of women in India
Reproductive rights for women in India, like in many countries, encompass a range of rights and issues related to their ability to make informed decisions about their reproductive health, family planning, and overall well-being.
Women have the right to access a variety of contraceptive methods to make informed choices about when and if they want to have children.
Reproductive rights include access to family planning services, which provide information, counseling, and services related to contraception and family size. The government of India has implemented various family planning programs to support these rights.
Women have the right to make decisions about their bodies, including the right to choose a safe and legal abortion. India's Medical Termination of Pregnancy Act, 1971 (amended in 2021), permits abortion under specific circumstances and gestational limits.
Access to comprehensive and accurate sexuality education is crucial for making informed decisions about reproductive health. This education empowers women to understand their bodies, make healthy choices, and protect themselves from sexually transmitted infections.
Child marriage, which can lead to early and often unsafe pregnancies, is a violation of reproductive rights. India has enacted the Prohibition of Child Marriage Act, of 2006 to prohibit child marriage.
Reproductive rights also involve protection from gender-based violence, including forced pregnancies and coerced reproductive decisions.
Reproductive rights extend to the right to maternity benefits and support during pregnancy and after childbirth. The Indian government has enacted laws to protect these rights, such as the Maternity Benefit Act.
Efforts should be made to address health disparities that affect marginalized and underserved communities, ensuring that reproductive rights are accessible to all women, regardless of their social, economic, or regional background.
Women have the right to breastfeed their infants and receive support to do so. The government has enacted laws and policies to promote and protect breastfeeding.
In India, governmental and non-governmental organizations work to promote and protect women's reproductive rights.
Ensuring the full realization of these rights is an ongoing process that involves legal reforms, healthcare infrastructure improvements, and education. Women's reproductive rights are essential for their overall health, well-being, and empowerment.
The Supreme Court of India and several state high courts have made important strides in recognizing the denial of reproductive rights as a violation of women's and girls' fundamental and human rights.
The Indian judiciary gave the landmark K.S. Puttaswamy judgment which bestowed upon an individual the sense and privilege of personal liberty under Article 21 of the Indian Constitution.
In Navtej Singh Johar v. Union of India, the apex court has also extended the meaning of personal liberty by decriminalizing adultery and homosexuality.
In the case of Independent Thought v. Union of India in the context of reproductive rights of girls SC held, that the human rights of a girl child are very much alive and kicking whether she is married or not and deserve recognition and acceptance.
Challenges in India
Although India was among the first countries in the world to develop legal and policy frameworks guaranteeing access to abortion and contraception, women and girls continue to experience significant barriers to the full enjoyment of their reproductive rights, including poor quality health services and denials of women's and girls' decision-making authority.
Women are often made to face the weight of administrative delays. In one such example, a woman was prevented from having an abortion after 20 weeks, despite having requested one at 17 weeks.
Inconsistent judgments add to the general lack of clarity surrounding the conditions in which a woman may legitimately terminate her pregnancy.
Recently, Upholding the right to life of an unborn child, the Supreme Court turned down the plea of a woman seeking termination of her 27-week-old pregnancy.
Discriminatory guidelines like spousal consent being an informal but imperative condition to obtain reproductive health services implicitly or explicitly sabotage women's reproductive autonomy.
Conclusion
Reproductive rights are essential for gender equality, individual autonomy, and the well-being of women and their families. Ensuring that these rights are respected, protected, and fulfilled is a critical goal for achieving women's empowerment and human rights globally.
Respecting women's autonomy and choices in reproductive decisions is fundamental to reproductive rights. Coercion, forced sterilization, and other violations should be prevented.
-Article by Swathi Satish