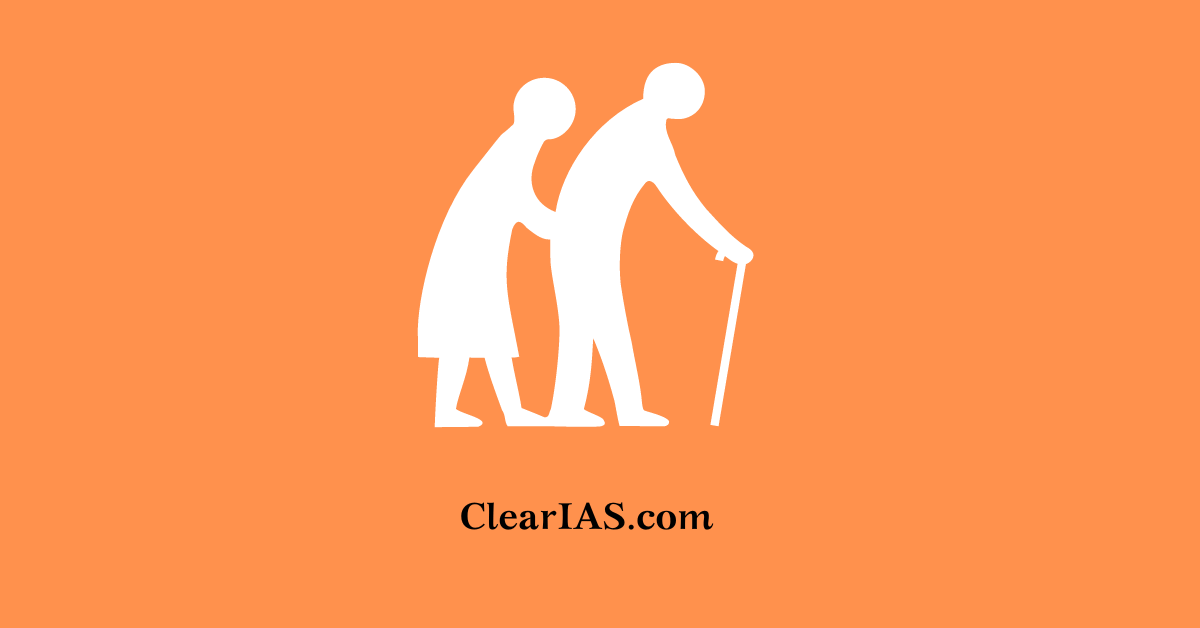 What are the demographic patterns in India as it ages? What are the issues that surround it? What are the many government programs that help India's senior citizens? To learn more, continue reading.
From the moment of conception until death, every human being experiences the continual, irreversible process of ageing.
As per National Elderly Policy, everyone 60 or older is considered elderly.
According to the Economic Advisory Council to the Prime Minister's (EAC-PM) Quality of Life for Elderly Index, the proportion of seniors in the nation's population is predicted to rise from 7.5% in 2001 to almost 12.5% by 2026 and surpass 19.5% by 2050.
What are the contributing factors which increase the ageing population in India?
Increase in Life expectancy
India's life expectancy has doubled since its independence.
Decrease in fertility rates
In India, there are now just two children born to each mother, down from roughly six.
What challenges does an ageing population pose?
Increased spending on health care facilities: In India, a significant portion of the senior population lacks health insurance, increasing out-of-pocket medical expenses.
Decreased Income security: India, which has one of the worst social security systems in the world and spends just 1% of its GDP on pensions, makes it difficult for elderly people to make ends meet.
Feminization of ageing: One of the major issues brought on by population ageing is the "Feminization of Aging," or the fact that more women than men are living longer.
Lack of geriatric facilities: There is an increased urban-rural gap in the matters of tertiary hospital facilities for elderly people. A recent survey found that 30% to 50% of elderly persons reported depressive symptoms.
Reduced quality workforce:  There can be a severe lack of qualified workers due to the decline in the number of people who are of working age.
Increase in dependency ratio: In order to cover greater healthcare expenses, pension benefits, and other publicly supported services, India with an increasing rate of older populations must rely on smaller labor pools to raise taxes.
National Policy on Senior Citizens
A number of elements formed the basis of the "National Policy for Senior Citizens 2011" policy.
These include the growing older population, the shifting economy and social climate, the growth of science, technology, and medicine, as well as the high rates of destitution among the elderly and rural poor.
It aimed to include elderly citizens, particularly older women, and their concerns in the discussion of national development.
It promoted the idea of "Ageing in Place" or ageing in one's own home, housing, income stability, homecare, access to healthcare insurance plans, and other programs and services to enable and sustain dignity in old age.
Which are the intervening areas of this policy?
Microfinance
Senior citizens would be provided with loans at fair interest rates to launch small companies. The Reserve Bank of India will assist microfinance for senior folks by issuing the necessary rules. This can be a productive step toward tackling ageing in India.
Taxation of the elderly people
Taxation policies would be sensitive to the financial issues faced by elderly citizens, which are exacerbated by the high costs of medical and nursing care, as well as the necessity for home support services and transportation.
Safety of the elderly
There would be provisions for harsh punishments for elder abuse committed by others.
Community awareness and policing would be used to combat elder abuse and crimes against senior persons, particularly those committed against widows, those who are living alone, and the crippled.
Government Schemes related to old-age people
In partnership with the States/UTs, the Ministry of Social Justice and Empowerment and other ministries creates and implement Acts, Government Schemes, Policies, and Programs for the Welfare of Senior Citizens.
Rashtriya Vayoshri Yojana for the Elderly
It is a Central  Sector scheme supported by money from the senior Citizens' Welfare Fund.
It aims to provide support and assisted living devices to older persons who fall under the BPL category and have age-related disabilities such as low vision, hearing loss, tooth loss, and locomotor impairments.
A PSU  within the Ministry of Social Justice and Empowerment, Artificial Limbs Manufacturing Corporation (ALIMCO), is the implementing agency of the Scheme.
Pradhan Mantri Vaya Vandana Yojana for the Elderly
Specifically for senior individuals 60 years of age and over, the Indian government introduced the Pradhan Mantri Vaya Vandana Yojana (PMVVY) Pension Scheme.
Subscribers to the plan will receive an assured pension based on a guaranteed rate of return of 8% per year payable monthly, quarterly, half-yearly, or annually in exchange for paying an initial lump sum amount ranging from Rs 1,50,000 for a minimum pension of Rs 1000 per month to Rs 7,50,000 for a maximum pension of Rs 5,000 per month.
For activities up to the district level, the state government will pay 25% of the budget and the centre will cover 75% of it.
SACRED Portal for Elderly
To assist senior citizens looking for employment, the government developed an online employment exchange platform.
The portal was created by the Ministry of Social Justice and Empowerment and is called Senior Able Citizens for Re-Employment in Dignity (SACRED).
The portal allows anyone over the age of 60 to register and search for jobs and employment possibilities.
The Jobs Portal will benefit companies, Self Help Groups (SHGs), senior citizens developing skills, other organizations, and individuals in addition to senior persons looking for employment.
This project is at par with the concept of productive ageing in India.
The SAGE project
The SAGE project and SAGE site for seniors were introduced by the Ministry of Social Justice and Empowerment.
The SAGE portal will provide "one-stop access" to reputable start-ups' aged care goods and services.
It was started with the intention of assisting those people who are interested in starting their own business offering services for aged care.
The SAGE project aims to identify, evaluate, verify, aggregate, and deliver products, solutions, and services directly to the stakeholders.
The Ministry will serve as an intermediary to help senior citizens get the products through designated start-up businesses.
 Indira Gandhi National Old Age Pension Scheme
The eligibility age for the Indira Gandhi National Old Age Pension Scheme is 60 years. For people between 60 and 79 years old, the pension is Rs. 200 per month.
The pension is Rs. 500 per month for those who are 80 years of age or above.
Elder Line: Elderly Toll-Free Number
In addition to urgent assistance in cases of abuse, it offers information, advice, and emotional support, particularly with regard to pension, medical, and legal matters.
It is designed to give all elderly persons, or those who care about them, access to ONE platform across the nation where they can interact, share their worries, and seek advice on issues that they deal with on a daily basis.
Silver Economy: A related concept
It is a system of producing, distributing, and consuming goods and services with the goal of utilizing the purchasing power of older and elderly people and meeting their consumption, living, and health needs.
What is Gerontechnology?
Gerontechnology encompasses a wide range of technical systems and solutions designed to assist the elderly and/or their caregivers with basic daily tasks.
Conclusion
The first step in moving forward is to reduce the financial burden by eradicating the negative stigma associated with ageing in India.
Education, public awareness campaigns, and creative initiatives like Switzerland's time bank can all help to encourage behavioral change.
Additionally, strengthening our pension systems through increased financing and coverage is considered essential. The government must set aside a specific budget for the senior population to do this.
Article written by: Jis John Sebastian