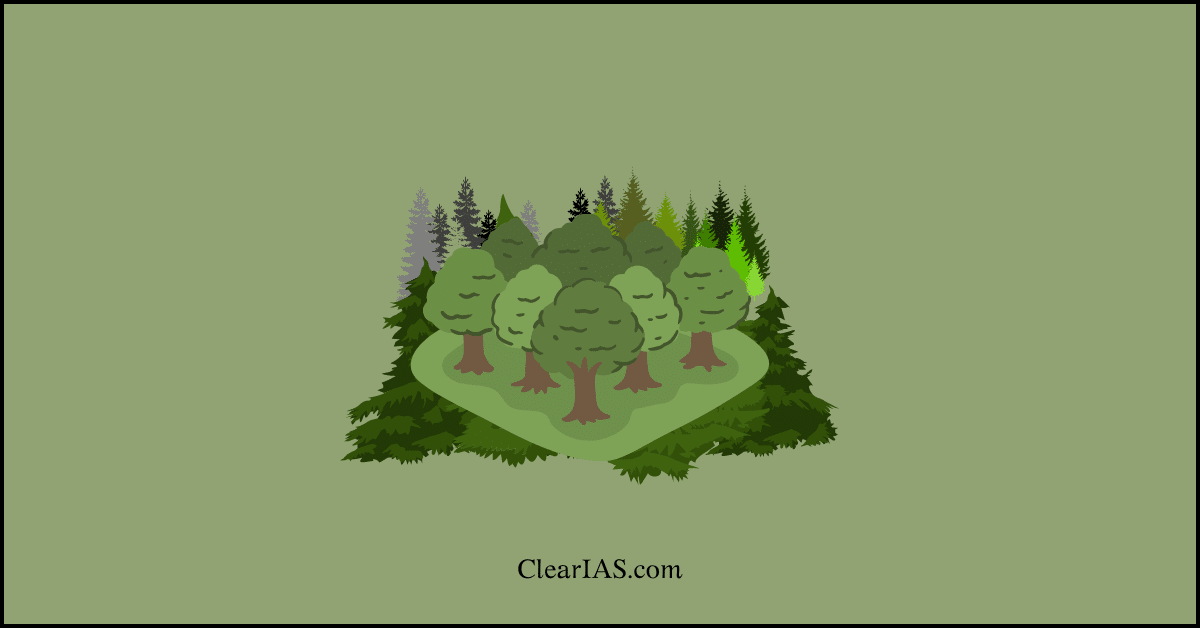 All we know is that our ancestors lived in forest, right? And we knew the importance of forests in the ecosystem. This article deals with the significance and threats of the Amazon rainforest and some suggestions.
Since the early 2000s, more than 75% of the Amazon rainforest has probably been approaching a turning point.
It may be losing its capacity to recover from extreme occurrences. This may cause drought or fire, posing the threat of turning into an ecosystem similar to dry savanna.
Let's discuss all about Amazon rainforest.
Key Characteristics of  the Amazon Rainforest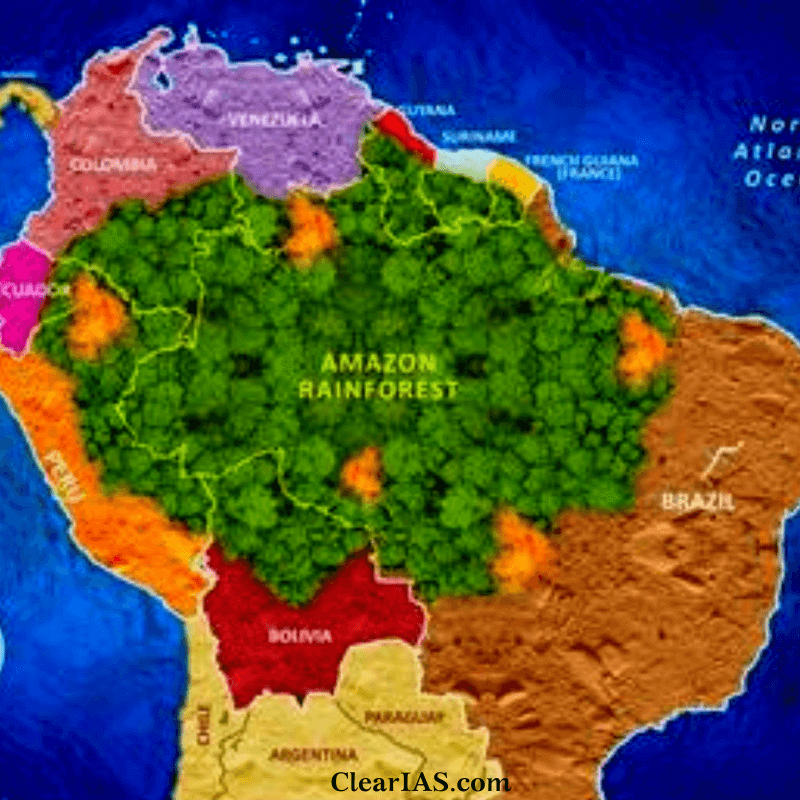 A 30 percent of all species on Earth are found in the Amazon rainforest.
As the largest tropical rainforest in the world, it is the source of 20% of the oxygen used by the planet.
Fishes and birds make up one in five of all species and are found in the Amazon.
The rainforest of the Amazon is home to 400–500 indigenous Amerindian tribes.
The amount of sunlight that reaches the forest floor is also extremely low, leaving it completely dark.
To get more environment notes click here
Significance Of Amazon Rainforest
Rich biodiversity: More plant and animal species can be found in the Amazon than in any other terrestrial ecosystem in the world; it may contain up to 30 percent of all species.
Precipitation: The Amazon rainforest produces between 50 and 75 percent of the world's precipitation through transpiration. Rainfall in the Western United States and Central America is influenced by moisture from the Amazon.
Carbon storing potential: Massive amounts of carbon are sequestered by the 390 billion trees that make up the Amazon rainforest in their leaves, branches, and trunks. About 86 billion tonnes of carbon are stored in forests or more than a third of the carbon stored by tropical forests worldwide.
Climate control: The hydrological system of the Amazon plays a significant part in preserving the local and global climate. Because of the hydrological cycles that depend on the forests, the Amazon's canopy cover plays an important role in regulating temperature and humidity and is intricately linked to regional climate patterns.
Medicinal knowledge: Ingredients from the Amazon rainforest are used in one-fourth of all western medicine. The Amazon provides 70% of the plants that are effective against cancer cells.
Air purifier: With its extensive vegetation, which continuously absorbs carbon dioxide and releases oxygen, it serves as a giant air purifier.
Source of food: Eighty percent of the different types of food we consume worldwide have their roots in the Amazon rainforest. There are more than 3000 varieties of fruit grown in the Amazon that can be eaten.
Local benefits: Tens of millions of people in the Amazon Basin depend on the services provided by the forest. While logging and the collection of non-timber forest products are important industries in many cities, towns, and villages, rivers serve as the primary means of transportation.
Threats To Amazon Rainforest
This vast untamed wilderness is under increasing threat from huge-scale farming and ranching, infrastructure and urban development, unsustainable logging, mining and climate change. Threats can be classified as natural threats and anthropogenic threats.
Natural Threats
El Niño Southern Oscillation (ENSO): An event or trend in the climate that has a significant impact on Latin American climate variability
Deforestation: Amazon has shrunk by 20% in recent years as a result of deforestation to make way for the Trans-Amazonian Highway.
Global temperature rise: The Amazon rainforest could suffer greatly from climate change, as just a three-degree increase in temperature could result in the destruction of seventy-five percent of it. As a result of current global temperatures, experts even predict that the rainforest will perish in just 100 years.
Forest fire: In August 2019, an Amazon rainforest fire that had been burning for more than 20 days caused devastation in the area. This year, there have been a record number of wildfires in the Amazon, with 72,843 fires already being reported.
Unsuitable for sustainable agriculture: Although the Amazon rainforest has the greatest diversity of forest vegetation, the land is unsuitable for sustainable agriculture because it contains very little mineral content.
Drought: Between 2005 and 2010, when rainfall was extremely low, the Amazon suffered from a severe drought.
Anthropogenic Threats
Bio-Piracy & Smuggling: For use as pets, food, and medicine abroad, people take plants and animals from the Amazon and sell them. Trade in these animals causes wild population declines, usually affecting animals already threatened by habitat loss and pollution, and foreigners do not share the enormous profits from these products with the country of origin.
Commercial fishing: Large, industrial trawlers equipped with gill nets scoop up entire schools of fish in many areas of the Amazon in a completely unsustainable effort to get food to market.
Cattle ranching: For the purpose of crop production and cattle grazing, a significant amount of vegetation is constantly cleared—1.5 acres are lost every second.
Mining and extraction: Mining activities were responsible for almost 10% of the total deforestation that took place in the Brazilian Amazon between 2005 and 2015. such as gold mining
Damming: Widespread forest loss has been caused by large hydroelectric projects that have been financed by international aid and development organizations like the World Bank. Along with covering vast areas of rainforest.
Logging: Loggers frequently use fictitious permits, disregard the restrictions on legitimate permits, cut legally protected species, and steal from indigenous lands and protected areas while working in remote forest areas.
Poaching: Animals are frequently hunted illegally so that they can be sold as food or as raw materials for finished goods. Many species are disappearing from the wild, including the giant Amazon river turtle "Paiche" and the Amazon manatee.
Impacts of Loss of Amazon Rainforest
Impact on precipitation: The amount of rainfall will be impacted by this loss. The water that trees absorb through their roots and release into the atmosphere affects precipitation over South America.
Carbon Source: The rainforest is being forced to change into a carbon source as a result of rising temperatures brought on by human-induced climate change and deforestation: locations that produce more CO2 than they take in.
Reduction of Biodiversity: The homes, habitats, and food sources of the species that live there are destroyed when forests are cut down. In tropical forests, it is estimated that 100,000 species per year go extinct.
Disruption of Migratory Corridors: Broken-up habitat patches can frequently be left behind when forests are destroyed. Animals that need to be connected to contiguous forests in order to travel or migrate from one place to another may encounter difficulties because of these scatted portions of the forest.
Higher Temperatures: The Amazon is already scorchingly hot. By removing trees, the forest floor is exposed to more sunlight, which dries it out and raises the temperature of the ground.
Zoonotic diseases: A report from the WWF claims that environmental destruction is to blame for 70% of human diseases. The world's largest tropical rainforest, the Amazon, is undergoing a process of deforestation that could result in a sharp rise in zoonotic diseases.
Threat to indigenous tribes and their knowledge: As contemporary loggers, miners, multinational corporations, and landless farmers invade and devastate the forest, their personal and cultural survival is gravely in jeopardy.
Erosion and degradation of the soil: The majority of the nutrients in the Amazon are found in plants and animals; the soil there is thin and devoid of nutrients. The Amazonian trees not only prevent soil erosion by holding the topsoil in place, but they also release decaying material that feeds and fertilizes the soil's living organisms.
Pollution: Increased human activity frequently leads to ecosystem degradation through the removal of trees, which act as a natural filter for pollutants, as well as through improper use and handling of water and soil.
Way Forward
Reduce deforestation: Reducing deforestation will strengthen the resilience of the Amazon rainforest and safeguard its threatened areas.
Zero deforestation policy: The Brazilian government's current administration is in the spotlight, and it is being urged to implement a zero-deforestation policy to change the situation.
Interference of Supranational bodies: For instance, the European Union is urged to take action to stop the trade of raw materials that contribute to Amazonian deforestation.
Construct knowledge about the role of trees in the Amazon ecosystem: Create awareness among students and youths of the importance of trees to the Amazon ecosystem.
Limit greenhouse gas emission: To protect the Amazon, it is also necessary to limit global greenhouse gas emissions.
Corporate social responsibility: Corporates are required to follow corporate responsibility guidelines which bans them from taking part in endeavours that harm Amazon.
Civil society participation: Reduced meat consumption is one aspect of living a sustainable lifestyle that helps to slow down the destruction of the Amazon.
There are a lot of carbon stocks stored in the Amazon. If all of it were to be released, it would further contribute to rising temperatures and have an impact on future global mean temperatures. Therefore, saving the Amazon would eventually save the entire human population.
Article Written by- Remya