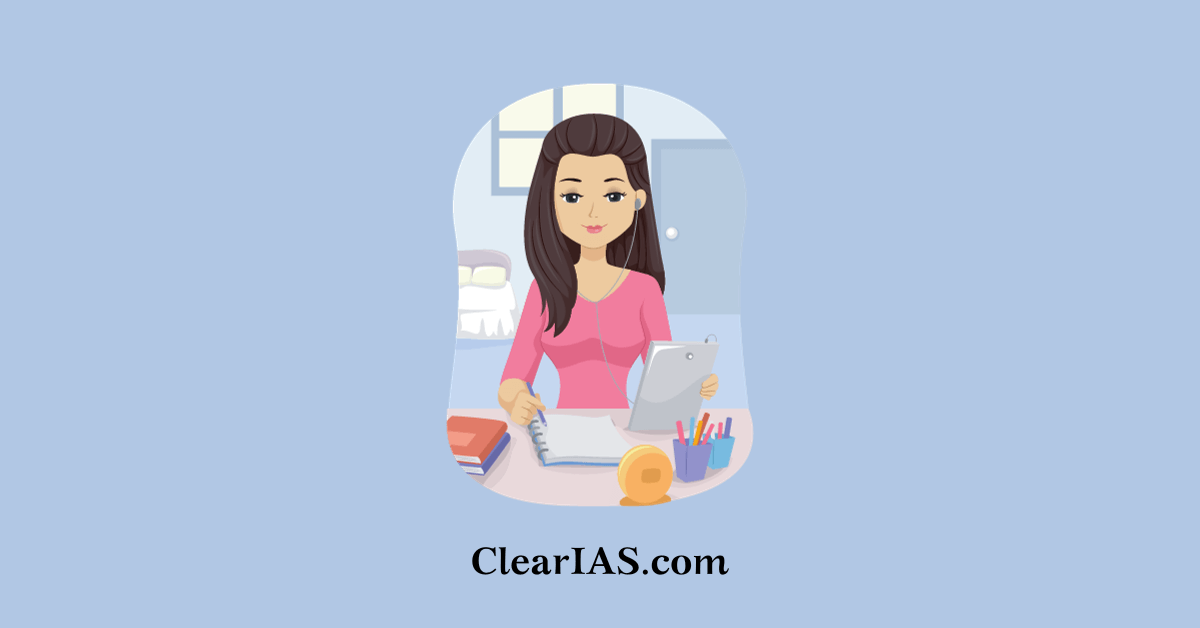 To get selected into any of the civil services is not a small achievement. But to repeat the feat multiple times, and to get selected into IAS in the 6th attempt is not that common. That's what Anju Arun Kumar did.
Anju started her UPSC preparation right after B.Tech and got the selection to IAAS first. But her ambition was IAS. Her subsequent attempts landed her in IRS. She got married by then. Even though many would have settled by then, that was not the case with Anju. Her 6th attempt landed her in her dream service – IAS!
Strategies of toppers who are able to repeat their success and prove that they are not one-time wonders carry a lot of weight. Let's welcome Anju Arun Kumar to the "UPSC Toppers Interview" at www.clearias.com.
Brief Bio- data of Anju Arun Kumar: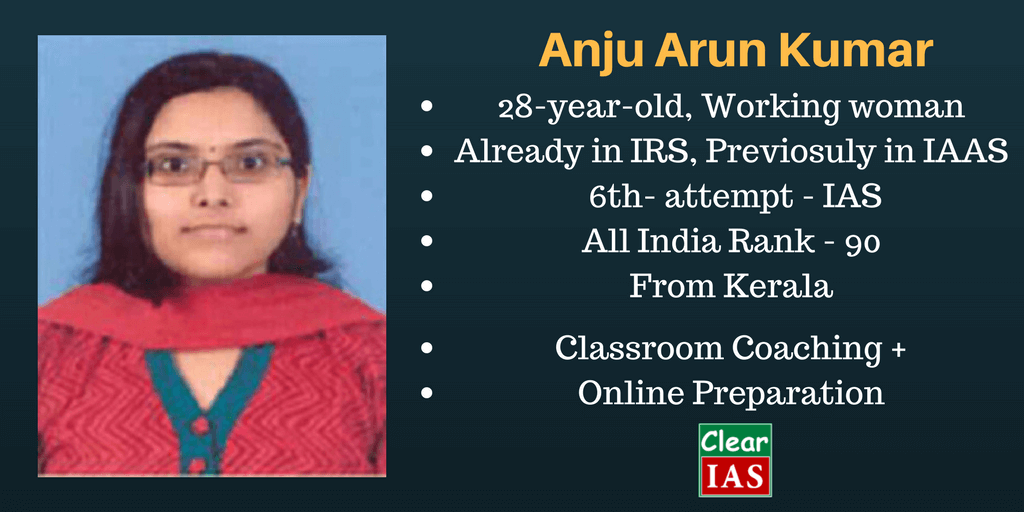 Name: Anju Arun Kumar
Age: 28
Name of the Exam and Year: CSE 2016
Rank: 90
Roll number: 0493144
Category (General/OBC/SC/ST): General
Graduation Background and College: B.Tech(ECE), NIT-Calicut
Post Graduation Background and College (if any): NIL
Work Experience: Organization and Duration (if any): IA&AS for 2.5 years, currently in IRS (C&CE)
UPSC Optional Subject: Public Administration
UPSC Mains Medium: English
UPSC Interview Medium: English
The number of attempts taken to achieve this feat: 6
Performance in previous attempts (if any): 1st – IA&AS, 3rd– IRS
State and Place of Residence (Permanent): Kollam, Kerala
Percentage of Marks in 10th and Board: 92% (CBSE)
Percentage of Marks in 12th and Board: 92.4% (CBSE)
Percentage of Marks in Graduation and Board/University: 8.56/10 (CGPA)
What's unique about your profile: Brought up as an NRI in Bahrain
Service Preference (Top 5): IAS (only)
Cadre Preference (Top 5): MP, Maharashtra, Uttarakhand, Rajasthan, Karnataka
Background + Inspirational Journey So Far: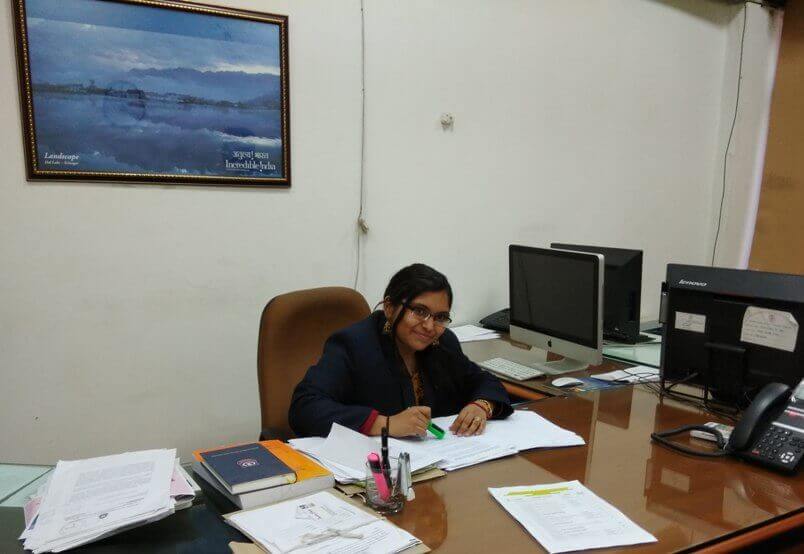 ClearIAS.com: Hearty congratulations from ClearIAS.com for this exceptional achievement!  We are happy that your efforts are finally rewarded, that too in grand style! Let's start from the beginning. How did you come across the idea of writing UPSC Civil Services Examination? Was it your childhood dream?
Thank you! Yes, you could say it was a childhood dream, as I had seen some bureaucrats up close, but I wasn't sure how to reach there, or whether I could. Eventually, when I went to college, I interacted with friends who were aspiring for the same, and they gave me the much-needed direction and motivation to start this journey.
ClearIAS.com: How did you feel when you came to know that your name is in the toppers list? Can you share the moments of happiness with our readers?
I had come to know from a close friend and colleague who called me up. At first, I couldn't really grasp that it was real, but when I did, I was ecstatic!
ClearIAS.com: Can you share a little bit about your background? (Family, School, College, Work etc.)
I come from a normal middle-class family. My father is a retired engineer, and my mom is a homemaker. I had done my entire schooling in Bahrain, where my dad used to work. I had come to Kerala to do my B.tech, from where I was straight away propelled into CSE-mode, and so I didn't take up my placement job. I worked in IA&AS, where I was first an Officer Trainee, and later posted as Deputy. Accountant General in Dehradun. I later joined IRS (C&CE), where I am currently undergoing training in NACEN, Faridabad.
My stint as UPSC aspirant can be summed as below:
First attempt (2011) – All-India Rank 305.
Second attempt (2012) – Didn't clear Preliminary Exam.
Third attempt (2013) – All-India Rank 330.
Fourth attempt (2014) – Cleared Main Exam, but didn't reach the final list.
Fifth attempt (2015) – All-India Rank 475
Sixth attempt (2016) – All-India Rank 90.
ClearIAS.com: How can you correlate you graduation background, work experience (if any) and entry into civil services? Can you brief us your thoughts, views, and ambitions when you climbed each position in the ladder of your life?
My graduation was honestly very different from my optional subject, but it was definitely the experiences there and the people who I met, who played a major role in bringing me into this. I was hopeful that I could get through, but I also accepted that it could be a long journey and that I will have to persevere like never before. I have always been very thankful for every barrier I crossed in CSE, which I owe to my family, friends and God, but I always wanted to keep moving on, till I reached my goal, which I thankfully finally have.
ClearIAS.com: Do you feel that the competition level of UPSC Civil Services Exam is on a rise? It seems that there is an increasing trend of candidates from IITs, IIMs and AIIMS attempting and clearing this exam. Is Civil Service the final destination /ambition of Indian youth, in this age of lucrative private sector jobs?
Definitely, the competition level has risen. With the entry of post-graduates and other professionals into this exam, UPSC too has tried to make the exam tougher. I think that it is a positive sign that more candidates from the above-mentioned institutes are joining the race and the Civil Services. It shows that people have finally recognised this as a good alternative career choice, and also shows that the youth of today bother more about their role in society, and also in job satisfaction derived from serving the society. This is definitely a good sign for any progressing nation.
Study Plan
ClearIAS.com: What is the secret of your success? 🙂 How did you approach this exam? What was your strategy in general (Prelims, Mains, and Interview)?
Honestly, I don't think it is a secret. Hard-work, or rather smart-work, and perseverance are the only ways to reach the goal.
I did not compartmentalise between the various stages of the exam and started my preparation from a Mains point of view. Prelims gets covered along the way. Only 2 months before the prelim did I give it dedicated time and effort.
For the Mains, this year I tried to do GS only at a basic level and focused more on Essay and Optionals as I feel that they are the major game changers.
For Interview, I focused mostly on my DAF, by making Q&A out of it. But the main preparation is honestly just introspection and confidence-building.
ClearIAS.com: How long (Years/Months) have you been preparing before you gave this attempt? Also, on an average how many hours did you put on a daily basis? How did you manage time?
Before I gave my first attempt, I had spent an entire year in covering the syllabus. Of course, subsequent attempts did not require that level of an effort, but rather the effort was utilized in updating myself and in formulating answers.
I can't really generalize how much time I have spent per day, because I have been working, and at some point, I was on leave. When working, I try to spend 5-6 hours, and while on leave, I tried to put in atleast 10 hours. At the end of the day, what really matters isn't the amount of time you spend, but on the quality utilization of that time.
ClearIAS.com: Were you a person who studied alone? Or a person who favoured the combined study approach?
I preferred studying alone. I have had only one partner who studied with me, but after he reached his goal, I was pretty much on my own. But I have had many friends, who have guided me along the way.
ClearIAS.com: Did you attend any coaching institute or subscribe to mock tests for prelims or mains? If yes, can you provide the details for each stage (Prelims/Mains/Interview)? How helpful were the coaching institutes?
Yes, initially I did, I had attended Vajiram& Ravi, and had attended their test series as well, for both prelim and mains.
This year, I had joined Pavan Sir's Institute for Public Administration test series.
For the interview, I had given mocks at various places like Vajiram, Chanakya, Hamdard Study Circle.
I don't feel that coaching institutes help much in the preparation, as they cover only major parts of the syllabus and not the entire thing, and are only helpful in giving a direction, and nothing more as they might lead to similar answers by the students.
However, I strongly recommend test series for GS, Essay and Optional, as it not only gives you a question bank, but it also helps you in honing your writing skills and presentation. It also helps you in preparing yourself mentally and thus will help in saving time in the actual exam.
ClearIAS.com: What websites (online preparation websites or government websites) will you recommend for future aspirants for UPSC preparation?
Government websites are very important especially PIB for regular updates. Also, checking the Ministry websites for schemes and their annual reports also helps in giving authentic information and statistics.
Besides this, for online prep, several sites are there like Mrunal.org, Vision IAS, Clear IAS, PRS online etc., which help in giving simple notes for various topics so that the entire syllabus gets covered.
ClearIAS.com: What is your opinion/feedback about the ClearIAS.com website/ClearIAS app?
The website is very informative and has helped me in covering various topics in the syllabus. With regular updations, it can be made even better.
ClearIAS.com: Please mention the programs of ClearIAS which you used.
ClearIAS.com: Did you use Social Media like Facebook, Twitter or other forums for UPSC Preparation? Or did you say goodbye to the social media during preparation days? Any technology-tips (Eg: Mobile apps, Note making software etc.)?
Since I am not a person who is entirely hooked on social media, I didn't feel the need to stop using it. In fact, I have come across many important articles shared by friends on FB, which have proved helpful. I also rely a lot on YouTube, because I find videos an easier way of retaining information.
ClearIAS.com: What were the Newspapers and Magazines (Eg: Yojana, Kurukshetra etc.) you followed? How many hours did you devote for newspapers? Any tips on newspaper-reading?
Yojana is a good magazine which can help in updating oneself on the schemes and other government initiatives. Other than that, I focused on newspapers like Indian Express and Economic Times. I used to initially take around 3 hours, but gradually I pulled it down to 1.5 hours.
Newspapers must be read from CSE point of view, ie, one should avoid reading too much about political controversies, as they tend to polarise our thoughts and also leads to waste of time. For reading the paper, first acquaint yourself nicely with the syllabus, and have a good look at past years' papers, so that you know what you should be looking out for. Make hand written or typed notes as per your convenience, and leave ample space per topic for later updation. You can also make notes in a compartmentalised manner, such as Economics, Polity, Geography, Sci & Tech, etc.
ClearIAS.com: What was your preference: Reading online (Laptop/Tablet/Mobile) or reading the traditional way (Books)? Or a mix of both?
A mix of both. While I read some basics books the traditional way, I relied a lot upon the internet to constantly update myself, and to cover those portions of the syllabus, where I felt I lacked in clarity or depth, and also those minor portions which the books didn't cover.
ClearIAS.com: Can you elaborate your daily timetable (When will you wake up, study, sleep etc. )
This is a little tough to answer, as I did not exactly have any fixed routine. Broadly speaking, I get up late, study throughout the day (assuming I am talking about a leave day), and then study into the night. I am more comfortable studying in late hours. Of course, during work, I used to take half an hour break after work, and get into studying as much as I can till it's time to sleep. I keep taking small breaks every 2 hours during studying so that I can go on for longer.
ClearIAS.com: How did you keep yourself motivated for this one-year-long exam?
It is tough to keep focused all the time, I must admit, and there were many times when I almost gave up. But by constantly reminding myself about why I started this in the first place, and what I set out to achieve, I managed to motivate myself. I was also extremely lucky to have a good support system in the form of friends and family, who always helped me whenever I hit any low point.
UPSC Prelims
ClearIAS.com: Can you elaborate on your preparation strategies/approach and study materials and books used for Prelims Paper 1 and Paper 2?(Please mention books/materials used for each subject)
Books/Study Materials for History: NCERTs, Spectrum series
Books/Study materials for Geography: NCERTs, Goh Cheng Leong
Books/Study materials for Polity: NCERTs
Books/Study materials for Economics: Mrunal.org, Arthapedia.org, Sriram's IAS notes
Books/Study Materials for Science and Technology: Papers and the internet (generally)
Books/Study materials for Environment: Shankar's IAS, the internet
Books/Study Materials for Current Affairs: Papers, Vision IAS
Books/Study materials for General Studies Paper 2 (CSAT): no material, only practised past papers
ClearIAS.com: Any tips/pieces of advice especially for UPSC Civil Services Prelims?
Focus on test series for improving speed and accuracy.
UPSC Mains
ClearIAS.com: Can you elaborate on your study materials and books used for each topic of Mains Papers? (Please give a detailed view, especially for sub-topics in all the general studies papers like books/materials used for each sub topic like Disaster Management, Internal security, Indian Society, Biodiversity etc.)
Books/Study materials used for Essay Paper: Quotes from online sources, help from friends
Books/Study materials used for General Studies 1 (Indian History, World History, Indian Society, Indian Geography, and World Geography): Same as Pre + youtube videos
Books/Study materials used for General Studies 2 (Constitution, Polity, Governance, Social Justice, Foreign Relations, and International Affairs): Same as pre + Laxmikanth + Vajiram notes + Census
Books/Study materials used for General Studies 3 (Indian Economy, Biodiversity, Science and Technology, Internal Security and Disaster Management): Same as pre + 2nd ARC reports on Security and Disaster Management + Economic Survey + Budget
Books/Study materials used for General Studies 4 (Ethics + Case Studies): Lexicon on Ethics ( By Chronicle), Justice Harvard videos online + test series
Books/Study materials used for Optional SubjectPaper 1: Mohit Bhattacharya's 3 books
Books/Study materials used for Optional Subject Paper 2: Goyal & Arora, 2nd ARC reports, Pavan Sir's notes
Books/Study materials used for Regional Language (Compulsory): NIL
Books/Study materials used for the English Language (Compulsory): NIL
ClearIAS.com: ClearIAS.com: Did you prepare hand notes or participated in mock answer writing before mains? What was the strategy for preparing current affairs topics in general?
Yes. I prepared some notes. I had some from coaching institutes, but I always tried to update it with reading other material. I also went for test series this time, which I honestly feel has helped me a lot.
For GS current affairs, I tried to cover the paper and also monthly magazines like Vision IAS, or any other of your choice. I tried to frame possible questions and answers, which was further supplemented by the questions from test series.
ClearIAS.com: What are the government reports that aspirants should go through, before giving Mains Exam?
Census, Budget, Economic Survey, 2nd ARC reports, Annual Ministry of Home Affairs report.
ClearIAS.com: What was the colour of the pen you used for writing mains (Blue Ink/ Black Ink)? Also, the company and brand name of the pen used:
Blue Cello Gripper
ClearIAS.com: What were your writing style in GS and optional subject? Bullet Points/ Essay style or a mix of both styles?
A mix of both. Intro and Conclusion should be small paras of 2-3 sentences. The body can have sub headings and can be a mix of points and paras.
ClearIAS.com: What are your suggestions to aspirants for improving the score in essay paper? What were the essays you choose to write? Did you use sub-heading/points/graphs in your essay paper?
I had written the one on engendering development, and on cyberspace and the internet.
For the essay, the structure is very important and should be comprehensive and cover every aspect of the topic, such as its relevance, its evolution, pros and cons, ways to improve and way ahead. Always end on a futuristic and optimistic note. As per a friend's suggestion, I had tried to include the relevance of the topic in the introduction, and the second para contained a sort of summary of the aspects I intend to cover in the essay, something like an abstract. I feel this helped a lot in boosting my marks by 30 points.
What are your suggestions to aspirants for improving the score in GS1 paper (History, Geography, Society etc?
Include points from other topics, and don't restrict answers to history or geography alone(and this applies to every paper). Treat papers like GS! Draw maps and diagrams wherever relevant.
What are your suggestions to aspirants for improving the score in the GS2 paper (Polity, Constitution, Social Justice, International relations etc)?
Include articles and relevant acts wherever possible. Know the jargon used well, so that it can be used judiciously. Draw flowcharts wherever relevant. Experiment with these diagrams during prep itself so that you don't waste time on innovating new ones in the exam hall.
What are your suggestions to aspirants for improving the score in GS3 paper (Economy, Environment, Science and Tech, Internal Security, Disaster Management etc?
Try to use data and statistics, but if you do so, please do quote the source as well, so as to make the data authentic. Try to include data from the economic survey and budget. Try to link across topics.
ClearIAS.com: What are your suggestions to aspirants for improving the score in GS4 paper (Ethics paper)? Can you brief on how you attempted the Ethics paper? Please explain the strategies and writing the style for Ethics case studies.
Again, don't restrict yourself to ethics, as this too is a GS paper. Try to include other aspects like economic, social, political etc.
While preparing itself, try to form answers on each jargon in ethics that you are familiar with and which is there in the syllabus. Try to find 2 examples in each topic, one which you see in everyday life, in society, and one which you see in a national or international level. Try to find few relevant quotes by leaders in these topics.
In case studies, try to first write down the major issues that have to be addressed. You cannot solve a problem if you don't know what it is in the first place. Then try to go to extremes as options, and lay down pros and cons for every stakeholder. Certain questions might require you to write down the various stakeholders as well. The middle path should always be chosen. Try to follow a logical course of action, by going from the very minimal to the maximum (saam, daam, dand, bhed). Use of force should always be a last resort and must not be the first choice. For improving the thought process required for these, please dwell upon how bureaucrats tackle various issues, which you might come across in the news.
ClearIAS.com: What was your optional subject? Please give our readers detailed insights on your selection and strategies regarding your optional subject. We are sure that there will be many who take the same optional subject as yours in future.
My optional was public administration. I chose this subject initially because I had heard it was scoring (atleast it used to be when I had started prep!), and also because I felt it will help in GS and essay. Eventually, I fell in love with the subject, which helped me stick to it till the very end.
I think the best way to study this paper is by first completing the syllabus, and then trying to interlink topics across the papers. Examples for paper 1 must be from paper 2, and vice versa. For this, test series and writing practice will help immensely! I tried to put paras and bullets, wherever relevant. I tried to put in a few diagrams if possible. And in some topics of paper 2, I would put thinkers as well as concepts.
ClearIAS.com: What was your exam hall strategy for mains: attempting all questions even at the cost of compromising quality or writing only quality answers compromising on the number of questions attempted?
I always made sure to attempt everything. I have followed 2 strategies over the years, and both work, so feel free to choose.
One way to go about it is to see the questions first (given separately in the end) and attempt those which you are sure of, then go to the others in descending order of confidence in the answer.
Else, the other way is to go in order. If you know anything in the question, answer as much as you can and come back to it later if needed. If you are blank, don't waste time on it, go ahead and revisit it in the end.
In the case of paucity of time, I used to atleast write points.
But with practice and proper time management, you can easily finish all the questions in full answers.
UPSC Interview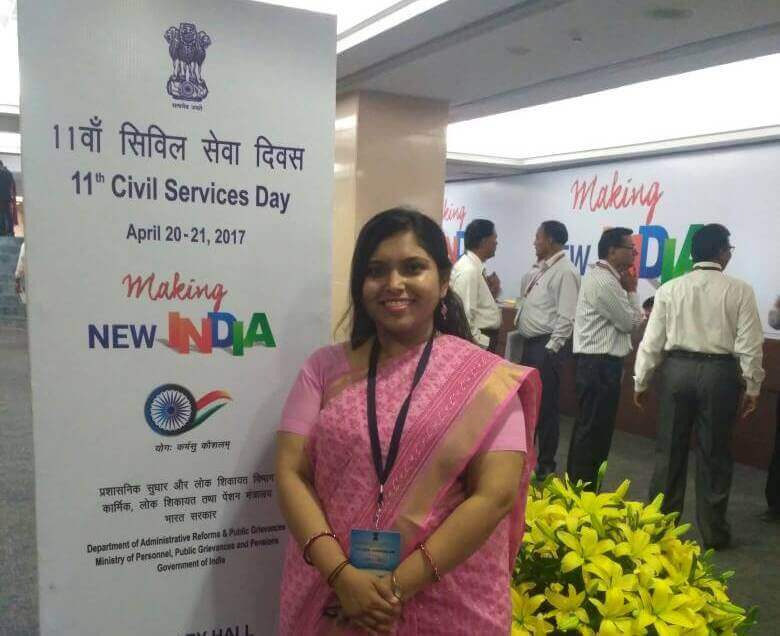 ClearIAS.com: Can you elaborate on your approach and preparation for Interview? Did you attend any mock interviews?
I tried to focus on making Q&A from my DAF. The rest was current affairs from papers and discussions. Honestly, I think interview preparation is more of a personal journey, where you ask yourself why you are here and try to see how you would handle situations, and build your self-esteem.
Yes, I did attend many mocks in Delhi.
ClearIAS.com: Can you elaborate a bit on the things mentioned in your DAF (Detailed Application Form) like your hobbies, extracurricular activities or prizes won:
My hobbies were dancing and instrumental music.
ClearIAS.com: What was your interview dress?
Light pink cotton saree
ClearIAS.com: Who was the Chairman of the board you faced? How long was the interview?
Ms Sujata Mehta
It was about 30 minutes.
ClearIAS.com: Can you share with our readers your UPSC Interview experience? Our readers would be really happy to hear those questions and replies in the UPSC Topper's Interview.
I honestly can't recall everything. Chairperson Mam had asked me a few questions on cities and villages which I couldn't answer very well, but then she asked me questions on improving slums, which helped me get back on track. One member asked me about the difference in relations between Saudi and Iran, Shia-Sunni conflict, the aftermath of Arab Spring (due to my background). One asked me whether I thought women made better managers than men, and I answered that this cannot be decided based on gender but on skills and aptitude. Another member asked me about the national health policy, implementational challenges and how to resolve them. Another asked me about reasons for the disintegration of USSR, India's space program and whether it is a good idea inspite of poverty. Chairperson Mam had, in the end, asked me about Outcome budgeting, and also about what my department (IRS) is doing to welcome GST.
ClearIAS.com: Were you happy after the interview? Did you expect good marks?
I was fairly satisfied, though I knew I would get only above average. I got what I had expected.
ClearIAS.com: Any tips for aspirants going for UPSC Interview?
Do not go with any preconceived notions about which direction the interview will take. I have no clue why some questions were asked to me, and yet they were, Do not get stressed or thrown off when things don't go your way. In that half hour, you will definitely get opportunities to correct it, just be sure to grab them at the right time. Be alert, and be open-minded. And lastly, be yourself, and feel that you are already a civil servant. This will boost your confidence.
Do you think that there is a relation between the profile of the candidate (age or education background) and interview marks? At a time when lot many candidates from top institutes like IIT, IIM or AIIMs appearing this exam, is there any matter of worry for other candidates from state colleges or those without work experience?
Not at all. I have got bad marks in the interview when I was younger! Indeed freshers have an edge I feel, and when one is from a settled background, then the expectations might rise. There is no matter of worry for any candidate. Just prove your worth in that half hour, and rise upto their expectations, or exceed if possible. There is nothing to worry. This is the only part of the entire process, where they are judging you as your true self, so just face it as a challenge.
Previous Attempts/ Backups/ Others Jobs Qualified (if any)
ClearIAS.com: Comment on your previous attempts on UPSC Civil Services Exam, if any? What have you learned from the mistakes/failures?
1st – IA&AS, 3rd– IRS C&CE
I have learnt that Essay paper shouldn't be ignored and that even if you are good at writing, test series or any other writing practice is a must! The importance of writing to improve presentation and speed cannot be emphasised enough!
ClearIAS.com: What was your backup plan in case you didn't qualify?
I did in my first attempt, and so I was planning to write again if I hadn't. Else, I probably would have tried to write CAT and join IIM.
ClearIAS.com: Did you write/clear any other exams (like Bank exams/State PSCs/ Private Jobs) during the preparation period or before:
I had tried to write RBI exam for practice, but I didn't clear it.
More on Work Experience (if any)
 ClearIAS.com: Details of your organisation, name of the post and the duration of experience:
IA&AS for 2.5 years. Currently in IRS(C&CE)
ClearIAS.com: Did you leave the job to prepare?
No, but I had taken leaves.
ClearIAS.com: What is your advice to working professionals who're preparing for IAS exam simultaneously?
Try to finish reading the paper or doing any other current affairs work in office hours. Once you are back, and once you start off, try to focus on optionals first, and try to read up on GS later. Weekends must be dedicated to revision and writing practice.
It might be challenging, and you might not be able to put enough hours as those who aren't working. What truly matters though is how well you utilise the time that is available to you. Keep focused, and once you are back home, do not carry any baggage of work, and just focus on your prep.
Marks – Prelims, Mains, and Interview
Preliminary Exam (Just for Qualification):
General Studies Paper 1: (Out of 200)122
General Studies Paper 2: (Out of 200) I think 127(not sure)
Mains:
Essay (Out of 250): 145
GS1 (Out of 250): 97
GS2 (Out of 250): 95
GS3 (Out of 250):108
GS4 (Out of 250): 116
Optional Paper 1 (Out of 250): 168
Optional Paper 2 (Out of 250): 139
Written Total (Out of 1750): 868
PS: Please also indicate the approximate number of attempts in each General Studies paper and the optional paper. For how many marks did you attempt in each paper?
I attempted the whole paper in every subject.
Interview (Out of 275)
Marks for Personality Test: 171
Final Marks (Out of 2025): 1039
Success
ClearIAS.com: What do you think of as the main reason for your success? (Feel free to name any special help from friends, teachers, family, coaching institutes, websites, or other sources)
My husband, who was my partner and my constant motivation. My parents and in-laws who gave me the freedom and space to follow my dreams. Friends for all their help, especially in this attempt, Anand and Nandini. Teachers – Shabbir Sir (geography+GS), Pavan Sir (public administration), Samar Hamid Sir (interview-Hamdard Study Circle).  And Vision IAS, and youtube!
ClearIAS.com: What preference in services have you opted for? Is there any particular reason for that priority? What are the novel ideas you have for the country, to be implemented once you get into civil services?
IAS was my only choice this year.
I haven't thought of novel ideas yet. I think necessity is the mother of all invention, and I'm sure with the help of the staff and society, innovations can be made whenever required. My focus areas would be education, health and women empowerment. If a person is healthy, they can focus on studies, and if educated, the person can earn a livelihood for the family. More so, if the female is educated in the family, it will help in ensuring that the children (both boy and girl) will have a good future. This cycle when it is completed, will help in the progress of the entire society and ultimately the nation.
ClearIAS.com: Did your life change after success/attempt in UPSC Civil Services Exam? If yes, how?
Honestly, not drastically. I have been humbled by the wishes of friends, family and am realizing the importance of this success when people ask me for tips. But yes, this success is just the beginning of a new chapter in my life, and I hope I can help many people along the way in whatever little way possible.
ClearIAS.com: Does the educational or financial status of the family of the aspirant impact the UPSC preparation and result?
More than education or finance, I think what is more required is the awareness of the family about the extent of perseverance required for the exam, and the willpower and commitment of the family to facilitate the aspirant along the way. I have seen friends from very humble backgrounds reaching here, and have also seen very well-off friends not making through after several attempts. Ultimately, the family also has to be committed to the aspirant's dream. Once there is a will, there will always be a way.
ClearIAS.com: Any tips on Civil Services exam preparation and other priorities in life (Financial security, Higher Studies, Marriage, Family life etc.)
If you are financially sound, and if your family responsibilities can wait, I say that you should try to dedicate yourself to this, because it will be worth it. However, if that is not the case, please do remember that this is just an exam for a job. Our life and everyone and everything in it matters, a lot! I got married 3 days after I gave my interview for the attempt that got me into IRS! I am no one to suggest which should be of higher priority for you. That is your call! As long as you know how to balance everything in life, it is not an issue.
ClearIAS.com: What is your advice to the freshers who are going to appear in this exam?
Do not think you are at any disadvantage. Rather, I think because you are new, you can breathe freshness and life into your answers, which will set you apart, which could help you in getting through. Just focus on completing the syllabus, and focus on answer writing, test series, and of course, revision! Keep in mind in the game, and just keep pushing. Don't get overwhelmed by the quantum of the syllabus. Just start at one end, and just keep going on. Stay motivated, stay confident, and you can do wonders in the first attempt!
ClearIAS.com: What is your advice to all those candidates who didn't succeed in this exam yet?
Never, never, ever give up! If you didn't succeed, try to understand where you are going wrong, correct yourself, and try again. If you are sure that this is what you wish to do in life, do not give up on your dreams, not till you have given it all you have got! Keep going on, my friends. It will be worth the struggle.
ClearIAS.com: We like to express our heartiest congratulations once again for this grand success. We are happy that you chose ClearIAS.com to share your happiness on this special occasion. ClearIAS.com sincerely thank you, on behalf our readers and ourselves, for the spirit and benevolence to find time to write answers to our detailed questionnaire. Wishing you, all the very best in career and life.