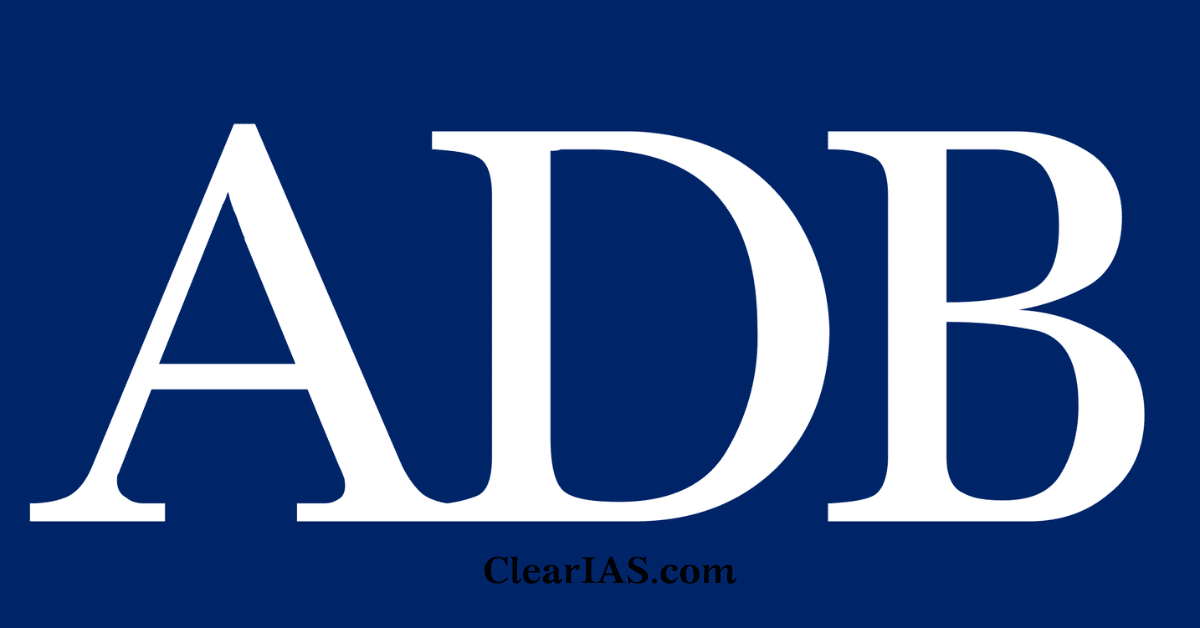 In this article we shall discuss about the history of ADB, its major objectives, focus areas of investment and its membership and voting rights criteria. We shall also look into some of the its major investment projects in India.
When it comes to global financial institutions, the first thing that comes to our mind would be the World Bank.
But there are regional financial institutions that focus more on specific target areas thereby enhancing regional prosperity.
The Asian development bank (ADB) is one such regional financial institution focusing primarily on the development of Asia-pacific.
What is ADB?
The Asian Development Bank is a regional development bank (ADB) established on 19th December 1966. It is headquartered in Manila, Philippines.
History of ADB
ADB was conceived in the early 1960s as a financial institution that would be Asian in character and foster economic growth and cooperation in one of the poorest regions in the world.
It was formed as a result of a resolution passed at the first Ministerial Conference on Asian Economic Cooperation held by the United Nations Economic Commission for Asia and the Far East (ESCAFE) in 1963.
Manila, the capital of Philippines, was chosen to host the new institution. Initially it had only 31 members. Takeshi Watanabe was ADB's first President.
During the 1960s, ADB focused much of its assistance on food production and rural development.
Main objectives of ADB
The Asian Development Bank (ADB) envisions a prosperous, inclusive, resilient, and sustainable Asia and the Pacific. It aims to eradicate extreme poverty in the region.
ADB assists its members, and partners, by providing loans, technical assistance, grants, and equity investments to promote social and economic development.
ADB facilitates policy dialogues, provides advisory services, and mobilizes financial resources through financing operations that tap official, commercial, and export credit sources.
Also read: Asian Infrastructure Investment Bank (AIIB)
Focus areas
ADB provides its member countries in Asia and the Pacific with the knowledge and expertise to tackle the following problems:
Agriculture and Food Security
Climate Change and Disaster Risk Management
Digital Technology
Education
Energy
Environment
Finance
Fragility and Vulnerability
Gender and Development
Governance
Health
Public-Private Partnerships
Regional Cooperation and Integration
Social Development and Poverty
Transport
Urban Development
Water
Who can be its members?
From 31 members at its establishment in 1966, ADB has grown to encompass 68 members as of now.
Now the question is, was India a founding member?
Yes, India was one of the 31 initial member countries.
Can countries outside Asia become its members ? The answer is yes. ADB does not restrict its membership to Asia alone. The bank admits members of the United Nations Economic and Social Commission for Asia and the Pacific (UNESCAP) and non-regional developed countries.
Voting rights within ADB
It is modelled closely on the World Bank and has a similar weighted voting system where votes are distributed in proportion to members' capital subscriptions.
Among the five largest shareholders are Japan and the United States (each with 15.6% of total shares), the People's Republic of China (6.4%), India (6.3%), and Australia (5.8%).
ADB and India
ADB is contributing to India's fast, green and inclusive recovery from Covid 19, with investments in infrastructure, small enterprise development and social sector.
Some of the projects assisted by ADB include:
A USD 96.3-million loan agreement to provide safe drinking water and improve water supply and sanitation services in the state of Himachal Pradesh.
 A $500 million loan to expand the metro rail network in Bengaluru
A USD 4.5 million Project Readiness Financing (PRF) loan to support urban mobility in Mizoram
Article written by: Caroline Abraham