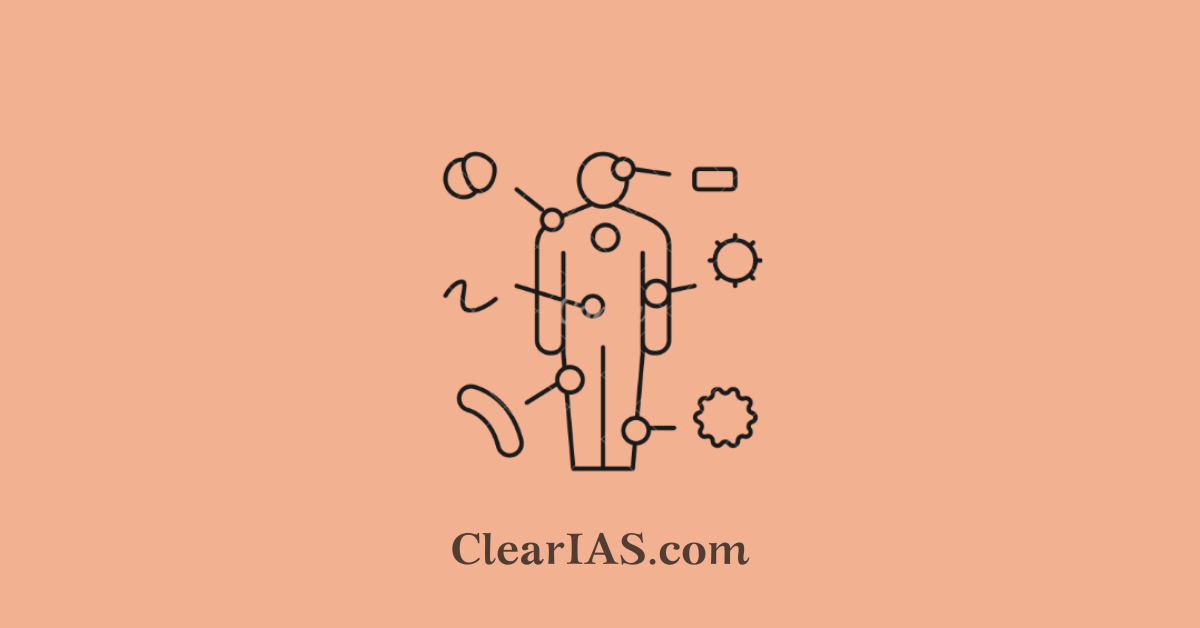 When the body's natural defence mechanism can't distinguish between your cells and alien cells, it develops a condition called autoimmune disease and unintentionally attacks healthy cells. Autoimmune illnesses come in more than 80 different varieties and affect many different body areas. Read here to learn more.
The body's immune system protects it against illness and infection. However, when the immune system is damaged, it wrongly targets healthy cells, tissues, and organs for assault.
These attacks, also known as autoimmune illnesses, can affect any region of the body, impairing basic function and potentially becoming lethal.
Recently, scientists have fabricated monolayers of pure myelin basic protein (MBP), a major protein component of the myelin sheath, which is a protective membrane that wraps around the axon of nerve cells and acts as a model protein in studying autoimmune diseases like multiple sclerosis (MS).
Autoimmune diseases
Autoimmune diseases are conditions in which the immune system mistakenly attacks the body.
Normally, the immune system protects against viruses and germs. It sends out an army of fighter cells to attack these alien invaders as soon as it detects them.
The immune system can typically distinguish between its cells and foreign cells.
The immune system misidentifies a portion of the body, such as the joints or skin, as alien in an autoimmune illness. Autoantibodies, which are proteins released by the body, assault healthy cells.
Some autoimmune disorders exclusively affect a single organ. The pancreas is harmed by type 1 diabetes. Other illnesses, such as lupus or systemic lupus erythematosus (SLE), can have a total body impact.
Doctors are unsure of the precise etiology of immune system malfunction.
According to a 2014 study, 6.4% of women and 2.7% of males respectively experience autoimmune disorders. The illness frequently begins in women who are of reproductive age (15 to 44).
Specific ethnic groups are more likely to develop specific autoimmune illnesses. For instance, lupus affects white individuals less than it does African Americans and Hispanics.
Several autoimmune diseases, including lupus and multiple sclerosis, run in families. Although not every family member will necessarily have the same illness, they all have a propensity for autoimmune diseases.
Researchers believe environmental factors like infections and exposure to chemicals or solvents may potentially play a role in the rise in the prevalence of autoimmune illnesses.
Common autoimmune diseases
Scientists know about more than 80 autoimmune diseases. Some are well-known, such as type 1 diabetes, multiple sclerosis, lupus, and rheumatoid arthritis, while others are rare and difficult to diagnose.
Type 1 diabetes: The immune system attacks and destroys insulin-producing cells in the pancreas.
Rheumatoid arthritis: The immune system attacks the joints.
Psoriasis: The causes skin cells to multiply too quickly. The extra cells build up and form inflamed, red patches, commonly with silver-white scales of plaque.
Multiple sclerosis: It damages the myelin sheath, the protective coating surrounding nerve cells in your central nervous system.
Systemic lupus erythematosus (SLE): It is a skin disease because of the rash it commonly produces, but it affects many organs, including the joints, kidneys, brain, and heart.
Inflammatory bowel disease: It describes conditions that cause inflammation in the lining of the intestinal wall.
Addison's disease: It affects the adrenal glands, which produce the hormones cortisol and aldosterone as well as androgen hormones.
Graves' disease: It attacks the thyroid gland in the neck, causing it to produce too much of its hormones.
Sjögren's syndrome: This condition attacks the glands that provide lubrication to the eyes and mouth.
Hashimoto's thyroiditis: The thyroid hormone production slows to a deficiency.
Myasthenia gravis: It affects nerve impulses that help the brain control the muscles.
Autoimmune vasculitis: This happens when the immune system attacks blood vessels.
Pernicious anemia: This condition causes a deficiency of a protein made by stomach lining cells, which is an intrinsic factor needed for the small intestine to absorb vitamin B12 from food.
Celiac disease: People with celiac disease can't eat foods containing gluten, a protein found in wheat, rye, and other grain products.
What causes autoimmune diseases?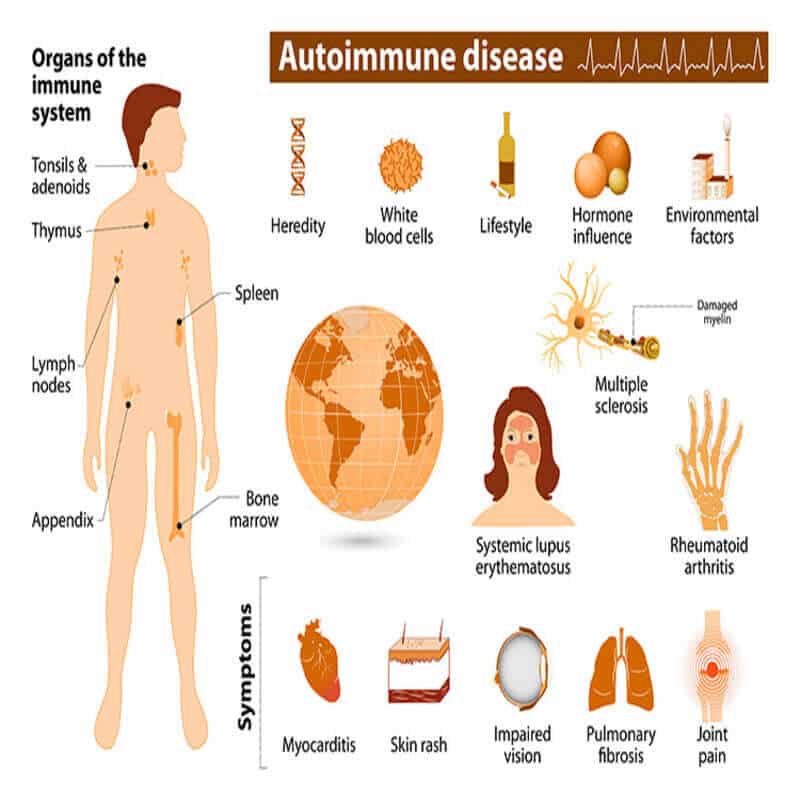 According to studies, genetic and environmental factors combine to cause certain disorders.
Characteristics of gender, race, and ethnicity are associated with a higher risk of getting an autoimmune illness.
When humans come into touch with specific environmental exposures, as stated below, autoimmune illnesses are more prevalent.
Ultraviolet radiation from sunlight may be connected to the development of juvenile dermatomyositis, an autoimmune disease.
Childhood poverty maybe be linked to rheumatoid arthritis in adulthood.
Exposure to some pesticides may play a role in the development of rheumatoid arthritis in male farm workers.
Mercury, even at exposure levels generally considered safe, may be linked to the development of autoimmune antibodies in women of reproductive age.
Genetic risk factors are associated with autoimmune muscle disease in Caucasian populations.
The mechanics of a gene-environment interaction could explain why the genetic risk for some of the diseases is amplified by environmental pollutants like cigarette smoke.
Vitamin D may be important for preventing immune dysfunction in older populations.
Conclusion
Autoimmune disorders, formerly thought to be uncommon, are now the leading cause of chronic illnesses in India and the leading source of morbidity in both men and women across practically all age groups.
The present lifestyle and dietary conditions are attributed to the prevalence of these diseases.
Foods loaded with pesticides and preservatives, excessive exposure to antibiotics, pollution-causing cellular damage, excessive stress disrupting immune functioning, and frequent infections on the rise, all contribute to an increasing number of autoimmune diseases in the global population.
-Article written by Swathi Satish