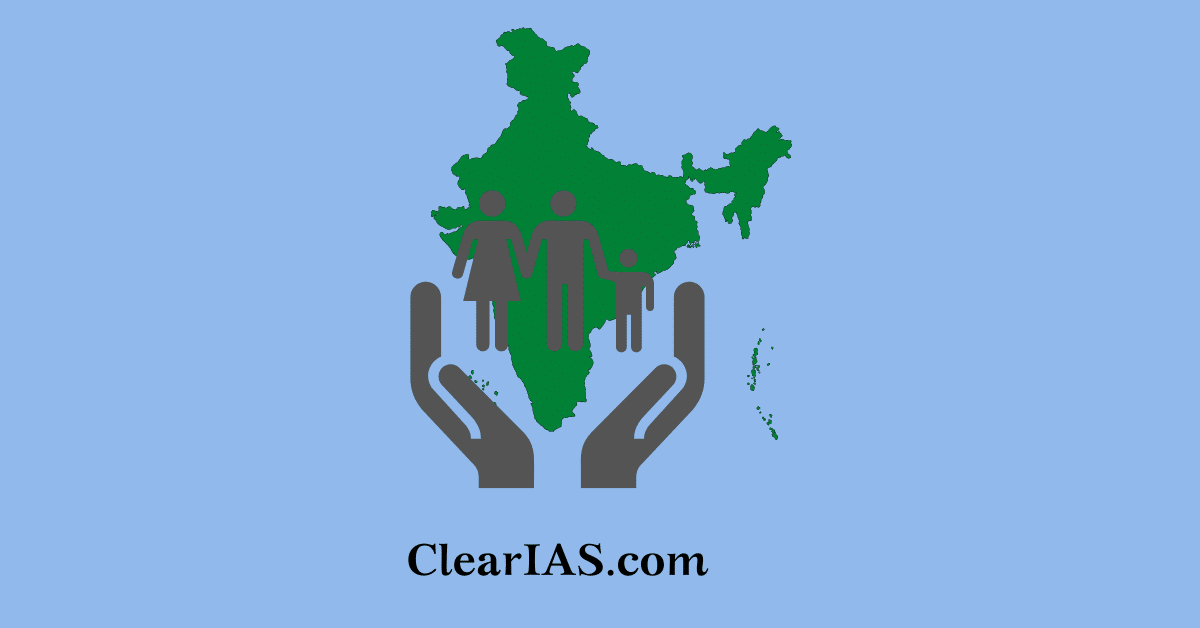 Ayushman Bharat Programme is an umbrella health scheme of the Government of India. Do you know the beneficiaries of this scheme? What's the need of this scheme? Read here to know more.
Universal health coverage is getting prioritised as a part of political reform.
According to the Global Burden of Disease study, India is ranked low in Healthcare Index and India stands at a rank of 154.
Ayushman Bharat Programme assumes significance in this context.
What is Ayushman Bharat Programme?
Ayushman Bharat, the Government of India's flagship plan, was launched as proposed by the National Health Policy 2017 to fulfil the objective of Universal Health Coverage (UHC).
This effort has been created to meet the SDGs and its underlying promise to "leave no one behind."
Ayushman Bharat comprises two inter-related components, which are –
Health and Wellness Centres (HWCs): These 1.5 lakh current sub-centres will bring health care closer to people's homes in the form of Health and Wellness centres. These centres will offer comprehensive health care, including treatments for noncommunicable diseases and mother and child health.
Pradhan Mantri Jan Arogya Yojana (PM-JAY): The second component of Ayushman Bharat is PM-JAY, which seeks to provide over 10.74 crore poor and vulnerable families with health insurance coverage of Rs. 5 lakhs per family per year for secondary and tertiary care hospitalization (approximately 50 crore beneficiaries).
Beneficiaries of Ayushman Bharat
PM-JAY has been implemented for the poorest and most vulnerable 40% of the population. The households included are based on the Socio-Economic Caste Census 2011 (SECC 2011) deprivation and occupational criteria for rural and urban areas, respectively.
The government has compiled a list of families to be covered based on the 2011 Socio-Economic Caste Census. Beneficiaries in rural areas include households with one-room kuccha houses, those without adult members, those headed by women, those belonging to SC/ST, the homeless, and the landless. Beneficiaries in cities include rag pickers, street sellers, domestic helpers, sanitation workers, and store workers, among others.
The scheme replaced the previous Rashtriya Swasthya Bima Yojana (RSBY), which had started in 2008. As a result, the coverage mentioned under PM-JAY includes families who were covered under RSBY but did not appear in the SECC 2011 database.
There will be no cap on family size or age in the system to guarantee that no one is left out (particularly women, children, and the elderly).
Entitlements under the Ayushman Bharat
Aside from in-patient treatment expenditures, the system also covers various pre- and post-hospitalization charges.
The program was planned to provide 1,393 free procedures in accredited public and private healthcare facilities across 24 specialties.
Patients are entitled to cashless care from empanelled government and private facilities under the initiative.
Insurance pay-outs will be based on the government-mandated package pricing for 1,354 diseases.
However, to participate in the scheme, a person's name must be in the SECC database, and he or she must provide proof of identity (not necessarily Aadhaar).
How will the finances of Ayushman Bharat be covered?
The Government fully funds PM-JAY, and the expense of implementation is split between the Central and State Governments.
The costs of premium payment will be split in a predetermined ratio between the central and state governments.
The scheme's financing will be divided as follows: 60:40 for all states and UTs with their own legislative, 90:10 for Northeast states and the three Himalayan states of Jammu & Kashmir, Himachal Pradesh, and Uttarakhand, and 100% for UTs without a legislature.
States are also allowed to carry on with their healthcare programs.
National Health Authority
The National Health Authority is the governing organization in charge of carrying out India's major public health insurance/assurance scheme, the Ayushman Bharat Pradhan Mantri Jan Arogya Yojana.
The National Health Authority succeeded the National Health Agency.
Know more about Indian Health Sector Problems click here.
Need of Ayushman Bharat
Financial protection from catastrophic expenditure: According to a 2015 survey by the NSSO that
○ Over a decade, hospitalization costs for essential illnesses had increased by 300 percent.
○ With over 80% of homes not covered by any health plan, the majority of the costs were borne by the individual.
To increase insurance coverage: According to the Insurance Regulatory and Development Authority of India (IRDAI), just 48 crore Indians — or less than one in every three Indians — have health insurance.
To reduce poverty: An estimated 6 million families sink into poverty each year due to hospitalization.
More bang for the buck for the centre: The use of insurance to reimburse healthcare costs guarantees that the Centre gets more bang for its buck, as more households can be covered with a smaller budget outlay.
Inclusive growth: It protects ordinary people from financial damages caused by unexpected medical situations. It has the potential to significantly improve the poor's economic situation as well as their quality of life.
Challenges
State subject: Health is a state topic under the Indian Constitution's 7th schedule. Aside from government institutions like the All India Institute of Medical Sciences, the majority of hospitals and medical centres are state-owned and controlled. As a result, the state bears responsibility for these as well. In such a case, a countrywide health insurance program to supply healthcare facilities at the state level dilutes the state's obligation in providing the same.
Divert the fund for infrastructure: The states' participation in the plan requires them to contribute funds for insurance, which naturally diverts monies intended for state-building healthcare infrastructure.
Not a long-term solution: Giving responsibility for private insurance could be a short-term answer. Because public-private partnerships have been chastised in the past for a variety of reasons, this may cause problems with the execution of Ayushman Bharat.
Infrastructure: Shortages in services like infrastructure, human resources, and doctor quality have long been a problem. Many villages still lack access to roads, hospitals, and adequate employees. As a result, putting the concept into action would be a massive undertaking.
Inadequate spending: Currently, the government spends only 1.15 percent of GDP on health (with ambitions to expand this to 2.5 percent of GDP by 2025), with the majority of that spent on curative treatments rather than preventive care. For instance, the United States spent 17.9 percent of its GDP on healthcare in 2017.
Unviable for hospitals: Ayushman Bharat has established inexpensive pricing for many treatments. This may eventually degrade the quality of services given or perhaps make hospitals unviable. In light of this, states including Odisha, Delhi, Telangana, Kerala, and Punjab have opted out of the scheme.
Ayushman Bharat does not currently serve the middle-income segment of the population. Huge or unexpected medical expenses can force these families into poverty, something India has been combating since its independence.
Accountability in the private sector remains a problem. Many private hospitals are just understaffed. According to data, private hospitals provided more than half of the Ayushman Bharat services last year.
Way forward
Periodic revision: Like every other public scheme, PM-JAY needs revisions every year to ensure that the program doesn't fall behind. For this, the Government of India needs to
 Revise the procedural rates to incorporate large hospitals into the program.
Fix the infrastructural flaws at the grassroots level.
Ensure seamless connectivity in regions such as Kashmir and the North East.
Improve monitoring at every level to prevent fraud.
Include advanced technology to keep a check on fake transactions, and beneficiaries, and take strict legal action against those who fail to comply with the guidelines.
Suggestions made by the Indian Medical Association (IMA):
Government hospitals should be excluded from the scheme because their treatments are currently provided at no cost.
The government should directly support public hospitals. This strategy is carried out through insurance companies in exchange for a 15% commission.
The insurance path for healthcare delivery should be avoided in India since the administrative costs and the "unholy nexus" with insurance corporations indicate profit maximization rather than excellent healthcare delivery.
Need of the hour: "Tax-funded" universal health coverage rather than the "for-profit" insurance model.
Article Written by: Remya