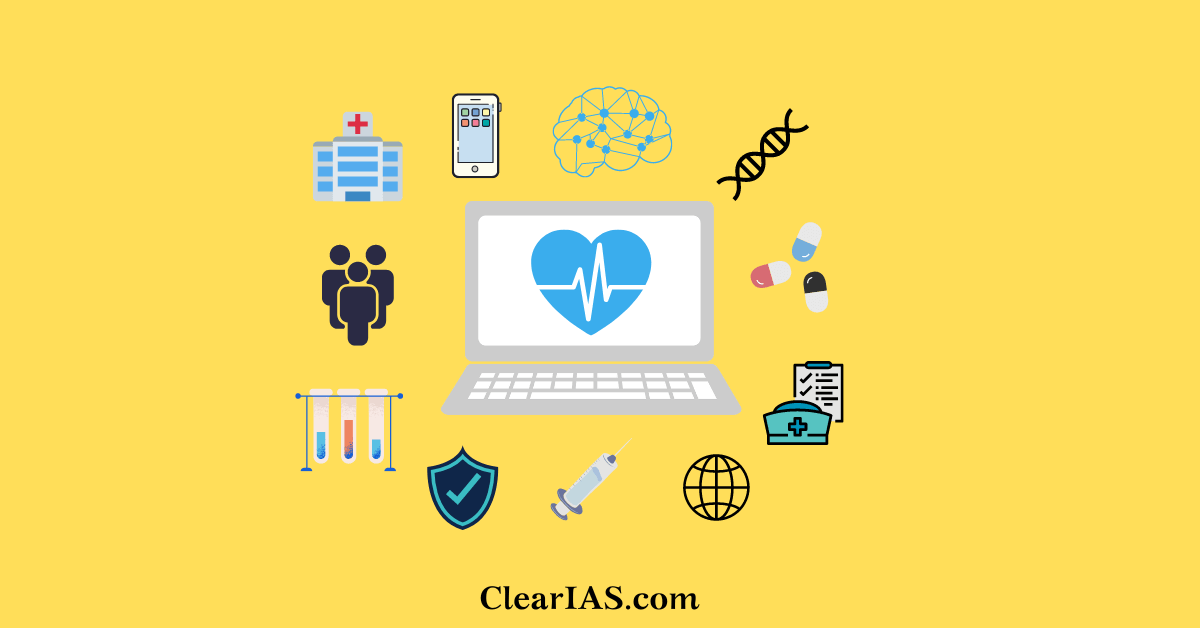 What is Ayushman Bharath Digital Mission (ABDM)? What are its various features? What are its benefits? Read on to learn more.
Ayushman Bharath Digital Mission is a component of the Ayushman Bharat scheme.
It is a flagship program of India that was introduced by the National Health Policy 2017's recommendations to achieve the goal of Universal Health Coverage (UHC).
It was launched in September 2021 by the Prime Minister through a video conference. The Union Cabinet has approved the nationwide implementation with the budgetary allocation of Rs 1,600 crore for five years.
What is Ayushman Bharath Digital Mission (ABDM)?
Ayushman Bharath's digital mission is a National Digital Health Eco-system that supports Universal Health Coverage in an efficient, accessible, inclusive, affordable, timely, and safe manner. It works through interoperable, standards-based digital systems, and ensures the security, confidentiality, and privacy of health-related personal information.
ABDM aims to develop the backbone to support the integrated digital health infrastructure of the country. It will bridge the existing gap between different stakeholders of the healthcare ecosystem through digital ways.
The implementing agency of the scheme is the National Health Authority(NHA) under the Ministry of Health and family welfare.
Features of ABDM: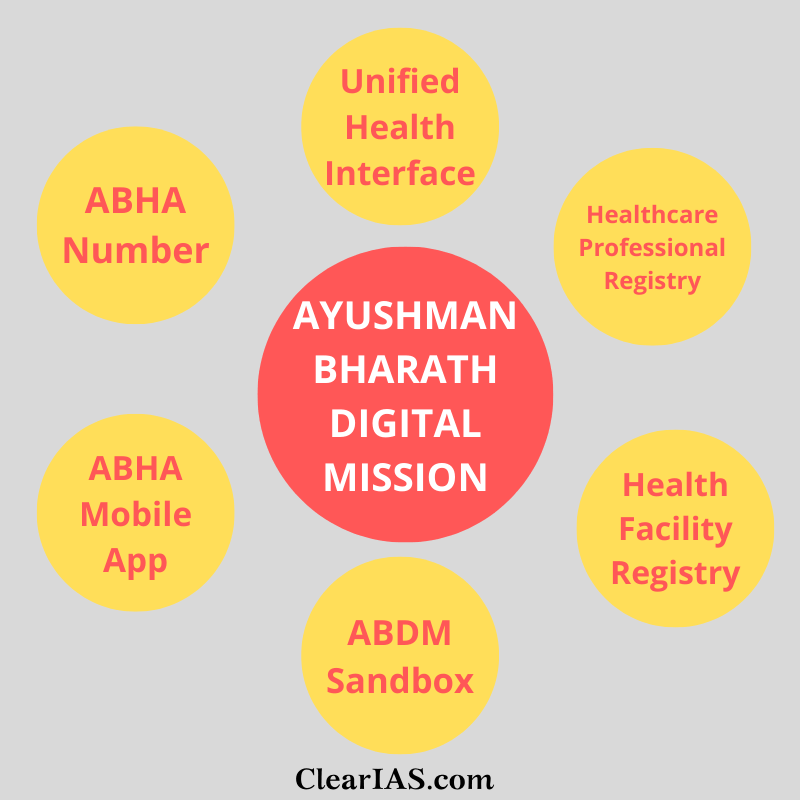 Ayushman Bharath Health Account Number (ABHA Number):
The Ayushman Bharat Health Account number will be used to uniquely identify persons, authenticate them, and thread their health records. It works across multiple systems and stakeholders with the consent of patients. In order to issue the UHID, the system must collect certain basic details including demographic and location, family/relationship, and contact details.
Healthcare Professionals Registry (HPR)
It is a comprehensive repository of all healthcare professionals across both modern and traditional systems of medicine. Enrolling in the Healthcare Professionals Registry will enable them to get connected to India's digital health ecosystem
Health Facility Registry (HFR)
It is a comprehensive repository of health facilities in the nation across different systems of medicine. It includes both public and private health facilities including hospitals, clinics, diagnostic laboratories, imaging centres, pharmacies, etc.
Enrolling in the Health Facility Registry will enable them to get connected to India's digital health ecosystem.
ABHA Mobile App(Ayushman Bharath Health Account)
The ABHA app enables users to connect their health records, public health initiatives, insurance plans, and ABHA numbers to access their records whenever and wherever they are needed.
Unified Health Interface (UHI)
UHI Network will be an open network of End User Applications (EUAs) and participating Health Service Provider applications. UHI will enable a wide variety of digital health services between patients and health service providers (HSPs) including appointment booking, teleconsultation, service discovery, and others.
ABDM sandbox
which will serve as a framework for technology and product testing, and will assist organizations, including private players, intending to be a part of the national digital health ecosystem.
Benefits of ABDM:
Patients will be able to securely store and access their medical records and share them with health care providers to ensure appropriate treatment and follow-up.
Ensure transparency in the pricing of services and accountability for the health services being rendered.
The scheme will connect the digital health solutions of hospitals across the country with each other.
It not only makes the processes of hospitals simplified but also will increase ease of living.
The digital Ecosystem will also enable a host of other facilities like Digital Consultation, Consent of patients, accessing patient records, etc.
Old medical records are stored digitally, Which ensures better accessibility and security
Provide unique health IDs to all Indian citizens that help to access and store records digitally and fulfil their medical needs more affordably and efficiently.
It will ensure "equitable access "to quality health care.
Better quality of macro and micro-level data will enable advanced analytics, usage of health biomarkers, and better preventive healthcare
It helps policymakers to take appropriate decisions in designing and strengthening the implementation of health programs and policies.
Able to study and evaluate the effectiveness of various programs and interventions.
Concerns with ABDM:
The absence of a data protection statute could result in private companies and illegal actors misusing data.
The error of the system could lead to the denial of health services to the people
It exacerbates the digital divide in society, denies health services to digitally illiterate peoples, and disruption of connections in hilly -remote areas affecting the accessibility of health services.
The mission always aims to achieve equitable access to quality healthcare by encouraging the use of technologies that strengthen the national portability of health services. It develops a back pillar of the digital health infrastructure of the country, but at the same time, there is a need to ensure the digital architecture of ABDM enables it to accommodate state-specific rules and sync with other Government initiatives.
Previous Year Question (2022)
Q. With reference to Ayushman Bharat Digital Mission, consider the following statements:
1. Private and public hospitals must adopt it.
2. As it aims to achieve universal health coverage, every citizen of India should be part of it ultimately.
3. It has seamless portability across the country.
Which of the statements given above is/are correct?
(a) 1 and 2 only
(b) 3 only
(c) 1 and 3 only
(d) 1,2 and 3
Answer: b
Article written by: Aryadevi