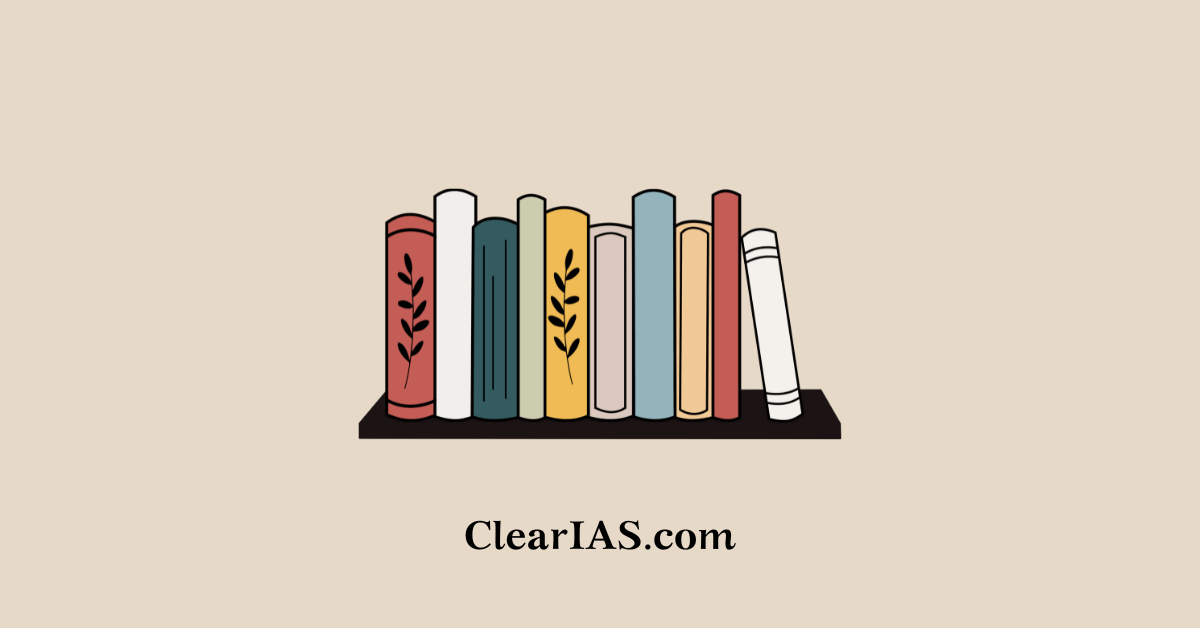 It is important to have the right source of study material while preparing for any subject or topic. In this article, we have provided all the information related to the Best Book to Study Disaster and Disaster Management for the UPSC CSE Mains Exam.
If an aspirant is preparing for the Union Public Service Commission (UPSC) Civil Services Examination, it is important to focus on disaster management as well.
The weightage of disaster management in the UPSC mains exam is significant, as it is included as part of the General Studies Paper III.
It shows the UPSC's recognition of the significance of disaster management in the overall governance and policy framework of the country.
Therefore, aspiring candidates should allocate sufficient time and effort to thoroughly prepare and grasp the concepts of disaster management to succeed in the UPSC CSE.
Best Books to Study Disaster and Disaster Management for UPSC CSE
To hold a command over this section, it is very important to utilize reliable resources that provide comprehensive knowledge and practical insights.
In this article, we will explore the best books and materials, including those from IGNOU (Indira Gandhi National Open University), that can help you study disasters and disaster management for the UPSC CSE.
These resources can potentially enhance your preparation and raise your chances of selection.
"Disaster Management" by R. B. Singh
Authored by R. B. Singh, this book is a comprehensive guide to disaster management. It covers various aspects, including types of disasters, risk assessment, mitigation strategies, response mechanisms, and recovery processes.
The book presents content in a structured manner, supplemented with case studies, illustrations, and examples to ensure a clear understanding of the subject.
"Introduction to Disaster Management" by Santosh Kumar
Santosh Kumar's book provides a concise yet informative overview of disaster management. It covers the fundamentals of disaster management, including the concept of disasters, disaster-prone areas in India, and the role of various stakeholders.
The book explains key concepts such as vulnerability, resilience, and sustainable development in relation to disasters. It serves as an excellent resource, particularly for beginners seeking a solid foundation in the subject.
"Disaster Management: A Comprehensive Approach" by S. Lakshmi
S. Lakshmi's book offers a holistic perspective on disaster management. It covers a wide range of topics, including disaster preparedness, response planning, coordination, and recovery measures.
Emphasizing the importance of understanding social, economic, and environmental dimensions of disasters, the book incorporates case studies from both national and international contexts, aiding in a comprehensive understanding of the subject.
IGNOU Study Material
IGNOU, a renowned open university, provides study materials that are valuable resources for UPSC CSE preparation. The following IGNOU materials are particularly relevant to disaster management:
Post Graduate Diploma in Disaster Management: The study materials provided by IGNOU for this program include modules, textbooks, and reference materials, covering topics such as disaster risk reduction, disaster response, recovery planning, and policy frameworks.
Certificate in Disaster Management: These materials cover essential concepts, case studies, and practical aspects of disaster management.
It is advised to read only the selected chapters of IGNOU material for the Disaster Management portion for effective preparation. You can also read How To Study Security and Disaster Management for UPSC Mains Exam?
ClearIAS Free Notes on Disaster Management
You can also supplement your preparation with the free notes on disaster management provided by ClearIAS. These notes offer additional insights and explanations on the subject.
Important Topics to Read
All the important topics related to disaster and disaster management subject are mentioned below. An in-depth understanding of such topics can be easily gained from the books mentioned above and also from the IGNOU Material.
Meaning and Classification of Disasters
Disaster Management Cycle
Disaster Management – Recent Trends
Disaster Preparedness: Indian Context
Disaster Prevention
Vulnerability Analysis and Risk Assessment
Resource Analysis and Mobilization
Disaster Mitigation
Community-Based Disaster Management
Search, Rescue, and Evacuation
Temporary Shelter, Warehousing, and Stockpiling
Distribution of Relief Material
Emergency Operation Centers
Damage Assessment
Rehabilitation and Reconstruction
Disasters and Development
First Responders
Disaster Manager
Disaster Management Strategies
Tips to prepare for the disaster management part of the UPSC CSE
Having a list of resources is not enough. It is important to choose a strategy to study smartly. Here we have provided a few points that should be kept in mind while preparing for the exam.
Understand the Syllabus: Begin by thoroughly understanding the disaster management portion of the UPSC syllabus. Identify the specific topics mentioned and make a note of them for focused preparation.
Study Smartly: Rather than reading line by line, focus on relevant topics based on the syllabus. This approach will save time and help you cover essential concepts efficiently. Use the recommended books and study materials to study the relevant information.
Government Websites: Visit official government websites related to disaster management, such as the National Disaster Management Authority (NDMA) and the Ministry of Home Affairs. These websites provide valuable resources, policy documents, reports, and updates on disaster management measures taken by the government.
Policy and Measures: Pay special attention to the policies, guidelines, and measures implemented by the government for disaster management. Understand the legal frameworks, institutional arrangements, and national and international strategies involved. Analyze case studies and real-life incidents to grasp the practical aspects of disaster management.
Current Affairs: Stay updated with recent incidents, disasters, and management approaches. Read news articles, follow relevant government reports, and study the response mechanisms implemented during emergencies. Relate these current affairs to the broader concepts of disaster management for a comprehensive understanding.
Practice Answer Writing: Enhance your exam preparation by practicing answer writing for disaster management-related questions. Focus on developing a clear and structured approach while addressing key points, policies, and practical examples in your answers.
Mock Tests and Previous Year Papers: Take mock tests and previous year question papers to supplement your preparation level and identify areas that require further improvement. Analyze the pattern of questions asked in the exam and align your preparation accordingly.
Interdisciplinary Approach: Remember that disaster management is an interdisciplinary subject. Connect it with other subjects such as geography, environment, governance, and public administration to develop a holistic understanding of its various dimensions.
Article Written By: Priti Raj