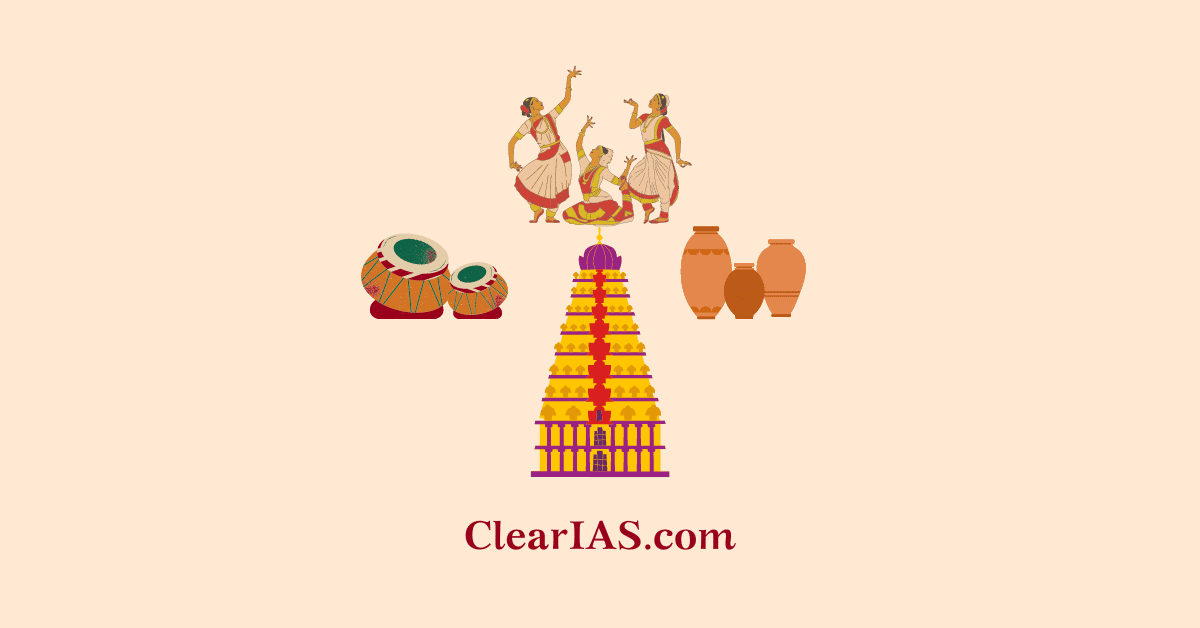 It often comes to mind what books will be best for effective preparation for the UPSC CSE exam. To help you solve this doubt here we have provided the Best Books to Study Art and Culture for UPSC CSE Prelims and Mains Exam.
Art and culture plays an important role in the UPSC civil services examination as they form an integral part of the prelims objective type paper and General Studies Paper I.
To hold command over this section, it is important to have a detailed understanding of various art forms, their historical significance, and the cultural diversity of India.
Best Books to Study Art and Culture for UPSC CSE
In this article, we will explore some of the best books to study for art and culture in the UPSC CSE.
Nitin Singhania's "Indian Art and Culture"
Nitin Singhania's book is highly recommended for UPSC aspirants preparing for the art and culture section. It provides a detailed and well-structured overview of Indian art, culture, and heritage.
The book covers various art forms, such as painting, sculpture, music, dance, theater, and architecture. It also includes chapters on literary forms, festivals, and religious practices.
This book is an excellent resource for both beginners and advanced learners because of its broad coverage and easy-to-understand language.
Furthermore, aspirants can also refer to Nitin Singhania's handwritten notes as well for the Art and Culture part.
NCERT Textbooks
The National Council of Educational Research and Training (NCERT) textbooks are another valuable resource for studying art and culture for the UPSC exam. The following NCERT textbooks are recommended:
Class XI: An Introduction to Indian Art (Part 1)
Class XI: Living Craft Traditions of India (Chapters 9 and 10)
Class XI: Themes in World History (Chapter 3)
Class XII: Craft Tradition of India (Chapters 4 and 5)
These textbooks provide a comprehensive understanding of Indian art, culture, and heritage, covering various periods and regions. They are written in student-friendly language and include several illustrations, maps, and diagrams for better understanding.
Other Reference Books
Apart from Nitin Singhania's book and NCERT textbooks, you can also refer to the following books if you want to gain additional insights:
Indian Heritage, Art, and Culture by Madhukar Kumar Bhagat
Indian Culture: Perspectives, Challenges, and Development by Amiya Kumar Bagchi
Facets of Indian Culture by Spectrum Book
These books get deeper into specific aspects of Indian art and culture, providing a nuanced perspective and in-depth knowledge. But it is advised to always stick to the syllabus part.
Important Topics to Cover for Art and Culture for UPSC CSE
While studying art and culture for the UPSC exam, it is important to focus on certain key topics. Some important areas to cover include:
Indus Valley Civilization and its art forms
Mauryan and Gupta periods: Buddhist art and architecture
Medieval Indian art: Indo-Islamic architecture, miniature painting, and music
Colonial and post-independence period: Modern art movements and cultural developments
Folk and tribal art forms across India
Classical dance forms like Bharatanatyam, Kathak, Odissi, etc.
Classical music, both Hindustani and Carnatic
Literary traditions and important works in various Indian languages
Major festivals and their cultural significance
Tips for Effective Preparation of Art and Culture
Preparing effectively for art and culture requires a systematic and well-structured approach. Here are some tips to help you prepare for this section in a focused and efficient manner:
Understand the Syllabus: Familiarize yourself with the UPSC CSE syllabus for art and culture. It will provide you with a clear outline of the topics you need to cover.
Identify Reliable Resources: Select the appropriate study materials for art and culture. As mentioned earlier, Nitin Singhania's book and NCERT textbooks are highly recommended. Additionally, can follow the ClearIAS website for free art and culture-related study material.
Take Notes: While studying, take concise and organized notes. Summarize important points, key terms, and examples. These notes will serve as a valuable resource during revision and while answering questions.
Use Visual Aids: Visual aids like diagrams, flowcharts, and mind maps can greatly enhance understanding and retention. Create visual representations of different art forms, architectural styles, and cultural practices.
Practice Answer Writing: Practice writing answers to previous years' UPSC questions on art and culture. This will familiarize you with the question pattern and help you develop a structured approach to answer writing. Pay attention to the word limit and practice time management.
Revise Regularly: Set aside dedicated time for revision. Revise your notes, important concepts, and key examples regularly to reinforce your understanding. Focus on areas where you feel less confident and work on strengthening those areas.
Mock Tests: Take mock tests specifically designed for the art and culture section. This will help you assess your knowledge, identify weak areas, and improve your overall performance. Analyze your performance and learn from your mistakes.
Approach to Learn Art and Culture
To study art and culture for the UPSC CSE, it is advisable to use a mixed approach of textbooks with specific relevant topics along with ClearIAS online notes (free).
It is important to have an in-depth understanding of the Art and Culture section that will help not only is UPSC CSE prelims but also in mains General Studies 1 paper as well.
If you find it difficult to know what to read and how to approach the Art and Culture section, we have an article that describes How to study Indian culture for UPSC Civil Services Exam.
After going through all the preparations, it is highly advised to enroll for ClearIAS Prelims Mock Test Series, which will help you become familiar with the type of objective questions asked in the UPSC Civil Services Exam.
Article Written By: Priti Raj