Madam Bhikaiji Cama was a prominent Indian freedom fighter and a pioneering figure in the struggle for India's independence from British colonial rule. She played a significant role in advocating for India's cause on the international stage. Read further to know more about her life.
Bhikaiji Rustom Cama or Madam Cama was actively involved in various social and political movements from a young age. She supported causes related to women's rights, education, and social reform.
She was born to an extremely wealthy Parsi business family and was influenced by an environment in which the Indian nationalist movement was taking root, hence she was drawn toward political issues at an early age.
The early life of Bhikaiji Cama
Bhikaiji Cama was born on September 24, 1861, in Bombay (now Mumbai), India, into a Parsi family. Her early education took place in Bombay.
In 1885 she married Rustomji Cama, a well-known lawyer, but her involvement with sociopolitical issues led to differences between the couple. He was a pro-British lawyer with political aspirations.
In 1896, the Bombay Presidency was hit first by famine, and shortly thereafter by bubonic plague. Bhikhaiji joined one of the many teams working out of Grant Medical College, to provide care for the afflicted, and to inoculate the healthy.
Cama subsequently contracted the plague herself but survived. As she was severely weakened, she was sent to Britain for medical care in 1902.
Because of marital problems and her poor health, which required medical attention, Cama left India for London.
It was in London that Bhikaji Cama met Dadabhai Naoroji and inspired by his ideals plunged into the freedom movement.
Contribution to the Freedom Movement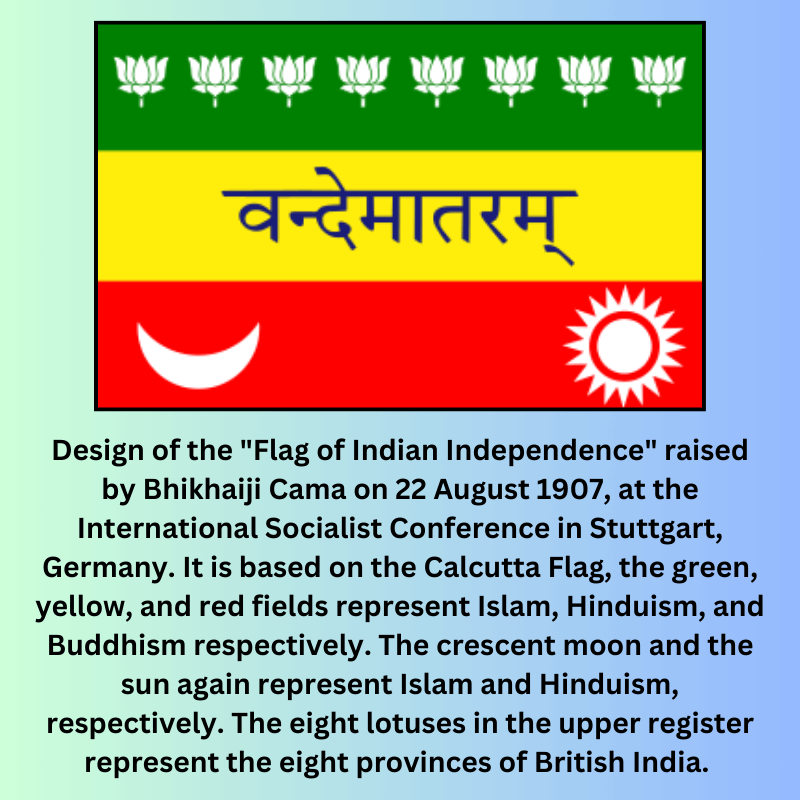 Bhikaiji Cama became deeply involved in the Indian freedom struggle during the late 19th and early 20th centuries. She was associated with leaders like Dadabhai Naoroji and his London Indian Society.
She also began to meet with other Indian nationalists like Shyamji Varma, and Lala Hardayal, and soon became one of the active members of the movement.
She was preparing to return to India in 1904 when she came in contact with Shyamji Krishna Varma, who was well known in London's Indian community for the fiery nationalist speeches he gave in Hyde Park.
Through him, she met Dadabhai Naoroji, then president of the British Committee of the Indian National Congress, for whom she came to work as a private secretary.
Together with Naoroji and Singh Rewabhai Rana, Cama supported the founding of Varma's Indian Home Rule Society in February 1905.
She also toured the US, where she gave speeches on the ill effects of British rule, and urged Americans to support the cause of India's freedom.
Madam Cama used her international platform to garner support for India's struggle for independence.
She addressed various international forums, including conferences in Europe and the United States, to raise awareness about India's plight under British colonial rule.
She moved to Paris in 1905, where together with S. R. Rana and Munchershah Burjorji Godrej, she co-founded the Paris Indian Society.
One of her most enduring contributions was designing and hoisting the first version of the Indian National Flag in 1907 in Stuttgart, Germany, during the International Socialist Congress.
This flag featured green, saffron, and red horizontal stripes and was adorned with the words "Vande Mataram" in the center.
In 1907, she co-published and co-edited a monthly revolutionary magazine called "Bande Mataram" along with Vinayak Damodar Savarkar.
Women's rights and gender equality
She was a staunch advocate for women's rights and was one of the early Indian feminists.
She believed in women's education and their active participation in social and political life.
Influenced by Christabel Pankhurst and the Suffragette movement, Bhikhaiji Cama was passionate in her support for gender equality.
In 1910, she gave a speech in Cairo, Egypt, where she asked, "I see here the representatives of only half the population of Egypt. May I ask where is the other half? Sons of Egypt, where are the daughters of Egypt? Where are your mothers and sisters? Your wives and daughters?"
Cama's stance concerning the vote for women was, however, secondary to her position on Indian independence.
In 1920, upon meeting Herabai and Mithan Tata, two Parsi women outspoken on the issue of the right to vote, Cama is said to have observed: "Work for Indian's freedom and independence. When India is independent women will not only have the right to vote, but all other rights.'"
Due to her involvement in anti-colonial activities, she was forced into exile from India. She settled in various countries, including France and England.
She returned to India in 1935 after receiving a pardon from the British government.
Publications
Bhikaiji Cama began to publish booklets for the Indian community in England, propagating the cause of Swaraj.
Cama wrote, published, and distributed revolutionary literature for the movement, including Bande Mataram (founded in response to the Crown ban on the poem Vande Mataram).
Madan's Talwar in response to the execution of Madan Lal Dhingra.
These weeklies were smuggled into India through the French colony of Pondicherry.
Legacy of Bhikaiji Cama
Madam Bhikaiji Cama passed away on August 13, 1936. She is remembered as a fearless patriot, a pioneering woman leader, and a symbol of India's struggle for freedom.
Her commitment to the cause of Indian independence and her efforts to garner international support for it remain noteworthy aspects of her legacy.
Bhikaiji Cama's legacy continues to inspire generations of Indians. Her contribution to the design of the Indian National Flag earned her a special place in India's history.
Madam Bhikaiji Cama's activism in the spheres of women's rights and Indian independence made her a trailblazing figure in the history of India's struggle for freedom and women's empowerment. Her commitment to both causes reflects the interconnectedness of gender equality and national liberation in the context of India's fight for independence.
-Article by Swathi Satish