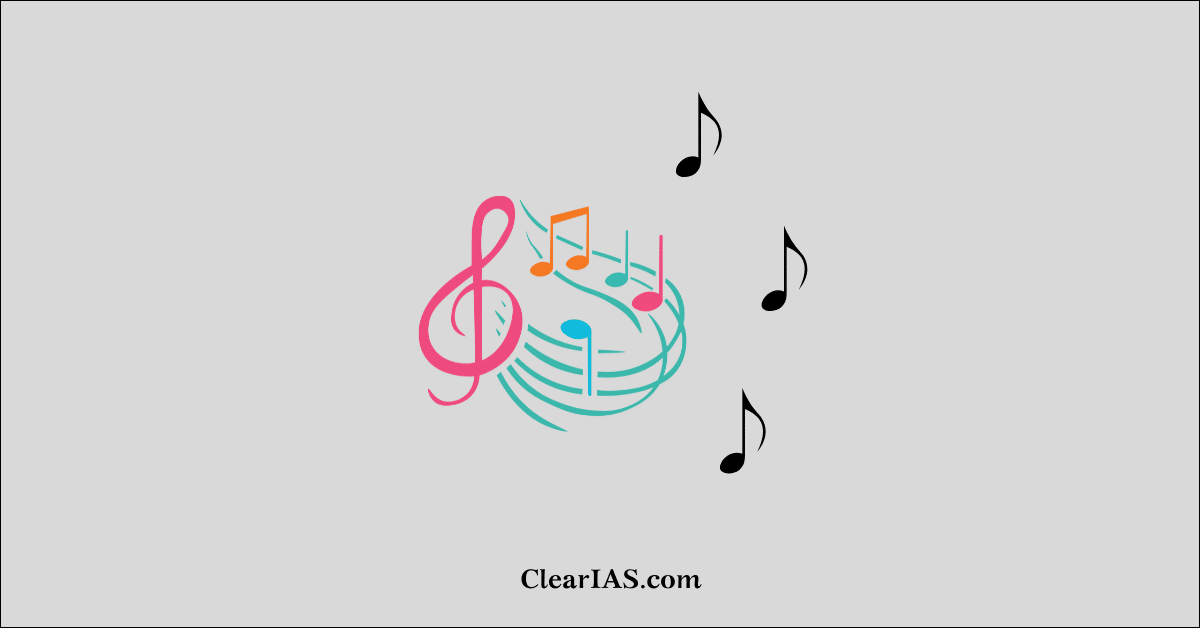 We love to hear music right? Some of us are singers too. Do you wish to know more about music and its classification? Read more about this topic.
Do you know the difference between Carnatic and Hindustani music?
Are there any similarities between them?
First, let's discuss the origin of music.
Origin:
'Naad' is the basis of all creations.
Samaveda has 7 notes and its upaveda is Gandharva Veda.
In the later Vedic period Ritualistic music is prevalent.
Bharata muni – Natayasastra: First reference to musical theory in 4th century CE. It gave the srutis or keys. Matanga's Brihaddeshi in the 9th century focused on ragas.
Major Periods in the History of Indian Music
Indian music history can be divided into three major periods: Ancient, Medieval, and Modern.
The period of Ancient music ranges from the Vedic Age to the period of Sangita Ratnakara.
Around the 14th century, it culminated in the division of Indian music into two branches: Hindustani and Carnatic.
Both of these branches evolved and firmly established themselves.
Countless musicologists and composers appeared on the scene during this time period, enriching the concepts of Raga, Tala, and musical forms.
Indian Music:
During the medieval period, Indian classical music is generally classified as Carnatic music in south India and Hindustani music in north India.
The main pillars of music are Swara, Raga, and Taala.
Swara: Pitch or tone, musical notes. Out of 22 notes, 12 mains are called Swarasthana, and the rest are played in Ragas.
Raga: Basis of melody. Every raga has atleast 5 swaras. A Combination of swaras leads to a composition that generates a melody.
Taala: Basis of rhythm. It is a grouping of beats.
To know more about Indian culture and heritage click here.
Different types :
Classical – Hindustani and Carnatic
Modern – Jazz, Blues, etc.
Folk Music
Others (Fusion of classical and folk) – Sugam Sangeeth, Rabindra Sangeeth, etc.
Hindustani Music
Originated during the Delhi sultanate period.
It is influenced heavily by Persian music and other genres of music.
Forms of Hindustani music are Dhrupad, Khayal, Tarana, Thumri, Dadra, and Ghazals.
Instruments used Tabla, Sarangi, Santoor.
Carnatic Music
Originated during the Bhakti movement and derived from the trinity.
It is purely indigenous and normally isolated from alien influences.
Forms of Carnatic music are Alapana, Niraval, Kalphaswaram.
Instruments used Veena, Mridangam.
Similarities between Hindustani and Carnatic Music:
The basic elements of swara, raga, taala as the foundation of both.
Both the music evolved with Sanskrit language scripts in itself and through Vedic tradition.
Both these forms of music have their origin in spirituality and religion.
The central notion is similar; a Raga
Both these styles give principal prominence to the melody.
To describe the Janya Raga, both of these music branches use the Sampoorna scale.
Both are monophonic and use Taanpura (or Drone) as their main Shruthi.
Differences Between Hindustani and Carnatic Music:
                HINDUSTANI MUSIC

                   CARNATIC MUSIC

Ragas are divides into thaat.

Ragas are divides into Melakarta.

The time of singing each raga is strictly observed and    ragas are sung only according to their time.

No time theory is followed and any raga can be sung     at any time.

Various gharanas in the system of music.

No classification of gharanas.

Equally divided between vocal and instrumental    music.

It is more inclined towards vocal music but   instrumental music is also practiced.

Improvisation is given more importance.

Compositions are given more importance.

Slow tempo with long notes.

The notes increase with increasing intensity.

Fast tempo.

The tempo remains constant with short notes.

Afghan Persian and Arab.

Indigenous.
Article written by- Remya