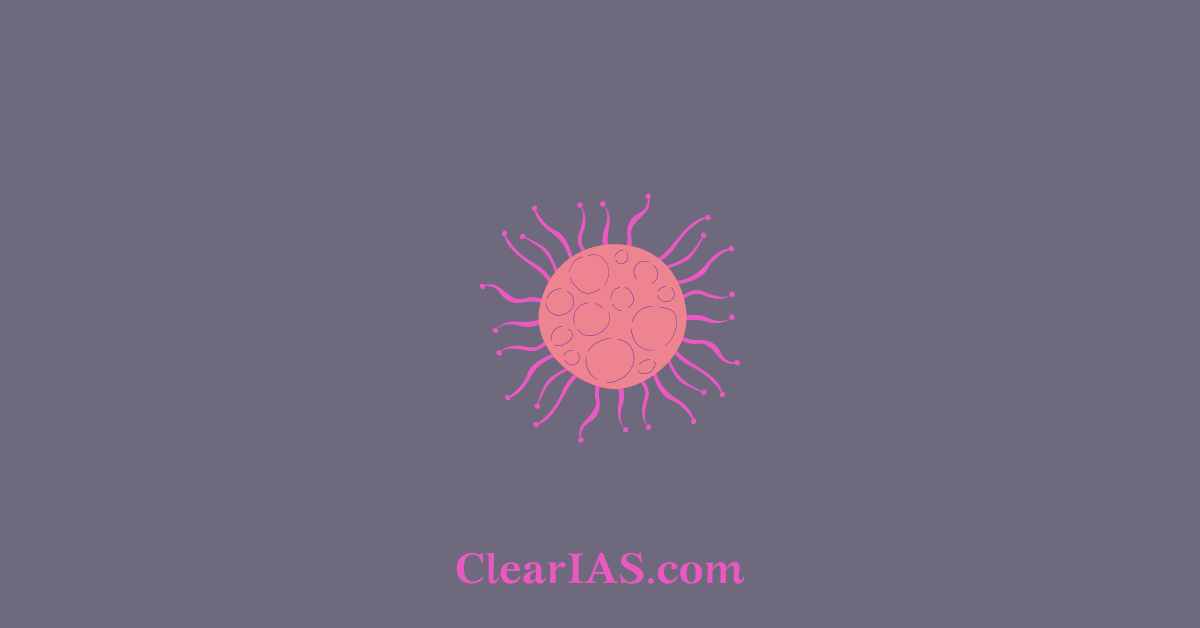 What is a cell? What are cell organelles? What are the different types of cells? How do plant cells differ from animal cells? Read further to know more.
Each second, the human body performs a multitude of tasks. It is delivering electrical impulses, pumps blood, filters urine, breaks down food, produces protein, or stores fat.
But all these happen involuntarily without any of our deliberate actions.
All this is attributed to the fact that the human body is formed of cells, which are microscopic units of life that function similarly to specialized factories.
What is a Cell?
The cell is the fundamental structural and functional unit of all living organisms. According to the postulates of the cell theory, a cell is what gives everything life and is capable of performing all the essential tasks of an organism.
A cell may duplicate itself on its own. As a result, they are referred to as the foundation of life.
The cytoplasm, a fluid found inside every cell, is surrounded by a membrane. Many substances like proteins, nucleic acids, and lipids are also found in the cytoplasm. In addition, cell organelles are suspended in the cytoplasm of the cell.
Cells are complex, and their constituents serve a variety of tasks in an organism. Similar to constructing bricks, they come in a variety of sizes and shapes.
Living organisms are made up of cells of different shapes and sizes. In addition, it gives structure to the body and converts nutrients into energy.
The first live cell was observed and described by Anton Von Leeuwenhoek. The nucleus was later discovered by Robert Brown. All the cell's structural features were revealed thanks to the advent of the microscope and its advancement into the electron microscope.
Types of Cell
Cells and thus organisms can be categorized as eukaryotic or prokaryotic depending on whether they include or lack a membrane-bound nucleus and other organelles.
Prokaryotic Cells
Prokaryotic cells are those without a membrane-bound nucleus.
Prokaryotic cells are single-celled microorganisms that are thought to be the oldest on the planet.
Bacteria, blue-green algae, mycoplasma, and PPLO (Pleuro Pneumonia Like Organisms) are examples of prokaryotic cells.
They typically have a smaller size and reproduce more quickly.
They could have a wide range of sizes and shapes.
With the exception of mycoplasma, prokaryotes have a cell wall that surrounds the cell membrane.
A prokaryotic cell has a single membrane, all reactions take place in the cytoplasm.
No distinct nucleus is present.
The genetic material is essentially naked because it is not surrounded by a nuclear membrane.
The genetic material is contained on a single chromosome.
Lysosomes, chloroplasts, Golgi bodies, and mitochondria are not present.
Ribosomes are connected to the cell's plasma membrane in prokaryotes. Ribosomes responsible for protein synthesis
The cell wall determines the shape of the cell and provides strong structural support to prokaryotes. And to prevent the bacterium from bursting or collapsing.
Prokaryotes are distinguished by a specific type of differentiated cell membrane called a mesosome. In essence, they are infoldings of the cell membranes.
The term "capsule" refers to the outer protective layer that bacteria have in addition to their cell walls. It aids in the retention of moisture, guards against cell engulfment, and aids in the clinging of cells to surfaces and nutrients.
Prokaryotic cells store extra material as inclusion bodies in the cytoplasm. Phosphate granules, cyanophycean granules, and glycogen granules are a few examples of those that are not bound by any membrane systems and are found floating freely in the cytoplasm.
They reproduce asexually through binary fission.
Further membrane expansions into the cytoplasm called chromatophores, which contain pigments, are seen in some prokaryotes such as cyanobacteria.
Eukaryotic Cells
Eukaryotic cells have a well-organized nucleus surrounded by a nuclear envelope.
Protists, plants, animals, and fungi are all considered to be eukaryotes.
The existence of membrane-bound organelles results in considerable compartmentalization of cytoplasm in eukaryotic cells.
Eukaryotic cells feature a wide range of intricate cytoskeletal and locomotory structures.
 The genetic material in their bodies is organized into chromosomes.
Not every eukaryotic cell is the same. Plant cells differ from animal cells in that they have a cellwall, plastids, and a huge central vacuole, which are all absent in animal cells.
They can reproduce asexually or sexually.
A process known as mitosis divides the cells.
Difference Between Eukaryotic cell and Prokaryotic cell
Basis of comparison

Prokaryotes

Eukaryotes

Cell Type

These cells are exclusively unicellular.

Eukaryotic cells can be unicellular or multicellular in nature.

Size of the cell

The typical range of a cell's diameter is between 0.2 and 2.0 micrometers.

Eukaryotic cells have a diameter of 10 to 100 micrometers.

Cell Wall

Prokaryotic cells have a cell wall, which is complex and multi-faceted.

Cell walls are extremely rare in eukaryotic cells, and when they do exist, they are of a simple chemical nature.

Cytoplasm

Cytoplasm is found in prokaryotic cells but is absent from the majority of cell organelles.

It is made up of both cytoplasm and organelles in eukaryotic cells.

Nucleus

This cell's actual nucleus is lacking; instead, nucleotides are present.

It has a real nucleus.

Ribosomes

There are ribosomes, but they are tiny and spherical in shape.

Although ribosomes are present, they have a large and linear form.

DNA Arrangements

DNA is structured in a circular pattern.

DNA has a linear structure.

Mitochondria

There are no mitochondria.

.

Mitochondria are present, which is a cell's powerhouse

Lysosomes, Endoplasmic Reticulum, and centromeres

There are no lysosomes, endoplasmic reticulum, or centromeres.

Lysosomes, centromeres, and the endoplasmic reticulum are all present.

Plasmid

In prokaryotes, plasmids are typically present.

Plasmids are extremely rare in eukaryotes.

Cell Division

Binary fission is the method used in cell division.

Mitosis is a process for cell division.

Flagella

Flagella are tiny in size.

Large flagella are present.

Reproduction

Only asexual reproduction takes place in these cells.

Reproduction is asexual as well as sexual.

Examples

Examples include bacteria and archaea.

Examples include cells from plants and animals.
Cell Organelles
A cell organelle is a subcellular structure that, like an organ in the body, has one or more specific tasks to carry out within the cell. The nucleus, mitochondria, and ribosomes are a few of the more significant cell organelles.
These cell organelles comprise both membrane and non-membrane-bound organelles that exist within cells and have diverse shapes and functions. They collaborate effectively and work together to support the cell's normal operation.   The cell has a variety of organelles that are divided into three groups based on whether or not they have a membrane.
Organelles without membranes: Non-membrane-bound cell organelles include the cell wall, ribosomes, and cytoskeleton. They can be found in both eukaryotic and prokaryotic cells.
Organelles with a single membrane-bound: vacuole, lysosome, Golgi apparatus, and endoplasmic reticulum are single membrane-bound organelles
Double membrane-bound organelles:  the nucleus, mitochondria, and chloroplast, which are double membrane-bound organelles, which are present in the eukaryotic cell only.
Let's now examine specific cell organelles to learn more about their structure and functions.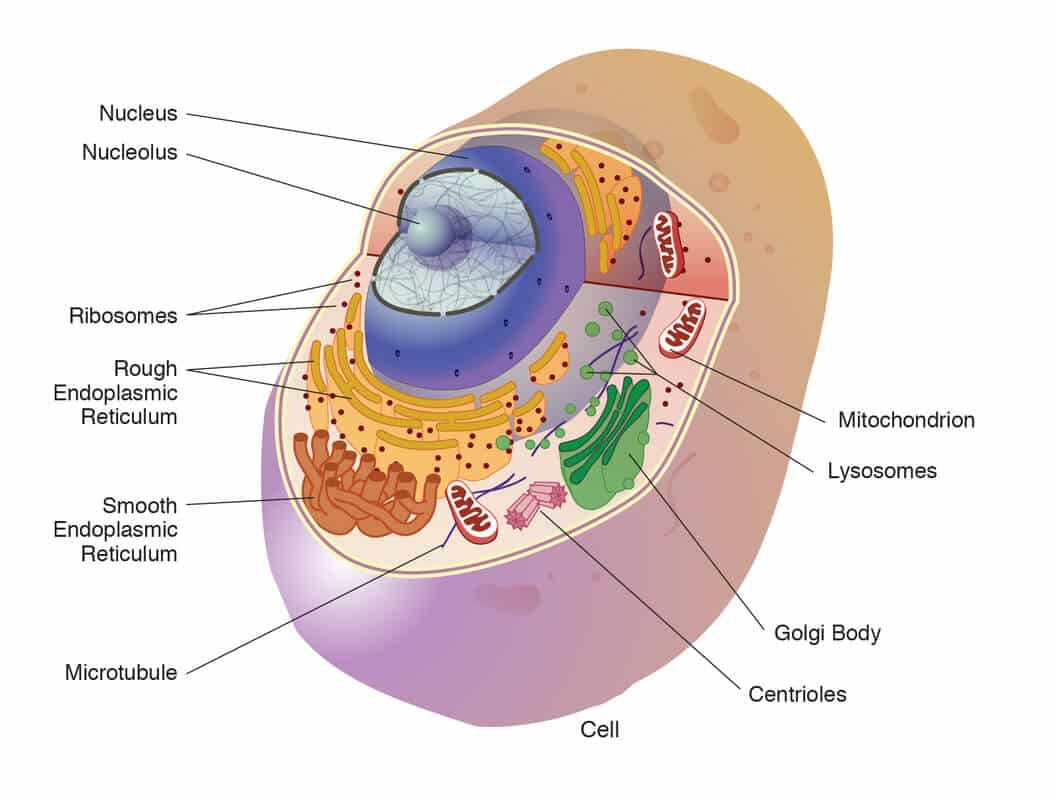 Cell Membrane
The plasma membrane is another name for the cell membrane.
The cell's plasma membrane is its outermost layer, separating its interior from the outside world.
The cell membrane is made up of lipids organized in a bilayer. The membrane's lipid component is primarily composed of phosphoglycerides.
The movement of molecules through the plasma membrane is one of its key activities. The membrane is selectively permeable to some molecules present on either side of it. Neutral solutes can pass across the membrane through the process of simple diffusion down the concentration gradient, or from a higher concentration to a lower concentration.
Cell Wall
The cell wall is a non-living hard structure that produces an exterior coating for the plasma membrane of fungi and plants. The cell wall not only gives the cell structure and safeguards it from mechanical harm and infection, but it also facilitates cell-to-cell communication and acts as a barrier to unwanted macromolecules.
The cell wall is absent in animals.
Cytoplasm
It is the jelly-like material situated between the nucleus and the cell membrane. The liquid substance that makes up the plasma membrane is called cytoplasm.
Several specialized cell organelles are also present.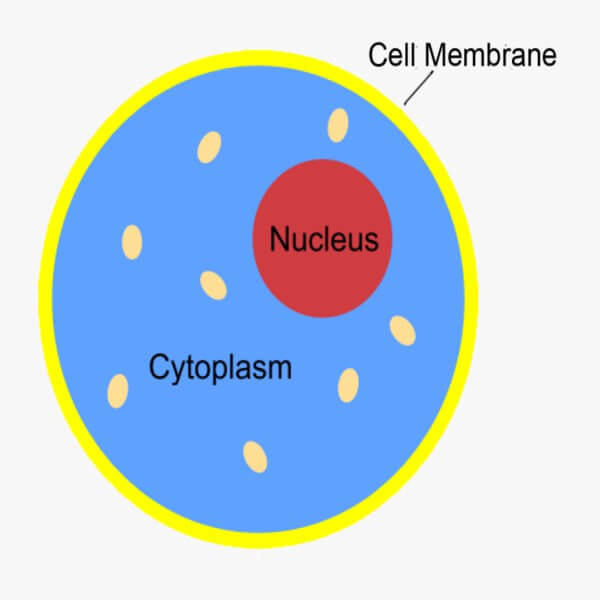 Cytoskeleton
The term "cytoskeleton" refers to an intricate web of proteinaceous filaments that are found in the cytoplasm. A cell's cytoskeleton performs a variety of tasks, including movement, mechanical support, and maintaining the shape of the cell.
Nucleus
Every eukaryotic cell has a double-membraned organelle called the nucleus. It is the largest organelle and serves as the command center for cellular operations as well as the Genetic repository for the cell.
By structure, the nucleus is dark, spherical, and surrounded by a nuclear membrane. It is a porous membrane-like cell membrane and forms a boundary between the cytoplasm and nucleus.
Nucleolus, or tiny spherical entities, are found inside the nucleus.
It also contains chromosomes, a crucial component. Genes are vital biological structures that are carried by chromosomes, which are delicate, thread-like structures.
In organisms, genes function as a genetic unit, assisting in the transmission of features from one generation to another. As a result, the nucleus manages the traits and operations of our body's cells.
Using the genetic information contained in DNA, the nucleus' main job is to keep track of cellular functions like metabolism and growth.
RNA and protein synthesis in the nucleus is carried out by nucleoli. Nucleoli are spherical structures found in the nucleoplasm.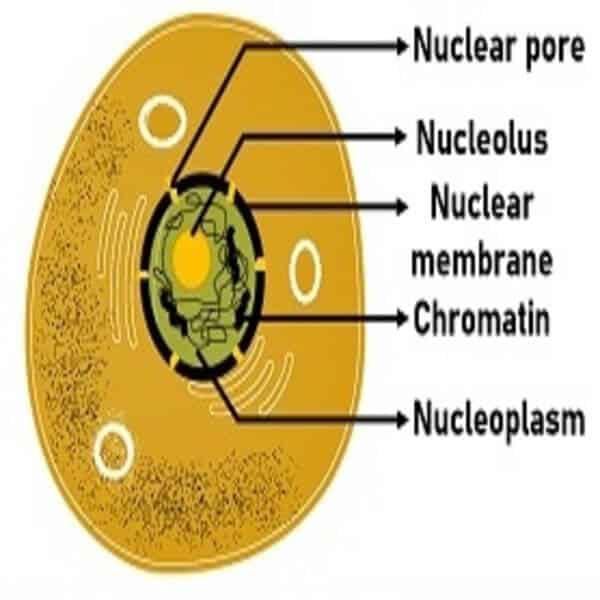 Mitochondria
Mitochondria are the sites of aerobic respiration.
They are referred to as the "powerhouses" of the cell since they generate cellular energy in the form of ATP.
The mitochondrion is a double membrane-bound structure with the outside and inner membranes distinctively partitioning its lumen into two aqueous compartments, namely the outer and inner compartments.
The matrix is the name of the inside compartment. The continuous limiting boundary of the organelle is formed by the outer membrane.
The cristae are a series of infoldings that the inner membrane forms as it moves toward the matrix. The surface area is increased by the cristae. Each of the two membranes has unique enzymes related to mitochondrial activity.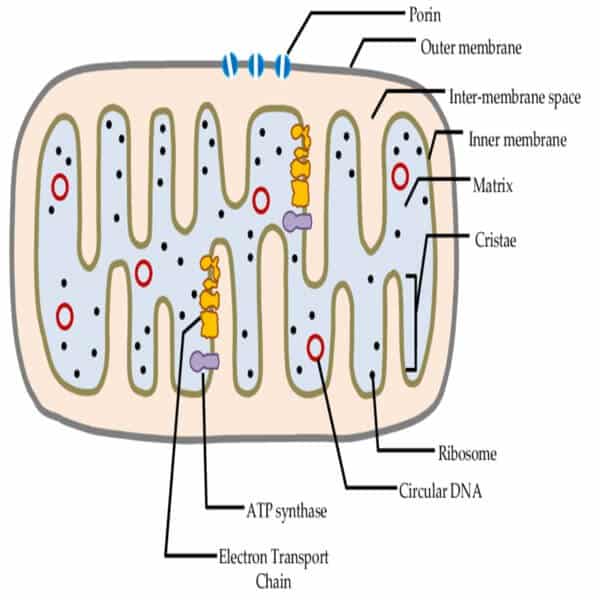 The Endoplasmic Reticulum
The endoplasmic reticulum (ER) is a network or reticulum of minute tubular structures dispersed throughout the cytoplasm. They are the cell's transport system and are responsible for moving materials around the cell.
Hence, the ER separates the intracellular space into two different compartments, namely the luminal (inside the ER) and extraluminal (cytoplasm) compartments.
The endoplasmic reticulum's variations include:
Rough Endoplasmic Reticulum (RER): Rough endoplasmic reticulum refers to endoplasmic reticulum with ribosomes on its surfaces. RER is typically seen in cells that are actively producing and secreting proteins. They overlap the outer membrane of the nucleus and are thick and continuous.
Smooth Endoplasmic Reticulum (SER): Smooth endoplasmic reticulum seems smooth surface when there are no ribosomes present. The principal location for lipid synthesis is the smooth endoplasmic reticulum. Steroid hormones that resemble lipids are produced in animal cells by the SER.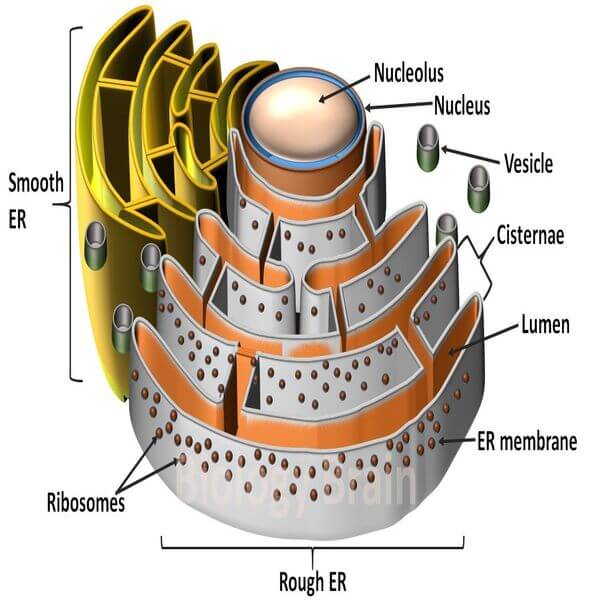 Ribosomes
Ribosomes are significant cytoplasmic organelles that are not membrane-bound and are found in close proximity to the endoplasmic reticulum. Either the endoplasmic reticulum encloses ribosomes or they are freely dispersed throughout the cytoplasm of the cell.
They are made of proteins and ribonucleic acid (RNA). Protein synthesis, which ensures the life of the cell, is the primary function of the ribosomes in all live cells.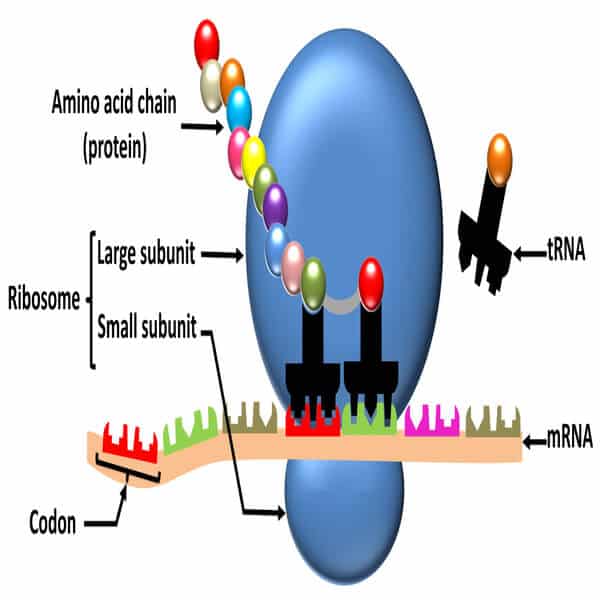 Golgi Apparatus
It is a membrane-bound organelle made up primarily of cisternae, which are a series of flattened, stacked pouches. The number of cisternae in a Golgi complex varies. Transporting, altering, and packing proteins and lipids to specific locations are the main duties of this cell organelle.
The Golgi apparatus is a key location of glycoprotein and glycolipid synthesis.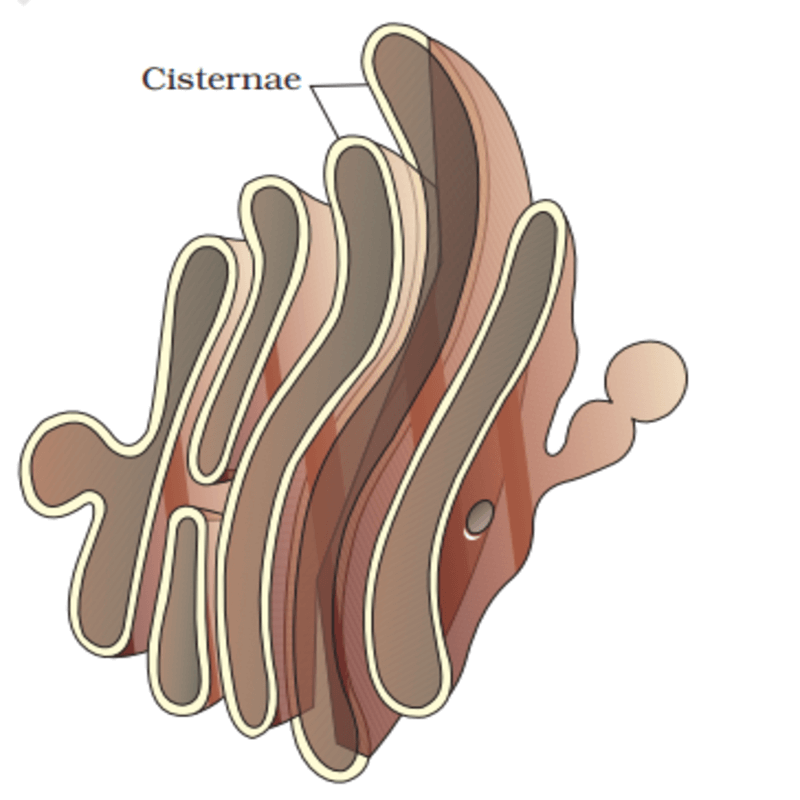 Lysosomes
They are membrane-bound vesicular structures that are the result of the Golgi apparatus's packaging process. It has been discovered that the isolated lysosomal vesicles are extremely rich in nearly all hydrolytic enzyme types (hydrolases – lipases, proteases, and carbohydrates), which are most active at the acidic pH. These enzymes can break down lipids, proteins, carbohydrates, and nucleic acids.
It helps to digest dead and damaged cells, aids in digestion, and eliminates waste. As a result, it is also known as "suicidal bags".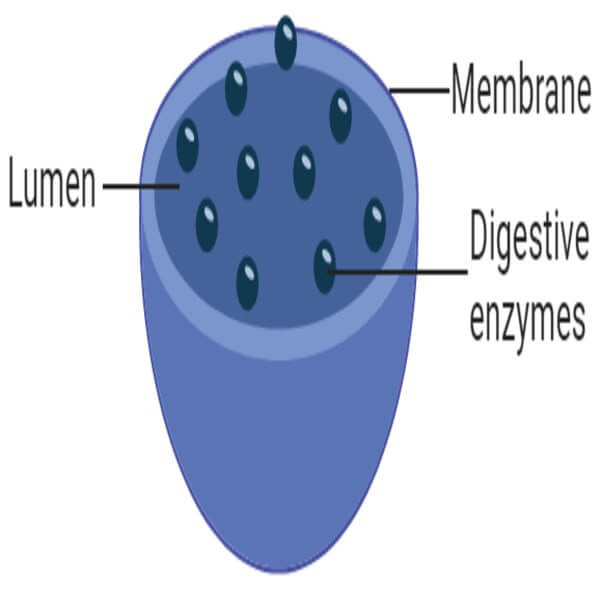 Vacuoles
The membrane-bound area in the cytoplasm is known as the vacuole.
It contains water, sap, excretory product, and other components that are not beneficial to the cell. Vacuoles eventually dispose of the waste products. As a result, the rest of the cell is safe from contamination.
Tonoplast is the name of the solitary membrane that surrounds the vacuole.
The number and size of vacuoles differ between animal and plant cells.
The vacuoles in plant cells are larger than those in animal cells. In plant cells, vacuoles have the potential to occupy up to 90% of the total cell volume.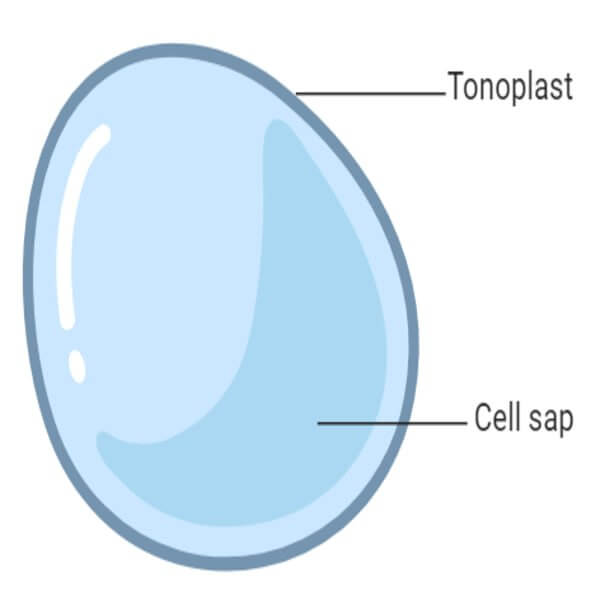 Plastids
Every plant cell, including euglenoids, contains plastids. They may be seen clearly under a microscope due to their size. They carry particular pigments, which give the plants particular colors.  Chloroplasts, chromoplasts, and leucoplasts are three different types of plastids.
Chloroplasts: Chlorophyll and carotenoids are pigments found in chloroplasts, which are in charge of absorbing light energy necessary for photosynthesis.
Moreover, the chloroplasts are double membrane-bound. The inner chloroplast membrane is considerably less permeable than the outer membrane. The stroma is the area of the chloroplast that is constrained by its inner membrane.
A group of organized flattened membrane sacs are called thylakoids.
Thylakoids are stacked like collections of coins, which are called grana, or intergranular thylakoids.
Moreover, stroma lamellae are flat membranous tubules that connect the thylakoids of the various grana.  A region known as the lumen is enclosed by the thylakoids' membrane. The stroma of the chloroplast includes enzymes essential for glucose and protein synthesis. Ribosomes and tiny, circular, double-stranded DNA molecules are also present in chloroplast. In the thylakoids, chlorophyll pigments are found.
Chromoplasts: The chromoplasts include fat-soluble carotenoid pigments like carotene, xanthophylls, and others. This imparts a yellow, orange, or red color to the plant portion.
Leucoplasts: The leucoplasts are nutrient-stored, colorless plastids of various sizes and forms. Amyloplasts store carbs (starch), such as potatoes, whereas elaioplasts and aleuroplasts store oils and fats, and proteins, respectively.
Cilia and Flagella
Cilia and flagella are outgrowths of the cell membrane that resemble hair. The movement of the cell or the surrounding fluid is induced by cilia.  Comparatively longer flagella are in charge of cell motility. Although prokaryotic bacteria have flagella, they differ structurally from eukaryotic flagella.
The axoneme, the core of the Cilia and flagella, has many microtubules that run parallel to the long axis.
Nine doublets of radially oriented peripheral microtubules and two centrally positioned microtubules typically make up an axoneme.
The peripheral doublets' tubules are connected to one another by radial spokes, and the central tubules are connected by bridges and surrounded by a central sheath.. The cilium and flagellum both emerge from basal bodies, which are centriole-like structures.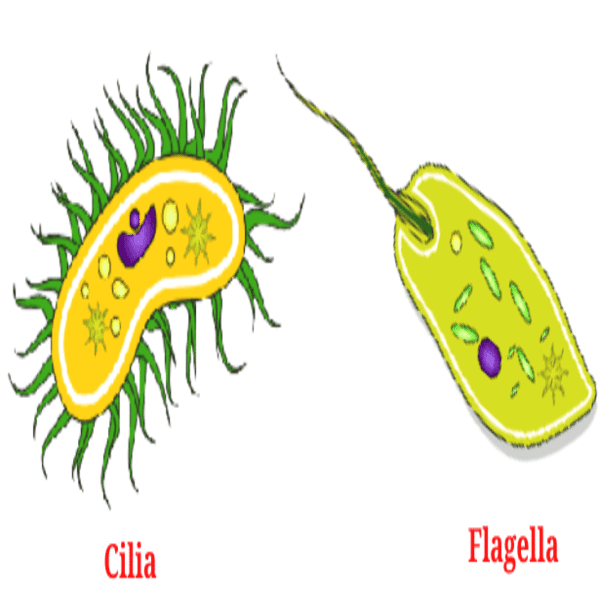 Centrosome and Centrioles
The centrosome organelle is made up of two centrioles, which are mutually perpendicular structures. Each centriole is made up of nine tubulin protein peripheral fibrils that are evenly spaced apart and are made up of interconnected triplets.
The hub, or central portion of the centriole, is made of protein. The hub joins the peripheral fibrils via a protein-based radial spoke.
During cell division, the centrioles from the basal bodies of the cilia and flagella give rise to spindle fibres.
Microbodies
Both plant and animal cells contain numerous membrane-bound tiny vesicles called microbodies that contain various enzymes.
Plant Cells and Animal Cell
Plants play the role of producers in an ecosystem, whereas animals play the role of consumers. As a result, both their cell structure and everyday tasks and roles are variable. Animals and plants have several cell organelles, which are usually categorized according to their functions. The distinction between plant and animal cells is due to the differences in the cell composition of each.
While certain cell organelles are specific to either plant or animal cells, others are present in both types. The majority of higher species on earth, including all plants and animals, are eukaryotes. Hence, these cells have some characteristics that are usually found in eukaryotes.
Membrane-bound organelles including the endoplasmic reticulum, mitochondria, the nucleus, the Golgi apparatus, and lysosomes are present in both plant and animal cells. Moreover, a plant cell may be bigger than an animal cell. Animal cells typically range in size from 10 to 30 micrometers, while plant cells typically range in size from 10 to 100 micrometers.
Plant Cell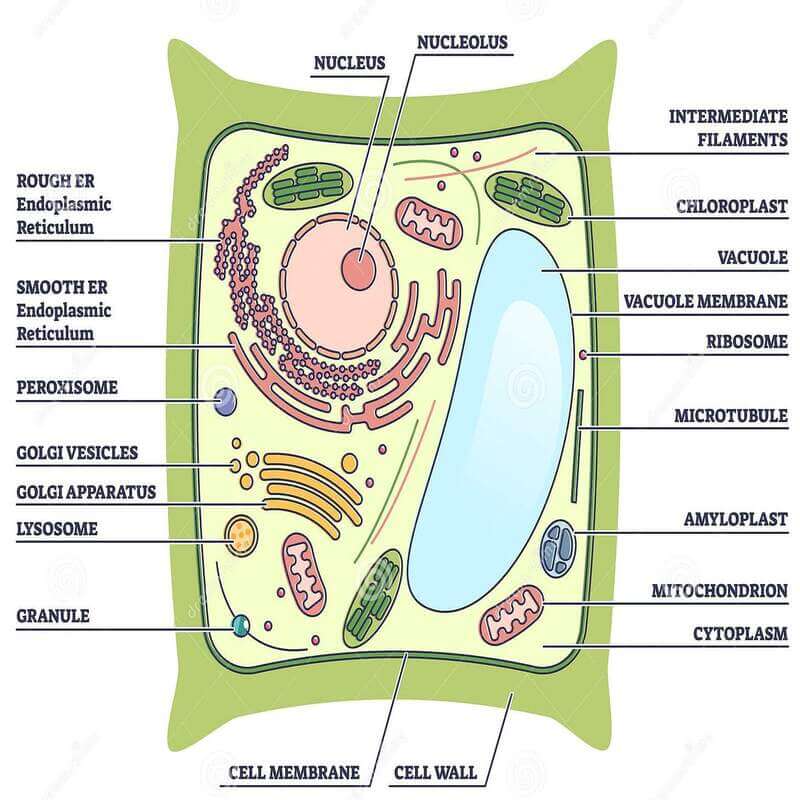 The majority of the plant kingdom is made up of multicellular, autotrophic eukaryotes. Moreover. Plant cells can be distinguished from animal cells by their organelles, such as the chloroplast, cell wall, and vacuole.
The size of plant cells typically ranges from 10 to 100 m.
The process of photosynthesis is carried out by plant cells. Green plants are hence referred to as autotrophs. It is carried out as a result of chlorophyll being present in the chloroplast of plant cells. The cell wall, which gives the stability and stiffness of the cell, is made of cellulose.
Plant cells serve as the basic building blocks of plant life and carry out all vital functions. The process of producing food through photosynthesis happens in the chloroplasts of the cell. Some examples of specialized plant cells include the following:
Collenchyma cells: Elongated living cells with asymmetrical, thick primary walls make up collenchyma cells. Like plants, they have the ability to alter their shape and expand. The ability of collenchyma cells to stretch and hence respond to increased organ growth is a crucial characteristic.
Sclerenchyma cells: The sclerenchyma cells are more rigid. They serve as the main sources of support in plant locations that have ceased to grow. Sclerenchyma cells that have reached maturity are frequently dead cells with thicker secondary walls. They also have a high cellulose content (60–80%), which helps plants by providing support structurally.
Parenchyma cells: The majority of plant tissues, including the soft tissue found in leaves, fruit pulp, and other plant organs, are made up of simple permanent ground tissues known as parenchyma cells. They carry out metabolic functions, cellular respiration, and photosynthesis in leaves. Moreover, they help plants repair by storing substances like proteins and carbs.
Xylem cells: This tissue helps move water and chemically dissolved substances throughout the plant. Some xylem components include tracheids, vessels, xylem parenchyma, and xylem fibers. Water and dissolved minerals are transported by the plant's xylem from the roots to the leaves.
Phloem cells: These cells transport nutrients made by photosynthesis to every part of the plant. Phloem carries amino acids and sugars that have been dissolved in water. Food is moved from the leaves to the roots through the phloem.
Animal Cell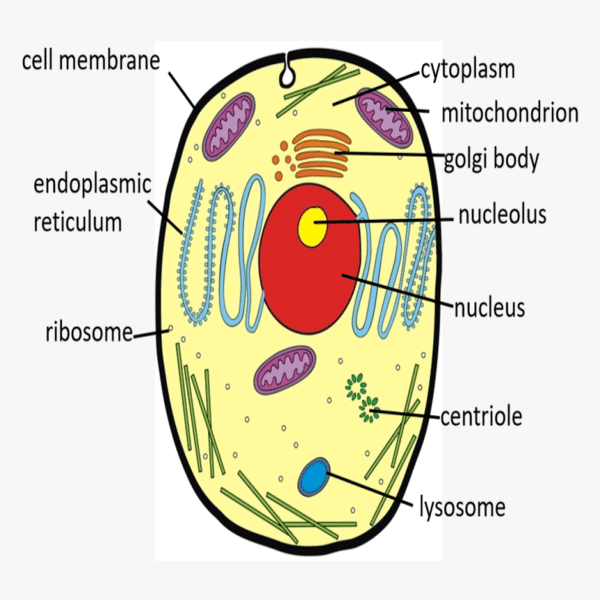 The Kingdom Animalia contains three-fourths of all species on the planet. Animal cells are distinguished from plant cells primarily by the absence of the cell wall and chloroplast. Animal cells cannot make their own food, which is the main difference between them and plant cells. The three main parts of the majority of animal cells are the cytoplasm, cell membrane, and nucleus.
Many kinds of animal cells include:
Skin cells: The dermal and epidermal layers of the skin contain these cells. These cells are efficient in stopping water loss and acting as a barrier to the outside world.
Bone cells: The development of an animal's skeleton and bones is carried out by bone cells. In order to maintain balance and ultimately regulate the bone structure and function, bone cells communicate with one another. They aid in body movement as well.
Muscle cells: These help to safeguard the body's sensory organs. When they are grouped together, they can assist in organizing the movement of your limbs and tissues.
Blood cells: These cells transmit hormones and nutrients throughout the body. They use the bloodstream to carry oxygen around the body.
Nerve cells: Nerve cells are specialized cells that have been wired to carry information or impulses. Neurons are brain cells that transmit and receive signals. They are also referred to as nerve cells. Each nerve cell is made up of the cell body, which includes the nucleus, a main branching fiber (axon), and multiple smaller branching fibers (dendrites).
Difference between Plant Cell and Animal Cell
| | | |
| --- | --- | --- |
| Basis of comparison | Plant Cell | Animal Cell |
| Definition | These are eukaryotic cells with a real nucleus and specialized components called organelles that carry out particular tasks. | It is a form of a eukaryotic cell with a genuine, membrane-bound nucleus and other cellular components but no cell wall. |
| Size | Fixed-size, which tends to be bigger. The typical range is between 10 and 100 micrometers. | Little and irregular in shape. varies between 10 and 30 micrometers. |
| Shape | They have a stiff, fixed shape that is typically cubical or rectangular. | They feature rounded and asymmetrical forms |
| Cell wall | Has a cell wall made of cellulose and a cell membrane. | Possesses no cell walls. |
| Surrounded by | Plasma membrane and rigid wall cells | Thin and flexible plasma membrane |
| Plastids | Present | Absent |
| Chloroplast | Available in plant cells | Lacking animal cells |
| Ribosomes | Present | Present |
| Cytoplasm | Present | Present |
| Nucleus | Present on the side. | Lies at the center of the cell wall. |
| Cilia | Absent | Commonly present |
| Centrioles | Absent | Present |
| Mitochondria | Only a few are present | Present in a significant number |
| Lysosomes | Absent | Present |
| Centrosomes | Absent | Present |
| Vacuole | In general, they are large and provide structural support. One large vacuole. | Vacuoles are tiny structures. several vacuoles. |
| Essential Nutrients | Amino acids, vitamins, and coenzymes, which are essential to plants, can be produced by plant cells. | Animal cells are unable to produce their own food./td> |
| Reserved food | Reserved food is used here as starch. | Complex carbohydrates and glycogen are present. |
Conclusion
The lowest common element of life is a cell. Some cells function as independent entities, while others are a component of multicellular organisms. The same four major types of organic molecules—nucleic acids, proteins, carbohydrates, and lipids—make up every cell in the body.
As a result of early evolutionary processes, cells can also be divided into two main groups: prokaryotes, which have cytoplasmic genomes, and eukaryotes, which have nuclear-encased genomes and other membrane-bound organelles.
Cells have evolved into a huge diversity of forms and sizes despite their modest size. Together, they create the tissues that in turn create the organs and ultimately the entire organism.
To more such notes Click here
Article written by: Aryadevi E S