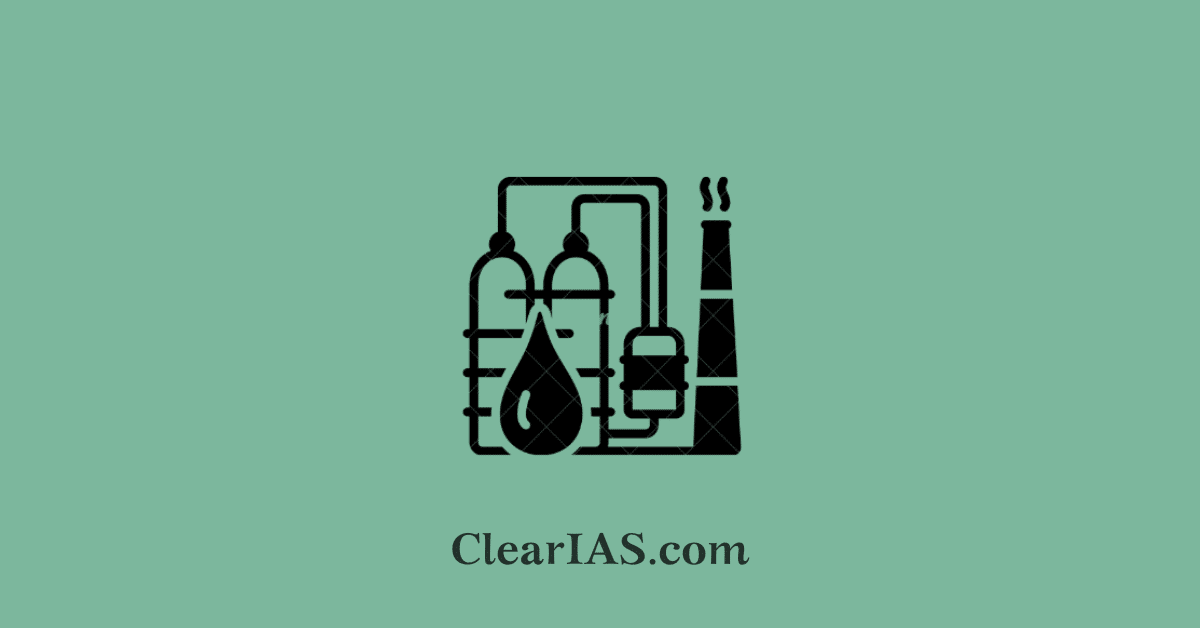 India's chemical and petrochemical industry plays a crucial role in the country's economic growth and industrial development. It is one of the leading sectors contributing significantly to India's gross domestic product (GDP) and export earnings. Read here to know more.
The chemical and petrochemical industry is crucial in India's economic progress and to continue being a key driver of growth in the future.
The industry encompasses a wide range of products, including basic chemicals, specialty chemicals, petrochemicals, pharmaceuticals, fertilizers, and more.
Recently, the 3rd Edition Summit on 'India: Global Chemicals and Petrochemicals Manufacturing Hubs' (GCPMH 2023) was held which provides a platform for industry leaders, policymakers, and experts to discuss and exchange ideas on leveraging FTAs to enhance the competitiveness and sustainability of this vital sector.
Chemical and Petrochemical Industry in India
The chemical and petrochemical industry is a major contributor to India's economy. It accounts for a significant share of the country's manufacturing output and exports.
Covering more than 80,000 commercial products, India's chemical industry is extremely diversified and can be broadly classified into bulk chemicals, specialty chemicals, agrochemicals, petrochemicals, polymers, and fertilizers.
India is the 6th largest producer of chemicals in the world and 3rd in Asia, contributing 7% to India's GDP.
India's chemical sector is currently estimated to be worth US$ 220 billion in 2022 and is anticipated to grow to US$ 300 billion by 2025 and US$ 1 trillion by 2040.
The industry produces a diverse range of products, including basic chemicals like caustic soda, soda ash, sulfuric acid, specialty chemicals like dyes, pigments, and agrochemicals, and petrochemicals like polyethylene, polypropylene, and other polymers.
Globally, India is the fourth-largest producer of agrochemicals after the United States, Japan, and China.
India accounts for 16-18% of the world's production of dyestuffs and dye intermediates.
Indian colorant industry has emerged as a key player with a global market share of ~15%.
The country's chemicals industry is de-licensed, except for a few hazardous chemicals. India holds a strong position in exports and imports of chemicals at a global level and ranks 14th in exports and 8th in imports at the global level (excluding pharmaceuticals).
India's proximity to the Middle East, the world's source of petrochemical feedstock, enables it to benefit from economies of scale.
Government Initiatives for Chemical and Petrochemical Industry
The Indian government has been actively promoting the chemical and petrochemical industry through various initiatives, such as providing incentives for investment, encouraging research and development, and facilitating ease of doing business.
The Department of Chemicals & Petrochemicals intends to bring PLI into the chemical & petrochemical sector and will redraft the Petroleum, Chemicals and Petrochemicals Investment Region (PCPIR) guidelines.
PLI schemes have been introduced to promote Bulk Drug Parks.
The government has started various initiatives such as mandating BIS-like certification for imported chemicals to prevent dumping of cheap and substandard chemicals into the country.
A 2034 vision for the chemicals and petrochemicals sector has been set up by the government to explore opportunities to improve domestic production, reduce imports and attract investments in the sector.
100% FDI is allowed under the automatic route in the chemicals sector with few exceptions that include hazardous chemicals.
The government has proposed several incentives for setting up a sourcing or manufacturing platform within an Indian SEZ.
Also read: Oil and Gas Industry in India
Indian Advantage
India has abundant access to raw materials for the chemical and petrochemical industry.
The country has significant reserves of crude oil and natural gas, which serve as feedstock for the production of petrochemicals.
India has several oil refineries and integrated petrochemical complexes located in different parts of the country. These complexes produce a wide range of petrochemical products, meeting domestic and international demand.
India's chemical and petrochemical products are in demand globally. The industry contributes significantly to the country's export earnings.
The chemical and petrochemical sector continues to attract substantial investments from both domestic and foreign companies.
There has been a continuous focus on capacity expansion and modernization to meet the growing demand for chemical products.
The industry faces challenges related to environmental compliance, safety regulations, access to advanced technologies, and fluctuating raw material prices.
Way forward
Despite the pandemic, there are several chances for the Indian chemical sector given China's supply chain disruption and the trade war between the US, Europe, and China. Chinese anti-pollution initiatives will also provide prospects for some sectors of the Indian chemical industry.
Production and industrial growth will be aided by additional financial support in the form of tax cuts and special incentives through PCPIRs or SEZs to encourage downstream units.
The Petroleum, Chemicals, and Petrochemicals Investment Regions (PCPIR) policy's designated integrated industrial centers are expected to draw investments totaling Rs. 20 lakh crore (US$ 276.46 billion) by 2035.
To bring about structural changes in the working of the domestic chemical industry, future investments should not only focus on the transportation of fuels such as petrol and diesel but also on crude-to-chemicals complexes or refineries set up to cater to the production of chemicals.
With growing awareness of environmental concerns, the industry is increasingly focusing on adopting sustainable practices, reducing carbon emissions, and exploring eco-friendly processes.
Overall, India's chemical and petrochemical industry is a vital sector that supports various other industries and contributes significantly to the country's economic growth and development.
As India's economy continues to expand, the demand for chemical and petrochemical products is expected to increase, presenting new opportunities and challenges for the industry in the coming years.
-Article by Swathi Satish