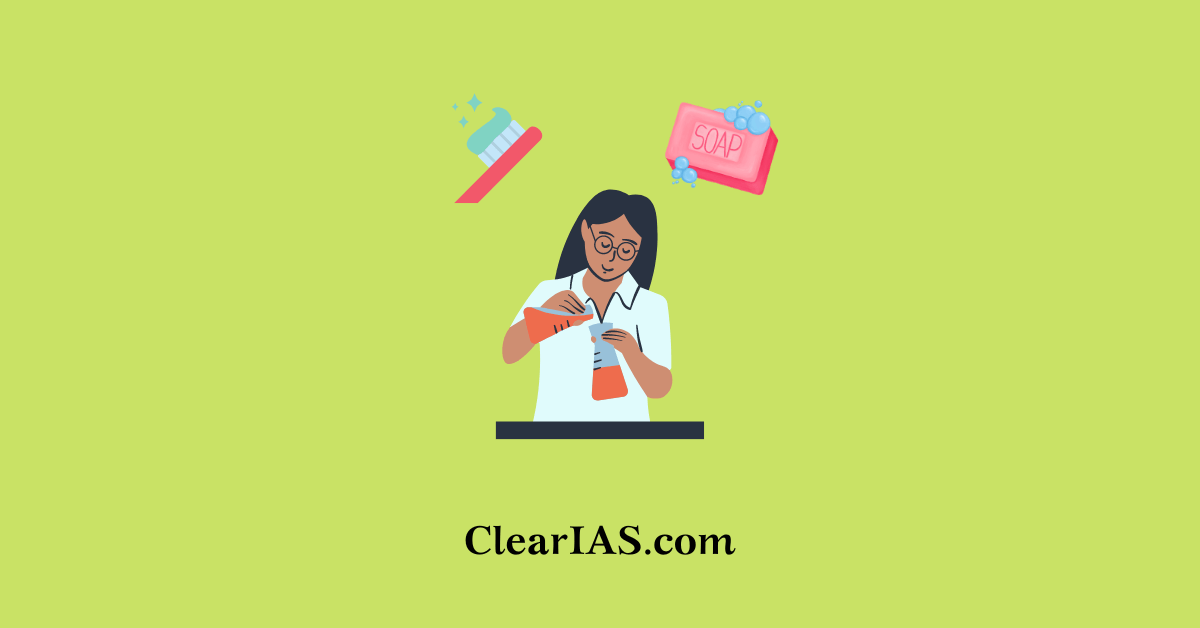 Can you imagine a day without bathing or having food or wearing a dress? The materials we use like soaps, sprays, cosmetics, detergents, toothpaste, etc composed of several chemicals. Because of how much chemistry has impacted our lives, we are constantly exposed to chemicals without even realising them. Read here to know more about chemicals in everyday life.
All of our behaviours are governed by chemicals, and we are amazing chemical creatures. Humanity has benefited from the usage of chemistry principles.
Illness and disease make us think of medications, which are yet another chemical. Chemicals are used in everything from explosives to fuel to rocket propulsion to building and electronic materials.
Let's see the various applications of chemicals in everyday life.
In Food
Chemicals are the basic building blocks of everything. All food is made of chemical compounds, including carbohydrates, vitamins, fats, proteins, and fibre, all of which are safe and frequently seen as desirable.
Chemicals have a significant role in the production and storage of food. Chemicals used in food preservation have greatly benefited in keeping food fresher for longer. Meals can be made better and more filling by using cans of food additives, flavourings, and nutritional supplements.
Some examples are as follows:
Artificial Sweetening Agents – Since sucrose increases calorie consumption, many people choose to use artificial sweeteners instead. Saccharin, also known as ortho-sulphobenzimide, was the first widely used artificial sweetening ingredient. Since it was discovered in 1879, it has been employed as a sweetening agent. It has 550 times the sweetness of cane sugar. It is eliminated from the body unchanged through the urine. When consumed, it seems completely safe and inert. Its use is very beneficial for diabetics and others who must limit their calorie intake. Some other commonly marketed artificial sweeteners are Sucralose, Aspartame, and Alitame.
Food preservatives – Food preservation agents stop microbial growth from causing food to spoil. The most often used preservatives are sodium benzoate (C6H5COONa), sugar, vegetable oils, and table salt. In small doses, sodium benzoate is used; it is also metabolised by the body. As preservatives, sorbic acid and propanoic acid salts are also employed.
Antioxidants – These stop food from oxidising, which stops food from going bad. For example, butylated hydroxyl anisole and butylated hydroxyl tolerance (BHA).
In Cleansing Agents
Cleaning agents are things we use to remove dirt, dust, bad odours, stains, and other things from surfaces. These are the substances we employ to lessen surface tension so that water can function exactly as intended. Cleaning with just water is ineffective because the surface tension prevents cohesive forces from operating.
Soaps and detergents are two chemicals in everyday life we use frequently.
Related topics: Agrochemicals
Soaps
The process of making soap often involves combining a liquid alkali (such as sodium hydroxide) with naturally occurring fats or fatty acids derived from plants and animals. The action is referred to as saponification.
Surfactants, or surface active agents, are present in soaps. They essentially lessen the water's surface tension. Surfactants enable the water to moisten the surface by attaching to the water molecules at one end. Surfactants attach to oils and dirt at the other end. Overall, they enable the water to clean the surface more effectively.
Detergents
Synthetic detergents are the other category of cleaning agents. These items have all the characteristics of soap, making them exactly like soap. However, they are completely unrelated to soaps chemically and do not contain any soap at all.
Detergents have many advantages over soaps, one of which is their versatility. Both soft and hard water are compatible with them. In hard water, they don't produce any scum. Some detergents can even function in water that is ice cold.
Let's see some of the chemicals in everyday life:
Common Name/Product

Chemical

Use/Property of the Chemical

Food Preservatives

Sulphites, Nitrites, Benzoates

These are the chemical classes that are most frequently employed as food preservatives. They prolong the shelf life of grains and food items and prevent the formation of microorganisms.

Detergent

Sodium sulphate, Sodium hydroxide, and Phosphate compounds

These are cleansing surfactants that become active when they are diluted. They are surface-cleaning foaming agents that can combine with water to hold oil and debris.

Dyes and Cosmetics

Esters

It belong to a group of organic substances that react with water to create alcohol and acids (organic or inorganic). These are utilised in medicinal, cosmetic, and colouring products .

Baking Powder

NaHCO3: Sodium bicarbonate (and one or more weak acid)

It is a leavening or raising agent used in cookery to give baked goods more volume and a lighter texture. An acid-base reaction, causes the batter to generate carbon dioxide.

Toothpaste

Calcium carbonate and Sodium fluoride

Used for cleaning teeth and maintaining oral health.

Common Salt

NaCl

The table salt that we use for seasoning and cooking. Additionally, it is an excellent food preservative.

Sugar

C12H22O11

Sugar is used as a sweetener for edibles.

Bleach

NaOCl

Utilised as household bleach for cleaning. It is a powerful anti-microbial and disinfectant. Additionally, it is applied to clothing as a bleaching agent.

Vinegar

C2H4O2: acetic acid, ethanoic acid

Commonly used in homes as a seasoning and preservative. For some surfaces, it is also employed as a household cleaning agent.

Graphite

Carbon

It is an allotrope of carbon that is most widely found as pencil lead. In addition to several additional residential and industrial uses, it is a crucial component of the batteries we use for a variety of functions.

Aspirin

C9H8O4: acetylsalicylic acid

Aspirin is most frequently used in over-the-counter medications for pain, inflammation, and fever.

Epsom salt

MgSO₄: Magnesium sulfate

To calm the body and ease muscle tension, it is used as a bath salt.

Hydrogen Peroxide

H2O2

There are various industrial uses for hydrogen peroxide. Hydrogen peroxide is a substance that is utilised in personal hygiene products for home usage. Additionally, it is used to bleach hair and treat acne.

.

Toilet Cleaner

HCl: Hydrochloric acid

It is a widely popular acid that is used as a cleaning agent, particularly in bathrooms and toilets.

Caustic Soda

NaOH: Sodium hydroxide

Since caustic soda is a very corrosive alkali, it is used to unclog sinks, toilets, and drains.

Mothballs

C6H4C12

It is a chemical that smells strongly stinky. It is used to protect clothing and materials from fabric bugs and clothes moths

Hand Sanitizer

Isopropyl alcohol

A chemical that kills germs and bacteria from our hands and saves us from many diseases.

Insect Repellent (to be applied on the skin)

Diethyltoluamide

Keeps us safe from bug bites, most commonly mosquito bites.

Rodent and Pests Killer

Arsenic

Arsenic is a poisonous chemical that is used to wipe off rats, cockroaches, and such pests in our homes.

Deodorants / Anti-perspirant

Aluminum chlorohydrate

It is a substance that is used to regulate sweating and stop body odour.

Chalk

CaCO3

Used for writing on blackboards.

MSG

C₅H₈NO₄Na: Monosodium glutamate

This name can be seen on the label of any packaged food that is ready to eat or prepare quickly. This substance is intended to improve flavour and leave you wanting more.
Article written by: Krishnapriya JR