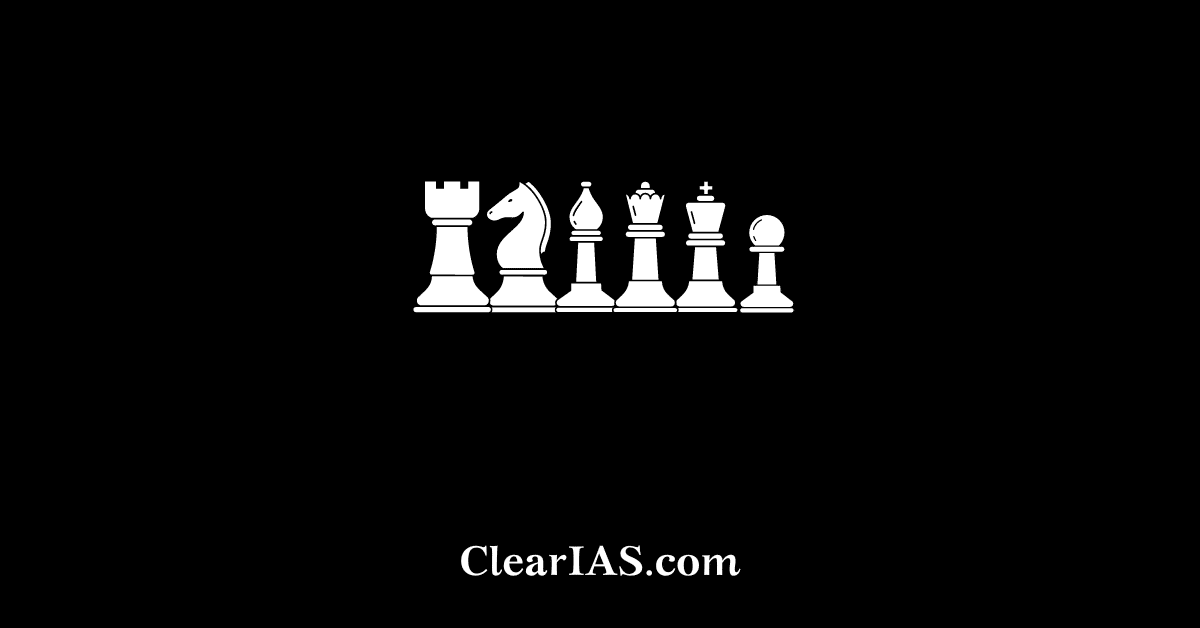 India's teenage chess grandmaster Rameshbabu Praggnanandhaa has won praise for a stunning victory over world number one Magnus Carlsen in an online championship. Read more about Chess here.
Origin of Chess
Chess is a board game for two players. It is sometimes called Western chess or international chess to distinguish it from related games such as xiangqi and shogi.
The current form of the game emerged in Spain and the rest of Southern Europe during the second half of the 15th century after evolving from chaturanga, a similar but much older game of Indian origin.
Today, chess is one of the world's most popular games, played by millions of people worldwide.
Chess is an abstract strategy game and involves no hidden information. It is played on a square chessboard with 64 squares arranged in an eight-by-eight grid.
At the start, each player (one controlling the white pieces, the other controlling the black pieces) controls sixteen pieces: one king, one queen, two rooks, two bishops, two knights, and eight pawns.
The object of the game is to checkmate the opponent's king, whereby the king is under immediate attack (in "check") and there is no way for it to escape. There are also several ways a game can end in a draw.
Organized competition
The term "match" refers not to an individual game, but to either a series of games between two players, or a team competition in which each player of one team plays one game against a player of the other team.
Governing bodies of Chess
Fédération Internationale des échecs (FIDE):
Chess's international governing body is usually known by its French acronym FIDE  (French: Fédération Internationale des échecs), or International Chess Federation.
FIDE's membership consists of the national chess organizations of over 180 countries; there are also several associate members, including various supra-national organizations, the International Braille Chess Association (IBCA), International Committee of Chess for the Deaf (ICCD), and the International Physically Disabled Chess Association (IPCA).
FIDE is recognized as a sports governing body by the International Olympic Committee, but chess has never been part of the Olympic Games.
The emergence of organised chess occurred in the 19th century. FIDE regulates international chess competitions nowadays (International Chess Federation).
Wilhelm Steinitz became the first generally acknowledged World Chess Champion in 1886; Magnus Carlsen is the current World Champion.
An early objective of computer scientists was to develop a chess-playing machine. In 1997, Deep Blue defeated Garry Kasparov to become the first computer to overcome the reigning World Champion. Modern chess engines are much stronger than the top human players and have had a profound impact on the evolution of chess theory.
International Correspondence Chess Federation (ICCF):
It was founded on 26 March 1951 as a new appearance of the International Correspondence Chess Association (ICCA), which was founded in 1945.
International Correspondence Chess Grandmaster is a correspondence chess title created by FIDE in 1953, second only to that of world correspondence champion. Currently, this title is awarded by the International Correspondence Chess Federation (ICCF).
All India Chess Federation (AICF):
All India Chess Federation (AICF) is the central administrative body for the game of chess in India. Founded in 1951.
The AICF has produced Viswanathan Anand, Nihal Sarin, Pentala Harikrishna, Rameshbabu Praggnanandhaa and Vidit Santosh Gujrathi and many other grandmasters.
The organisation is also in charge of managing women's chess in India. AICF's current headquarter is in New Delhi.
Types of Competition:
FIDE's most visible activity is organizing the World Chess Championship, a role it assumed in 1948. The current World Champion is Magnus Carlsen of Norway. The reigning Women's World Champion is Ju Wenjun from China.
Viswanathan Anand tops the Indian ranking with a rating of 2756 followed by Gukesh D with a 2726 rating.
Other competitions for individuals include the World Junior Chess Championship, the European Individual Chess Championship, the tournaments for the World Championship qualification cycle, and the various national championships.
Invitation-only tournaments regularly attract the world's strongest players. Examples include Spain's Linares event, Monte Carlo's Melody Amber tournament, the Dortmund Sparkassen meeting, Sofia's M-tel Masters, and Wijk aan Zee's Tata Steel tournament.
Regular team chess events include the Chess Olympiad and the European Team Chess Championship.
The World Chess Solving Championship and World Correspondence Chess Championships include both team and individual events; these are held independently of FIDE.
Titles and rankings:
In order to rank players, FIDE, International Correspondence Chess Federation (ICCF), and most national chess organizations use the Elo rating system developed by Arpad Elo.
An average club player has a rating of about 1500; the highest FIDE rating of all time, 2882, was achieved by Magnus Carlsen on the March 2014 FIDE rating list.
All the titles, including that of Grandmaster, are valid for life unless a player is stripped of the title for a proven offence such as cheating.
(shortened as GM; sometimes

International Grandmaster

or IGM is used). Awarded to world-class chess masters. Apart from World Champion, Grandmaster is the highest title a chess player can attain. 

(shortened as IM). The conditions are similar to GM but less demanding. The minimum rating for the IM title is 2400.

(shortened as FM). The usual way for a player to qualify for the FIDE Master title is by achieving a FIDE rating of 2300 or more.

(shortened as CM). Similar to FM, but with a FIDE rating of at least 2200.
The above titles are open to both men and women. There are also separate women-only titles
FIDE also awards titles to arbiters and trainers. International titles are also awarded to composers and solvers of chess problems and to correspondence chess players.
National chess organizations may also award titles.
Chess Vocabulary:
One of the most effective strategies to improve in chess is to familiarise yourself with the terminology used by chess players.
Even though the Rook is not a "castle" and the Knight is not a "horse," National Master Dan Heisman has assembled numerous useful definitions for the beginning chess player.
Action Chess is a game in which each player has only 30 minutes to make every move.
Using the names of the pieces and their ranks and files, Algebraic Notation is a way of recording movements. In 1970, the former descriptive notation ("P-K4" is now "e4") was replaced.
When you move a piece to a square where you may capture an opponent's piece on your NEXT turn, you attack.
| | |
| --- | --- |
| | The rank in which a player positions his or her important pieces (1st for White; 8th for Black) |
| | Checkmate with a Rook or Queen on the 1st or 8th rank. |
| Battery: | Aligning two similar-moving pieces, as a queen and rook or queen and bishop. |
| | Fast chess. Many blitz games are played in five minutes for each player. |
| Bye: | When a player is unable to participate in a round but continues to play in the event. Byes do not affect ratings, however, they might be worth 0 points, 0.5 points, or 1 point (in case you want to play, but are the odd person available) |
| Capture: | Not Kill — to legally remove a piece from the board. |
| Checkmate: | It is an attack on the King in which there is no option for the opponent to complete his move without the King being attacked. Players have to eliminate such movement. |
| | A piece that will be captured anyway, therefore it "sacrifices" itself at the highest possible cost. |
| Discovery: | An assault by a piece that was made possible by the move of another piece. |
| | A single-move attack on two or more pieces. |
| | Two identical pawns on the same file after a capture |
| | Any game in which neither player wins, such as Stalemate, Lack of Mating Material, and the 50-Move Rule. The term "tie" is not employed. |
| | During the next turn, capturing a pawn that moved two spaces with a pawn that might have captured it if it had moved only one space. |
| | Literally "intake" – available for free capture. A piece is en prise if it is susceptible to capture yet undefended. |
| Endgame: | The portion of the game in which the King must battle (with fewer pieces left on the  |
| Fianchetto: | To advance a Bishop down a lengthy diagonal (b2 or g2 for White; b7 or g7 for Black). |
| | A player with the lowest rating International Championship |
| Fifty-Move Rule: | A form of a draw that occurs when both players complete 50 consecutive moves without advancing a piece or capturing. |
| | A game in which each participant gets five minutes to make all of his or her moves. |
| | A frequent chess technique involving a double attack, typically by a Knight or Pawn (thus resembling a "fork in the road"). |
| | The highest international chess title holder |
| | A move that either a) results in an illegal position or b) moves a piece in an illegal way. |
| International Master | An individual having an intermediate International Championship |
| | Pawns with no other pawns of the same colour on neighbouring files are said to be "alone" and "isolated," without help from other pawns. |
| | The chess piece moves in an "L," or the piece with the shortest non-straight motion. |
| | A player whose US Chess Federation rating falls between 2200 and 2330. |
| | A method for determining the worth of a piece; or winning a pawn (or piece, or Exchange) is referred to as "winning material." |
Conclusion
We conclude that Chess is similar to a brain tonic in that it improves concentration, patience, and perseverance while also developing creativity, intuition, memory, and, most importantly, the ability to process and extract information from a set of general principles, learning to make difficult decisions and solve problems flexibly.
-Article written by Aseem Muhammed