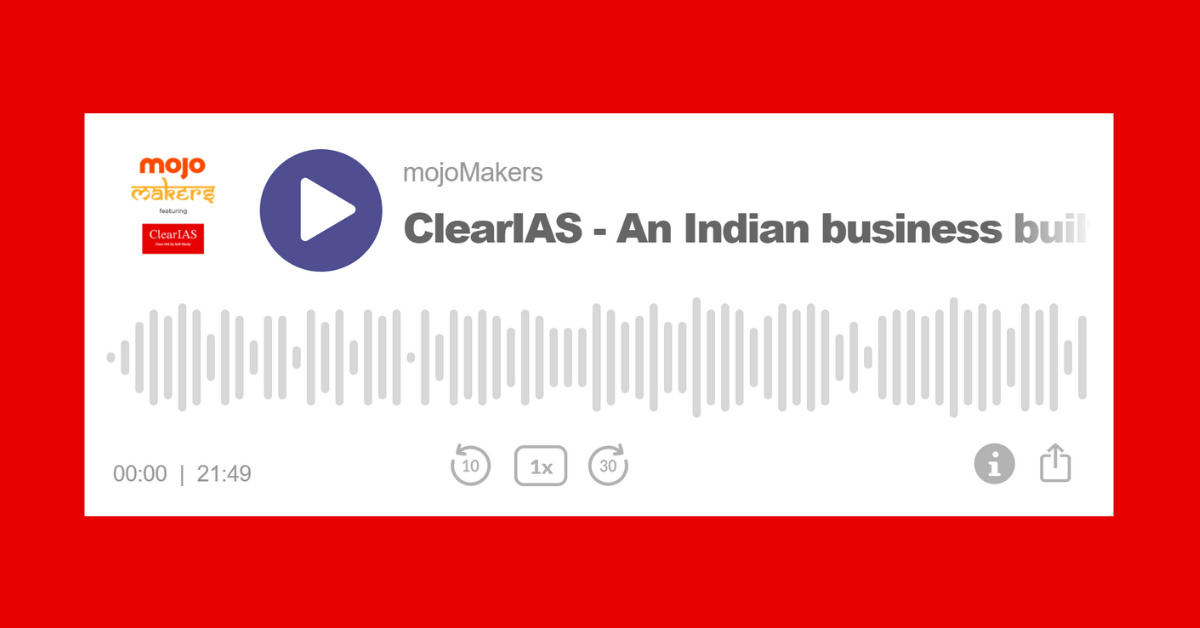 ClearIAS was recently featured by Instamojo in their new Inspirational Story Series 'mojoMakers'.
India's largest full-stack MSME platform, Instamojo, featured an insightful interview with ClearIAS Founder Mr Alex Andrews George in their podcast series 'Mojo Makers'.
Instamojo which powers more than 1.5 million businesses described ClearIAS as an Indian Business built on Atmanirbhar concepts.
ClearIAS – An Indian business built on #aatmanirbhar concepts
Did you know 10 lakh+ Indians apply for the IAS exams of which only 180 are selected every year? What's the burden of broken dreams and failures like?
When Alex Andrews George, founder of ClearIAS, couldn't clear his IAS exams and lost by just 2 marks, an alternate career path opened up. He knew passing the IAS exams was tough but he believed preparing for it shouldn't be.
ClearIAS helps IAS aspirants with free and reasonably priced study materials including mock tests, Interview series, and more. Aspirants can buy self-study packages on ClearIAS Instamojo online store and pay for mock test series with Instamojo links.
This unique self-study platform records over a million users per month. The ClearIAS app also has 9 lakh+ downloads. Alex, with his small team, has helped give flight to hundreds of IAS aspirants.
In this episode, Alex talks about how he went about building ClearIAS, what makes a business stand apart in a crowded market, and how the goal of any business should always be about providing value to the customer. He also talks about how ClearIAS is built on a unique self-study concept that is closely linked to the #aatmanirbhar campaign much before it became a thing.
Tune in to find some real gems of advice on failure, resilience, and success in this episode.
How can you listen to the inspirational story of ClearIAS Founder Alex Andrews George?
In the Mojo Maker series, Instamojo shares inspiring stories of small businesses from all over India – their stories of hustle, struggles, failures, aha! moments, and successes.
You can listen to the podcast from any of the below links: