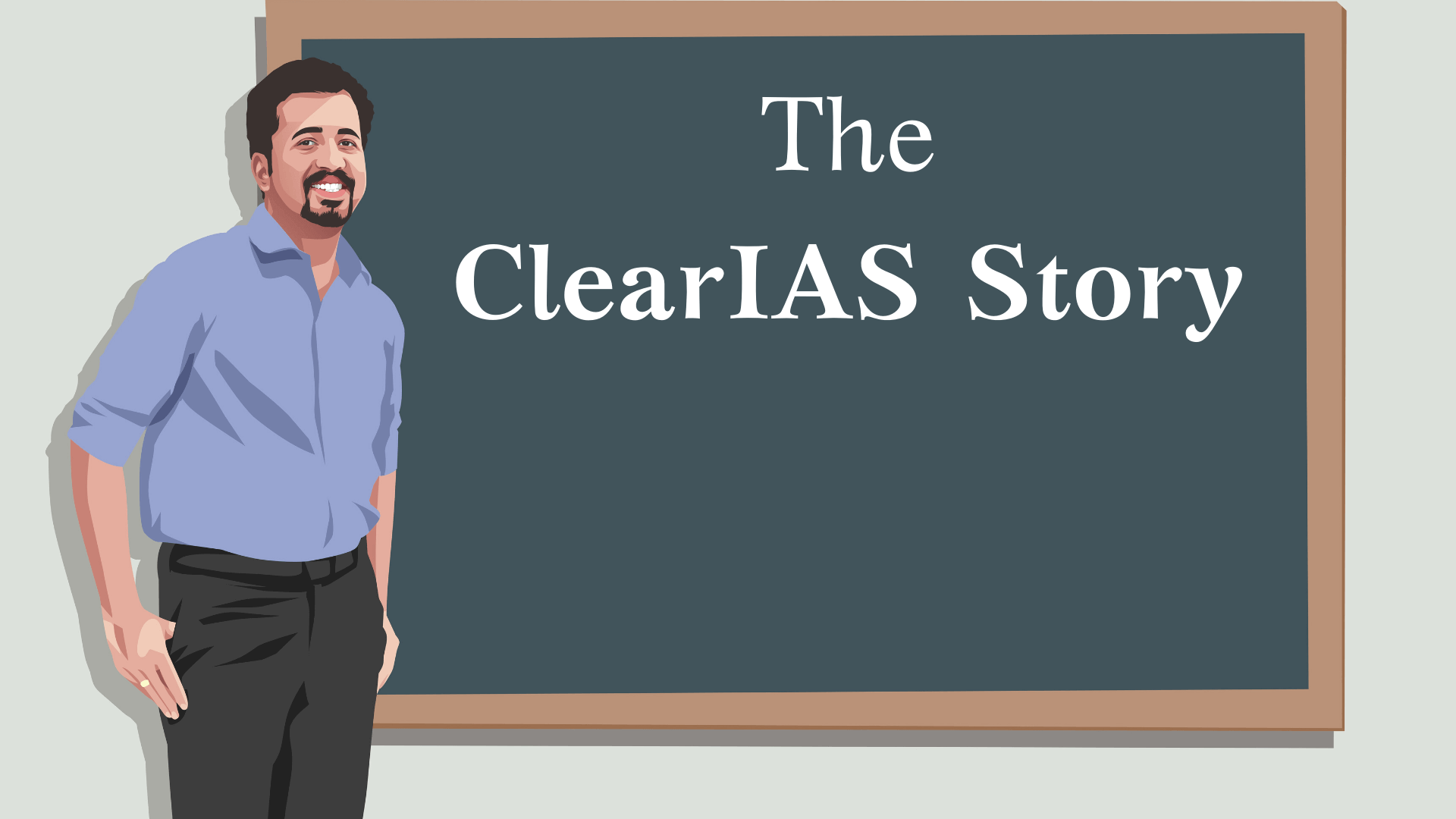 When I started ClearIAS.com in 2012, the concept of online learning itself was new.
Websites in the domain of education and test prep were just picking up. Apps were almost unheard of.
In those days, for anyone who aspired to be an IAS, IPS or IFS officer, classroom learning (or coaching) was more or less the norm.
However, everyone couldn't attend classroom coaching – mainly due to three reasons.
First, the coaching classes were very expensive (it still is).
The financial burden is further aggravated by the high living expenses (food and accommodation) in cities. The cost factor involved in the education itself had closed the 'IAS' dreams of many aspirants.
Second, almost all major players in the classroom coaching segment were concentrated only in metros like Delhi (now there are a few exceptions). The location factor was a serious hindrance to inclusive education and subsequent government employment.
The third problem was the timings of the classes. Even for those in metros who could afford to attend coaching classes, the timings of the classes were not convenient. The time factor became a considerable bottleneck for working professionals and students who preferred to study after their daily engagements.
As an IAS aspirant myself, who lived in a village in the southern part of India, I somehow wanted to solve this problem.
I wished to solve the problem of non-inclusive education and employment.
I wished to solve the problem of affordability, accessibility, and availability in such a crucial sector as education.
I had nothing against any coaching institute. I still believe, anyone who provides education to others – by charging fees or not – is doing a great service to the nation. However, if only the rich (who can afford classroom coaching) can become IAS or IPS officers, that's not good for India.
If any Indian village youth, despite his/her brilliance, could not reach the position he/she deserves to be achieved because of a lack of right guidance, quality mock exams, or proper study materials, that's quite an unfortunate situation.
If the rural voices are not reflected in decision-making because most of the top bureaucrats who govern the country are coming only from metros (or those who can afford to be in a metro), that is a serious issue.
I truly wished the door to the dream of IAS/IPS/IFS should not be closed to any deserving candidate due to a lack of facilities for learning.
I wanted to bridge the gap between have's and have-nots.
As a guy who was always passionate about websites, I pondered the idea of developing an online platform for learning.
My idea was not just another platform for learning, but a platform that offers premium services to aspirants at an affordable fee.
A platform that provides both free and premium resources.
A platform that provides better features than traditional offline coaching institutes at less than half of the rates charged by them – through the online route.
A platform that helps aspirants learn from the comfort of their own homes and with access to a huge database of study materials and professional training methods.
A platform that guides them right from the beginning – just like a real mentor does.
A platform that makes learning simple, easy, and fun.
That's how ClearIAS.com was born – as a platform that helps aspirants to clear the IAS exam by self-study and online learning (smart-study).
Now, when I look back after 10 years, I feel proud, happy, and satisfied to see the role ClearIAS has been playing in educating India, changing the lives of many, and helping the youth who believe in themselves, consistently to realise their IAS, IPS or IFS dreams! (You can read the testimonials of toppers here.)
ClearIAS: Now used by more than 1 million users per month!
In the last 10 years, ClearIAS has emerged as one of the most reputed online learning platforms in India with more than a million monthly users – with no external funding but just the love and support of our readers.
ClearIAS website and ClearIAS App (released in 2014, which soon became one of the most downloaded apps in India dedicated to UPSC CSE preparation) consistently adapted to the latest requirements of exam preparation – and provided content and exams in the most organised and structured way possible.
On this special occasion, I am writing this long blog post to thank all users of ClearIAS for the support and encouragement provided.
I would also like to brief all followers of ClearIAS on the new updates we have bought in recently.
ClearIAS Online Classroom Program (Classes)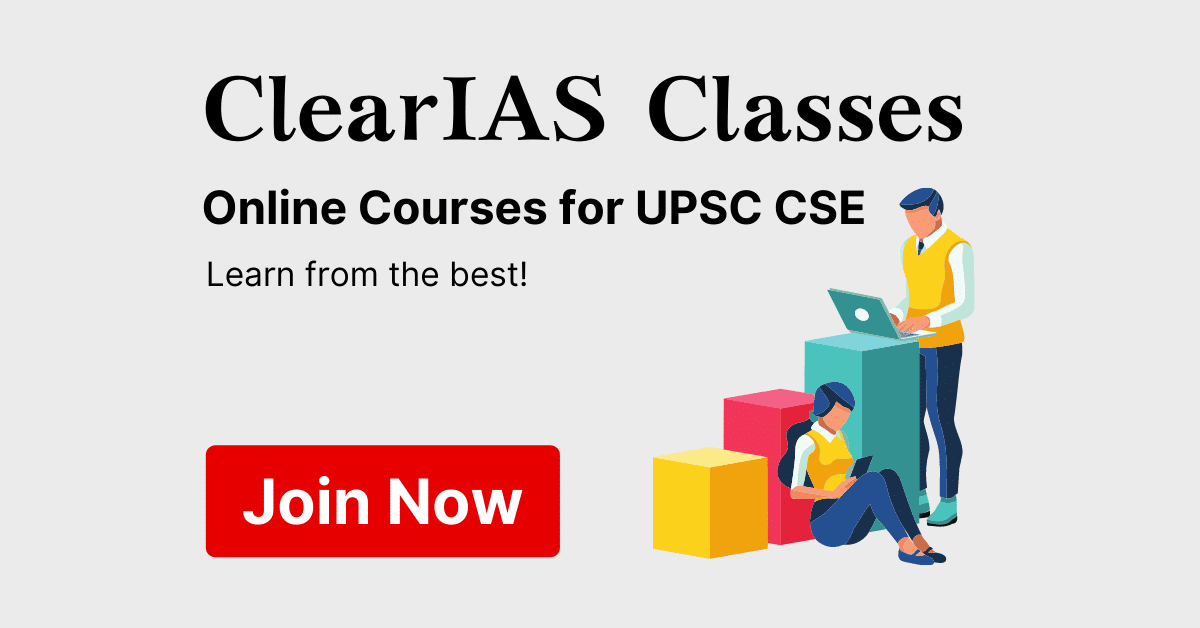 When we started ClearIAS in 2012, there were many constraints to conducting live online classes. The technology was just evolving, the bandwidth was limited, and the internet was expensive.
However, that is not the case now. Almost everyone has a smartphone now. Online learning is the new normal. There are many robust technologies for conducting live classes. With the evolution of 4G, the internet is now not only fast but also really cheap.
We had been getting hundreds of requests from our aspirant community to start full-fledged online courses for Prelims and Mains. Along with self-study, many aspirants wish to get expert guidance and personal mentorship. As always, we listened to the student's requests and started ClearIAS Classes – our special online classroom program – which includes live classes, recorded classes, and personal mentorship.
ClearIAS Prelims cum Mains (PCM) course is an umbrella program which offers most of the resources of ClearIAS like video classes, mock exams, study materials etc in a single package.
The PCM Course of ClearIAS offers almost everything you need to crack the UPSC CSE like:
Instant access to 700+ Hours of Expert Classes (recorded) which cover the entire UPSC CSE GS syllabus of Prelims and Mains
Automatic Access to the latest Current Affairs Classes (Live or Recorded)
Doubt Clearing Sessions
Personal Mentorship
Easy-to-learn Study Materials (PDF)
ClearIAS UPSC Prelims Online Mock Test Series
ClearIAS UPSC Previous Year Re-Take Exams
Interview Guidance etc.
We also offer sub-sets of the PCM Programs to those aspirants who wish to subscribe to smaller packages. The popular sub-packages are the PMB Program and the PMB+ Program.
The specialities of the ClearIAS Online Classroom program include
Smart work approach
Individual attention
2-way Interactive live classes
Unlimited views of recorded classes
Personal mentorship
Direct guidance from experts
Personal Transformation
You can take admission to ClearIAS Online Classroom Program (PCM) by clicking this link.
ClearIAS Online Notes and Study Materials (FREE)
When I started ClearIAS, my first priority was to build quality content – which is easy to learn – not just on current topics but also on conventional topics like History, Geography, Polity, Economics, Environment, Science and Technology etc.
Even now, when there are hundreds of websites and apps available in the UPSC Test Prep segment, I feel, there are only a few players who give proper attention to the importance of conventional topics.
As one of the core philosophies of ClearIAS is to simplify learning, our focus was always on quality and never on quantity. Still, we now have more than 1000 posts from a variety of subjects – which are equally appreciated by school students, IAS aspirants, and academics.
If you click on any of the below links – you will get subject-wise online notes of clearias.com. Each post/topic can be easily converted to PDF using the buttons given on the page.
ClearIAS Mock Exams: From text-based learning to test-based learning
Right from the beginning, the team behind ClearIAS (which included my friends and fellow aspirants, many of whom later became civil servants), was clear on one thing.
To clear the IAS exam by self-study, just providing study materials was not enough.
Aspirants need proper guidance and the right practice.
This necessitated the need to develop a pan-Inda online mock exam platform – which provided timed online mock exams.
The innovative ClearIAS Mock Exam platform not only offered pan-Inda online model exams but also offered instant results, all-India ranking, performance analysis and so on.
One major revolution ClearIAS brought in UPSC preparation – by coming up with our unique software – is the change in the way aspirants learn.
ClearIAS formulated a new way of learning – learning by taking mock exams rather than over-depending on textbooks. That is a switch from text-based learning to test-based learning.
It is a no-brainer that practice increases the chance of success in any field – multiple times. Yet, many aspirants and coaching institutes still over-depend on the old methodology of learning and teaching – which is visibly inefficient.
ClearIAS conceptualised a T-T-T approach – which meant a combination of Textbooks, Test-series, and Techniques to clear the UPSC Civil Services Exam in flying colours.
Click here to know the list of online mock exams available on the ClearIAS Mock Exam platform.
ClearIAS Techniques
I believe that, Success in the UPSC Civil Services Examination (CSE) = 50% Knowledge + 50% Skills (Strategies).
Both ClearIAS Prelims Online Mock Test Series and ClearIAS TTT approach give significant importance to techniques and exam skills along with knowledge.
ClearIAS has developed various techniques to clear the IAS exam with ease. Some of them:
We have been working on a lot more techniques – particularly the IETs. ClearIAS users can expect more IETs in the coming days.
UPSC Exam Guidance
ClearIAS was one of the first, that came with a unique Prelims-cum-Mains integrated approach and road-map which helps aspirants clear IAS by self-study.
You can just go through the below links for specific guidance for each stage of UPSC CSE.
We will be adding a lot of new articles in each of the above sections in the coming days.
Ebooks (PDF) that make your learning easy!
For some subjects or topics, the traditional textbooks available in the market (hard-copy) may not fully serve the UPSC exam purpose. To fill the gaps, ClearIAS publish various ebooks in PDF format.
Check ClearIAS online store. Some of the most popular ebooks (PDFs) that you should not miss include:
We will be adding a lot of new ebooks in the coming days to make your learning easy and faster!
ClearIAS App
ClearIAS now has 3 mobile apps!
ClearIAS Learning app is an all-in-one solution to get the study materials, exam updates, and latest posts from ClearIAS.
ClearIAS Test Prep app has crossed more than 9,00,000 downloads on Google Play Store.
ClearIAS Classes app is the latest entry to our app family – which is also an instant hit.
Download the latest version of the ClearIAS apps and Clear IAS by smart study!
ClearIAS Programs
We are not a coaching institute. ClearIAS is an online learning platform.
Most of our programs are online. Click here to know more about the programs offered by ClearIAS.
We provide both free and premium resources.
The ClearIAS Philosophy
We have a strong value system. We don't believe in growing by pulling down others. We grow by improving our quality. It has been 10 years since ClearIAS is founded. We are here for long-term business. Our growth was solely based on the quality of the services we offered.
ClearIAS focus not only on helping you succeed in the IAS exam but also in life! Whether you clear the IAS exam or not we want you to become a better citizen, a better human being, and an asset to the nation. Our mission is to create leaders of tomorrow – having multi-dimensional knowledge, skills, and insights.
More positive surprises for you in the coming days
Necessity is the mother of invention.
We have more positive surprises for you. Believe that when the doors of traditional education are closed, new doors of extraordinary ways of learning will open up.
Updates:
Our Coronavirus Awareness Campaigns
We have created many posts to spread proper awareness about the Coronavirus outbreak among our readers – which span all ages. Some of the important posts are given below. Please share among your loved ones to 'Break the Chain' of Covid19.
ClearIAS #HereToHelp
Covid-19 has affected the preparation of UPSC aspirants.
Because of the closure of educational institutes, and displacement from hostels, the routine preparation of many aspirants is strained.
Due to the lockdown, aspirants are not even able to purchase books. Even Amazon is facing constraints in delivering hard copies of books now.
What should you do if you find it difficult to get hard copies of textbooks?
The time has long gone when UPSC prepares questions from just a few textbooks. Now the Commission refers to a lot of sources – online and offline; conventional and current – to set the questions.
As mentioned before, switch to test-based learning. Enroll in ClearIAS Prelims Online Mock Test Series today. ClearIAS Test Series covers the most probable questions from multiple sources including textbooks. Learn from ClearIAS online mock exams. This method of exam practice is faster and more efficient than just depending on textbooks or coaching class materials.
Also, refer to ClearIAS online notes and ebooks. Most of these resources are available for free.
All ClearIAS Programs will continue as usual
Before concluding, I assure all users of ClearIAS that our team is working hard to ensure that every ClearIAS program – free and paid; for Prelims, Mains, and Interview – will continue as usual, in spite of the Covid19 pandemic and lockdown.
My sincere hope is that since almost all our programs are online, our core activities will not be impacted.
We, as a team, realise that our responsibility in the domain of online education has multiplied many times now.
I pledge to devote more time and energy to fulfilling the aspirations of millions of youth in the country, further.
Stay safe!
Learn online!
Thank you and all the best!
– Alex Andrews George, Founder, ClearIAS