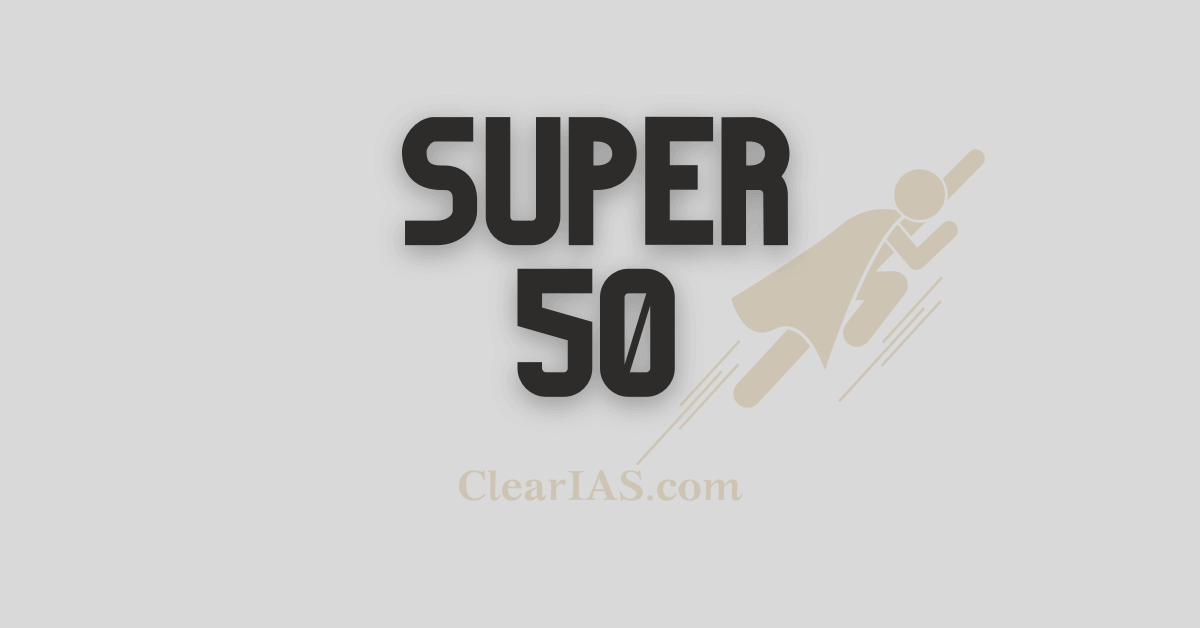 ClearIAS announces the launch of the ClearIAS Super 50 Program for UPSC CSE 2024. Supercharge your UPSC exam preparation!
Greetings, IAS/IPS/IFS aspirants!
We are thrilled to announce the launch of the ClearIAS Super 50 Program!
ClearIAS Super 50 is an exclusive program designed for a select group of 50 students who are determined to be the leaders of tomorrow.
What is ClearIAS Super 50?
ClearIAS Super 50 is a UPSC Civil Services Exam (CSE) coaching program provided to 50 brilliant students – across India. Classes can be attended either online or offline.
This Prelims cum Mains (PCM) coaching program will be offered as live classes.  Students will also get access to recorded classes.
The Super 50 course will cover the entire UPSC CSE GS syllabus of Prelims, Mains, and Interview.
Welcome to the first batch of Super 50!
The first batch of ClearIAS Super 50 will start on July 10, 2023.
The focus of this Prelims cum Mains (PCM) course will be an exceptional success in UPSC CSE 2024.
The duration of the course will be 10-12 months.
The course contents can be accessed from the ClearIAS website and app until the UPSC CSE Mains 2024 which is scheduled to be conducted in September 2024.
How to get admission to the 1-year-long ClearIAS Super 50 program?
Being a closed elite group of 50 serious students, there are certain criteria to be met by IAS/IPS/IFS aspirants to get admission to the Super 50 program.
The preliminary selection will be based on the suitability of the candidate towards ClearIAS methods of teaching. Additional weightage will be given to the profile of the candidate – which may include his/her academic records, vision, and character. All these parameters will be closely evaluated before giving final access to the course.
Interested candidates need to send an email to [email protected] clearly explaining why they wish to join the ClearIAS Super 50 program. Candidates may also include
Previous academic records ie. details of marks of Class 10, 12, and Graduation.
Details of curricular or extra-curricular achievements (if any).
The changes the candidate wishes to bring in once he/she becomes a civil servant.
We will short-list the candidates based on the entries and may arrange an interview/written test to select the final 50 candidates in the Super 50 program.
Draft your email now or call 9605741000 explaining your interest to join the program! Limited seats!
What makes ClearIAS Super 50 special?
ClearIAS Super 50 is a meticulously crafted program under the leadership of Mr. Alex Andrews George, one of the expert civil service trainers in India and a popular author.
This program will bring together the best of ClearIAS' expertise and resources to assist you in your UPSC CSE exam preparation.
Aspirants who join this program will gain access to a wealth of exclusive study materials, personalized guidance, and a supportive community of like-minded individuals.
Whether or not you succeed in UPSC CSE, training in the Super 50 program will make you unleash your true potential in you to be successful in life!
Key Features of ClearIAS Prelims cum Mains Program: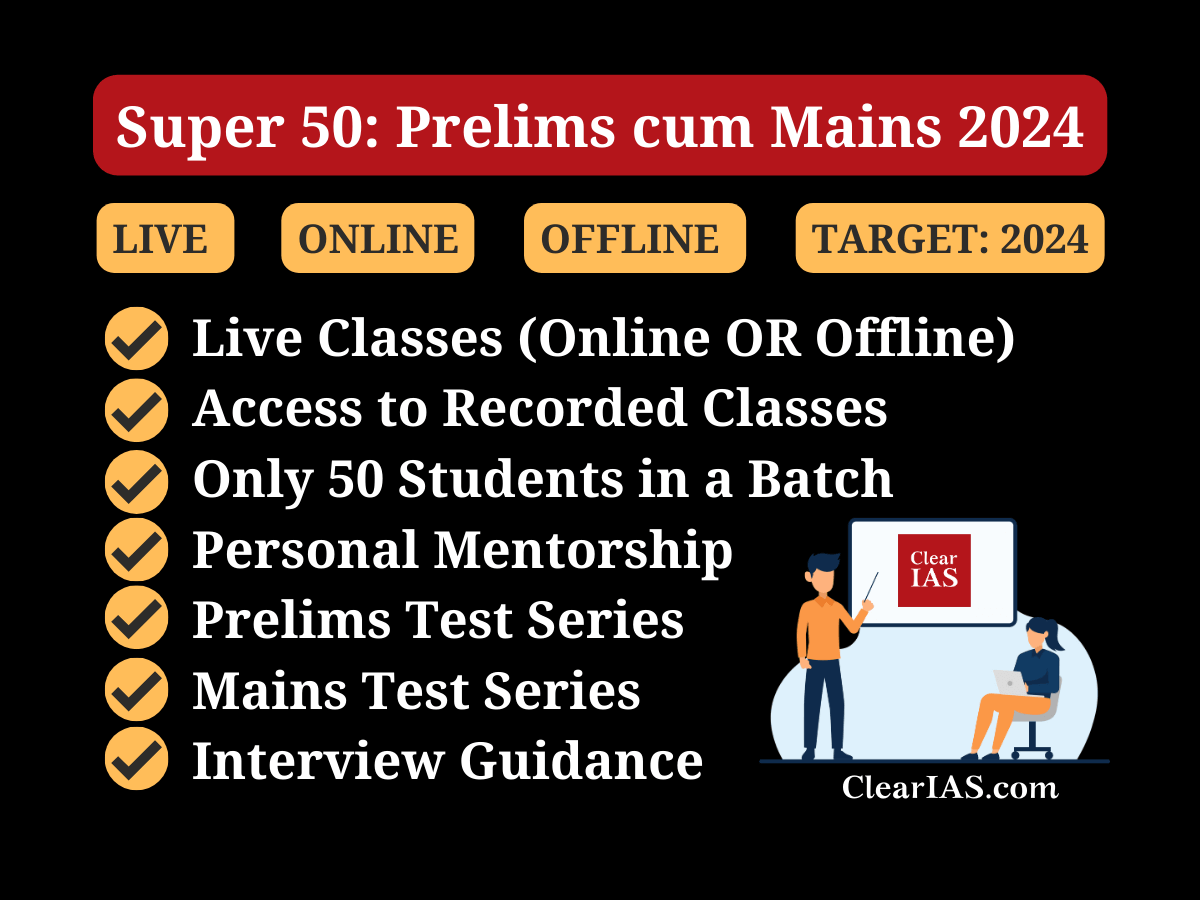 Expertly Designed Study Material: Get access to comprehensive study materials, including well-researched notes, mind maps, and e-books, curated by subject matter experts. The study material covers all the essential topics required to excel in the UPSC CSE 2024 examination.
Personal Mentorship: Benefit from personalized guidance from experienced mentors who are well-versed in the UPSC exam pattern and syllabus. These mentors will provide valuable insights, answer your queries, and offer expert advice to help you stay on track and succeed.
Strategic Study Plan: ClearIAS Super 50 offers a structured study plan tailored to your specific needs. The program ensures that you cover all important topics systematically and make the most efficient use of your time, maximizing your chances of success.
Regular Mock Tests and Performance Analysis: Evaluate your progress through regular mock tests designed to simulate the actual UPSC CSE 2024 exam environment. ClearIAS Super 50 provides detailed performance analysis reports that identify your strengths and areas for improvement, allowing you to fine-tune your preparation strategy.
Interactive Discussions: Engage in productive discussions with subject experts and fellow aspirants enrolled in the ClearIAS Super 50 program. Clarify doubts, exchange ideas, and benefit from shared knowledge. The ClearIAS Super 50 community is a vibrant platform where you can connect with like-minded individuals, find inspiration, and seek support.
Also read: ClearIAS Launches Fight Back Program: UPSC CSE Repeaters Course
How to Join ClearIAS Super 50 Prelims cum Mains Program?
We have created a payment page for aspirants who satisfy our criteria to be enrolled in Super 50.
If you are given a nod by ClearIAS based on your email and other selection parameters, you can make online payment of the ClearIAS fees to join the Super 50 program.
The fee of the 1-year course is Rs.85000.
However, the first 10 students who meet our eligibility criteria can join by making a one-time payment of Rs.79000.
To enrol in ClearIAS Super 50 and supercharge your UPSC CSE 2024 exam preparation, simply visit our course website. You can find detailed information about the program and follow the registration process on the page dedicated to ClearIAS Super 50. Limited seats are available, so don't miss this opportunity to gain a competitive edge and maximize your chances of success!
Join the Super 50 Program Today!
ClearIAS Super 50 is here to revolutionize the way you prepare for the UPSC CSE 2024. With our cutting-edge resources, personalized guidance, and a community of motivated aspirants, you can confidently navigate the challenges of the examination and emerge victorious.
We understand the importance of this crucial stage in your career, and we are committed to supporting you every step of the way. ClearIAS Super 50 is your gateway to comprehensive and effective exam preparation.
For any queries or further information, please feel free to reach out to our dedicated support team at [email protected].
You can also call us on 9605741000 or 9656621000.
Best regards,
ClearIAS Team.