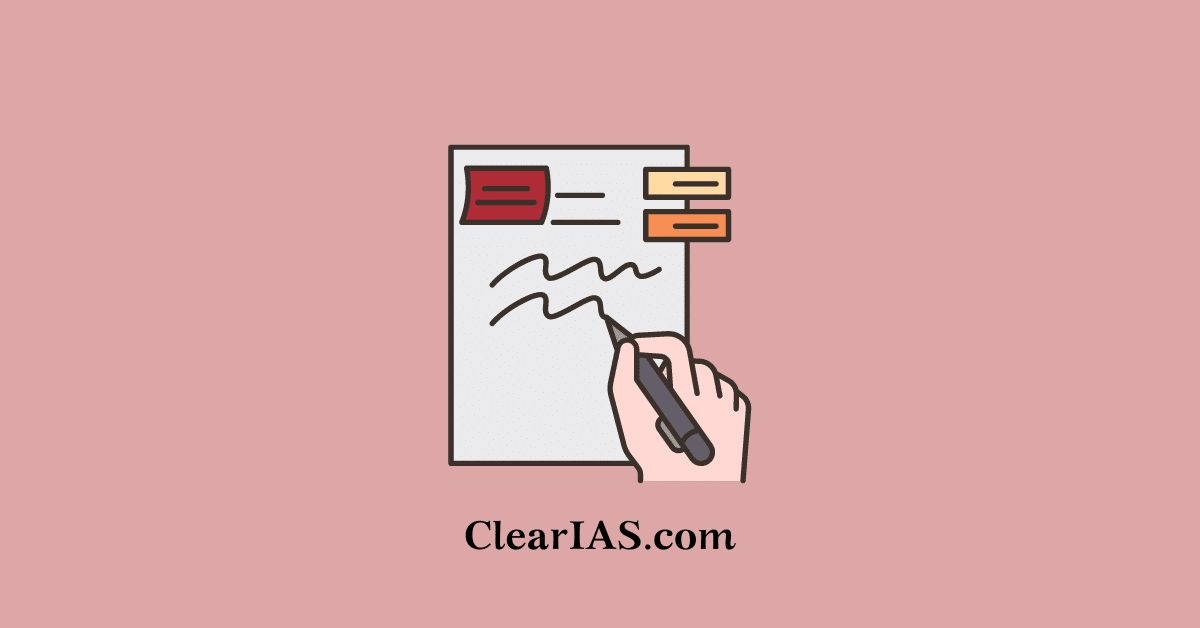 Let's understand about 10 common essay writing mistakes and how to avoid them.
The Union Public Service Commission (UPSC) Civil Services Examination (CSE) Mains is a rigorous and competitive exam that assesses candidates on various aspects of knowledge and skills.
One important component of the mains exam is the essay paper, where candidates are required to write two essays on topics of their choice.
The UPSC Essay Paper is considered an important paper, it serves as an opportunity for candidates to show their proficiency in expressing ideas and analyzing complex issues.
The essay paper holds a significant weightage in the UPSC Mains examination. It contributes 250 marks out of the total 1750 marks.
Scoring good marks in this paper can significantly improve your chances of getting good marks in the UPSC Mains exam and can improve your overall rank.
However, many aspirants often make common essay writing mistakes that can significantly harm their scores.
In this article, we will discuss 10 such mistakes and provide a solution to avoid them.
10 Common Essay Writing Mistakes and Steps to Avoid Them
Let's understand the most common mistake that an aspirant makes in an essay paper without realizing it. Here, we will not only discuss those mistakes but will also work on how to solve those problems.
Lack of Understanding of the Topic
Mistake: One of the most fundamental mistakes while writing an essay is not fully comprehending the essay topic. Candidates sometimes misinterpret the subject, resulting in essays that are off-topic or fail to address the core issues. In that case, they waste their precious time.
Solution: Practice writing mock essays before appearing in the actual exam. Take time to carefully read and analyze the essay topic during the exam. Break it down into its key components and keywords. Understand the context and objectives of the essay prompt before you begin writing.
Poor Planning and Time Management
Mistake: The pressure of limited time often leads to poor planning. Candidates may rush through their essays, neglecting crucial steps like brainstorming and outlining.
Solution: To avoid this, practice the mock paper in a time-bound manner. During the exam allocate sufficient time for brainstorming, outlining, and writing. Prioritize your ideas and create a clear structure for your essay before you start writing. Stick to the recommended time limit for each essay.
Weak Introduction
Mistake: Some candidates tend to write weak or vague introductions that do not grab the reader's attention or provide a clear roadmap for the essay. A weak start leaves a weak impression on the mind of the evaluator.
Solution: Write an engaging introduction that explains the topic, establishes its significance, and outlines the key points you plan to discuss. Make sure your writing is concise and well-defined.
Lack of Clarity and Flow
Mistake: Essays that lack clarity and flow can be challenging to follow. Disconnected paragraphs and ideas make it difficult for the examiner to grasp your argument.
Solution: Try to develop an essay writing habit way before the exam and try to keep improving. During the exam, use transitional phrases and connective words to ensure a smooth flow between paragraphs and ideas. Each paragraph should logically follow the previous one, supporting your overall argument.
Neglecting Evidence and Examples
Mistake: Aspirants often fail to provide relevant evidence and examples to support their arguments. This can weaken their essay's influence on the mind of the evaluator.
Solution: Incorporate relevant examples, facts, statistics, and real-life instances to support your arguments. Ensure that each piece of evidence directly relates to the point you're making.
Overly Complex Language
Mistake: Some candidates use overly complex vocabulary and difficult sentences in an attempt to sound impressive, but this can often result in unclear and confusing essays.
Solution: Use clear and concise language, do not try to put all the known vocabulary in one essay. Avoid unnecessary jargon or complex words unless they are directly related to the topic and enhance clarity.
Ignoring Counterarguments
Mistake: Neglecting to acknowledge and address counterarguments can weaken your essay's overall impact and forcefulness.
Solution: Every aspect has both sides so try to provide viewpoints and counterarguments, then skillfully refute them. This demonstrates a well-rounded understanding of the topic and strengthens your own argument.
Inadequate Conclusion
Mistake: Many candidates rush through their conclusions or restate their essays without providing a thoughtful summary of their main points.
Solution: Create a strong conclusion that summarizes your key arguments and provides a broader perspective on the topic. End with a thought-provoking statement or a call to action, if applicable.
No Original Ideas
Mistake: Some candidates rely solely on conventional ideas and fail to bring fresh perspectives to their essays.
Solution: Challenge yourself to think critically about the topic. Offer original insights and consider different angles. Analyze and evaluate the subject matter to demonstrate depth of understanding.
Lack of Critical Thinking and Evaluation
Mistake: Aspirants sometimes fail to critically evaluate the information and arguments presented in their essays.
Solution: Develop your critical thinking skills by questioning assumptions, assessing evidence, and considering alternative viewpoints. Encourage a balanced and thoughtful evaluation of your essay's content.
Also read: How To Write A Good Essay In Civil Service Mains Exam?
Conclusion
Avoiding these common essay writing mistakes during the UPSC CSE Mains exam is important for achieving a competitive score in the main examination.
By understanding the essay topics correctly, and planning effectively, it is easy to create well-written essays that present your knowledge and analytical abilities.
Remember to practice regularly, seek feedback, and adapt your approach to become a more proficient essay writer. With practice and the right guidance, you can enhance your essay writing skills and succeed in the UPSC CSE Mains exam.
Also read: ClearIAS launches Essay Writing Course for UPSC
Article Written By: Priti Raj