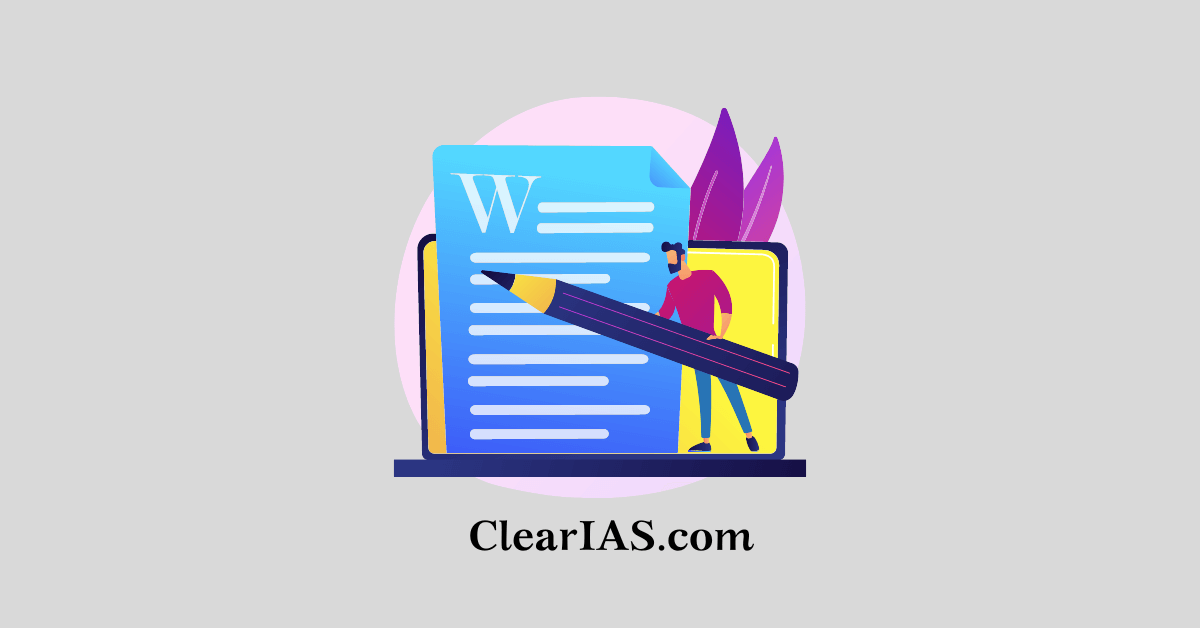 ClearIAS has launched an Essay Writing Course for UPSC CSE aspirants. Join the ClearIAS Essay Course and master the art of writing outstanding essays.
ClearIAS has consistently been the guiding light for UPSC CSE aspirants, illuminating the path to success with its innovative and results-driven approach.
Keeping in line with its commitment to excellence, ClearIAS is thrilled to announce the launch of its latest offering: a comprehensive and game-changing course on essay writing.
Here is the direct link to join!
ClearIAS Essay Writing Course: What will you get?
Once you join the ClearIAS Essay Writing Course, you will get access to:
ClearIAS video classes which cover the art of essay writing in detail.
ClearIAS notes on essay writing
ClearIAS sample essays
ClearIAS essay practice and feedback
Mastering the Art of Essay Writing: The ClearIAS Way:
Essay writing in the UPSC CSE exam isn't just about words; it's about weaving a narrative that resonates with depth, clarity, and perspective.
ClearIAS recognizes the challenges that aspirants face and has designed this course as a guiding beacon to navigate these challenges with finesse.
This new course is poised to revolutionize the way aspirants approach the essay paper in the UPSC CSE examination.
ClearIAS Essay Writing Course for UPSC – Highlights:
Let's dive into the details of this groundbreaking addition to the ClearIAS repertoire.
Customized for UPSC CSE: The course is exclusively tailored to meet the unique demands of the UPSC CSE essay paper, providing aspirants with a roadmap to success that's aligned with the exam's intricacies.
Genre Exploration: From analytical to philosophical, the course equips you with the skills to excel in diverse essay genres, ensuring you're prepared to tackle any topic that comes your way.
Captivating Introductions: The course unveils the secrets behind crafting introductions that not only capture the examiner's attention but also set the stage for an impactful essay journey.
Structured Brilliance: Learn the art of organizing thoughts coherently, resulting in essays that exhibit a seamless flow of ideas, making your arguments persuasive and captivating.
Developing Your Voice: ClearIAS believes in nurturing individuality. The course empowers you to develop a unique writing voice that sets your essays apart, giving you an edge that's bound to impress evaluators.
Time Management Mastery: Excelling in the UPSC CSE essay paper requires not just quality but quality within the exam's time constraints. The course equips you with time management strategies to tackle this challenge with confidence.
Guidance by Experts: ClearIAS has assembled a team of educators and experts who are renowned for their domain knowledge. Their guidance ensures that you're learning from the best in the field.
Enroll Today: Your Path to Success Begins Here!
ClearIAS' new essay writing course isn't just a course; it's a transformative experience that empowers you to wield the power of words effectively.
Whether you're a seasoned aspirant or just beginning your UPSC CSE journey, this course has something invaluable to offer.
Don't miss the chance to be part of this revolutionary leap in your essay-writing journey.
Enroll today and embark on a path that promises not only success in exams but also mastery in expressing your thoughts with eloquence and impact.
ClearIAS has once again raised the bar, and it's time for you to rise above it.
Let the journey to essay writing excellence begin!
Also read: Best UPSC CSE Coaching Institute in Kerala