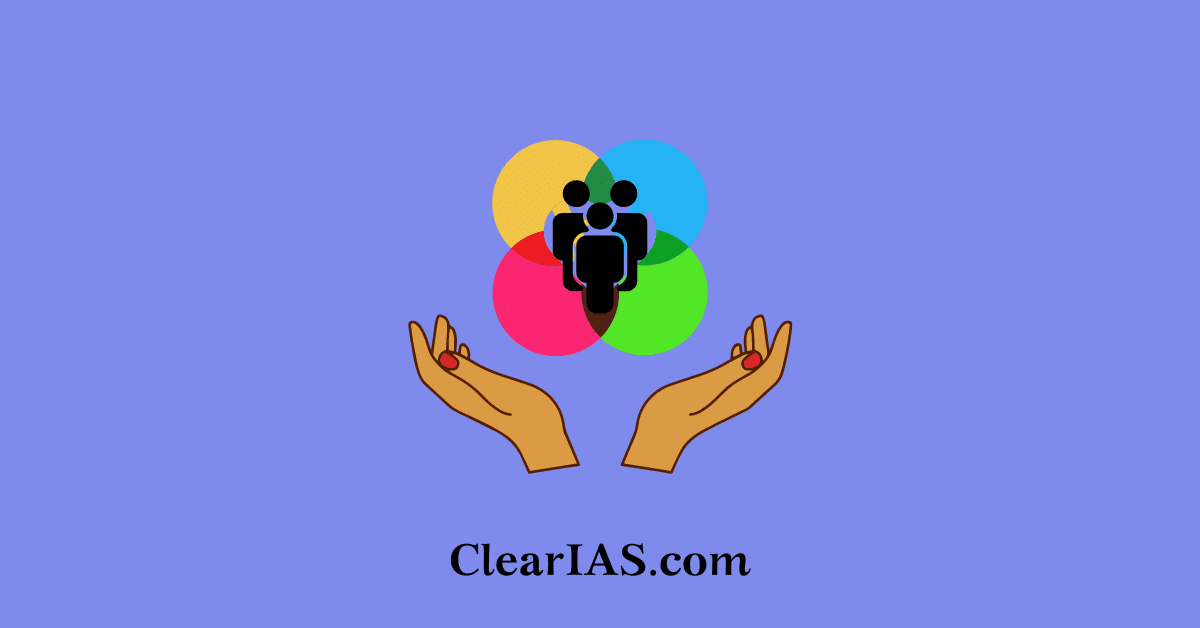 Across the globe, the development of a flourishing network of cooperative societies has raised the standard of living of society's poorer and middle-income segments. Learn more about cooperative societies in India.
Do you know most state cooperative institutions have become quasi-PSUs?
Why do cooperative societies matter?
Every Indian should recognize the value and relevance of cooperative organizations since they are a key contributor to income equality and well-being. 
Read to know more about this topic. Also learn about Urban Cooperative Societies click here.
What are Cooperative Societies?
An independent group of people who have come together voluntarily to address their common economic, social, and cultural needs and goals through a jointly owned and democratically controlled enterprise is known as a cooperative society.
Cooperatives in India
India, an agrarian nation, is where the world's largest cooperative movement laid the foundation.

Dairies, sugar mills, spinning mills, and other cooperative enterprises in agriculture are created using the combined resources of farmers who want to process their produce.

The country has 1,94,195 cooperative dairy societies and 330 cooperative sugar mill operations.

Cooperative sugar mills account for 35% of the sugar produced in the country.

In 

banking and finance

, cooperative institutions are spread across rural and urban areas.

The clearest illustration of credit flow at the local level is the primary agricultural credit societies (PACS) established by farmer associations at the village level.

These organizations send credit requests to the district central cooperative banks in advance of a village's need (DCCBs).

State cooperative banks

sit at the apex of the rural cooperative lending structure.

PACs have significantly greater negotiating leverage than one individual farmer presenting his case to a commercial bank because they are a collective of farmers.

There are also 

cooperative marketing societies

in rural areas and 

cooperative housing societies

 in urban areas.

Customers' cooperative societies are one of the several types of cooperatives in India that work to safeguard the interests of all consumers by making goods affordable.

These cooperatives, of which 

Kendriya Bhandar, Apna Bazar, and Sahkari Bhandar

, are prominent examples. Buy goods directly from the producers, thus removing middlemen. It will deliver items at lower costs to consumers.

Then there are producers' cooperative groups, which provide access to raw materials, tools, machinery, etc. This preserves the interests of small producers.

Handloom societies like APPCO, Bayanika, Haryana Handloom

, etc, are examples of producers' cooperative societies.

Amul is one of the most well-known cooperative brands in the nation. This was born out of the 36 lakh milk producers in Gujarat. This controls the Gujarat Co-operative Milk Marketing Federation.

A cooperative marketing group was created by small producers and manufacturers that were having trouble selling their goods on their own.
History of Co-operative movement in India
Pre-Independence:
The first cooperatives were established in Europe to help the region's credit-starved citizens as an independent, self-managed people's movement with no involvement from the government.

To lessen the suffering of the poor farmers, especially the harassment by moneylenders, British India imitated the Raiffeisen-style cooperative movement in India.

When the farmers of Pune and Ahmednagar led a protest against money lenders, the phrase "cooperative societies" was coined.

The first credit cooperative society was formed in Banking in the year 1903 with the support of the Government of Bengal.
The Cooperative Credit Societies Act of India was enacted in 1904.
In 1912, another Cooperative Societies Act was passed to rectify some of the drawbacks of the earlier law.
Cooperation became a State subject in 1919.
Land Mortgage Cooperative Banks were established in 1938to provide loans initially for debt relief and land improvement.
Reserve Bank of India started refinancing cooperatives for Seasonal Agricultural Operations in 1939.

The Multi-Unit Cooperative Societies Act was passed by the government of British India in 1942 to address cooperative societies with members from more than one province.
Post-Independence:
After independence, 

cooperatives became an integral part of the Five-Year Plans.
Like agriculture, cooperation is on the concurrent list.
The National Development Council (NDC) suggested a national cooperative strategy as well as staff training and the creation of cooperative marketing societies in 1958.
National Cooperative Development Corporation (NCDC), a statutory corporation, was set up under the National Cooperative Development Corporation Act, of 1962.
The Multi-State Cooperative Organisations Act was passed by the Indian Parliament in 1984. This is an effort to consolidate the numerous laws governing the same kinds of societies.
The government of India announced a National Policy on Co-operatives in 2002.

The Constitution (Ninety Seventh Amendment) Act of 2011 on cooperatives aims to promote cooperative economic activity, which in turn aids rural India's advancement.

In Part III of the constitution, after the words "or unions" the words "Cooperative Societies" was added.

The state shall endeavour to foster voluntary formation, autonomous functioning, democratic control, and professional management of the cooperative societies, according to a new Article 43B that was added to Part IV.

After Part IXA of the constitution, Part IXB was inserted to accommodate state vs centre roles.

The NCDC's youth-friendly "Yuva Sahakar-Cooperative Enterprise Support and Innovation Scheme" was introduced by the Union Agriculture Ministry to encourage young people to start cooperative businesses.

NCDC recently started 

Mission Sahakar 22

, which aims to double farmers' income by 2022.
Characteristics of Cooperative Societies
Democratic equality is upheld in cooperative societies. In the first place, it is intended for mutual assistance. Individuals who are struggling financially might join these cooperatives and work together to achieve a common objective.
Some characteristics of cooperative societies in India are stated below.
Voluntary Formation and Participation: A cooperative makes joining very simple and cost-free. A cooperative society is a voluntary society, both to join and to leave.

Professional Management: All cooperatives must be run horribly and competently. Periodic audits must be carried out. A central Registrar is in charge of the regulation.

No financial risks: Cash and direct transactions are the fundamental modes of operation for cooperatives. Other than banking cooperatives, no one else offers credit. This guards them against losses brought on by poor loans. Therefore, it can be claimed that joining a cooperative is an excellent way to minimize financial risk.

Objective: Cooperative societies' main goals are to aid individuals in navigating difficult financial situations and to enlist the aid and support of their local communities. This improves ties within the community.

Independent body: The Indian government recognizes a registered cooperative society as a separate legal person. It has the authority to choose what is best for its constituents.

Distribution of Profits: In the cooperative sector, excess goods or earnings are generated and fairly dispersed among the members by their respective shares.

One vote per member: As we said, cooperatives run on

principles of democracy. Every cooperative has a head

managing committee, members of which are elected by

common members.

Mutual benefit: People with middle- and low-income levels can always benefit from cooperatives. They develop a sense of mutual trust while assisting one other in making greater gains than their typical incomes.
Constitutional Provisions
Article 19 states that the Right to form cooperative societies

is a fundamental right.

Article 43-B provides for the promotion of cooperative societies

(DPSP) and states that the State shall endeavour to promote

voluntary formation, autonomous functioning, democratic

control, and professional management of co-operative

societies.

243ZH deals with Definitions.

243ZI deals with the incorporation of Co-operative

Societies.

243ZJ deals with the number and term of members on

board and its office bearers.

243ZK-Election of members of the board.

243ZL-Suppression and suspension of the board and

interim management.

243ZM-Audit and accounts of co-operative societies.

243ZN-Convening of general body meetings.

243ZO-Right of a member to get information.

243ZP-Returns.

243ZQ-Offences and penalties.

243ZR-Application to multi-state co-operative societies.

243ZS-Application to Union Territories.

243ZT-Continuance of existing laws.
Types of Cooperative Societies in India
Based on the nature of activities performed, co-operatives can be categorized as: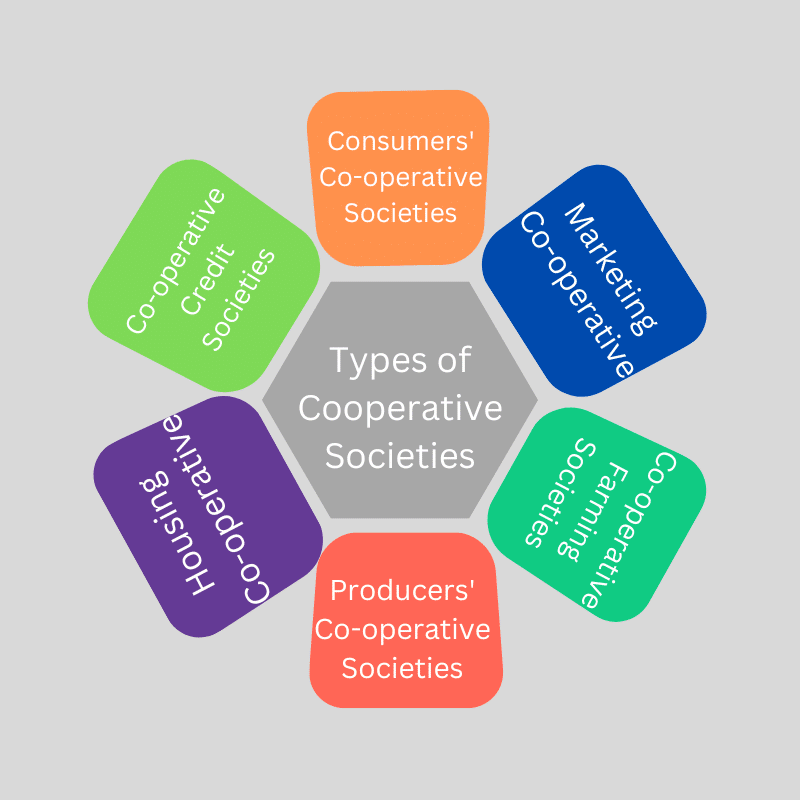 Importance of the Cooperative
Society in
India
It provides agricultural credits and funds where state and private sectors have not been able to do very much.
It provides strategic inputs for the agricultural sector; consumer societies meet their consumption requirements at concessional rates.
It helps to overcome the constraints of agricultural development.
A cooperative society plays a key role in representing the needs of its members in a larger market and fostering their independence. It fosters social trust, a broad socioeconomic uplift, and a propensity to support our local communities.
Advantages of Cooperative Society
The formation of a cooperative society is very easy compared to a

joint stock company.

Persons having common interests can form a co-operative

society.

Democratic governance is the norm in cooperative societies. The members voted to choose the delegates who would serve on the committee that would handle day-to-day operations.

The amount of capital that each member of a cooperative organization has contributed determines the extent of their liability. Members of cooperative societies do not face any risk to their personal property due to business liabilities, unlike solo owners and partners.

Cooperatives allow members or customers to manage their supplies, eliminating middlemen's profit.

Both the federal government and state governments offer many forms of assistance to society. Such assistance may be given in the form of capital contributions, low-interest loans, tax exemptions, subsidies for loan repayment, etc.

A cooperative society has a very steady existence and lasts for a very long time. Its continued existence is unaffected by the passing away, financial ruin, insanity, or resignation of any of its members.
Challenges of Cooperative
Society
Indian cooperatives have been influenced by regional politicians. On the region's domestic politics, this has a big effect. Politicians profit from it, denying the poor its initial benefits.
The infrastructure and organization of cooperatives need to be regulated as well, primarily due to a shortage of funding. For these reasons, there is a need for assistance or financial support for the cooperatives.
A cooperative society's ability to raise money from its members is severely constrained because membership is frequently restricted to a single sector of the community.
Once more, due to the low rate of return, the members do not increase their investment. Most cooperative societies frequently find the help of the government to be insufficient.
In general, it is observed that a lack of administrative skills is the main reason why cooperative societies do not operate effectively. The elected members or members themselves lack the necessary management skills to run the organization.
Every cooperative group is established to serve its members, not to make money. The members aren't sufficiently encouraged by this to work hard and effectively run the society.
 The concept of reciprocal cooperation guides the formation of cooperative groups. However, it frequently appears that there is a great deal of conflict among the members due to ego conflicts, personality conflicts, etc. Members' often-selfish behaviour could lead to the collapse of civilization.
Cooperative societies are dependent on the government for assistance and patronage in the form of grants, loans, subsidies, etc. because of the lack of adequate capital and several other restrictions.
Way forward
Cooperative societies should be established while taking the local environment into account. The cooperative agricultural and cooperative marketing groups should utilize neighbourhood resources to the fullest extent possible.

The weak and inefficient cooperative societies should either be

abolished or merged with strong and efficient ones.

There have to be more multipurpose societies. All single-purpose civilizations ought to be transformed into pluralistic ones.
Institutional credit should be set aside for landless laborers, artisans, and small-scale, tenant, and sharecropper farmers as well.
Credit providers should relax their security requirements. Through the use of a rediscounting facility, the number of loanable funds should be increased.
The rate of interest should be reduced so that loanable money can reach economically disadvantaged groups at the same pace that the financing banks are refinanced by the nation's central bank.
Red tape, political meddling, administrative bottlenecks, etc. must be eliminated. The representatives shouldn't give in to political or other forms of local pressure. Strong village lobbies shouldn't unduly meddle with how cooperative societies operate. However, insofar as the greater good of the village community is concerned, they should fulfil their moral commitments with the utmost honesty.
Co-operative society members ought to get information about Planned Parenthood, population health, and family welfare.
In particular, programs related to child welfare, maternal nutrition, a balanced diet, etc., should be promoted to women.
Adult education and literacy programs should be

undertaken in rural areas on a large scale.
Cooperatives are essential for fostering collectivism and maintaining the social capital foundation of the nation. The spirit of democracy and collectivism is best preserved through cooperatives.
The creation of a massive social network, such as cooperatives, would facilitate the creation and utilization of social capital, and the greater the social capital, the more development opportunities.
Article Written by: Remya