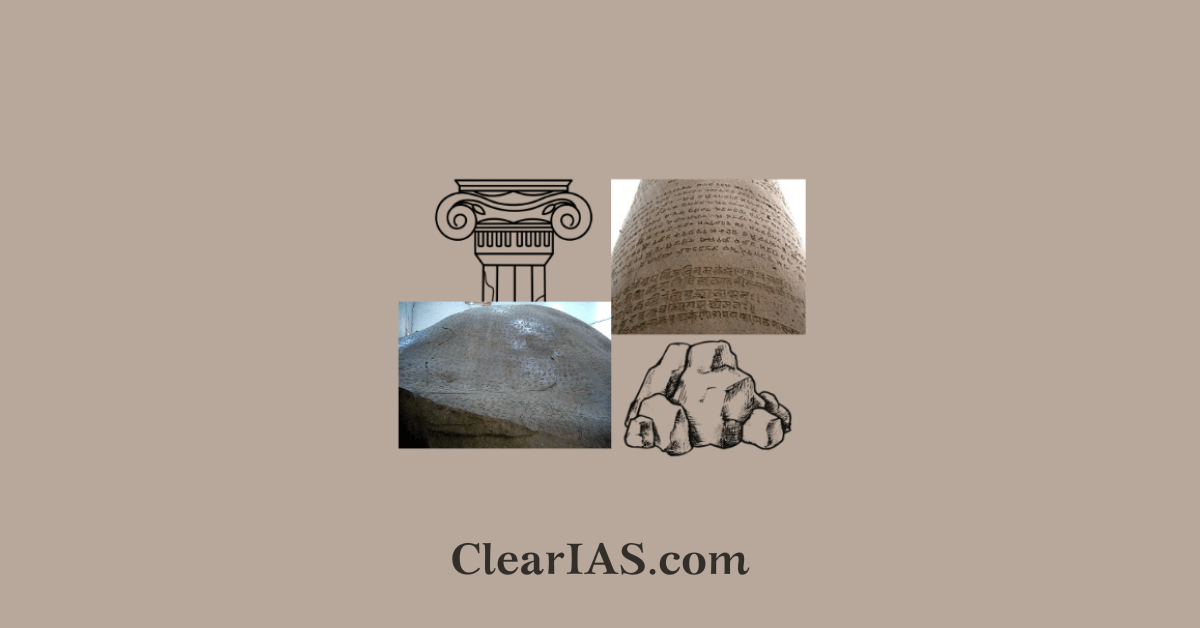 The Edicts of Ashoka, also known as the Ashokan inscriptions or Ashoka Rock Edicts, are a collection of inscriptions carved on rocks, pillars, and other surfaces throughout the Indian subcontinent during the reign of Emperor Ashoka (268-232 BCE). Read here to know them in detail.
The Ashokan edicts are among the earliest known written documents in Indian history and are highly significant for understanding Ashoka's rule, governance, and conversion to Buddhism.
These inscriptions were dispersed throughout the areas of modern-day Bangladesh, India, Nepal, Afghanistan, and Pakistan, and provide the first concrete evidence of Ashoka's propagation of Buddhism.
There are two main types of Ashokan edicts: rock edicts and pillar edicts.
Edicts of Ashoka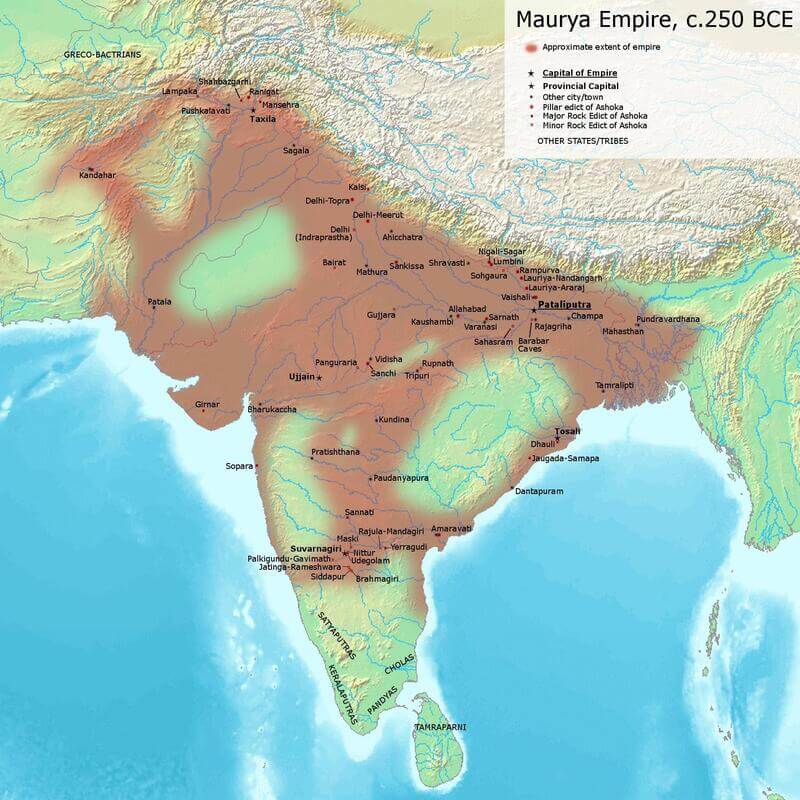 The Edicts of Ashoka, also known as the Ashokan inscriptions or Ashoka Rock Edicts, are a collection of inscriptions carved on rocks, pillars, and other surfaces throughout the Indian subcontinent during the reign of Emperor Ashoka (268-232 BCE).
The primary purpose of Ashoka's edicts was to communicate his policies and principles of governance to his subjects.
They served as a means of public proclamation and administration.
Ashoka's edicts are found in various parts of the Indian subcontinent, including present-day India, Pakistan, Nepal, and Afghanistan. They cover a wide area, reflecting the extent of the Mauryan Empire.
The inscriptions are written in various scripts and languages of the time, including Prakrit (a precursor to modern Indian languages) and Brahmi script. Later inscriptions, such as those on the pillars, are often in Sanskrit.
The content of Ashoka's edicts includes a variety of themes and messages:
Promoting Buddhist principles: Many of the edicts emphasize the principles of non-violence, compassion, and moral conduct associated with Buddhism. Ashoka himself converted to Buddhism and became a prominent patron of the religion.
Social and ethical teachings: The edicts promote values such as truthfulness, kindness to animals, respect for elders, and tolerance of other religious traditions.
Administrative instructions: Some edicts detail administrative policies, including measures to improve the welfare of the people and provide healthcare.
Dhamma (Dharma): Ashoka's concept of Dhamma, which can be loosely translated as righteous duty, is a recurring theme in the edicts. It represents his vision of ethical governance and social harmony.
Reports on Ashoka's travels: Several edicts mention Ashoka's tours and visits to various regions of his empire.
Types of Edicts
There are two main types of Ashokan edicts: rock edicts and pillar edicts, which are further classified as major or minor inscriptions.
Major Rock Edicts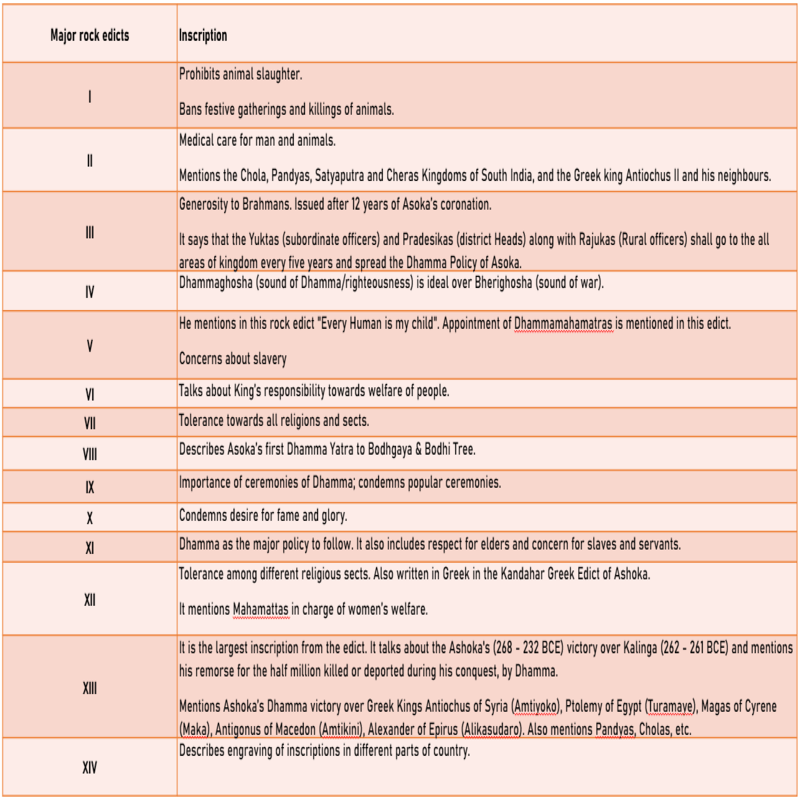 These inscriptions are usually carved on large rocks and boulders. They are some of the most extensive and detailed of Ashoka's inscriptions, containing his pronouncements on morality, social justice, and his role as a ruler.
There are 14 Edicts (termed 1st to 14th) and 2 separate ones found in Odisha; in Prakrit and Greek.
Minor Rock Edicts
These inscriptions are found in smaller and less prominent locations. They often convey messages similar to the major rock edicts but in a more condensed form.
These Edicts were inscribed at the beginning of Ashoka's reign in Prakrit, Greek, and Aramaic.
Ashoka uses his name only in four of these places namely: Maski, Brahmagiri (Karnataka), Gujjara (MP), and Nettur (AP).
Pillar Edicts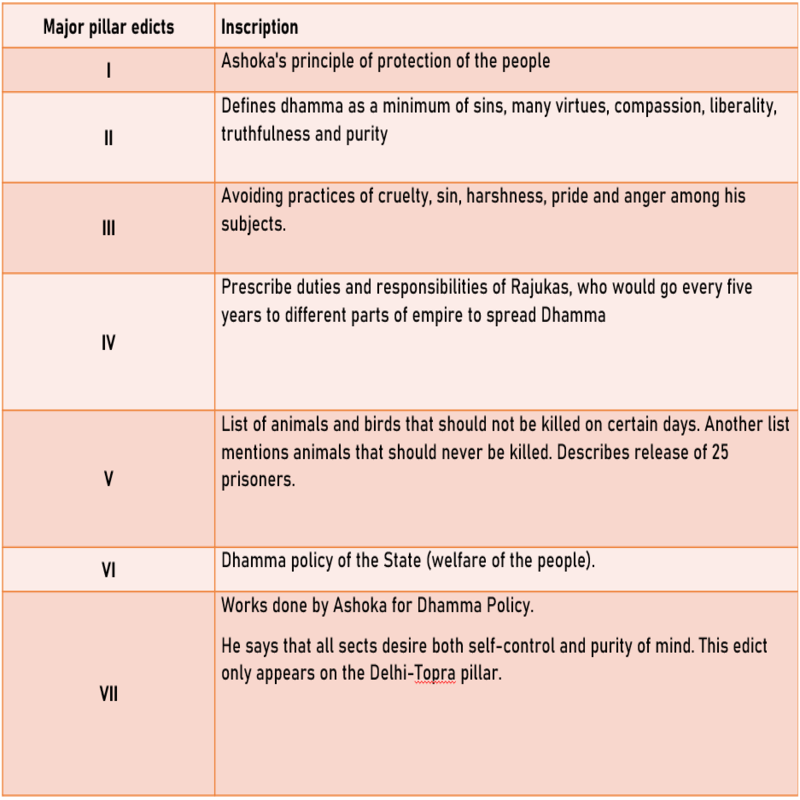 These inscriptions are carved on pillars, often with four lions (the Lion Capital of Ashoka) at the top. They are more concise and emphasize Ashoka's embrace of Buddhism and his promotion of Dhamma.
There are 7 major pillar edicts, inscribed at the end of Ashoka's reign in Prakrit. Delhi-Topra pillar is a famous example.
The minor pillar edicts are the Schism Edict, Queen's Edict, Rummindei Edict, and Nigali Sagar Edict, all in Prakrit.
Other types of edicts
Quarry Inscriptions: These inscriptions are found in quarries where the stones for Ashoka's edicts and other structures were extracted. They give insight into the administrative and logistical aspects of the Mauryan Empire.
Queen's Edicts: In addition to his edicts, Ashoka had edicts inscribed by his queens, most notably Queen Karuvaki and Queen Tishyaraksha. These edicts also reflect Ashoka's commitment to Buddhism and dharma.
Border Area Inscriptions: Ashoka's empire extended to the fringes of the Indian subcontinent. Inscriptions found in border regions like the northwestern and southern parts of the empire demonstrate his interest in the welfare of even the remote populations.
Rock-Carved Cave Inscriptions: Ashoka had edicts carved into caves in various parts of India, such as the Barabar Caves in Bihar. These inscriptions convey his commitment to religious harmony and the promotion of dharma.
Other important edicts

Inscription

Allahabad – Kosam/Queens Edict/Kausambi or Schism Edict

Ashoka asks the members of the Sangha to refrain from causing division in the ranks. Samudragupta's inscription is also on this edict.

Jahangir shifted it to the fort at Allahabad.

Kandahar Inscription

It is a famous bilingual edict in Greek and Aramaic.

Kalinga Edicts (Bhauli and Jaugada)

Mentions 'All men are my children.'

Sannati Inscription (Karnataka)

Site of all 14 major rock edicts as well as two separate Kalinga edicts.

Rummindei Inscription (Nepal)

It mentions that the village of Lumbini (birthplace of the Buddha) was exempted from Bali and was to pay only one-eighth of the Bhaga.

Girnar Rock Inscription of Rudradaman

(Kathiawar)

Mentions the Sudarshan Lake constructed by Pushyagupta, a Rashtriya (means provincial governor) of Saurashtra during Chandragupta Maurya's reign.

Minor Rock Edict 1

Indicates that Ashoka turned towards Buddhism gradually, after two and a half years in power.

Minor Rock Edict 3

Ashoka greets Sangha, professes his deep faith in the Buddha, dhamma, and Sangha, and also recommends six Buddhist texts for monks, nuns, and general laity.

Inscriptions at Shahbazgarhi and Mansehra.

Written in Kharosthi script.
Significance of Ashokan edicts
The Edicts of Ashoka are a valuable historical source that provides insights into the governance and moral philosophy of one of ancient India's most renowned rulers.
They also highlight the spread of Buddhism during this period and its influence on Ashoka's policies.
Today, Ashoka's edicts continue to be studied by historians, scholars, and those interested in the history of ancient India and the development of moral and ethical principles in governance.
They serve as a testament to the enduring impact of Ashoka's reign and his commitment to principles of non-violence and social welfare.
Previous year questions
Q) In which of the following relief sculpture inscriptions is 'Ranyo Ashoka' (King Ashoka) mentioned along with the stone portrait of Ashoka? (2019)
(a) Kanganahalli
(b) Sanchi I
(c) Shahbazgarhi
(d) Sohgaura
Q) Who among the following rulers advised his subjects through this inscription? (2020)
"Whosoever praises his religious sect or blames other sects out of excessive devotion to his sect, with the view of glorifying his sect, he rather injures his sect very severely."
(a) Ashoka
(b) Samudragupta
(c) Harshavardhana
(a) Krishnadeva Raya
-Article by Swathi Satish