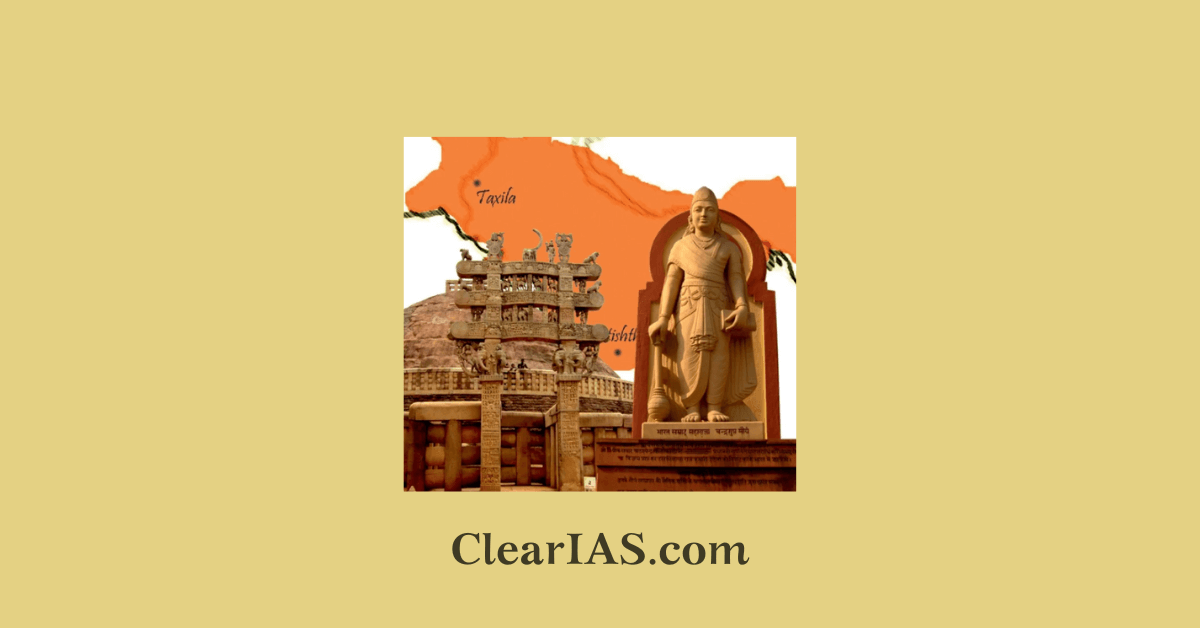 The Mauryan Empire (322 BCE – 185 BCE) stretched over parts of modern Iran and almost the entire Indian subcontinent, excluding only the southernmost peninsular region. It was the first pan-Indian empire. Read here to learn in detail about the Mauryan dynasty.
The Mauryan Empire, which formed around 321 BCE was the first pan-Indian empire- an empire that covered most of the Indian region.
It spanned across central and northern India as well as over parts of modern-day Iran. The Iron Age Empire was a formidable power in South Asia and was based out of Magadha.
The era saw powerful rulers and kingmakers and rapidly expanded conquering the previous Indo-Greek kingdoms.
Mauryan Empire: Founding and Expansion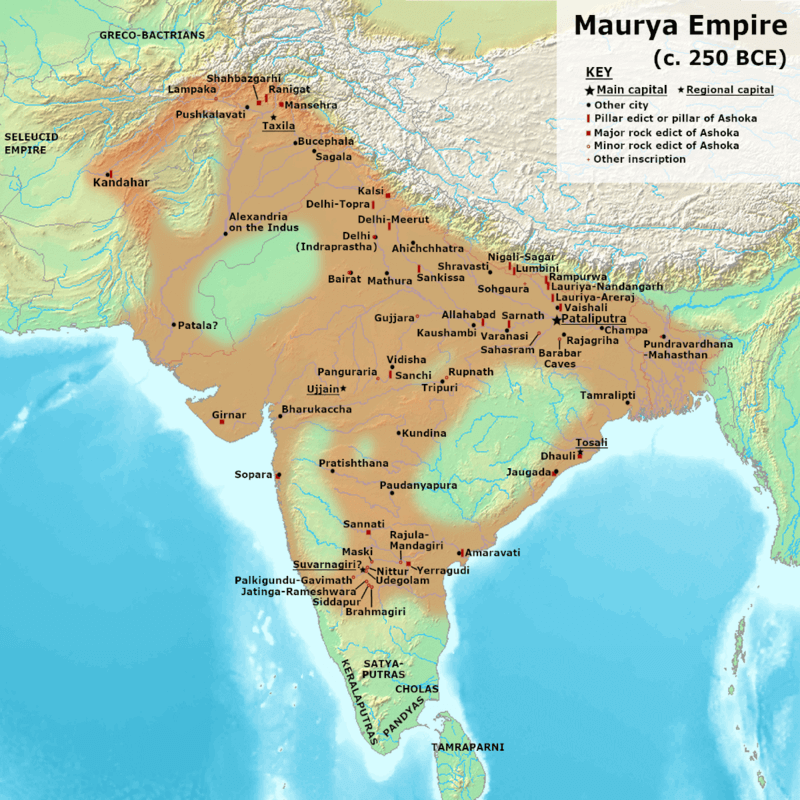 The Mauryan Empire was one of the earliest and most powerful empires in ancient India, founded by Chandragupta Maurya in the 4th century BCE.
The empire played a significant role in shaping the political, social, and economic landscape of the Indian subcontinent.
The Mauryan Empire was founded by Chandragupta Maurya around 322 BCE. He was a skilled military strategist and leader.
Chandragupta's rise to power began with his alliance with Chanakya, also known as Kautilya, who played a crucial role in his political and military strategies.
Chandragupta overthrew the Nanda dynasty, which ruled the Magadha region and established his capital at Pataliputra (modern-day Patna).
He followed an aggressive expansion policy. He defeated the Indo-Greek king Seleucus Nicator and married his daughter.
Chandragupta's son, Bindusara, succeeded him and continued to expand the empire. Bindusara is said to have extended the Mauryan Empire's influence to various regions in India.
However, it was under Ashoka, Bindusara's son, that the Mauryan Empire reached its peak. Ashoka, also known as Ashoka the Great, expanded the empire to cover a vast territory, including most of the Indian subcontinent.
Ashoka's expansion campaigns were marked by both military conquests and the propagation of Buddhism.
The Mauryan Empire expanded through a combination of military conquest and strategic diplomacy. Ashoka's wins included the annexation of the Kalinga region (modern-day Odisha) after a brutal war.
Ashoka's approach to governance transformed the Kalinga War. He adopted a policy of non-violence (ahimsa) and embraced Buddhism, advocating for the welfare and moral upliftment of his subjects.
Rulers of the Mauryan empire
Chandragupta Maurya (322 BCE – 298 BCE): Chandragupta Maurya founded the Mauryan Empire by overthrowing the Nanda dynasty. He was guided by his mentor, Chanakya (also known as Kautilya), a renowned political strategist. Chandragupta's reign saw the expansion of the empire, and he established an efficient administrative system. After ruling for about 25 years, Chandragupta abdicated in favor of his son, Bindusara, and became a Jain monk.
Bindusara (298 BCE – 273 BCE): Bindusara, the son of Chandragupta Maurya, continued his father's expansion policies. He extended the empire's boundaries further south into the Deccan region.
Ashoka the Great (273 BCE – 232 BCE): Ashoka, also known as Ashoka the Great, is one of the most famous Mauryan emperors. Initially, he ruled through military conquests, but the Kalinga War in 261 BCE had a profound impact on him. After the war, he embraced Buddhism and adopted a policy of non-violence. He is known for his rock edicts, which spread his message of dharma (righteousness) and social welfare.
Dasaratha Maurya (232 BCE – 224 BCE): Dasaratha was the son of Ashoka. His reign marked a period of relative stability and continuation of Ashoka's policies.
Samprati (224 BCE – 215 BCE): Samprati was a grandson of Ashoka and is believed to have continued Ashoka's emphasis on Buddhism and welfare measures.
Salisuka (215 BCE – 202 BCE): Salisuka's rule saw the decline of the Mauryan Empire, with several provinces breaking away.
Devavarman (202 BCE – 195 BCE): Devavarman's reign marked a period of further disintegration of the empire.
Shatadhanvan (195 BCE – 187 BCE): Shatadhanvan was one of the last rulers of the Mauryan Empire, and his rule saw further decline and weakening of the empire.
Brihadratha (187 BCE- 184 BCE): He was the last Mauryan ruler and was assassinated by Pushyamitra Shunga, his commander-in-chief.
Economy, Administration, and Military
Trade and enterprise were public-private affairs- the state could own and engage in business activities just like ordinary citizens could.
The royal revenue was drawn from taxes and the state had a monopoly over coinage, mining, salt production, arms manufacture, and boat building.
Farmers comprised the most significant part of the population, and agriculture was taxed.
Tradespeople were organized into guilds that held both executive and judicial authority and also functioned as banks.
Craftspeople engaged in a particular industry tended to live together.
Goods could not be sold at the place where they were produced; they had to be brought to specific markets.
Tolls were collected for roads and river crossings, and goods sold within the kingdom were taxed, as were imports and exports.
The state fixed the wholesale price of goods and inspected weights and measures.
Barter was prevalent, as were gold, bronze, and copper coins. Money was lent on interest against promissory notes.
Administration
The Mauryan Empire is known for its sophisticated administrative and bureaucratic systems. Ashoka established a system of dhamma (moral law) and sent edicts engraved on pillars and rocks throughout his empire to communicate his policies.
The Mauryan Empire had a highly centralized administrative system with a well-defined hierarchy of officials reporting to the king.
The administration was divided into several levels, starting with the king at the top. The king was assisted by various officials who were responsible for different aspects of governance.
The empire was divided into provinces or territories known as "Janapadas" or "Mahajanapadas." Each section was governed by a royal prince or a trusted administrator. They were responsible for collecting taxes, maintaining law and order, and implementing royal orders.
Below the provincial level, districts known as "Vishayas" were governed by officials responsible for taxation, administration, and maintaining peace.
The empire's revenue system included land taxes and various other forms of taxation. Land revenue was a significant source of income for the empire.
The Mauryan administration conducted periodic censuses to assess population and economic resources. Ashoka's inscriptions on pillars and rocks provided information about administration, moral values, and social welfare measures.
The administration included a judicial system to ensure justice. Ashoka's edicts emphasized the importance of justice, fair governance, and the welfare of his subjects.
Military
The Mauryan Empire maintained a well-organized and powerful military to protect its territories and expand its boundaries.
It included infantry (foot soldiers), cavalry (horse-mounted soldiers), and war elephants. Elephants were a formidable force and played a crucial role in battles.
The use of war elephants was a significant military advantage for the Mauryans. These elephants were trained for combat and were used to break enemy formations.
Megasthenes mentions military command consisting of six boards of five members each- Navy, military transport, Infantry, Cavalry with Catapults, Chariot divisions, and Elephants.
After the Kalinga War, Emperor Ashoka adopted policies of non-violence and focused on spreading Buddhism and Dhamma (righteousness) rather than further expansion through military conquest.
The king's army was not disbanded even after the king, Ashoka, gave up war.
Art and Architecture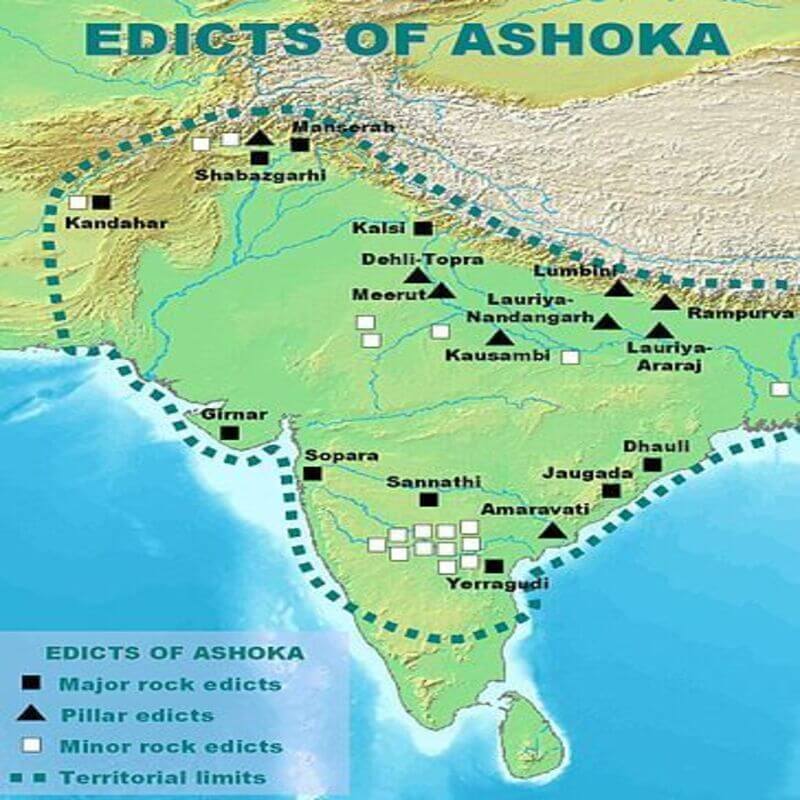 Much of the Mauryan architecture and art has been lost due to the passage of time, and our understanding is based on archaeological remains, inscriptions, and descriptions from ancient texts. The Mauryan Empire played a significant role in shaping the artistic and architectural traditions of ancient India, particularly in the context of Buddhism and its visual representation.
The architecture of the Mauryan period was marked by the use of wood and other perishable materials, which have not survived. However, descriptions in ancient texts provide some insights. Palace structures and other buildings were likely constructed using wooden columns, beams, and thatch roofs.
Pillars and Edicts: The Mauryan Emperor Ashoka (268-232 BCE) is particularly known for his stone pillars and edicts. These pillars were erected at various locations across the empire and carried inscriptions in Brahmi script. They provided information about Ashoka's policies, his conversion to Buddhism, and his efforts towards promoting moral and ethical values.
The Sarnath Lion Capital is a famous example of Mauryan art and is now the national emblem of India. It features four lions back-to-back, symbolizing dharma, and was placed atop an Ashoka Pillar.
Stupas: Stupas are sacred structures associated with Buddhism. During the Mauryan period, the construction of stupas gained prominence. The most famous stupa of this time is the Great Stupa at Sanchi, which was initially commissioned by Ashoka and later enlarged. It has a simple hemispherical shape and houses relics of the Buddha.
Artistic Motifs: Artistic motifs of the Mauryan era often depicted animals, plants, and geometric designs. The use of these motifs can be seen in sculptures, particularly those associated with pillars and stupas.
Polished Stone Sculptures: Polished stone sculptures, including figurines and decorative elements, were produced during the Mauryan period. These sculptures displayed a level of artistic skill and craftsmanship.
Also read: Arts of the Mauryan Period
Decline and Disintegration of the Mauryan Empire
After Ashoka's death, the Mauryan Empire began to decline due to factors like succession disputes, economic challenges, and external pressures.
The last Mauryan King Brihadratha was overthrown and assassinated by Pushyamitra Shunga, the commander-in-chief of Mauryan Imperial forces and a Brahmin, who then established the Shunga dynasty.
By the mid-2nd century BCE, the Mauryan Empire disintegrated, leading to the rise of regional kingdoms in different parts of India.
The Mauryan Empire's founding and expansion had a profound impact on Indian history and culture. It established a template for centralized governance, administration, and the dissemination of ethical and moral principles.
Ashoka's conversion to Buddhism and his emphasis on non-violence continue to be important elements of India's cultural heritage.
-Article by Swathi Satish