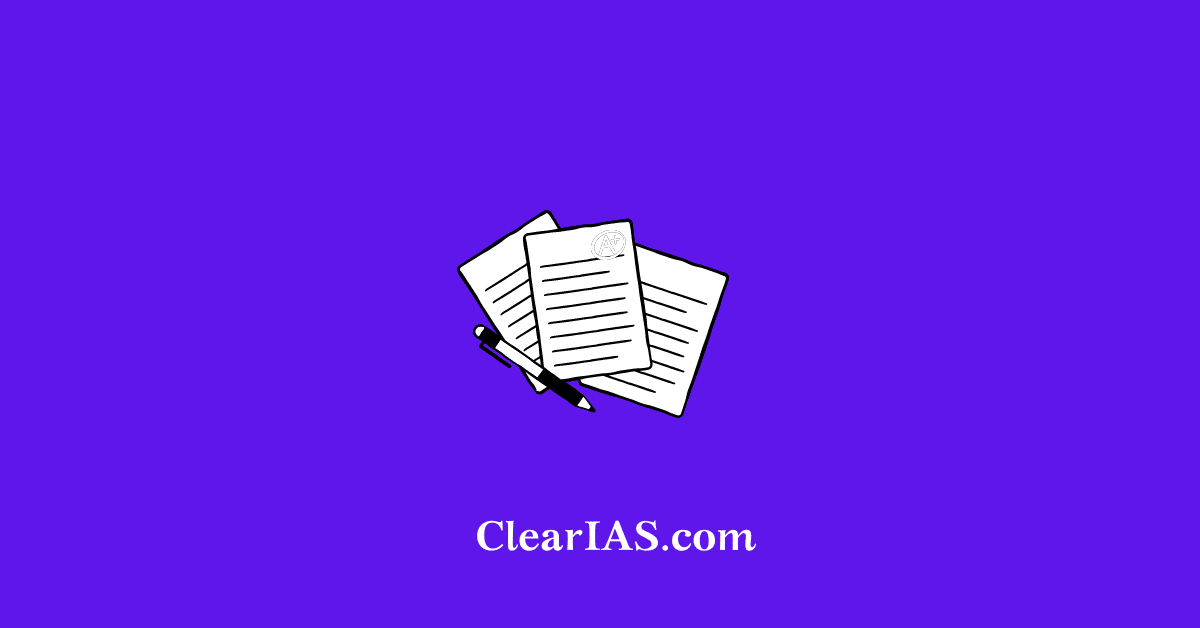 The Essay Paper in UPSC CSE 2022 was easy compared to previous years. Please find the questions in the Essay Paper of the UPSC 2022 Civil Services Mains Examination (written).
UPSC conducted the Essay Paper, as part of the Civil Services Main Exam 2022 on 16-09-2022. The question paper was not as shocking as last year.
There were 8 Essay topics, out of which candidates were asked to write on two topics in 3 hours.
Candidates were supposed to answer about 1000 words for each essay (about 10-12 pages).
Essay Paper UPSC 2022 Instructions
Total Marks: 250 marks, Time duration: 3 hours.

The essay must be written in the medium authorized in the admission certificate which must be stated clearly on the cover of this question-cum-answer (QCA) booklet in the space provided.

No marks will be given for answers written in a medium other than the authorized one.

Word limit, as specified, should be adhered to.

Any page or portion of the page left blank, must be struck off clearly.
Essay Question Paper – UPSC Civil Services Main Exam (Written) 2022
Write two essays, choosing one topic from each of the following Sections A and B, in about 1000-1200 words each:
Section A
Forests are the best case studies for economic excellence.

Poets are the unacknowledged legislators of the world.

History is a series of victories won by the scientific man over the romantic man.

A ship in the harbour is safe but that is not what a ship is for.
Section B
The time to repair the roof is when the sun is shining.

You cannot step twice in the same river.

Smile is the chosen vehicle for all ambiguities.

Just because you have a choice, it does not mean that any of them has to be right.
Essay Paper UPSC 2022 (Mains): Question Paper and Analysis
UPSC, as always, has ensured that the essay topics were much different from the GS questions.
A philosophical theme is clearly evident in most of the essay topics in Section A as well as Section B. This was the case in 2020 and 2021 as well. It is a clue about what UPSC expects from the essay paper.
Rather than asking candidates to write on topics most aspirants are familiar with or trained with, UPSC is now evaluating the essay writing skills of aspirants by providing them with abstract or philosophical topics. 
This year, most of the topics were either proverbs or famous quotes.
All 8 topics presented this year will test the spontaneous thinking, comprehension, writing skills, and time management of aspirants.
Thinkers, Philosophers, and their Quotes
Let's analyse the source of some of the question topics.
POETS ARE THE UNACKNOWLEDGED LEGISLATORS OF THE WORLD 
This essay topic is one of the best-known and most frequently quoted lines from the Romantic poet Percy Bysshe Shelley (1792-1822).
Shelley thinks that poets can institute laws and create new materials for knowledge, determining the role of poets as legislators. 
Shelley's account of poetic language seeks to find an order to the chaos, which, possibly, Shelley sees in human society: the mess that only poets can fathom. 
Therefore, he thinks, the poets' enhanced poetic language can re-institute order in human society. 
A SHIP IN HARBOUR IS SAFE BUT THAT IS NOT WHAT A SHIP IS FOR 
This essay topic is connected with John A Shedd, an author and professor, who is attributed to this quote. Reference: his book Salt from My Attic, a collection of quotes and sayings (1928).
This phrase means, that getting out of your comfort zone is key to experiencing new things and broadening your horizons.
Only taking risks helps us grow as people—to either achieve our goals or do the things we've always wanted to do.
THE TIME  TO REPAIR THE ROOF IS WHEN THE SUN IS SHINING 
This essay topic was connected with John F. Kennedy. In his 1962 State of the Union Address, John F. Kennedy declared, "The best time to repair the roof is when the sun is shining".
The primary message of the quote is fixing a leak is best done when the weather is good, rather than when it is not.
Ideally, you should begin the work of fixing the roof as soon after the leak was found. The first sunny day would be ideal. It is not easy to fix a roof when it is raining.
This statement is being used to remind us to do the right things at the right time. It also points us to take the advantage of favourable time.
YOU CAN NOT STEP TWICE IN THE SAME RIVER 
This essay topic was quoted by Heraclitus, a Greek philosopher born in 544 b.c.
This means that you cannot step into the same river twice because the flow of the river will change each second. You will also change each second.
It is not possible to repeat past experiences, as time changes all things. You won't get the exact experience twice. You need to live in the present and enjoy each moment.
A SMILE IS A CHOSEN VEHICLE FOR ALL AMBIGUITIES 
This essay topic was quoted by Herman Melville, an American novelist.
JUST BECAUSE YOU HAVE A CHOICE DOES NOT MEAN THAT ANY OF THEM HAS TO BE RIGHT 
This essay topic was quoted by Norton Juster, an American academic, architect, and writer in his book The Phantom Tollbooth
What should aspirants preparing for next year do for an essay paper?
First of all, you should take the essay paper seriously.
Unless properly trained, it is not easy to write 10-12 pages on an abstract or philosophical topic.
You need to polish your comprehension and analytical skills.
Read different kinds of essays – particularly philosophical essays.
Give stress to the thoughts of philosophers like Immanuel Kant, Thomas Aquinas, John Locke, Friedrich Niche, Karl Marx etc. Start writing essays on famous quotes.
Also, be prepared to write essays touching on other areas like society, politics, economy, or technology. UPSC is known for surprises.
Remember that there is nothing like a constant trend with respect to UPSC questions.
What you get by analysing the previous year's question papers are clues. And only those are what you need from UPSC questions!