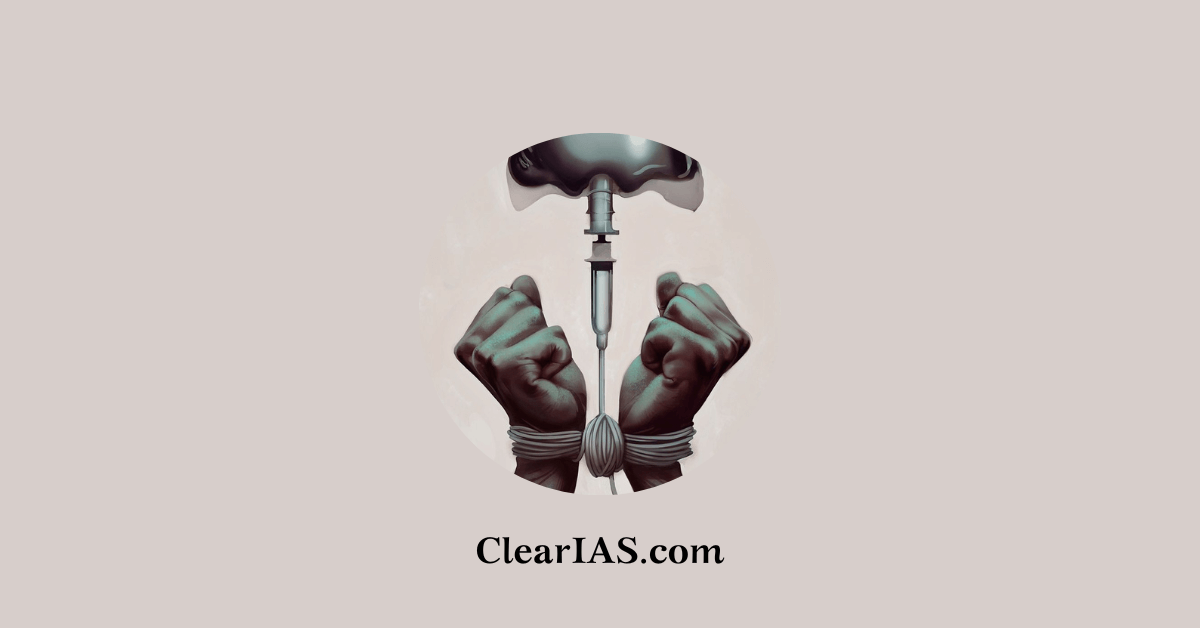 The controversial practice of euthanasia has been a topic of discussion for ages. When considering the issue, a number of variables come into play, including legal protections, morality, and the precedent it may set. What are the arguments in favour of Euthanasia? What are the arguments against it? Read the article to know more about the ethics of Euthanasia.
Euthanasia, also known as a "good death," is the deliberate taking of a life to eliminate pain and suffering.
It's sometimes referred to as "mercy killing." The moral, ethical, and legal implications of euthanasia are contentious public issues in many nations.
There are various classifications for euthanasia, including involuntary, non-voluntary, and voluntary.
Types of Euthanasia
There are two types of euthanasia: Active and Passive.
Euthanasia: Active vs. Passive
It is possible to further categorise euthanasia into passive and active forms for voluntary, non-voluntary, and involuntary deaths.
Withholding basic medications, such as antibiotics, which are required for life maintenance, is passive euthanasia.
The most contentious method of euthanasia involves the use of forces or substances that can cause death, such as giving a lethal injection.
Euthanasia: Voluntary, Non-Voluntary, and Involuntary
Euthanasia carried out with the patient's permission is referred to as voluntary euthanasia. In certain nations, voluntary euthanasia is permitted. Euthanasia is permitted in several countries, such as the Netherlands, Colombia, Belgium, and Luxembourg.
Non-voluntary euthanasia is defined as euthanasia carried out without the patient's agreement. In all nations, non-voluntary euthanasia is forbidden. Examples include child euthanasia, which is prohibited everywhere but is permitted in the Netherlands under the Groningen Protocol in certain limited circumstances.
Euthanasia carried out against the patient's will is referred to as involuntary euthanasia. Usually, involuntary euthanasia is regarded as murder.
The Arguments for Euthanasia
Ezekiel Emanuel, an anti-euthanasia activist, claims that the justification for euthanasia has four key components.
That people should be given the freedom to determine their own fate since they have a right to self-determination.
Allowing a subject to pass away is preferable to letting them suffer any longer.
There is no meaningful difference between passive (often permitted) and aggressive euthanasia (the underlying principle–the doctrine of double effect is unreasonable)
Allowing euthanasia won't necessarily have harmful repercussions. In order to prove that legalising euthanasia is generally trouble-free, pro-euthanasia campaigners frequently cite examples of other nations where it has been legalised, such as the Netherlands, Belgium, Luxembourg, etc.
Rights-based arguments
People have a clear right to die. Death is a personal matter, and the government and others have no authority to interfere if no harm is done to others (libertarian case)
Death is a personal matter, and the government and others have no authority to interfere if no harm is done to others (libertarian case)
Allowing patients to pass away could free up limited medical resources (this is a possible argument, but so far no authority has seriously proposed it).
Counter arguments to Euthanasia
Emanuel asserts that opponents of euthanasia generally make the following four arguments. Ethics of Euthanasia is counter-argued here.
Not every death is painful.
Alternatives to euthanasia include ceasing active therapy while also effectively using painkillers.
It is morally important to distinguish between active and passive euthanasia because
Legalizing assisted suicide will place civilization on a precipice with unacceptably bad results. (In Oregon in 2013, the top five reasons people requested euthanasia weren't related to suffering. Actually, it was a loss of self-respect and concern for burdening others).
Ethical arguments
The sanctity of life may be less respected in society as a result of euthanasia.
Euthanasia advocates would be saying that some lives—those of the sick or disabled—are less valuable than others.
Involuntary euthanasia and killing people deemed unwanted could develop as a result of voluntary euthanasia.
It's possible that euthanasia is not in a person's best interests.
Other people's rights, not simply the patient's, are impacted by euthanasia.
Also Read : Dimensions of Ethics – Easy to Learn Infographics – Clear IAS
Arguments from religion
Religions are against euthanasia for a variety of reasons.
 Euthanasia contravenes God's will and the Bible. (God prohibits it)Almost all religious texts state that killing is forbidden. Thus, doing any of them would be against God's directive and challenging God's omnipotence.
The sanctity of life is less respected in society as a result of euthanasia.
Life in humans is sacred. Due to God's special creation, our lives are unique. People are fashioned in the likeness of God. Consequently, human life should be safeguarded and preserved, regardless of what occurs.
The law of karma. Suffering could be worthwhile (Freedom from worldly life)
Hinduism and Buddhism both view mortal existence as a part of an endless cycle in which we are continuously born, live, die, and then reborn.
Humans advance closer to their ultimate goal of liberty with each cycle of life and death. Therefore, shortening life interferes with karma's rule. Involuntary euthanasia and killing those deemed undesirable could develop as a result of voluntary euthanasia.
The majority of religions oppose euthanasia. Some forbid it outright. For instance, one of the most vocal opponents of euthanasia is the Roman Catholic Church.
 Almost all religions affirm that taking adequate care of life is far preferable to euthanasia and that individuals who become vulnerable due to disease or disability deserve special attention and protection.
 Non-harm — the ahimsa principle, according to which all life is sacred in both Buddhism and Hinduism. (not limited to human existence).
According to their argument, we should attempt to avoid injuring living things, which includes killing individuals even if they want to do so.
Practical justifications
Euthanasia might not be required with adequate palliative care.
Euthanasia cannot be adequately controlled.
Allowing euthanasia will result in less effective care for those who are terminally ill.
Euthanasia legalisation might make it more difficult for medical professionals to save lives.
In the future, euthanasia might be a financially sensible option for treating terminally sick patients.
Euthanasia legalisation might make people less likely to look for innovative ways to care terminally sick patients.
The desire to offer excellent care for the terminally ill could be diminished by euthanasia.
Doctors are given much too much power through euthanasia.
Vulnerable people are subjected to euthanasia pressure to end their lives.
Moral pressure from self-centred families on older individuals.
Moral obligation to make medical resources available.
When their family abandon them, patients may believe that euthanasia is their only option.
Conclusion
In India, active euthanasia is not permitted in any way or under any circumstances, according to the judiciary. But when it comes to passive euthanasia, a permissive stance has been taken. The right to an honourable death has been recognised by the Supreme Court for those who are in a persistent vegetative state (PVS) and have no hope of recovery. Accordingly, under Article 21 of the Indian Constitution, passive euthanasia has been recognised in India as a component of the Right to Life.
Article Written By: Atheena Fathima Riyas