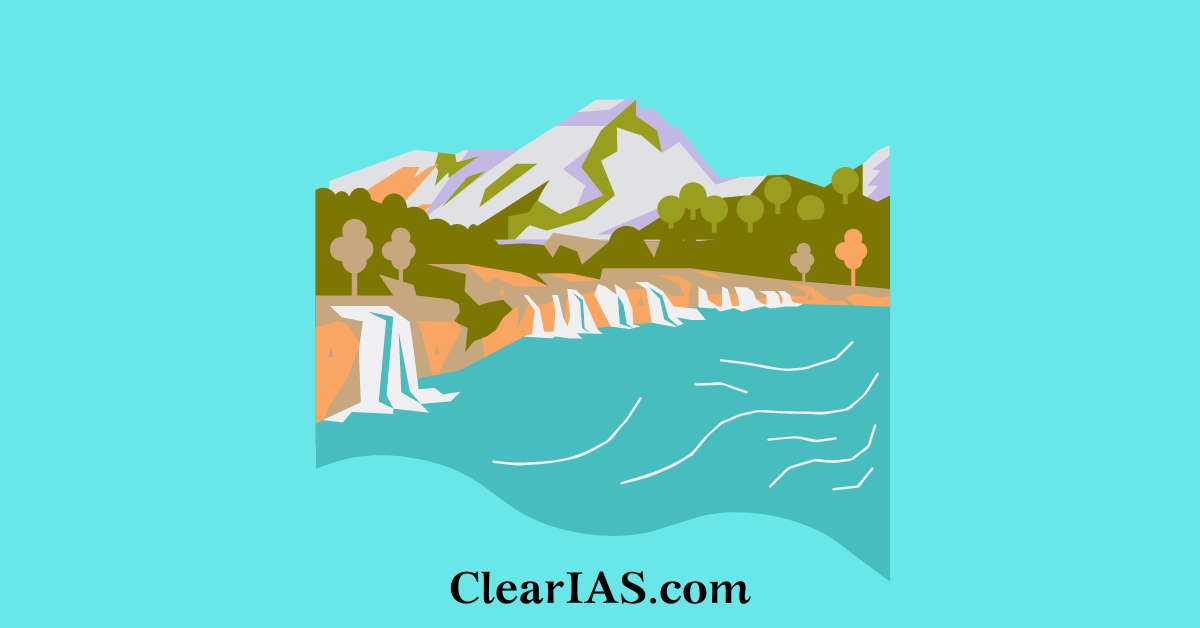 1000's of years before floods are not familiar to us, right? Nowadays we are facing different types of floods (like Flash floods, Glacial lake outburst flood [GLOFs], Coastal floods, Urban floods, River or fluvial floods, and ponding floods), at least once every year.
In this article, we are going to study significance, impacts of Glacial lake's outburst flood.
This is an important topic in the areas of geography, disaster management, environment, and ecology.
First let's discuss the recent news about this.
Recent News:
Massive flooding was caused in some areas of Uttarakhand when a section of the Nanda Devi glacier broke off at Joshimath in the Chamoli district of Uttarakhand.
Nanda Devi glacier: The Nanda Devi mountain, the second-highest mountain in India, contains the Nanda Devi glacier.
Is this higher than Kangchenjunga?  Yes.
which is located on the border between India and Nepal, it is the highest mountain that is entirely in the nation.
In 2013 there is a haunting memory of the Kedarnath calamity, the glacier break caused large-scale devastation in the upper reaches of the ecologically fragile Himalaya.
What are GLOFs?
It is a glacial lake meltwater release caused by a dam failure in a moraine-dam or ice-dam glacial lake. This flood is the result of a glacier's abrupt release of a water dam.
Glacial lake's outburst flood have caused some of the biggest floods in recorded human history.
This flooding happens as a result of the accumulation of melting glaciers behind glacial or moraine dams. Due to the pressure from the water build-up, when such natural dams fail, the water gushes down in a powerful flow.
Because moraine dams are typically weak structures, they may rupture due to pressure build-up. In addition, landslides, earthquakes, and avalanches can cause them to fail.
Due to an increase in temperatures brought on by anthropogenic activities that hasten the melting of glaciers, environmental pollution can also cause GLOFs. Millions of cubic meters of water can be released in a short amount of time if moraine dams fail.
3 main features of GLOFs:
A sudden release of water
Generally, they are rapid events, lasting hours to a day.
Cause large downstream river discharges.
Glacial Lakes:
Any body of water that has glacial origins is referred to as a glacial lake.
There are two primary regions where glacial lakes develop:
Behind moraine dams
Behind ice dams
Moraine Dammed Lakes:
When a glacier recedes, it may leave behind a sizable crater in the ground. This crater will eventually fill with water and become a lake. Usually, this is referred to as a moraine.
An unstable mound of debris and submerged ice has the potential to contain these lakes.
The majority of today's moraine-dammed lakes were created as mountain glaciers started to retreat from sizable moraines built during the Little Ice Age.
Ice-Dammed lakes:
In contrast to lakes that have been dammed by moraines, lakes that have been blocked from draining by advancing or thicker glaciers are known as ice-dammed lakes.
Anywhere a glacier obstructs the drainage of meltwater, lakes become ice-dammed.
While ice-dammed GLOFs pose the greatest threat during times of glacier growth, moraine-dammed GLOFs typically pose the greatest threat during times of glacier retreat.
Therefore, it is anticipated that as mountain glaciers continue to recede globally, the number of GLOFs dammed by moraines will rise.
Why does a glacier break?
Due to Erosion.
A rise in water pressure.
An avalanche of snow or rocks.
An earthquake under the ice.
Massive water displacement in a glacial lake is caused by the collapse of a large portion of an adjacent glacier into it.
Significance of GLOFs :
Over 5,000 glacier lakes that are being held back by potentially unstable moraines have been slowly created by the Himalayan Mountains' ongoing glacier melt.
The GLOFs that result from such dam failures can have disastrous social and geomorphic effects.
Many new glacial lakes, which are the main cause of GLOFs, have formed as a result of glacial retreat brought on by climate change that is present in the majority of the Hindu Kush Himalaya.
To know more about urban flooding click here.
How we can mitigate the impacts of GLOFs :
In the wake of the disaster in Chamoli, the National Disaster Management Authority released guidelines on how to deal with disasters caused by GLOFs.
The guidelines state that risk reduction starts with the identification and mapping of glacial lakes, followed by the implementation of structural measures to prevent a breach and the development of reliable systems to protect people and property in the event of a breach.
Identification of potentially hazardous lakes – By using field observations, historical event records, the geotechnical and geomorphologic characteristics of the lake or dam, and the surroundings, it is possible to identify potentially dangerous lakes. And determining additional physical problems.
Use of technology – During the monsoon season, Synthetic-Aperture radar imagery is used to automatically detect changes in water bodies, including the formation of new lakes. Allow remote monitoring of lake bodies from space.
To reduce the amount of water in lakes so that they can be managed structurally, the NDMA suggests techniques like controlled breaching, pumping or diverting out water, digging a tunnel through the moraine barrier, or beneath an ice dam.
Uniform codes for construction activity: Establishing a comprehensive framework for excavation, construction, and infrastructure development in vulnerable areas. In areas where GLOFs are likely to occur, land use planning procedures must be accepted.
Training local people– Since residents are often the first to respond to a disaster before trained rescue personnel, it is important to train them in search and rescue procedures.
Improvement of early warning systems: Even on a global scale, there are very few GLOF EWS that have been implemented and are in operation. Three instances of the use of sensor and monitoring-based technical systems for GLOF early warning in the Himalayan region have been documented (two in Nepal and one in China).
GLOFs now present a threat to infrastructure and communities downstream. In the Indus, Ganga, and Brahmaputra basins, there are, respectively, 352,283 and 1,393 glacial lakes and water bodies, according to a study funded by the Central Water Commission and conducted between 2011 and 2015.
Article Written by- Remya