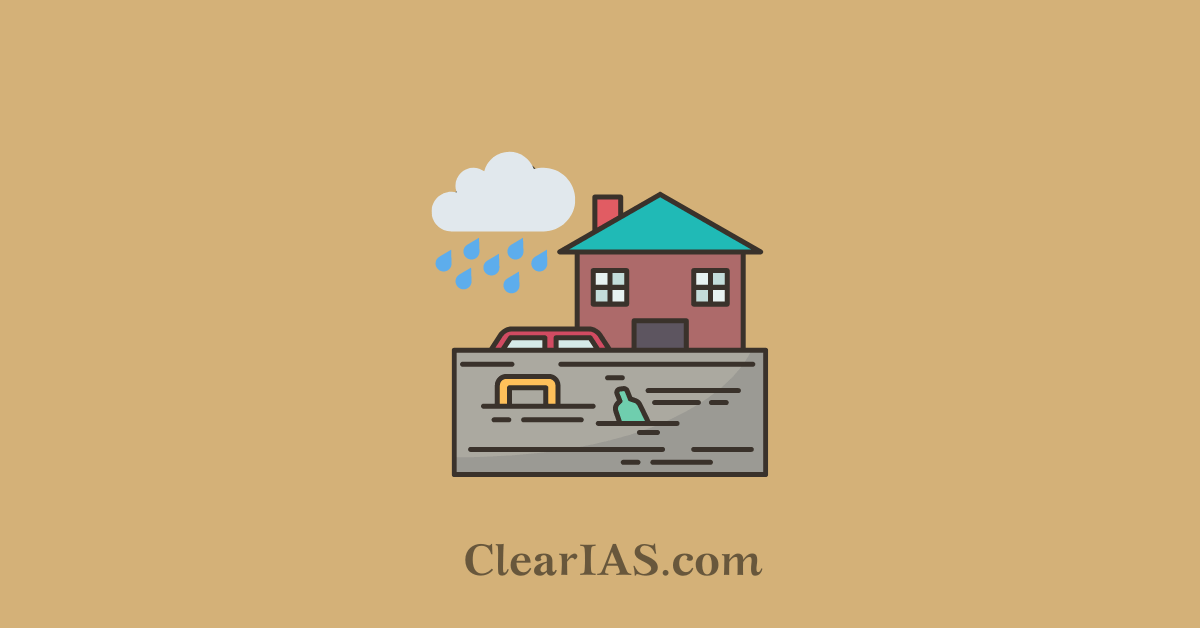 The problem of urban flooding has been plaguing the world for the past decade. India is also seeing a rise in the number of urban flooding instances. Read here to know more about it.
The increasing trend of urban flooding is a universal phenomenon and poses a great challenge to urban planners the world over.
Problems associated with urban floods range from relatively localized incidents to major incidents, resulting in cities being inundated from hours to several days.
Therefore, the impact can also be widespread, including temporary relocation of people, damage to civic amenities, deterioration of water quality, and risk of epidemics.
What is urban flooding?
Urban flooding describes the flooding of land or property within a constructed environment, especially in locations that are more densely inhabited (like cities), as a result of excessive rainfall that exceeds the capacity of drainage systems.
Urban flooding is significantly different from rural flooding as urbanization leads to developed catchments, which increases the flood peaks from 1.8 to 8 times and flood volumes by up to 6 times.
Consequently, urban flooding occurs very quickly due to faster flow times which is in a matter of minutes. Urban areas are densely populated and people living in vulnerable areas suffer due to flooding, sometimes resulting in loss of life.
It is not only the event of flooding but the secondary effect of exposure to infection also has its toll in terms of human suffering, loss of livelihood, and, in extreme cases, loss of life.
Causes:
The causes of urban flooding are both natural and anthropogenic. The rising sea levels due to global warming are adding on to the problem. It was mostly stated that the areas lying in the flood plains are prone to floods, but urban floods have changed this notion.
Natural causes:
Higher rainfall
Storm surges and frequent depressions in open waters
Depleting groundwater tables
Heavy melting of snow causes flash floods in lower catchment areas
Anthropogenic causes:
Encroachments on drainage areas like lakes, wetlands, and riverbeds close off ways for the excess water to flow thus causing floods.
Climate change has disrupted the rainfall pattern; also, urban heat lands have increased rainfall over urban areas resulting in flooding.
Pollution of water bodies is choking up the pathways for excess water to flow. Many of the water bodies in the country are filled with non-biodegradable waste, pointing to the poor implementation of waste management as well.
Illegal mining activities in rivers deplete the natural bed causing soil erosion and reducing the water retention capacity of the water body.
Unplanned and uninformed release of water from dams causes devastation as the public does not get enough time to respond.
The importance of Flood governance is also not taken seriously by the administrators.
Impacts of urban flooding
The impact of urban floods is manifold and takes a long time for the affected area to get back to normal.
It causes loss of life and property directly and indirectly due to the chances of spreading of water-borne infections.
It disrupts the normal working of the city by damaging water supply, sewerage, power transmission lines, communication, transportation, and infrastructure.
The environment is further damaged as the vegetation gets washed away during the extreme flow of water.
Animals also suffer from diseases and loss of shelter due to flooding.
Hygiene is compromised and diseases spread when sewage and solid waste wash into houses and buildings.
The psychological impact of losing lives and property is huge and the recovery process is tiresome and time-consuming leading to long-lasting trauma in people.
Urban flooding in India
India has been witnessing numerous cases of urban floods over the past decade:
The Chennai floods of 2015 were caused by the uninformed opening of dam gates after the excessive rainfall.
Mumbai floods of 2017
Hyderabad floods of 2020 were caused by depression and flash floods
Kerala floods of 2018 and 2020 caused heavy landslides
Bengaluru floods 2022 due to inundation and non-connectivity of water bodies.
A special feature in India is that we have heavy rainfall during monsoons. There are other weather systems also that bring in a lot of rain.
Storm surges can also affect coastal cities/ towns.
Sudden release or failure to release water from dams can also have a severe impact.
In addition, the urban heat island effect has resulted in an increase in rainfall over urban areas.
Global climate change is resulting in changing weather patterns and increased episodes of high-intensity rainfall events occurring in shorter periods of time.
Then the threat of sea-level rise is also looming large, threatening all the coastal cities.
Cities/towns located on the coast, on river banks, upstream/ downstream of dams, inland cities, and in hilly areas can all be affected.
Stormwater drainage systems in the past were designed for moderate rainfall intensity which has been getting very easily overwhelmed whenever rainfall of higher intensity has been experienced.
Further, the systems very often do not work to the designed capacities because of very poor maintenance.
Encroachments are also a major problem in many cities and towns.
Ideally, the natural drains should have been widened (similar to road widening for increased traffic) to accommodate the higher flows of stormwater.
But on the contrary, there have been large-scale encroachments on the natural drains and the river flood plains.
Consequently, the capacity of the natural drains has decreased, resulting in flooding.
Improper disposal of solid waste, including domestic, commercial, and industrial waste, and dumping of construction debris into the drains also contribute significantly to reducing their capacities.
It is imperative to take better operations and maintenance actions.
Recent news on urban flooding
The recent urban flooding in Bengaluru city is being blamed on the loss of interconnectivity of water bodies, a distinct feature of the city.
Global response to urban flooding
Water Sensitive Urban Design (WSUD) in Australia
Low Impact Development (LID) /Green Infrastructure (GI) in the United States
Sustainable Urban Drainage Systems (SuDS) in the United Kingdom
Decentralized Rainwater/ Stormwater Management (DRWM) in Germany
Sound Water Cycle on National Planning (SWCNP) in Japan
Smart Watergy City, U-Eco City (SWC) in South Korea
Low Impact Urban Design and Development (LIUDD) in New Zealand
Sponge Cities in China
Way forward: Mitigation and Response
Build away from floodplains and flood-prone areas- this is the best way to ensure less loss of life and property.
The development of blue-green infrastructure will be effective in providing sustainable solutions to urban climate challenges.
Better water management should be ensured, like including rainwater harvesting in all infrastructure developments.
Geospatial technology should be utilized for flood vulnerability mapping which will aid in better planning for development.
The natural water bodies should be strictly desilted and maintained to ensure the free flow of excess water.
Water bodies should be made clear of pollution and encroachment and drainage systems should be regularly maintained.
More awareness and education of residents are needed to make them known of the risks and responsibilities of dwelling in flood-prone areas.
The government has taken a few measures to tackle the menace of urban flooding through initiatives like:
The residential and commercial stakeholders can be further motivated to install green infrastructure options like rain gardens, green roofs, and rainwater harvesting systems.
-Article written by Swathi Satish