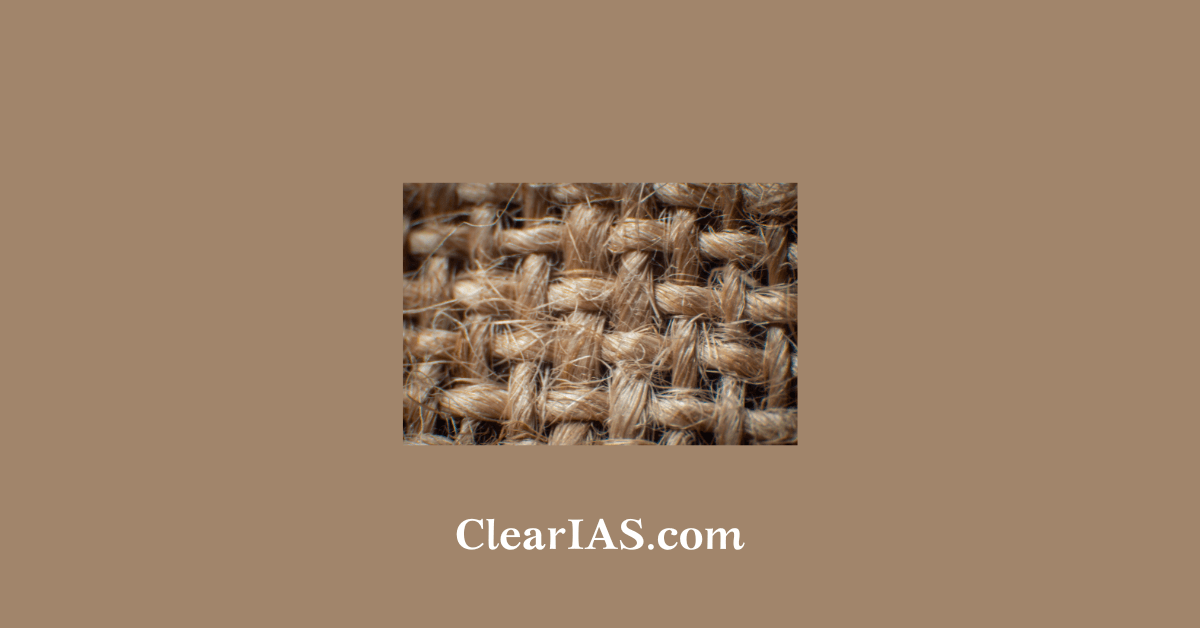 What is a Golden fibre? Is India rich in it? Why is it so significant for India to develop this sector? Read more details about the Golden fibre revolution in India.
Jute is also referred to as Golden fibre due to its colour and high monetary value. Therefore Golden fibre revolution is related to Jute production in India. The skin of the plant's stem yields this fibre, which is the least expensive.
Jute is the vegetable fibre that is consumed, produced, used, and widely accessible after cotton. Jute was initially employed as a raw material in the fabric industry during the industrial revolution. It is still employed today to create durable threads and other jute-based goods.
Why are Jute industries important for India?
India and Bangladesh are the two countries that produce the most jute worldwide. The only limit to this carbon-neutral crop's potential is your imagination, but its potential is still unrealized.
This miracle crop is not just much more profitable than the majority of cash and food crops, but it also scores big points for sustainability.
Jute is the second most common natural fibre after cotton in the world, but cotton requires five times as much water, five times as many areas, and a staggering amount of chemicals to grow.
Jute can be used for countless industrial and domestic applications due to its high tensile strength,  breathability, low extensibility, ease of blending with both synthetic and natural fibres, acoustic and thermal insulation, and antistatic properties. Examples include insulation (replacing glass wool), geotextiles, carpet backings, activated carbon powder, gunny bags, wall coverings, flooring, garments, rugs, ropes,  handicrafts, curtains,  paper, furniture and sandals.
Know more about Jute industries in India.
Other benefits
Jute improves the fertility and condition of the soil, which is advantageous to all plants growing there. Carbon credits are awarded to jute farmers who manage their crops, and they can use these credits to reduce their costs. The quantity of the carbon credit for jute farming is determined by farmers' savings on purchases of inorganic fertiliser. Since jute is a renewable resource, it is a vital resource for the paper sector.
What leads to Golden Fibre Revolution?
Jute is the most widely produced sustainable and adaptable fibre in India, yet we uses relatively little creativity to market it. India was the only country that contributed significantly to the production of jute before we gained our independence.
Following independence, the sector experienced hardship for a number of reasons, including after India was divided, a number of jute-producing districts in India were integrated into Bangladesh. As a result, India was running low on raw supplies. Because all of the machinery used to process jute had become outdated, new machines were urgently needed.
Due to a lack of diversification and an excessive reliance on jute bags, the jute sector in India has become stagnant, ineffective, and unproductive. The industries compete fiercely on the international market against nations like Bangladesh, South Korea, the Philippines, Japan, etc. As a result of illnesses in the jute mills, outdated technology, higher pricing, etc., the industry also loses competitiveness.
Due to India's excessive jute dependence and failure to adapt the way jute is farmed, the country's jute industry has experienced a fall in output and popularity. The Golden Fibre Revolution got started as a result of all these elements acting simultaneously.
Conclusion
Although numerous committees have long advocated for a "Golden Fibre Revolution," the sector urgently needs fundamental changes. The sector is plagued by two main issues: out-of-date processing technology and a lack of product diversity beyond handcraft and packaging.
Jute should be pushed out of the emporium and into every home through a larger range of products, reclaiming the position that polluting synthetic fibres have robbed it of. Jute may in fact be India's future fabric and the answer to two significant issues: farmer hardship and pollution.
Article written by: Krishnapriya JR