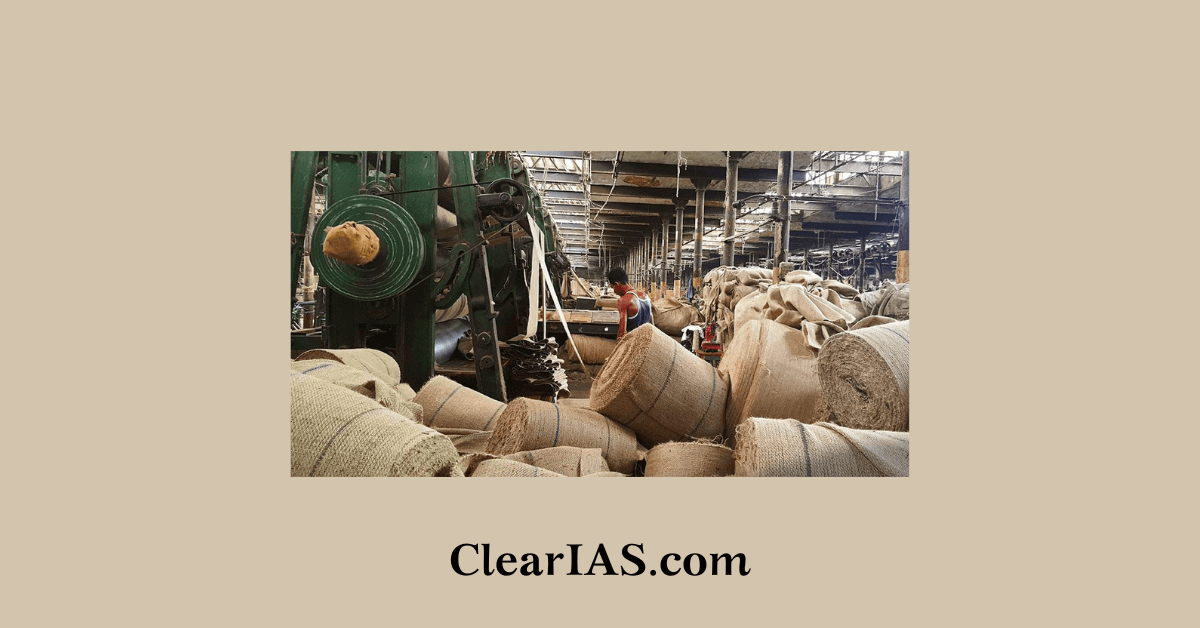 The jute sector provides direct employment to 3.70 lakh workers in the country and supports the livelihood of around 40 lakh farm families. What is the recent concern about the Jute Industry in India? Learn more about the Jute industry.
Do you know India's jute economy is faltering now? Which problem is the jute industry of India facing?
What is the future of the jute industry? Read this article to know more about Jute Industry in India.
Jute Industry
The Jute Industry in India is 150 years old. According to the Indian Jute Mills Association (IJMA), there are about 93 jute mills in India.
At Rishira, 20 km north of Calcutta, the first jute mill/factory in India was founded in 1854. After gaining its independence, India experienced a setback because the majority of the jute-growing areas were still in Bangladesh and the jute factories were still located in India.
The jute textile industry has recently emerged as one of the key sectors serving East India, particularly West Bengal.
Around 40 lakh agricultural families are supported by this business, which also directly employs 1.4 lakh people in the tertiary sector and 2.6 lakh people in the manufacturing sector.
What are the steps involved in the cultivation of raw jute?
The production process in the jute industry involves several steps, including the processing of jute fibres, spinning, weaving, bleaching, dyeing, finishing, and selling of both the raw jute and its completed goods.
As a result, despite the industry's many challenges, its labour-to-output ratio is likewise high.
Know more about Major Crops and Cropping Patterns in Various Parts of the Country click here.
Challenges/Concerns of Jute Industry in India
 Because of the lack of modernization by the majority of jute mills and the availability of high-quality raw jute, the industry is now reliant on government assistance such as packaging reserves.

Only a section of the industry has diversified into non-packaging

segments.

The majority of these industries continue to make venerable goods like jute sacking, hessian used as packing material, and to a lesser extent carpet backing.
The machines' efficiency falls short of expectations because they are made of extremely outdated, primitive technology.
Due to frequent breakdowns, defective and inferior quality products are being made.
Input cost is increasing day by day which is affecting its competitiveness.
The international export market is currently facing fierce competition from Bangladesh, Sri Lanka, Thailand, and China, which poses a danger to India. Despite India's proportion of global output gradually declining, its net export value is rising daily.
The jute business experiences significant losses as a result of various political meddling, labor issues, and a scarcity of jute fiber due to insufficient rainfall.
Alternative Materials: The Indian subcontinent has a highly localized jute industry. To counteract India's monopoly over jute products, other nations were driven to develop jute alternatives due to their heavy reliance on India's irregular jute supply. Some of the nations built their jute mills in which Bangladesh supplied the raw material. Jute mills have been constructed in Japan, Korea, and the West European nations.
Government Initiative to support Jute Industry in India
Jute Integrated Development Scheme (JIDS)
The JID Scheme intends to establish local agencies and units in remote areas of the nation by working with legitimate organizations to carry out various tasks.
The role of ID agencies is that of a facilitator, delivering Basic, Advanced, and Design Development training programs.
They also provide backward and forward links to the existing and potential entrepreneurs at the grass-roots level.
And focusing primarily on technology application and design/product development and dissemination.
Jute Technology Mission (JTM)
Jute Technology Mission (JTM) was approved by the government of India in 2006 and it has 4 mini Missions.
| | | |
| --- | --- | --- |
|       MINI MISSION |                   ACTIVITY | RELATED ORGANISATION |
|  Mini Mission – I | Research activities on Jute | ICAR (DARE) |
|  Mini Mission – II | Development/extension of raw jute agriculture | Ministry of Agriculture(DAC), Govt. of India, State Govt. |
|  Mini Mission – III | Marketing of raw jute | Ministry of Textiles Govt. of India |
|  Mini Mission – IV | Processing, utilisation and industrial aspects of raw jute | Ministry of Textiles, Govt. of India |
The Jute Technology Mission (JTM) was executed during the XIth five-year Plan with an overall outlay of Rs. 355.56 crores.
The main objectives are:
Develop high-yielding varieties to improve productivity and

acceptability in markets.
Improve retting practices to get better quality fiber.
Transfer of cost-effective technologies to the farmers.
Create strong market linkages.
Expand the scope for the marketing of diversified jute products within the country and abroad.
Jute Raw Material Bank (JRMB) Scheme
The program's goal is to make domestically produced jute raw material affordable for small and independent business owners and artisans while also ensuring the long-term viability of the nation's decentralized JDP industry.
JUTE –ICARE (Jute: Improved Cultivation and Advanced Retting
Exercise)
Through this program, farmers have been encouraged to grow jute by utilizing certified seeds, implementing scientific jute cultivation practices, and retting to produce quality jute, boost productivity, and lower the cost of jute production for jute farmers.
The Jute Foundation (TJF)
TJF is trying to address many issues about the environment-friendly product. It is trying to engage all stakeholders –farmers, workers, mills, research organizations and consumers.
National Jute Board
It implements various schemes for market development, workers' welfare and promotion of diversification and exports.
Incentive Scheme for Acquisition of Plants and Machinery (ISAPM)
It aims to facilitate modernization in existing and new jute mills and up-gradation of technology in existing jute mills.
Way forward
The potential for jute diversification is limitless and promising, offering substitute, environmentally friendly solutions in many sectors' value chains. However, the prospects to profit from Jute diversification strategies would remain slim without supporting initiatives of research-based commercialization supported by good government policies.

Suggest norms of efficiency for the jute industry to eliminate waste, obtain optimum production, improve quality and reducing costs.
To advance the growth of jute and jute products, organize workshops, conferences, lectures, seminars, refresher courses, study groups, and training programs.
Ensure higher pay, benefits, and incentives are in place for jute industry workers, as well as improved amenities.
Jute manufacturers must maintain and expand their current markets, as well as create new ones both inside and outside the nation. Marketing plans must be developed to meet this demand in both domestic and worldwide markets.
Provide and create necessary infrastructural facilities and conditions conducive to the development of diversified jute products by way of assisting the entrepreneurs, artisans, craftsman, designers, manufacturers, exporters, non-Governmental agencies in the following manner, namely
Transfer of technology from research and development

institutions and other organizations in India and abroad;
Providing support services to the entrepreneurs for the implementation of their projects including technical guidance and training;
Organizing entrepreneurial development programs;
Planning and executing market promotion strategies including exhibitions, demonstrations, media campaigns in India and abroad.
The Jute industry occupies an important place in the national economy of India. It is estimated that the jute industry provides direct employment to 0.37 million workers in organized mills and diversified units including tertiary sector and allied activities and support the livelihood of around 4.0 million farm families. Besides, there are a large number of persons engaged.
Jute products that are biodegradable and environmentally friendly have a very large global market. But the domestic jute market urgently needs to diversify.
The urgent requirement is to modernize, adopt new industry standards and technologies, and progress through time. Through proper policy changes, the government must assist the jute industry and increase its competitiveness.
Prelims Facts

Jute is the crop of hot and humid climate.
It is Carbon neutral crop.
Also known as 'golden fibre', is one of the longest and most used natural fibre for various textile applications.
Incessant and untimely rainfalls as well as prolonged droughts are detrimental to this crop.
Large quantity of water is required not only for growing the crop but also for processing the fibre after the crop is harvested.
It requires high temperature varying from 24 Degrees Celsius to 35 Degrees Celsius and heavy rainfall of 120-150 cm with 80-90% relative humidity during the period of its growth.
The cultivation of jute in India is mainly confined to the eastern region of the country. The jute crop is grown in seven states – West Bengal, Assam, Orissa, Bihar, Uttar Pradesh, Tripura and Meghalaya. West Bengal alone accounts for over 50% of the total raw jute production.
Jute is the 2nd abundant natural fibre in the World after Cotton. Almost 85% of world's jute cultivation is concentrated in the Ganges Delta.
India is the World's biggest producer of Jute (raw jute and jute goods, contributing to over 50 percent and 40 percent respectively of global production), followed by Bangladesh.
Article Written by: Remya