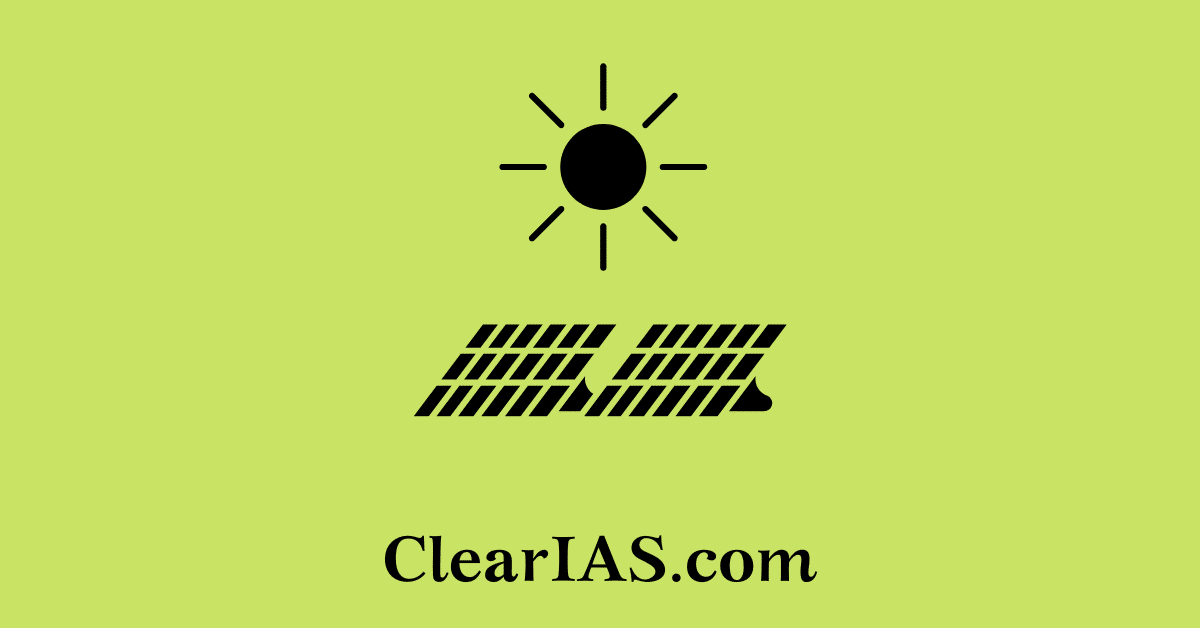 International Solar Alliance is an initiative jointly launched by India and France in 2015 on the sidelines of UNFCCC in Paris. It was officially launched on 6th December 2017 on the entry into force of the framework agreement. Read further to know more about ISA.
It is an action-oriented, member-driven, collaborative platform for increased deployment of solar energy technologies. This will act as a means of bringing energy access. This will also ensure energy security, and drive energy transition in its member countries.
The membership is open to all the solar resource-rich states, which lie fully or partially between the tropic of cancer and the tropic of Capricorn and are members of the United Nations.
The primary objective is to collectively work for the efficient exploitation of solar energy to reduce dependence on fossil-based fuels. The Headquarters is in India with its Interim Secretariat being set up in Gurgaon.
The framework agreement says that the members of the International Solar Alliance (ISA) would take coordinated actions through programs and activities that will aggregate the demands for solar finance, solar technologies, innovation, research and development, and capacity building.
International Solar Alliance
The International Solar Alliance (ISA) is a multinational organization that aims to promote solar energy and sustainable development through cooperation among solar-rich countries located between the Tropics of Cancer and Capricorn.
It was launched on November 30, 2015, by Indian Prime Minister Narendra Modi and French President François Hollande on the sidelines of the United Nations Climate Change Conference (COP21) in Paris.
The ISA is guided by its 'Towards 1000' strategy which aims to mobilize USD 1,000 billion of investments in solar energy solutions by 2030 while delivering energy access to 1,000 million people using clean energy solutions and resulting in the installation of 1,000 GW of solar energy capacity.
This would help mitigate global solar emissions to the tune of 1,000 million tonnes of CO2 every year. To meet these goals, the ISA takes a programmatic approach.
Currently, the ISA has 9 comprehensive programs, each focusing on a distinct application that could help scale the deployment of solar energy solutions.
Activities under the programs focus on 4 priority areas – Analytics and advocacy, Capacity Building, Programmatic Support, and readiness and enabling activities, that help create a favorable environment for solar energy investments to take root in the country.
ISA-Governance Structure
Assembly
The Assembly of the International Solar Alliance (ISA) is the apex decision-making body that comprises representatives from each Member Country. The Assembly deliberates matters of substance such as the selection of the Director General, achievement of ISA objectives, its functioning, approval of the operating budget, and more.
Secretariat
By article III.4 of the International Solar Alliance (ISA) Framework Agreement, the Secretariat, inter alia, shall:
assist the National Focal Points in preparing the program proposals and recommendations submitted to the Assembly;
provide guidance and support to Members in the implementation of each Programme, including for the raising of funds;
act on behalf of the Assembly, or behalf of a group of Members participating in a particular Programme, when so requested by them; and in particular, establish contacts with relevant stakeholders;
set and operate all means of communication, instruments, and cross-cutting activities required for the functioning of the ISA and its Programmes, as approved by the Assembly.
The Secretariat comprises the Director General and other leadership members. The Director General is selected by and is responsible to the Assembly for the appointment of the Secretariat's leadership team, for a term of four years. One of the key assignments of the Director General includes providing support for the organization and functioning of the Secretariat.
Projects of ISA
ISA-STAR-C
The ISA Secretariat launched the ISA Solar Technology and Application Resource Centre (ISTAR C) to support capacity-building efforts in the ISA member countries through training.
Its primary objective is to create a skilled workforce for large-scale deployment of solar energy applications and research, development, innovation, standardization, and testing in solar energy.
The initial assessment of the capacity needs, existing training, and R&D infrastructures in ISA member countries was conducted in 2018.
ITEC Scheme
The Government of India has been supporting the ISA by providing training to master trainers in the field of solar energy through the Indian Technical and Economic Cooperation (ITEC) Scheme.
The duration of the training is 21 days and all costs are borne by the Government of India. In 2018-2019, 133 candidates from 25 countries were trained at the National Institute of Solar Energy, Gurugram, with the support of the ITEC program.
ISA Solar Fellowship For Mid-Career Professionals
The Objective of the fellowship scheme is to contribute to the long-term development needs of member countries, through the creation of skilled and qualified professional manpower for the management of solar energy projects, programs, and policies.
Under this scheme, fellowships in the field of solar energy management will be offered to mid-career professionals from ISA countries for pursuing a master's degree in renewable energy management and economics. They would be expected to contribute towards policy development in their home country which in turn will help ISA achieve its objectives.
Infopedia
Infopedia is an online platform dedicated to the dissemination of information, best practices, and knowledge on Solar Energy. This project is supported by the EU and is likely to be launched in October 2019.
Features of ISA
Key features and objectives of the International Solar Alliance include:
Promotion of Solar Energy: The primary goal of the ISA is to promote solar energy deployment, reduce the cost of solar power, and facilitate access to solar resources in member countries. It seeks to accelerate the transition to a clean and sustainable energy future.
Solar Resource Utilization: ISA focuses on harnessing the abundant solar energy resources available in its member countries, which are predominantly located in the tropical regions. It aims to facilitate the deployment of solar technologies for electricity generation, heating, cooling, and other applications.
Technical Assistance and Capacity Building: ISA provides technical assistance, knowledge sharing, and capacity-building support to its member countries. This includes training programs, workshops, and the exchange of best practices in solar energy development.
Project Development: The alliance supports the development and implementation of solar energy projects, particularly in areas like rural electrification, off-grid solar applications, and renewable energy integration.
Financing Mechanisms: ISA works on creating innovative financing mechanisms and partnerships to mobilize investment in solar projects. It collaborates with financial institutions, development banks, and the private sector to facilitate solar investments.
Solar Research and Development: ISA encourages research and development efforts in the field of solar energy technologies, to advance solar technology and make it more accessible.
Global Solar Growth: While the alliance's initial focus is on countries within the tropics, it seeks to promote solar energy globally and collaborate with other international organizations and stakeholders.
How significant is ISA to India?
The ISA allows India to take global leadership in the fight against climate change.
The secretariat of the ISA is to be located in India. It will also host a meeting of the ISA assembly every year.
India has promised to contribute $27 million for creating building infrastructure and recurring expenditure for five years, till 2020-21.
A part of this money will also go towards creating a corpus fund that will generate revenues for the budget of ISA.
It will help India pursue her superpower aspirations.
Also read: Green Grids Initiative
Challenges
Raising a large amount of money, like $ 1 trillion, is going to be difficult given that developed countries have historically been stingy in funding renewable energy projects in developing countries.
Also, such a large sum cannot be raised from public sources alone. The ISA will have to devise mechanisms to mobilize private finances.
The new alliance will also have to work in tandem with other bodies such as the International Renewable Energy Agency and the Renewable Energy and Energy Efficiency Partnership to bring a coordinated effort.
Way forward
Coordination with various other stakeholders like civil societies, private partnerships, etc. may be considered to bring in a behavioral shift toward renewable energy
Mechanisms need to be put in place to deal with the harmful elements used to manufacture photovoltaic cells. This may include heavy metals like Nickel, Cadmium, Lead, etc.
Investment in research and development to maximize the efficiency and storage potential of batteries may also be considered.
Article written by: Vivek Rajasekharan