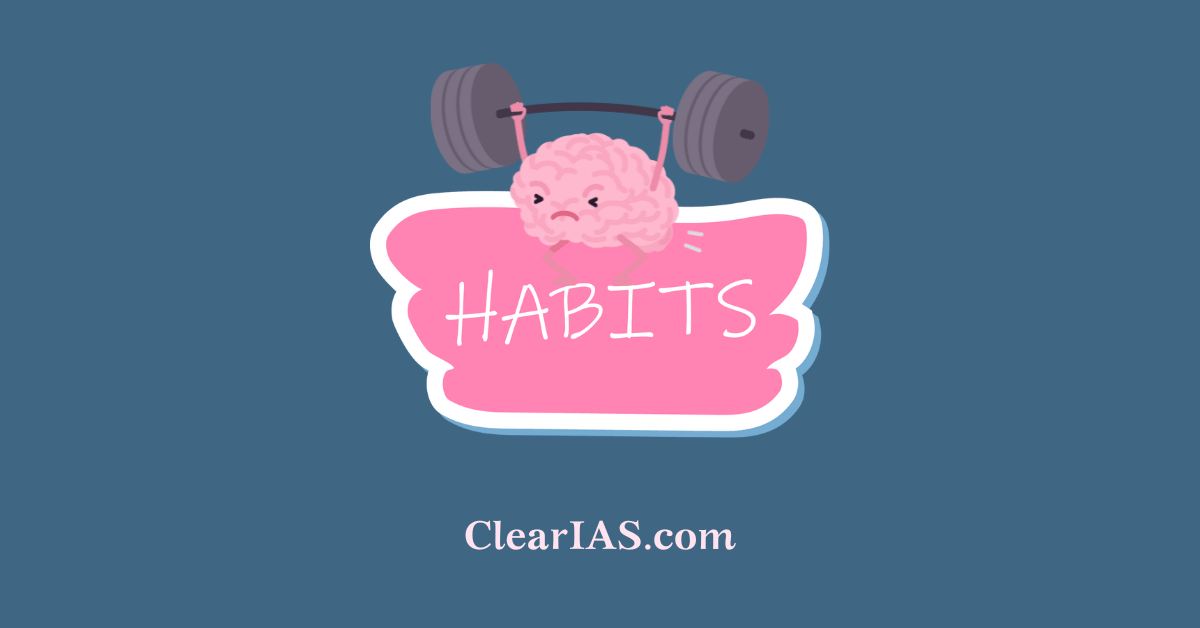 If you want to increase your chances of success, you must know and follow these 20 Habits that will help you clear UPSC CSE.
The Union Public Service Commission (UPSC) Civil Services Examination is one of the most challenging exams in India.
It is a gateway to prestigious careers in civil services, offering opportunities to serve the nation and make a significant impact on society.
However, preparing for the UPSC exam requires dedication, perseverance, and a well-planned approach.
In this article, we will explore some important habits that can help clear UPSC CSE.
Nothing can stop the man with the right mental attitude from achieving his goal; nothing on earth can help the man with the wrong mental attitude. – Thomas Jefferson
20 Habits that will help you clear UPSC CSE
Developing certain habits can significantly boost your preparation for the UPSC (Union Public Service Commission) Civil Services Examination. These habits are like powerful tools that can help you succeed in your studies and increase your chances of success. Let's look into detail about some of these habits and how they can positively impact your UPSC CSE preparation:
Creating a Study Plan
A well-structured study plan is the foundation of effective UPSC CSE preparation. Start by analyzing the syllabus and dividing it into smaller, manageable sections. Allocate specific time slots for each subject and topic, ensuring a balanced approach.
Consider your strengths and weaknesses while formulating the plan and set realistic goals. A disciplined study schedule will help you stay focused, cover the syllabus comprehensively, and track your progress effectively.
Consistent Study Routine
Establishing a consistent study routine is important to succeed in this exam. Consistency helps in building a habit, and over time, it becomes easier to focus and retain information.
Effective Time Management
Managing your time effectively is key to covering the vast UPSC syllabus.
Prioritize tasks based on their importance in the exam. Break down your study sessions into smaller, manageable portions to make the most of your study time.
Building a Strong Knowledge Base
To get success in the UPSC CSE, you need to have a strong foundation of knowledge. Focus on a detailed reading of standard reference books, newspapers, magazines, and other sources.
Develop a habit of reading newspapers and staying updated with current affairs, government policies, national and international events, and social issues.
Make notes, highlight key points, and use mind maps or diagrams to simplify difficult topics. Revise regularly, as it reinforces your understanding and retain information effectively.
Daily Revision
Make it a habit to revise what you have learned every day. Regular revision helps reinforce your understanding and improves long-term retention.
It also allows you to identify any gaps in your knowledge and address them effectively.
Set Clear Goals
Setting clear and achievable goals is important for staying motivated.
Break down your goals into smaller milestones, such as completing a specific number of chapters or solving a certain number of practice questions. Celebrate your every small achievement.
Note-taking
Developing the habit of taking organized and detailed notes while studying is beneficial in this examination.
Summarize key concepts, important facts, and relevant references. Clear and concise notes act as a handy resource for quick revision and serve as a valuable study aid.
Enhancing Analytical and Writing Skills
The UPSC exam not only tests your knowledge but also your analytical and writing skills. Develop a habit of solving mock tests, previous years' question papers, and practice sets to increase your problem-solving abilities.
Additionally, focus on improving your writing skills through essay writing, and answer writing practice. Seek feedback from mentors or peers to refine your writing style and learn effective time management.
Analyze Previous Year's Papers
Make it a habit to analyze previous years' question papers. Identify the ongoing patterns, important topics, and question styles.
This analysis gives you an insight into the exam pattern and helps you to be in line with your preparation accordingly.
Current Affairs and General Awareness
UPSC gives significant importance to current affairs and general awareness. Develop a habit of reading newspapers, both national and regional, to stay updated with the latest developments.
Follow reliable newspapers, magazines, and government reports to broaden your knowledge base. Focus on understanding the background, context, and implications of major events, government policies, and social issues.
Regular Revision
Revision is an important aspect of UPSC preparation. As you cover various subjects and topics, make sure to allocate time for regular revision. Set aside specific periods to revisit previously studied material, including notes, textbooks, and practice questions.
Regular revision helps reinforce your understanding, solidify concepts in your memory, and identify any gaps in your knowledge. It also allows you to review and retain important facts, figures, and dates, which are often asked in the UPSC exam.
"Success is not final, failure is not fatal: It is the courage to continue that count," – Winston Churchill
Take Mock Tests
UPSC mock tests are an integral part of the preparation. Mock tests simulate the actual exam environment and help you assess your progress.
Analyzing your performance in mock tests helps you identify your strengths and weaknesses, allowing you to focus on areas that need improvement.
Time-bound Practice
Taking mocks is an integral part of the preparation but completing it in the limited time is also important. It improves your speed, accuracy, and time management skills.
Time-bound practice prepares you for the time constraints you will face during the actual exam.
Avoid Procrastination
Procrastination can hamper your progress and cause unnecessary stress. Develop self-discipline and never delay tasks.
Break down complex tasks into smaller, manageable steps, making them more approachable and easier to tackle.
Maintain a Healthy Lifestyle
A healthy lifestyle contributes to your overall well-being, including your study performance. Ensure you get enough sleep, eat a nutritious diet, and engage in regular physical exercise.
Taking care of your physical and mental health is essential for optimal performance.
Stay Positive and Motivated
It is important to maintain a positive mindset throughout your preparation. Surround yourself with positive influences, motivational resources, and like-minded individuals.
Believe in your abilities and remind yourself of your goals to stay motivated during challenging times.
Seek Guidance
Don't hesitate to seek guidance from mentors, subject experts, or experienced individuals.
They can provide valuable insights, clarify doubts, and offer guidance on study strategies and exam preparation techniques.
Avoid Unnecessary Discussions
Avoid engaging in unnecessary discussions that can potentially waste your time and energy. It's important to stay focused on your study goals and not get sidetracked by unrelated debates or arguments.
While healthy discussions and seeking clarification are beneficial, be mindful of your time and energy. Prioritize your study time and avoid getting involved in discussions that won't contribute to your exam preparation.
Continuity is the Key
UPSC CSE is a long journey so continuity is indeed when it comes to UPSC CSE preparation. It means consistently putting in effort and staying dedicated to your studies over a prolonged period.
It's not just about studying hard for a few days or weeks; rather, it's about maintaining a consistent study routine and staying committed to your goals throughout the entire preparation journey.
Learn from Failures
Embrace your failures as learning opportunities. If you face setbacks or make mistakes, don't get discouraged.
Analyze your mistakes, identify areas that need improvement, and adapt your study strategies accordingly. Every failure is a stepping stone toward success.
Success consists of going from failure to failure without loss of enthusiasm. — Winston Churchill
Article Written By: Priti Raj