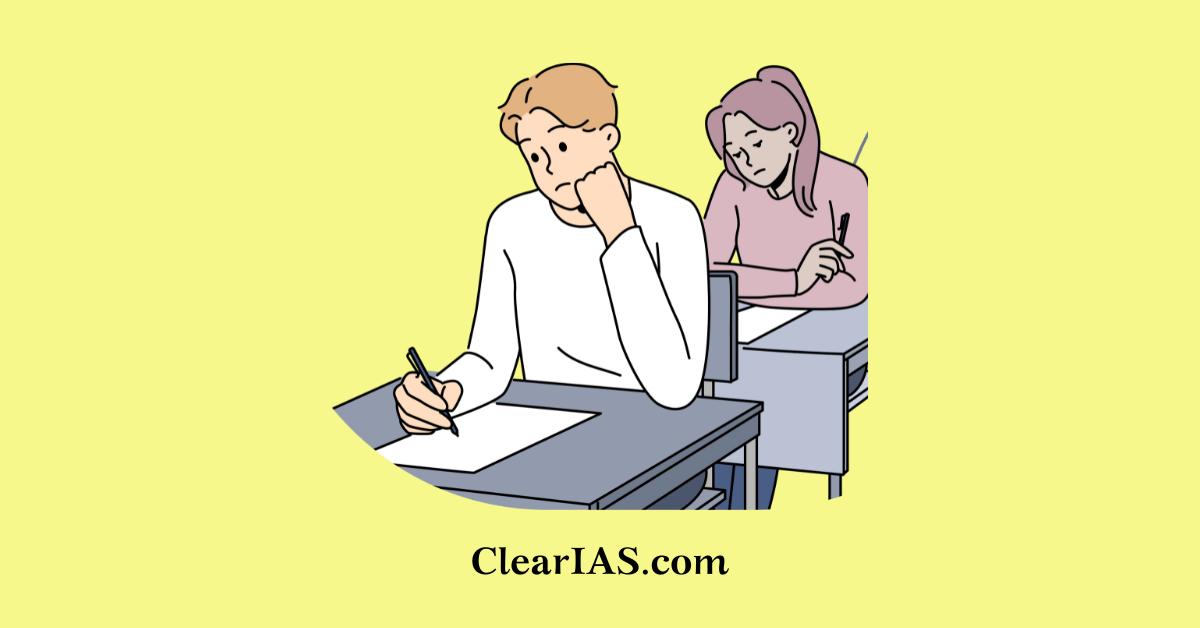 ClearIAS not only provides UPSC Mains Answer Writing Practice (AWP) but also the right mentoring to boost your written exam marks.
Aspirants preparing for the UPSC Civil Services Exam can participate in the ClearIAS Answer Writing Practice (AWP) program.
The program is intended to polish the Main Exam answer writing skills of aspirants, by providing an open platform to practice the most probable questions for UPSC Mains.
Note: At this moment, ClearIAS AWP is open only to those aspirants who joined the ClearIAS Online Classroom Program (Pro or Ultimate Batch).
Also read: How to Start Practicing Answer Writing for UPSC CSE Mains Exam?
ClearIAS AWP under the direct mentorship of Mr. Alex Andrews George
ClearIAS Answer Writing Practice (AWP) program would be under the direct mentorship of the founder of ClearIAS and the author of the best-selling books Important Judgments that Transformed India and Important Acts that Transformed India – Mr Alex Andrews George.
Many of the ClearIAS Team members will also join our founder, to provide reviews of the answers.
Re-launch of ClearIAS UPSC Mains Answer Writing Practice (AWP)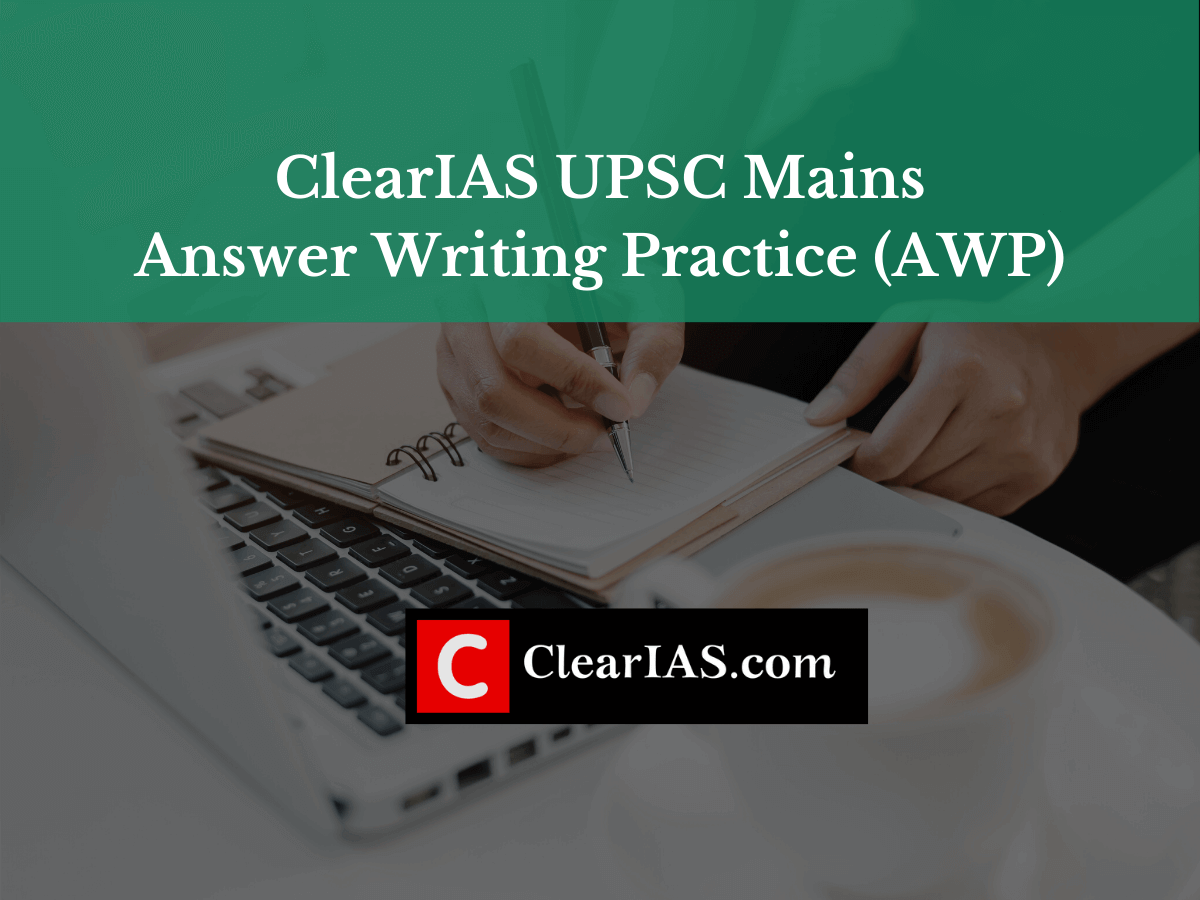 This is not the first time ClearIAS conducts AWP.
ClearIAS had conducted AWP sessions on a daily basis in many of the previous years. You can check our archives to read many of our previous year's questions.
However, a major change is bought out now in the way answers have to be written.
ClearIAS AWP will be a 30-day Answer Writing Program in which candidates will be answering and submitting 1 answer every day. They will get feedback about the answers the same day.
To know what we offer for UPSC Mains as part of the ClearIAS Prelims cum Mains Integrated approach, check ClearIAS Mains programs.
AWP is not Mains Test Series
Aspirants may note that Answer Writing Practice is not Mains Test Series.
Under Answer Writing Practice (AWP), what we intend is to provide 1 question on a daily basis so that aspirants can write and submit answers. Writing one answer may take only around 7 minutes.
However, Mains Test Series contains a series of exams, where each exam will consist of about 20 questions. One Mains exam is of 3-hour duration.
Until this moment, ClearIAS does not run a paid Mains Test Series, even though we provide Mains Mock Questions. We are getting a lot of requests from the aspirant community to start a Mains Test Series online. This request is still under consideration. We shall let you know if we open up our Test-Prep platform for a paid online program for Mains as well.
Importance of Answer Writing Practice for UPSC Mains (Written Exam)
What speaks about you in the UPSC mains exam is your answer sheet. The examiner does not know you; he has access to only your answer booklet and nothing else. He evaluates each candidate based on what is presented in the answer sheet.
So, it is extremely important to frame your answers in the most impressive way, within the prescribed time limit.
8 Ways by which AWP can help you
AWP can help you in the following 8 ways.
Help to make your answers stand out: Knowledge about framing high-quality answers in the main exam is necessary to make your answer sheets stand out.
Improve Answer Writing Skills: Regular practice can improve your answer-writing skills.
Get Rid of Mental Blocks: It will help you get rid of your mental blocks.
Enhance the Speed of Writing: Practice improves the speed of thoughts.
Time Managment: You will get used to writing under the prescribed time limit and sticking to the word limit.
Most Probable Questions: AWP is not just about practice, it is also about learning. Questions similar to ClearIAS model questions may be directly or indirectly asked in actual UPSC Mains. If you have participated in ClearIAS AWP before, that would surely give you an edge.
Peer-Learning: You will get a serious community of aspirants across India who participate in AWP. You will get different insights and wisdom from their answers and feedback. This will help your learning.
Expert Guidance: Expert mentors at ClearIAS will guide you on how to frame well-structured answers.
Also read: How to Write a Great Answer in the UPSC Civil Services Mains Exam: ClearIAS Guidelines
ClearIAS AWP: Marks vs Grades
UPSC CSE is a low-scoring exam with tough evaluation standards. The highest marks secured by toppers in GS is around 45%. In that background, the below will be our marking scheme for ClearIAS AWP.
0-19% –  Not satisfactory.
20%-29% – Below average answer.
30%-39% – Average answer.
40%-49% – Above Average Answer.
50%-59% – Excellent Answer.
60% and above – Exceptional Answer.
How can you participate (write answers) in AWP?
Questions will be given to you as part of the ClearIAS Online Classroom Program (Pro and Ultimate).
You can write answers and upload your scanned copies on the ClearIAS website.
Our team will review the answers and give feedback.
How should you answer questions in AWP?
Ideally, you should start writing the answer without referring to any sources.
Remember that in the actual exam hall you will not get a chance to refer to any external sources. AWP is intended as a real practice before actual Mains.
How much time should you take to answer a question?
Start answering with a mission to finish the answer within 10-11 minutes if it is a 15 mark question and within 7 minutes if it is a 10 mark question.
What should you do if you don't know the answer to a question?
Here is how you should proceed. Refer to 2-3 sources (not a single one). Think for a while to consolidate the points.
Start answering in your own words – sticking to the time limit.
Even if you refer to sources, don't copy past lines. Close your sources. Start fresh. Make your own answer.