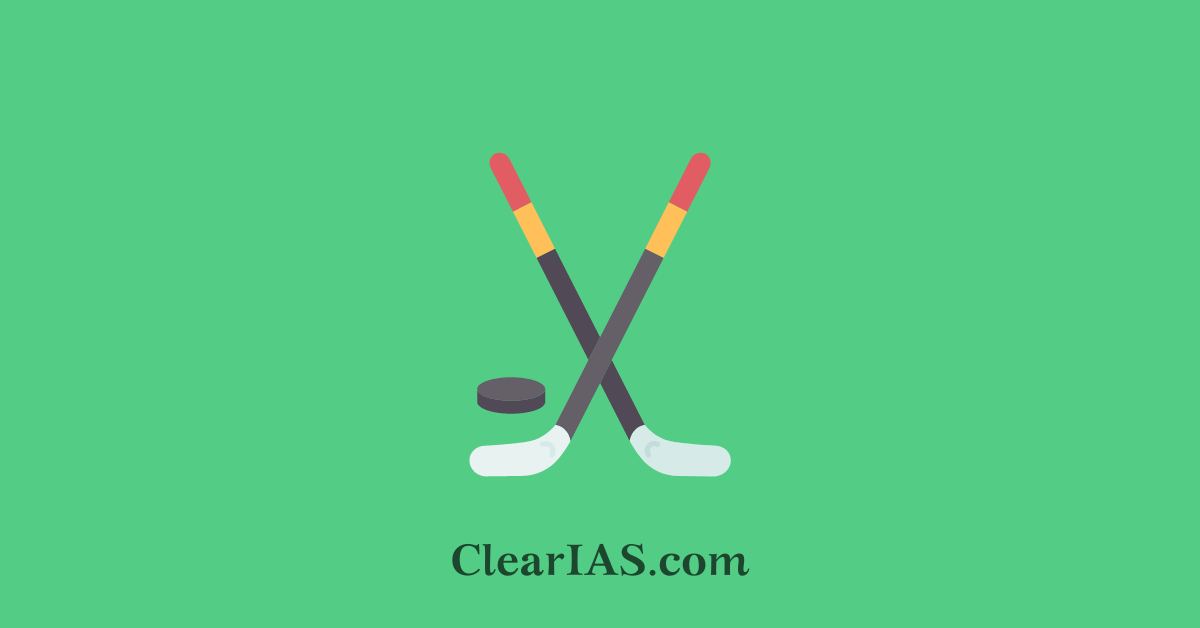 India is all set to host the 2023 Men's Hockey World Cup in Odisha from the 13th to the 29th of January. Hockey is an important sport in the country hence its origin and history are discussed here. Where did hockey originate? Who set down the first rules of the modern game? Read here to learn all about hockey.
The International Hockey Federation will host the 15th Men's FIH Hockey World Cup in 2023, which will serve as the quadrennial global championship for men's national field hockey teams.
From January 13 to January 29, 2023, it will take place at the Kalinga Stadium in Bhubaneswar and the recently built Birsa Munda International Hockey Stadium in Rourkela, India.
Hockey and its origins
Hockey's origins go back to ancient times. According to historical accounts, a primitive version of the game was played in Egypt 4,500 years ago, in Ethiopia around 1,000 BC, and in Iran around 2,000 BC.
A variation of the game was played by the Romans, Greeks, and Aztecs several centuries before Christopher Columbus arrived in the New World, according to documentation from several museums.
The development of public institutions like Eton is partly responsible for the mid-18th century emergence of the current game of hockey in England.
In 1876, the first Hockey Association was established in the UK, and it created the first official set of regulations.
The original association survived for just six years but, in 1886, it was revived by nine founding member clubs.
Olympics
In 1908, the first men's Olympic hockey competition took place in London, featuring separate competitions for England, Wales, Ireland, and Scotland. The competition had six teams after the admission of France and Germany.
Hockey made its debut at the London Games, but after host nations were given power over "optional sports," hockey was removed from the Stockholm Games in 1912. Following lobbying from Belgian hockey supporters, it made a comeback in Antwerp in 1920 before being dropped once more in Paris in 1924.
The International Hockey Federation was established in 1924, which was not in time for the Olympics in Paris, but it did allow hockey to return to Amsterdam in 1928. Since then, hockey has been included in the program, with women's hockey being added for the first time in 1980 in Moscow.
Fédération Internationale de Hockey sur Gazon (FIH)
Paul Léautey formed the Fédération Internationale de Hockey sur Gazon (FIH) in response to hockey's exclusion from the 1924 Paris Games. M. Léautey brought together seven National Federations to create the organization that would eventually become the FIH's first president.
The initial members were Austria, Belgium, Czechoslovakia, France, Hungary, Spain, and Switzerland, which each represented both men's and women's hockey in their respective nations.
The women's game gained popularity in the late 19th century and spread fast throughout several nations. Founded in 1927, the IFWHA stands for International Federation of Women's Hockey Associations. The FIH and IFWHA each celebrated their respective Golden Jubilees in 1974 and 1980, respectively, after which the two organizations merged to establish the modern FIH in 1982.
By 1964, there were already 50 countries affiliated with the FIH, as well as three Continental Associations – Africa, Pan America, and Asia – and in 1974, there were 71 members.
Today, the International Hockey Federation consists of five Continental Associations, and 137 National Associations, and is still growing.
It is headquartered in Lausanne, Switzerland.
The FIH is recognized by the International Olympic Committee as the sole ultimate governing body for the sport of Hockey throughout the world.
Field Hockey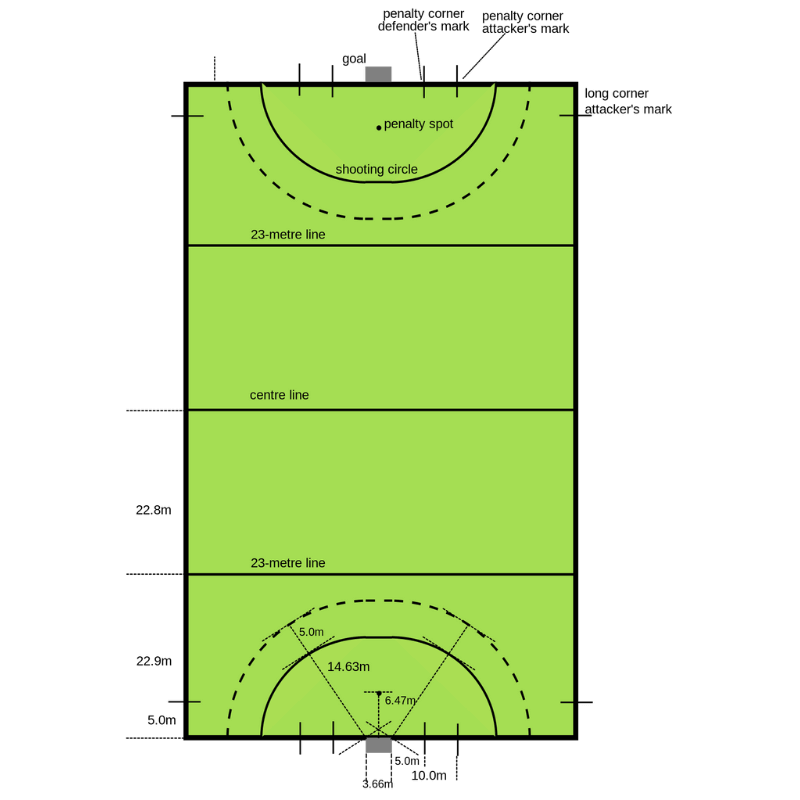 The term "hockey" refers to a group of different summer and winter team games that were first played on an outdoor field, a sheet of ice, or a dry floor, like in a gymnasium.
While the specific regulations, player counts, attire, and most crucially the playing field differ amongst these games, they all include two teams competing against one another and using sticks to drive a ball or disc into a goal.
The game comes in a variety of forms:
field
ice
roller
rink or floor
Field hockey is a team sport that is set up similarly to ice hockey, with each team consisting of ten outfield players and a goalie.
Teams must use a hockey stick to drive a round hockey ball into the goal by striking it in the direction of the other team's shooting circle.
The team that scores the most goals wins the game.
Matches are played on grass, watered turf, artificial turf, synthetic field, or indoor boarded surface.
Basic field rules
Players can only use the flat side of their stick to strike the ball.
Players are not permitted to use their feet or any other body parts to control the ball at any point, except the goaltender.
There are only three ways to score a goal: from a field goal, a penalty corner, or a penalty shot.
A field goal is an unassisted goal that can only be scored from inside the "striking circle," in front of the opposing team's goal. It does not count as a goal if the puck is hit into the goal from outside the circle.
Players are not permitted to trip, shove, charge, impede, or otherwise physically harm an opponent.
Players are not permitted to trip, push, charge, impede, or otherwise physically handle an opponent.
It is a no-contact sport, therefore depending on where the foul occurred and how serious it was, the non-offending team will either receive a free hit or be awarded a "penalty corner."
Hockey in India
The first version of modern-day field hockey was developed by the British sometime between the late 18th and early 19th centuries. It was introduced as a popular school game then and made its way to the Indian army during British rule in the 1850s.
The first hockey club in India was founded in then-Calcutta (now Kolkata) in 1855. Due to the availability of huge plots of land for playing fields and the simplicity of the equipment, hockey steadily gained popularity among children and young adults in India.
National tournaments like the Beighton Cup in Calcutta and the Aga Khan tournament in Bombay (now Mumbai), which took place during the following few decades, helped to further popularise the sport, particularly in the former provinces of Bombay and Punjab.
In 1907 and 1908, there were discussions about starting a hockey association in India, but nothing came of it. One year after the International Hockey Federation was established, the Indian Hockey Federation (IHF) was established in 1925.
The IHF organized its first international tour in 1926 to New Zealand, where the Indian hockey men's team played 21 matches and won 18. The tournament saw the emergence of a young Dhyan Chand, who would go on to become arguably the best hockey player the world has ever seen.
The Indian Hockey Federation applied and earned an FIH membership in 1927, thus ensuring that the Indian hockey team would play its first Olympics in 1928.
It was the beginning of a legacy – decorated with eight gold medals – a record till today.
Major Dhyan Chand
Major Dhyan Chand, an Indian field hockey player who played from 29 August 1905 to 3 December 1979, is recognized as one of the sport's all-time greats.
In addition to winning three Olympic gold medals in 1928, 1932, and 1936, he was renowned for his exceptional ball handling and goal-scoring prowess during a time when British India dominated the sport.
He had a lasting impact because British India won the field hockey competition in seven of the eight Olympics from 1928 to 1964.
Dhyan Chand is still regarded as a legend in both Indian and international hockey. In India, Chand's birthday, on August 29, is recognized as National Sports Day. On this day at the Rashtrapati Bhavan in India, the President presents sports-related honors such as the Major Dhyanchand Khel Ratna, Arjuna Award, and Dronacharya Award.
India's highest award for lifetime achievement in sports is the Dhyan Chand Award which has been awarded annually since 2002 to sporting figures who not only contribute through their performance but also contribute to the sport after their retirement.
Hockey World Cup 2023
On January 13, the 2016 Olympic winners Argentina and South Africa will square off at Bhubaneswar's Kalinga Stadium, one of the two locations for the championship match, bringing the 15th FIH Men's World Cup to a start.
On January 13, Rourkela's Birsa Munda Hockey Stadium (BMHS) will make its debut as a World Cup co-hosting facility and as an international site. The recently built stadium complex, which has 20,000 seats and a pioneering World Cup Village as well, was unveiled.
India has only won the World Cup once in 1975 in Kuala Lumpur, Malaysia, beating Pakistan.
India won bronze at the Tokyo Olympics 2021 as well.
­-Article written by Swathi Satish