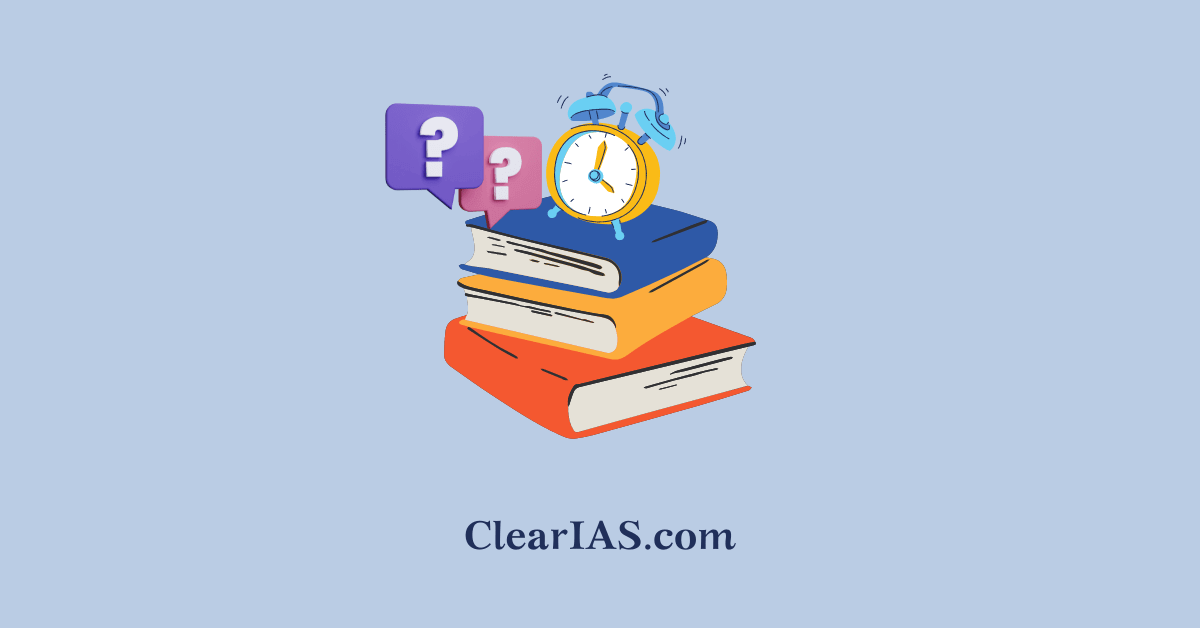 This often comes to the mind of aspirants how many hours of study is required for clearing the UPSC IAS Exam. You will get answers to all such answers in this article.
The UPSC Civil Services Examination (CSE), often referred to as the UPSC IAS exam, is one of the most prestigious and challenging exams in India.
Before starting the preparation journey or during the preparation, one question often arises in the mind of aspirants is, "How many hours of study are required for the UPSC IAS exam?"
While there's no one-size-fits-all answer, this article will help you understand and provide some insights to decide on a healthy study schedule.
How Many Hours of Study is Required to Crack UPSC CSE?
Preparing for the UPSC exam is like getting ready for a big adventure. But the question of how many hours to study for UPSC can be confusing.
Here's the secret: it's not about counting the hours but making them count. Let's understand it in a better way.
Understanding Study Hours: Quality Over Quantity
When it comes to studying for the UPSC exam, it's not about sitting on the desk for endless hours.
Instead, it's all about how productively you use your time. Focused and effective study sessions are way better than just sitting for a long time.
The Study Hours Range: 6 to 14 Hours
In general, aspirants, including toppers usually spend around 6 to 14 hours studying each day.
But remember, it's not a one-size-fits-all thing. Some may need more time, while others can do well with less. The key is to find your spot where you're productive and attentive.
Toppers' Secret
Guess what? Even those who top the UPSC exam study within this range. They don't magically study for 20 hours a day!
Take inspiration from them, but also find your own rhythm. Toppers focus on effective learning, smart strategies, and staying consistent.
Quality Beats Quantity Any Day
Think about it like this: would you rather study aimlessly for 20 hours or study smartly for 10 hours? The latter wins hands down!
So, concentrate on making each hour count. Set clear goals for your study session, avoid distractions, and engage with the material actively.
Customize Your Study Plan
Remember, you're unique. What works for someone else might not work for you.
Figure out when you're most alert—morning, afternoon, or evening—and plan your study time accordingly. Also, take breaks to recharge your brain. It's like giving your brain a power boost!
UPSC Toppers' Insights
Many toppers of the UPSC IAS exam emphasize the importance of a smart study schedule rather than endless hours of study. One such example is Tina Dabi, who secured the first rank in the 2015 examination.
She mentioned that she studied around 8-10 hours daily during her preparation. Her strategy involved in-depth reading, regular revision, and practicing answer writing.
Similarly, Anu Kumari, who secured the second rank in the 2017 exam, highlighted the significance of consistent study, self-assessment, and maintaining a positive mindset. Her study hours ranged from 6-10 hours daily.
But what makes them different from others is consistency, if they studied for this number of hours, they were consistent with it. So, don't undermine the importance of consistency in this preparation.
Myths Related to How Many Hours to Study for the IAS Exam
Preparing for the UPSC IAS exam is like accepting a challenging expedition that demands dedication, strategy, and hard work.
Among the sea of advice and opinions, the question of how many hours one should study often emerges as a concern.
Let's look at some myths around this question that how many hours of study are sufficient for the UPSC exam and shed light on what truly matters in cracking this prestigious examination.
Myth 1: The More Hours, the Better the Result
One of the most common misconceptions is that success in the IAS exam is directly proportional to the number of hours spent studying. In reality, it's not about the number of hours but the quality of the study.
Focused and productive hours outweigh aimless and extended study sessions.
Myth 2: Fixed Study Hour Formula
There's no magical formula that universally applies to all aspirants. Every individual has a unique learning style, pace, and prior knowledge base. What works for one person might not work for another.
It's important to personalize your study hours based on your strengths and weaknesses.
Myth 3: Long Hours Equal Guaranteed Success
Long study hours without proper planning and effective study methods can lead to burnout and reduced efficiency. Success in the IAS exam requires a strategic approach that involves targeted learning, regular revision, and skill development such as answer writing.
Myth 4: All-Day Study Marathons
Engaging in non-stop study marathons can drain your mental and physical energy.
Instead of focusing solely on long durations, embrace short and intense study sessions with breaks in between. Techniques like the Pomodoro method can be helpful in enhancing your productivity and concentration.
Myth 5: Sacrificing Sleep is Necessary
Sleep is a critical component of effective learning. Sacrificing sleep for study hours can impair cognitive function (mental process) and memory retention. It is important to take adequate rest to ensure that your mind is tireless and awake.
Myth 6: Copying Toppers' Study Hours
While it's inspiring to learn from the experiences of UPSC toppers, blindly copying their study hours might not provide the same results for everyone.
They are toppers because they tailored their schedule considering their strength and weaknesses.
Conclusion
There's no fixed number of hours that guarantees success in the UPSC IAS exam. It varies from person to person based on their prior knowledge, learning speed, and the efficiency of their study methods.
What matters most is a dedicated, focused, and holistic approach to the preparation. Toppers have proven that it's not just about long hours but about studying smartly, consistently, and with determination.
So, instead of just counting hours, concentrate on making each hour count in your UPSC journey.
Article Written By: Priti Raj