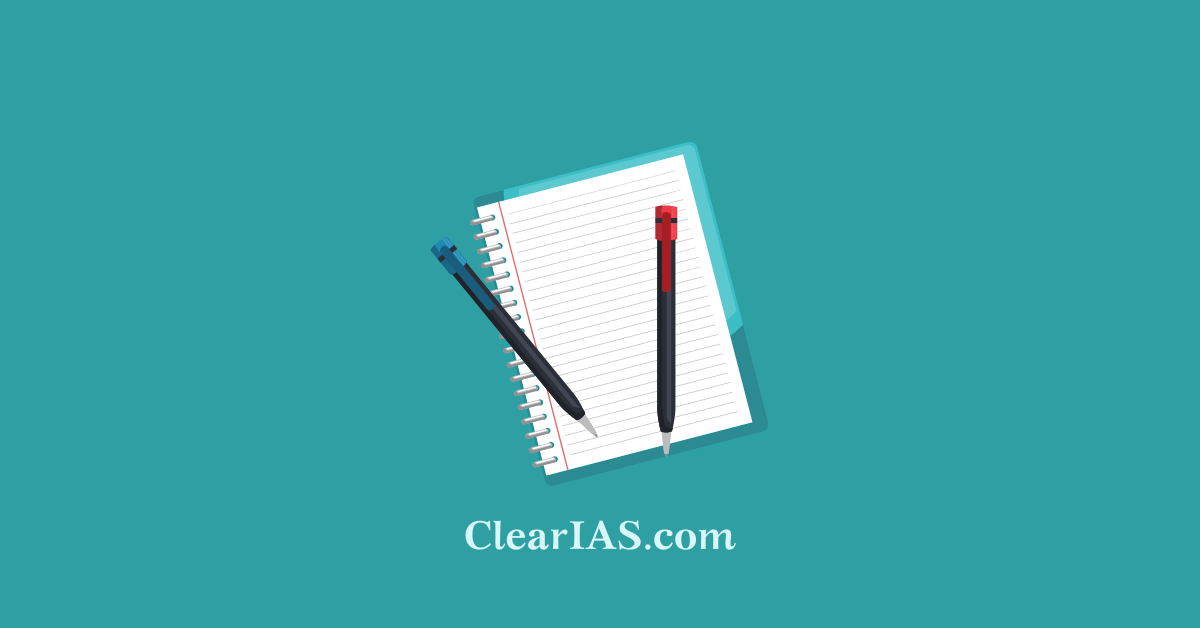 In this article below we have provided important tips regarding How to Improve Writing Skills for UPSC CSE Mains Exam?
Writing skills play an important role in the UPSC Civil Services Mains Exam.
The ability to express thoughts correctly and convincingly is important for success in this prestigious examination.
In this article, we will provide you with some practical tips to improve your writing skills to increase your chances of achieving success in the examination.
Work on Fundamentals Before Starting Answer Writing Practice
Before starting working on writing skills it is important to make themselves aware of a few fundamental details. Such details will help you understand the requirements of the questions.
Without fundamentals, it is hard to satisfy the needs of the examinations. A few of such fundamentals are:
Familiarise yourself with the syllabus
Go through the standard books of all the subjects including NCERTs.
Stay updated with the current event and the best source for it is the newspaper.
Keep revising.
How to Improve Writing Skills for UPSC CSE Mains Exam?
Any candidate appearing in the UPSC CSE Mains exam or willing to appear in the mains exam in the future must have to inculcate a few important details in their schedule. Such details are provided below.
Understand the Exam Requirements
It is important to thoroughly familiarize with the exam's requirements and stick to them while preparing for the examination.
Understand the structure, word limits, and evaluation criteria for each section, such as the essay, general studies papers, or optional subjects.
This knowledge will enable you to structure your writing style and content accordingly.
Analyze Previous Year Questions
It's important to understand the pattern and style of the previous year's questions.
Analyzing these questions provides insights into the examiners' expectations. It helps you structure your answers effectively, ensuring relevance and clarity.
Practice Answer Writing
Regular practice of answer writing is also important for the UPSC CSE and one of the most reliable sources to begin their answer writing practice is the previous year's paper.
Choose Previous Years' question papers and practice writing concise answers within the given time frame. Focus on developing a suitable argument, providing relevant examples, and structuring your answers effectively.
Work on Clarity and Precision
Clear and precise writing leaves a lasting impact on the reader and in this case, on the examiner.
Avoid using difficult sentences or fancy words. Go for simplicity and clarity of expression.
Use precise and specific language to convey your ideas effectively, avoiding unnecessary verbosity.
Develop Analytical Skills
The UPSC exam demands analytical thinking and the ability to critically evaluate various perspectives.
Cultivate your analytical skills by analyzing complex situations from multiple angles, always think about their pros and cons. For that, you can use the reference of current events.
Create a Strong Introduction and Conclusion
An impactful introduction sets the tone for your essay or answer, while a well-crafted conclusion leaves a lasting impression.
Use the introduction to provide context and a clear thesis statement. The conclusion should summarize your main points and leave the reader with a thought-provoking idea or a call to action.
Read Model Answers
Refer to model answers of candidates who already have cleared the examination. Analyze their structure, language, and approach to answer writing.
Take note of how they effectively address the question, present arguments, and provide supporting examples. Incorporate these techniques into your own writing style while maintaining originality.
Time Management and Revision
Effective time management is important during this exam. Practice writing within time limits to improve speed without compromising on quality.
Always keep some time aside for revision to identify and rectify errors, improve sentence structure, and ensure overall coherence. A well-revised answer helps improve clarity and readability.
Work on Personality Development
Always keep yourself indulge in important discussions and change your perspective from a common man to a civil servant but do not fall into the trap of irrelevant discussions.
When it comes to the UPSC CSE, it's not just about having theoretical knowledge of the subjects in the mains. They also seek candidates who can think critically, solve problems, and approach issues from an administrative standpoint.
Developing these skills requires active participation in discussions about important societal problems and national or international topics.
By indulging yourself in these discussions and seeking solutions, you can cultivate a problem-solving mindset and an administrative perspective.
Join a Model Answer Writing Program
Joining a model answer writing program can greatly benefit your preparation for the UPSC Civil Services Mains Exam.
These programs provide valuable guidance and support in favor of your writing skills.
By participating in such a program, you gain access to expert mentors who offer insights into effective answer writing techniques, proper structuring of answers, and providing relevant examples and evidence.
In case you are looking for a program where you can work on improving your answer writing, get proper evaluation and guidance, you can choose the ClearIAS model answer writing program as it is very friendly to candidates and provides valuable guidance.
Article Written By: Priti Raj