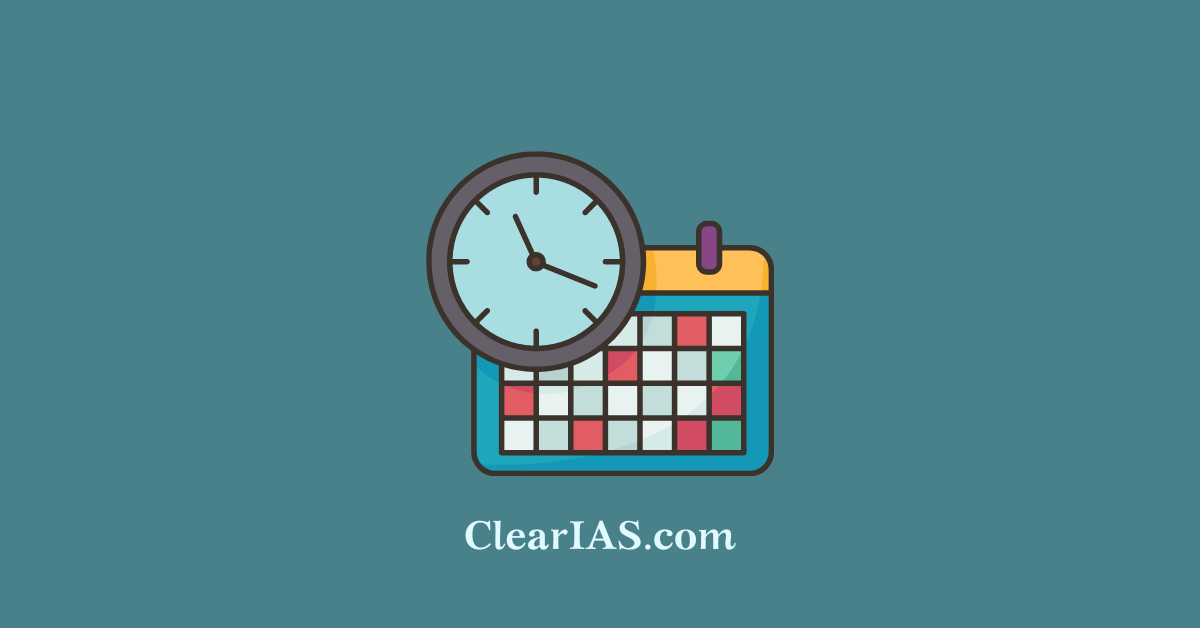 Do you also often think about how to make a study plan for the UPSC CSE exam and what details should be kept in mind while creating a routine? Get your answers here with a sample daily study routine to get an idea.
Preparing for the UPSC (Union Public Service Commission) CSE exam can be challenging, but with a well-structured study plan, you can easily plan to cover the vast syllabus and increase your chances of success.
A well-structured study plan holds immense potential to keep you on track.
So, a well-thought-out study plan is a necessity for anyone aspiring to succeed in this highly competitive examination.
How to Make a Study Plan for the UPSC CSE Exam?
Before creating a study plan for UPSC it is important to understand exam requirements and your potential. Follow this article to get a step-by-step guide to creating Your Study Plan for UPSC IAS Examination.
Step 1: Know Your Syllabus
Start by understanding the complete UPSC CSE syllabus. Divide it into different subjects and topics.
This will provide you with a clear picture of what needs to be covered. The syllabus is your roadmap, so make sure you're aware of its details.
Step 2: Set Realistic Goals
Set clear and achievable goals for each day, week, and month. Break down your preparation into manageable shifts.
For instance, aim to complete a specific chapter or topic within a certain time frame.
Step 3: Allocate Time Wisely
Allocate time to each subject based on its weightage and your proficiency level.
Dedicate more time to subjects you find challenging and less time to those you're confident about. Ensure a balance among subjects to maintain comprehensive coverage.
Step 4: Create a Timetable
Create a timetable that includes slots for different subjects and topics. Mix subjects to prevent monotony and maintain engagement.
Include breaks for relaxation in your study routine to avoid burnout.
Step 5: Emphasize Current Affairs
Stay updated with current affairs, as they hold significant weightage in both Prelims and Mains.
Do not forget to take notes of important information and try to keep the notes short yet effective.
Step 6: Regular Revision
Place a time slot in your timetable for regular revision to reinforce your learning.
Revision is essential for retaining information and enhancing long-term memory.
Step 7: Practice Mock Tests
Integrate regular mock tests into your study plan. UPSC Mock tests help you understand your progress, identify weak areas, and manage time during the actual exam.
Analyze your performance after each test, focus on your weak areas, and try to improve it.
Step 8: Adapt and Modify
Be flexible with your study plan. If you find certain subjects taking longer than expected, adjust your schedule accordingly.
Regularly evaluate your progress and make necessary modifications.
Step 9: Stay Positive and Persistent
Preparing for the UPSC exam is a marathon, not a sprint. Stay positive, stay persistent, and maintain a growth mindset.
Don't get discouraged by setbacks; view them as opportunities to learn and improve.
Sample Daily Study Plan for UPSC Preparation
Here, we are providing you with a sample routine, it is advised to take inspiration from here and create your own study plan considering your convenience and strength. Remember, every person is different, so their routine and capacity.
Each study plan should be created by keeping their strength and weaknesses in mind. But make sure whatever you decide, always be consistent. Consistency is the key here. It's advisable to pick two different static subjects to study on a particular day.
| Time | Activity |
| --- | --- |
| Morning: | |
| 6:00 AM – 6:30 AM | Wake up, freshen up, light stretching/exercise |
| 6:30 AM – 7:00 AM | Morning meditation/mindfulness practice |
| Study Session 1: | |
| 7:00 AM – 8:30 AM | Prelims Preparation (Current Affairs or static topic) |
| Break: | |
| 8:30 AM – 8:45 AM | A light snack, stretching |
| Study Session 2: | |
| 8:45 AM – 10:15 AM | Prelims Preparation (Static topic) |
| Break: | |
| 10:15 AM – 10:30 AM | Quick relaxation, walk |
| Study Session 3: | |
| 10:30 AM – 12:00 PM | Prelims Preparation |
| Lunch Break: | |
| 12:00 PM – 1:00 PM | Nutritious lunch, proper break |
| Study Session 4: | |
| 1:00 PM – 2:30 PM | Mains Preparation (Answer writing or ethics) |
| Break: | |
| 2:30 PM – 2:45 PM | A light snack and relaxation |
| Study Session 5: | |
| 2:45 PM – 4:15 PM | Prelims Preparation (Second static subject) |
| Break: | |
| 4:15 PM – 4:30 PM | Short break |
| Study Session 6: | |
| 4:30 PM – 6:00 PM | Mains Preparation (Optional subject or answer writing) |
| Evening Routine: | |
| 6:00 PM – 6:30 PM | Relaxation activities (reading, music, walking) |
| 6:30 PM – 7:00 PM | Dinner and unwind |
| Study Session 7: | |
| 7:00 PM – 8:30 PM | Prelims Preparation (Note making) |
| Review and Planning: | |
| 8:30 PM – 9:30 PM | Review, revise notes, and plan for the next day |
| Relaxation: | |
| 9:30 PM – 10:00 PM | Calming activity (reading, meditation, stretching) |
| Sleep: | |
| 10:00 PM | Aim for 7-8 hours of sleep for rest and rejuvenation |
Conclusion
Creating an effective study plan for the UPSC Civil Services Exam requires planning, commitment, and consistent effort.
By following this step-by-step guide and customizing it to your preferences and strengths, you can manage the entire UPSC syllabus with confidence.
Remember, success is the result of a combination of hard work, strategic planning, and unwavering determination.
Also read: How to start IAS preparation – The Beginner's Guide to Clear IAS Exam
Article Written By: Priti Raj