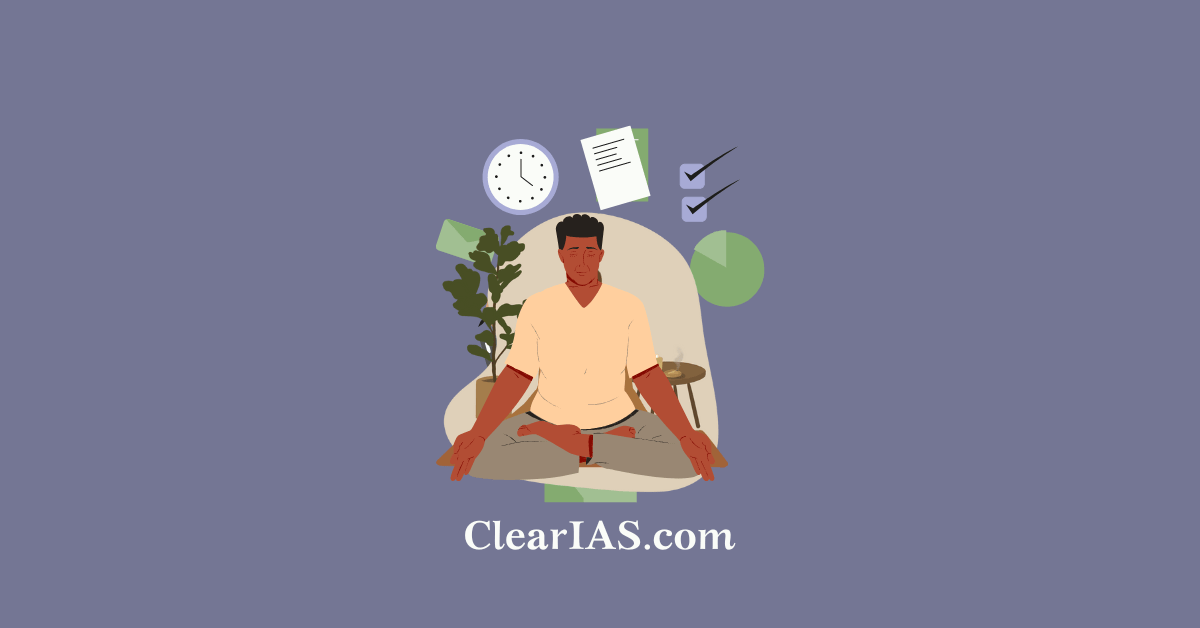 UPSC exams can be tiring sometimes. Let's understand how to stay motivated during the UPSC CSE (Civil Services Examination) preparation journey.
"Success is not final, failure is not fatal: it is the courage to continue that count." – Winston Churchill
Every year, the UPSC Civil Services Examination (CSE) is conducted by the UPSC to recruit potential aspirants for civil services.
The UPSC preparation journey can be exhausting but it's rewarding too. It demands months of dedicated effort, extensive knowledge, and consistent determination.
Though the journey is tough, the right approach to maintaining motivation can make a big difference.
In this article, we will get into strategies that can help you stay motivated throughout your UPSC CSE preparation journey.
How to Stay Motivated During UPSC CSE Preparation Journey?
The UPSC preparation journey is a little longer and sometimes it turns to longer than expected. In that situation, aspirants can easily get into the trap of self-doubt and demotivation.
In such a situation it is important to keep their chin up and keep the spirit of fighting alive in them.
To stay motivated for a longer time, each aspirant needs to believe that they have the ability and they can work on it to make it sharpen.
Let's discuss a few acts that will also help you to stay motivated during this preparation journey.
Set a Clear Goal
To avoid such disheartened, it is important to define your goal. Ask a question to yourself, What does UPSC mean to you, and then start this journey.
Always visualize the end result – becoming a civil servant and contributing to the nation.
Now the next step from here should be breaking down this vision into smaller milestones, such as covering a specific portion of the syllabus or practicing papers. These smaller goals will make your progress tangible and keep you motivated as you achieve them.
Create a Realistic Study Plan
Design a study plan that works for you and not just a copy of some other person's schedule and make sure they are aligned with your strengths and weaknesses.
Remember, a plan that is too aggressive might lead to burnout, but one that's too relaxed will impact your progress negatively. So strike a good balance here. Allocate time to cover each subject, revise, and take breaks. Consistency is more important in this journey.
Celebrate Small Achievements
Do not cut off yourself from your small achievements, and don't wait until you clear the entire exam to celebrate. Appreciate your small victories along the way.
Completing a difficult chapter, or improving your speed in mock tests are all accomplishments worthy of celebration. Such milestones will keep your spirit high so do not make the mistake of neglecting them altogether.
"Perseverance is not a long race; it is many short races one after the other." – Walter Elliot
Stay Positive During this Process
Positive thinking plays a very important role in motivation. Surround yourself with positive and like-minded people, be it through supportive friends, inspirational books, or family.
Always remind yourself of your progress and the bigger picture. Replace negative thoughts with positive affirmations.
Do Experiments in Learning
In this UPSC CSE preparation journey, the same routine can lead to boredom, which in turn affects your motivation.
Combine your reading with watching educational videos, participating in group discussions with educated people, or even teaching what you've learned to someone else. This variety keeps your mind engaged and curious for more.
Take Physical and Mental Well-being Seriously
Remember that a healthy body supports a healthy mind. Regular exercise, a balanced diet, and sufficient sleep are essential for maintaining focus and motivation.
Add meditation or mindfulness practice to your routine to manage stress and anxiety effectively.
Connect with Like-minded Individuals
Join any online forums where you can interact with fellow UPSC aspirants. Sharing experiences, and knowledge can foster a sense of belonging and motivation.
Remember, you're not alone in this journey.
Track Your Progress
Always keep a record of your progress. Maintain a study journal to note down what you've learned, your progress, and your goals for the next study session.
Look back on your journey and appreciate your growth to keep yourself motivated.
Learn from Failures
In this preparation, setbacks are a part of the journey. Rather than getting disheartened, treat failures as an opportunity to learn and grow.
Analyze your mistakes, identify the areas of improvement, and change your strategy accordingly. Always try to bounce back with full potential.
Visualize Your Success
Keep imagining the moment when you achieve your goal and visualize yourself confidently walking into the exam hall, answering questions with precision, and emerging victorious.
This mental imagery can be a powerful motivator, pushing you to work harder.
"The only person you should try to be better than is the person you were yesterday."- Tony Robbins
Conclusion
Clearing the UPSC CSE is not merely a test of knowledge; it's a test of character, perseverance, and determination as well. Staying motivated is a challenge in this process, but by implementing these strategies, you can maintain your enthusiasm throughout the journey.
Remember, success is built on a foundation of small, consistent efforts. As long as you stay focused and positive, you are well on your way to making your dreams of becoming a civil servant a reality.
Article Written By: Priti Raj