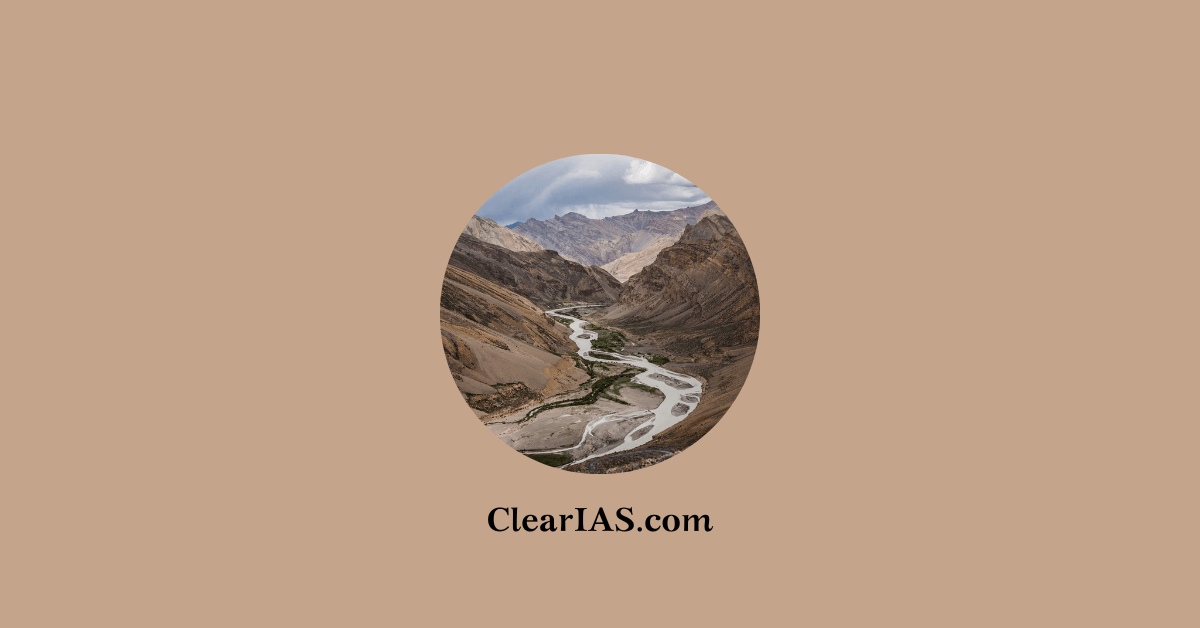 Which are the major mountain passes in India and the Himalayas? What are Mountain passes? What is the importance of passes? Read further to know more.
Mountain Passes in India and the Himalayas contribute to road connection and play a vital role in trade. India is a country with multiple passes. It is known as 'La,' which means 'pass' in Tibetan.
Some of the most important passes in India are the Karakoram Pass, Zoji La Pass, Rohtang Pass, and Diphu Pass. A Mountain Pass is a winding road that links two mountain ranges.
When land between areas of higher terrain is eroded or worn away by a glacier or stream, a mountain pass forms.
Mountain Passes
A mountain pass is a path that passes through or across a mountain range. Mountain passes between peaks can arise during the construction of a mountain range or as a result of glaciers, rushing water, or precipitation in the form of rain or snow.
At lower heights, it is referred to as a hill pass. Most pass tops are flat and formed like a saddle.
These might be little, high peaks or enormous valleys that span for miles. Passes are typically found near the headwaters of rivers supplied by rain and snowmelt. It does not need to be flat, but it must be much lower in elevation than the other mountains.
Passes in India
Mountain passes, also known as Himalayan passes, can be found in Jammu and Kashmir, Ladakh, Himachal Pradesh, Uttrakhand, and the northeastern provinces of India.
Due to the continuous nature of mountain ranges, mountain passes are notably present in Maharashtra, Kerala, and Tamil Nadu in the Western Ghats.
Major Passes in Leh-Ladakh
Major Passes in Leh-Ladakh include Chang La, Bara-Lacha La Pass, Khardung La Pass, Imis La etc.
Chang La
Chang La provides access to Pangong Lake from Leh.
It is one of the highest motorable passes, with an elevation of 17,590 feet.
The Defence Research and Development Organization is located near Chang La.
You are not recommended to spend too much time there due to the low oxygen level.
Bara-Lacha La Pass
The Bara-Lacha La is a well-known mountain pass in Ladakh.
This Himalayan Zanskar Range pass connects Lahual and Ladakh and is regarded as the "Gateway to Ladakh."
This wonderful location has always been a historical monument, once functioning as a vital trading route.
Khardung La Pass
Khardung La is a Tibetan mountain range.
Border Roads Organizations are responsible for overseeing it.
It serves as a gateway to valleys like Nubra Valley.
It is crucial in the transport of supplies to the Siachen Glacier.
Imis La
It connects Ladakh with Tibet.
This is the beginning of the Hanle Valley, which is historically significant in terms of Buddhism.
The Zoji La Pass
This pass, located in Dras, connects three areas:
Kashmir Valley in the west, Indus Valley in the east, and Suru Valley in the north-east
Owing to significant snowfall, construction of the Zoji La Tunnel began in 2020, making traffic even easier.
Tanglang La Pass
Tanglang La Pass is one of Ladakh's most stunning high-altitude mountain routes, rising 5,328 meters (17,480 ft).
This high-altitude mountain pass in Ladakh is around 49 kilometers long and connects Debring with Gya.
Major Passes in Jammu and Kashmir
Major Passes in Jammu and Kashmir consist of  Karakoram Pass, Pir Panjal Pass, Banihal Pass, Burzail Pass, and Pensi La.
Karakoram Pass
It is located in the Karakoram Mountain range and connects India and China.
It performed an important historical role by allowing travelers to cross these mountain ranges.
Because of its desolate and uneven terrain, this pass is highly unpredictable.
Pir Panjal Pass
It connects the districts of Kashmir Valley and Rajouri.
The Mughal Road runs across this pass.
It is an essential link between India and Pakistan.
Banihal Pass
In 1956, a trail from Jammu to Srinagar passed this mountain pass, and Jawahar Tunnel was built beneath it.
Later on, the same path runs through Jawahar Tunnel.
This pass is no longer valid as a result.
The Zaban Glacier is located near Banihal Pass.
Burzail Pass
This pass connects the Astore Valley in Kashmir with the Deosai Plains in Ladakh.
Pensi La
Pensi La is a mountain pass that connects Kashmir with Kargil.
It can be found throughout the Himalayan range.
Major Passes in Himachal Pradesh
Major passes in Himachal Pradesh are Shipki La, Rohtang Pass, Bara-Lacha La, and Debsa Pass.
Shipki La
It connects the Kinnaur and Tibet districts. Non-residents are not permitted to use this pass.
It is mainly utilized for short-distance commerce between India and Tibet.
The Rohtang
It marks the boundary between Kullu Valley and Lahaul-Spiti.
It is one of the most congested passes due to the short opening window, which is normally from May to October.
Bara-Lacha La
It crosses the Zanskar mountain to connect Lahaul and Leh.
The Bhaga river is a tributary of the Chenab river on the Manali side of the pass.
Debsa Pass
This road connects, Kullu, and Spiti.
A party of mountaineers led by Joydeep Sircar discovered this pass in 1995.
Major Passes in Uttarakhand
Major Passes in Uttarakhand include Mana Pass, Niti Pass, Lipu Lekh Pass, Traill's Pass, etc.
Mana Pass
It connects the Mana district of Uttarakhand to Tibet.
This pass is part of the Nanda Devi Biosphere Reserve.
It is situated at an elevation of around 18,748 feet.
Niti Pass
It also links the Indian states of Uttarakhand and Tibet.
It was previously an important link connecting Tibet to the rest of the world, but it has been blocked since 1962.
Lipu Lekh
It serves as a tri-junction between Uttrakhand, Tibet, and Nepal.
Recently, there have been significant disagreements concerning the territorial region of several sections of this Nepal-India route.
It was India's first border crossing that permitted trade with China.
The Manasarovar Yatra passes across this mountain pass.
Traill's Pass
It is located in the state of Uttarakhand.
It is located at the end of the Pindari glacier and connects the Pindari and Milam valleys.
This pass is incredibly difficult and steep.
Mangsha Dhura
It links the Indian states of Uttarakhand and Tibet.
It is also significant during the Manasarovar Yatra.
Muling La
It is situated at an elevation of 5669 meters in the Great Himalayas, north of Gangotri.
This seasonal crossing connecting Uttarakhand and Tibet is snow-covered throughout the winter.
Major Passes in the North Eastern States
Major Passes in North Eastern states are Nathu La, Bom Di La, Jelep La, Diphu Pass etc.
Nathu La
It connects Sikkim with Tibet.
It is a gathering place for Indian and Chinese army troops, making it one of the sites where the two countries engage.
Indian citizens must first obtain a permit to access this pass.
Bom Di La
It connects Arunachal Pradesh to Tibet, specifically Lhasa.
It is situated at an altitude of 8,556 feet.
Jelep La
It is an important trading pass because of the less uneven pathways between Sikkim, India, and Tibet.
It has been closed to the public since the Sino-Indian War in 1962.
Diphu Pass
Diphu Pass is situated on the MacMohan Line, which separates Tibet from India's northeast.
It is a three-country boundary shared by India, China, and Myanmar.
Dihang La
In the northeast, this pass connects the states of Arunachal Pradesh and Burma.
It is approximately 4000 meters above sea level.
Pangsau Pass
It is located in the state of Arunachal Pradesh.
This pass connects Arunachal Pradesh with Burma.
Pangsau Pass, also known as Pan Saung Pass, is located at a height of 3,727 feet on the summit of the Patkai Hills on the India-Burma (Myanmar) border (1,136 m).
The pass provides one of the most direct ways into Burma from the Assam plains.
It is named after Pangsau, a Burmese hamlet located two kilometers east of the pass.
Major Passes in the Western Ghats
Major Passes in the Western Ghats include  Bhor Ghat, Thal Ghat, Palakkad Ghat, Shencottah gap, etc.
Bhor Ghat
This pass connects three different locations:
Between Palasdari and Khandala, there is a railway line.
The route between Khopoli and Khandala by road
It is located in the state of Maharashtra.
Thal Ghat
It is located on Mumbai-Nashik Road.
The railway line that travels through this pass is one of the steepest in India.
It connects Kalyan with Kasara in Maharashtra.
Palakkad Ghat
It links the Indian states of Tamil Nadu and Kerala.
Another name for it is the Palakkad Gap.
It's a tiny gap at an elevation of 460 feet.
The Pal Ghat runs through the Nilgiri and Anaimalai Hills.
Shencottah gap
It is found in the Western Ghats.
It connects the city of Madurai in Tamil Nadu with the district of Kottayam in Kerala.
Shencottah Gap, the second-largest gap in the Western Ghats, is located five kilometers from town and connects Shencottah and Punalur.
Road-rail lines pass through this gap, which connects Shencottah and Punalur.
Importance of Passes
People regularly use passes to get across mountainous mountain ranges since it is the most convenient option.
As a result, throughout history, they have played a key role in human movement, trade, and settlement.
Passes are ideal locations for villages or defensive outposts since they are often the only level territory in a mountainous area.
From this vantage point, a pass is also easier to defend against threats or foes.
Passes act as a link between cultures that are separated by mountains in several places of the world.
The Khyber Pass, which goes over the Hindu Kush mountains and connects Pakistan and Afghanistan, has been an important trading route between Central and South Asia for thousands of years. It now connects Afghanistan's and Pakistan's modern cities of Kabul and Peshawar.
Conclusion
If a national border runs across a mountain range, there is frequently a pass through the mountains, as well as a border control or customs station and maybe a military installation. Passes, in addition to providing a reasonably straightforward route between valleys, also provide the shortest descent between two mountain tops.
As a result, tracks frequently cross at a pass, making them helpful even while traveling between a summit and the valley bottom. Snowdrifts can be a hazard on some mountain passes above the treeline in the winter.
This might be avoided by raising the road a few meters above ground level, allowing snow to blow off.
Article Written By: Atheena Fathima Riyas