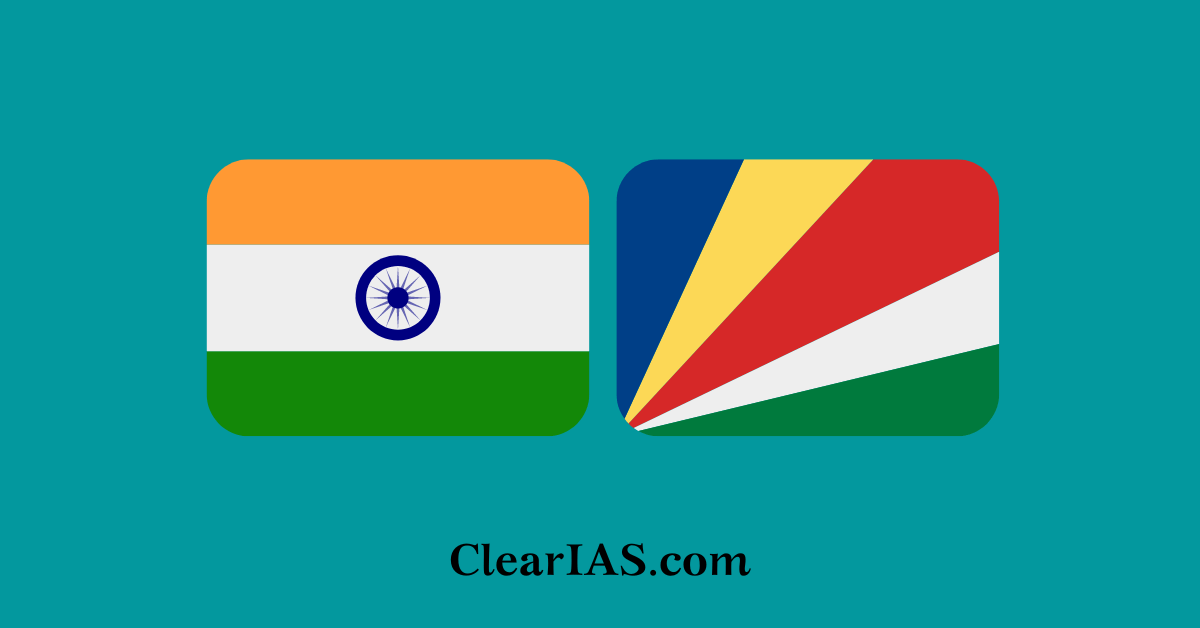 India-Seychelles has traditionally been close and friendly. What are the recent developments in the India-Singapore relationship? Read here to know more.
Recently, Prime Minister Narendra Modi held a high-level virtual event with the President of Seychelles Wavell Ramkalawan on April 9, 2021. There were 10 high-impact community projects were inaugurated.
Read here to know about the India-Seychelles relations.
Learn bilateral relations of India with neighbouring countries (Click here).
India – Seychelles
India-Seychelles relations have been marked by close friendship, understanding, and cooperation. Diplomatic relations were established with Seychelles following its independence in 1976, but the links date back even further.
In 1979, an Indian Mission was established in Victoria, with the High Commissioner based in Dar-es-Salaam and concurrently accredited to Seychelles.
The first resident Indian Mission to Seychelles was established in Victoria in 1987, while Seychelles established its resident mission in New Delhi in early 2008.
Developmental Assistance
The various development assistance programmes extended to Seychelles under ITEC and IAFS are an important aspect of bilateral cooperation. Over 1% of the local population are ITEC alumni, having benefited from various training courses offered through the ITEC programme.
In April 2011, the IT Centre for Excellence, established in Victoria with GOI assistance, was inaugurated at Mont Fleuri, Mahe. Since the early 1980s, credit lines have been extended.
As part of the Pan African e-Network project between India and the African Union, India has been instrumental in establishing communication facilities throughout Seychelles.
Indian Community
India has a strong connection with Seychelles because Indian nationals were among the first to settle on the island, mostly from Tamil Nadu and later from Gujarat, as traders, labourers, construction workers, and, more recently, professionals.
The number of people of Indian origin exceeds 10,000, which is significant in a country with a total population of 96,000. (June 2017). Furthermore, there are 11,000 Indian citizens with Gainful Employment Permits, the majority of whom are construction workers, shop assistants, and a few professionals.
Defence Cooperation
India has always been there to assist the country in times of crisis. In 1986, the Indian navy conducted "Operation Flower are Blooming" to prevent a coup and assist the island in achieving political stability.
The Indian navy has sent maritime surveillance aircraft to Seychelles to monitor the island nation's Exclusive Economic Zone. Furthermore, Joint Military Exercise Lamitye has been held since 2001.
India and Seychelles are collaborating to meet the island nation's need for maritime security in the Indian Ocean Region (IOR) and to make the IOR safe for development and trade. Apart from cooperation in counter-piracy and counter-terrorism on high seas, which is critical for India's extended maritime security.
Since 2015, India and Seychelles have developed a cooperation agenda that includes joint anti-piracy efforts as well as enhanced EEZ surveillance and monitoring to prevent intrusions by potential economic offenders engaged in illegal fishing, poaching, human trafficking and drug. The operationalization of the Coastal Surveillance Radar System in 2016 exemplified India-Seychelles cooperation (CSRS).
India – Seychelles: Challenges
India is concerned about Seychelles' recent development of providing refuelling and docking facilities to Chinese ships departing from the Djibouti naval base. Furthermore, China has made significant investments in several infrastructure projects, overshadowing India's influence in the island nation.
Assumption Island naval base
The Seychelles government leased Assumption island to the Indian Navy in 2015 with the intention of establishing an overseas base of operations there. In 2015, India proposed establishing a joint naval port on the remote Seychelles island of Assumption.
However, India's proposal was met with strong opposition from Seychelles' political parties. Opponents argue that Seychelles should stay out of the brewing India-China conflict in the Indian Ocean.
During a recent visit to India, President of Seychelles Danny Antoine Rollen Faure agreed to collaborate on a project to develop a naval base on Assumption Island based on mutual interests, just days after Seychelles cancelled a pact with India to jointly develop a naval base there.
The visit's highlight is positive agreement on 'Assumption Island.' Following a discussion, both countries agreed to be equally engaged and to continue working together while keeping each other's interests in mind.
India must continue to work in areas of mutual interest such as counter-terrorism and piracy and must resolve contentious issues through dialogue. The priority for India should be to engage with the island nation and counter any economic advantage that China may offer.
Conclusion
For materialising India's superpower aspirations, better relations with Seychelles are the need of the hour. Proactive action by the government and various stakeholders involved can prove to be fruitful in this regard.
Article Written by: Remya