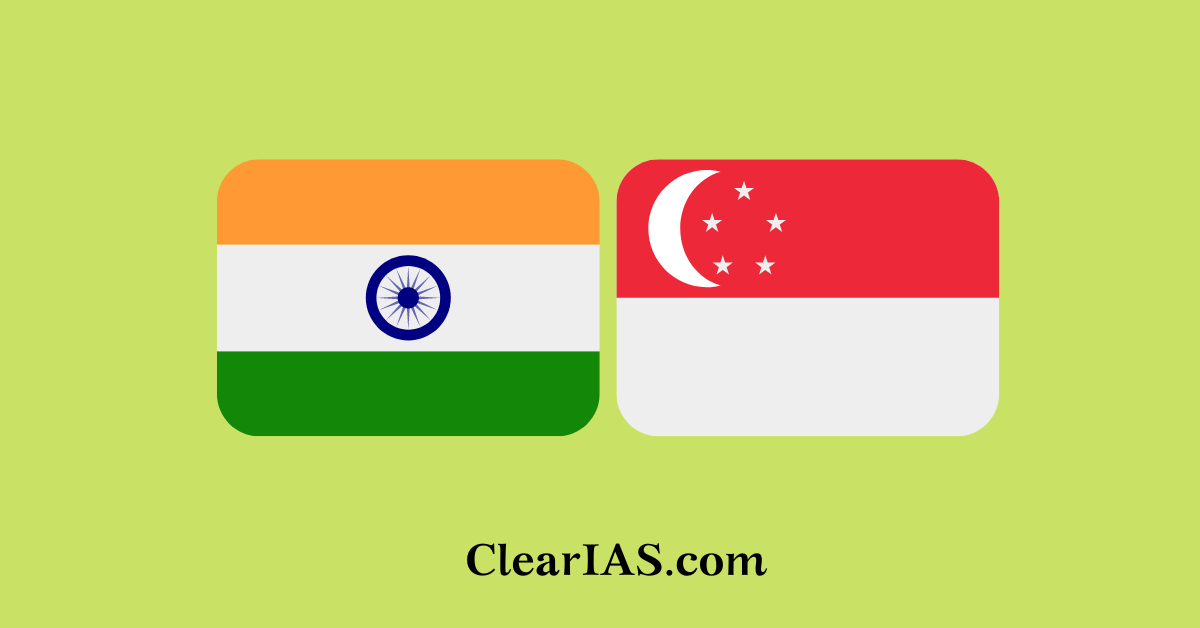 India and Singapore have maintained close and friendly relations traditionally. What are the recent developments in the India-Singapore relationship? Read here to know more.
The close ties between India-Singapore have a history rooted in strong commercial, cultural and people-to-people links.
India was one of the first countries to recognize Singapore in 1965. Read here to know more.
Learn bilateral relations of India with neighbouring countries (Click here).
Facts about Singapore:
Singapore has been ranked 2nd in the most powerful passport report 'Henley Passport Index 2021'.
Singapore is the only country in Asia with an AAA sovereign credit rating from all major rating agencies.
The first UN treaty to be named after Singapore, the United Nations Convention on International Settlement Agreements Resulting from Mediation (or, Singapore Convention on Mediation) recently came into force.
Recently, the Hawker Culture in Singapore was inscribed on the UNESCO Representative List of the Intangible Cultural Heritage of Humanity at the 15th session of the Intergovernmental Committee (IGC).
India-Singapore
The relationship between India- Singapore extends back to the Cholas. The more recent association is attributed to Sir Stamford Raffles, who established a trading station in Singapore on the way of the Malacca Straits in 1819, which became a British Indian colony ruled from Calcutta (1830-1867). The colonial connection can be seen in the similarities of institutions and practises the use of English and the existence of a sizable Indian minority.
India's 1990s economic reforms and Look East policy presented possibilities to develop a new framework for collaboration, which includes the 2005 Comprehensive Economic Cooperation Agreement (CECA).
This strong connection was raised to a Strategic Partnership during Prime Minister Modi's November 2015 visit, when he signed a Joint Declaration on a Strategic Partnership with Singapore Prime Minister Lee Hsien Loong to commemorate the 50th anniversary of diplomatic relations.
The 5-S Plank
EAM's (External Asset Managers) visit to Singapore in August 2014 resulted in adopting the "5-S Plank," which designates five areas of collaboration to strengthen bilateral ties. The relationship is directed at the 5S Plank.
Scale up Trade & Investment.
Speed up Connectivity.
Smart Cities and Urban Rejuvenation.
Skill development.
State focus.
Defence Cooperation
An overall framework for bilateral defence cooperation is provided by the Defence Cooperation Agreement (DCA), which was signed in October 2003 and the improved DCA, which was signed during PM Modi's visit in November 2015.
The 25th SIMBEX "Singapore-India Maritime Bilateral Exercise" had taken place from the 10th to the 21st of November 2018 off the coasts of the Bay of Bengal and the Arabian Sea. SIMBEX is a series of naval exercises between the Indian Navy and the Navies of the Republic of Singapore. The acronym 'SIMBEX' stands for Singapore-India Maritime Bilateral Exercise. SIMBEX is celebrating its Silver Jubilee this year. To commemorate the momentous event, both navies are conducting exercises across a wide geographic area.
Both countries successfully completed the 27th edition of the Singapore-India Maritime Bilateral Exercise (SIMBEX) in November 2020, as well as the second edition of the Singapore-India-Thailand Maritime Exercise (SITMEX).
The Indian Navy and the RSN have a long history of professional ties. It comprises exchange programmes, staff presentations, and course cross-registration.
The bilateral agreement for naval cooperation between India-Singapore was recently signed during the second Defence Ministers' Dialogue in Delhi. This brings the two sides' accords in all military arms to a close; the Air Force Bilateral Agreement was signed in 2007, and the Army Bilateral Agreement was signed in 2008.
The arrangement allows Indian navy ships to receive logistical assistance, including refuelling, at Singapore's Changi naval base, which is located near the disputed South China Sea. It includes greater maritime security cooperation, joint exercises, temporary deployments in each other's naval facilities, and mutual logistics assistance.
The naval logistics pact is India's first pact of that kind with a country located east of Malacca, which is one of the world's most significant maritime lanes. Economically, it is regarded as a crucial choke point for global commerce, and China regards it as a danger to its energy security. This would allow India to have a stronger presence in the contentious waters of the South China Sea.
India's presence in Chahabar port and the Changi Naval Base in Singapore may enable India to emerge as a net security provider in the Indian Ocean region, allowing the navy to conduct lengthy deployments in the area.
Significance of Singapore for India
India-Singapore has a wide-ranging relationship that is as strategic as well as economic.
Singapore is an important investment source as well as a destination for Indians. Singapore was the first country with which India signed a Comprehensive Economic Cooperation Agreement, which is currently being upgraded. Singapore has established strong ties with Indian states such as West Bengal, Rajasthan, Andhra Pradesh, and Telangana. As a result, economic cooperation is growing.
Both countries are seeking to explore other areas such as tourism and skill development.
Singapore is also an essential partner in many areas of India's development priorities, including smart cities, urban solutions, the financial sector, skills development, ports, logistics, aviation, and industrial parks.
Singapore's role in enhancing India's tie with ASEAN
Singapore, being one of ASEAN's founding members, plays a critical role in sustaining regional peace and security, as well as supporting ASEAN's goal of creating and fostering development and prosperity. When Singapore joined ASEAN, it was an obligation since it needed to establish its credibility as an independent nation and produce additional trade, but Singapore later evolved to a particular level in comparison to the rest of the ASEAN countries. Slowly, it grew to the point that Singapore began giving trading posts and capital entrepreneurship. 88 Singapore backed the establishment of the ASEAN Free Trade Zone.
Singapore has been influential in speaking her opinion in ASEAN, which has resulted in India getting the dialogue partnership in ASEAN in 1995 before India was only a sectoral conversation partner. Singapore was also instrumental in bringing India and the ASEAN countries together.
It is worth repeating that the signing of the CECA with Singapore was a significant step forward for both countries. Singapore supports India's ambition to become a major and prominent participant in the Southeast Asian region, and in order for India-ASEAN relations to be fruitful, Singapore is more than happy to act as a go-between.
In the international arena, India has a close working relationship with Singapore, and a number of regional mechanisms connect these two countries together, including ASEAN, the ASEAN Regional Forum (ARF), ASEAN plus three, the East Asia Summit, and the ASEAN Defence Ministers Meeting (ADMM) Plus. Singapore has vigorously backed India's expanded geostrategic influence in ASEAN, as well as India's permanent membership in the United Nations Security Council.
Article Written by: Remya