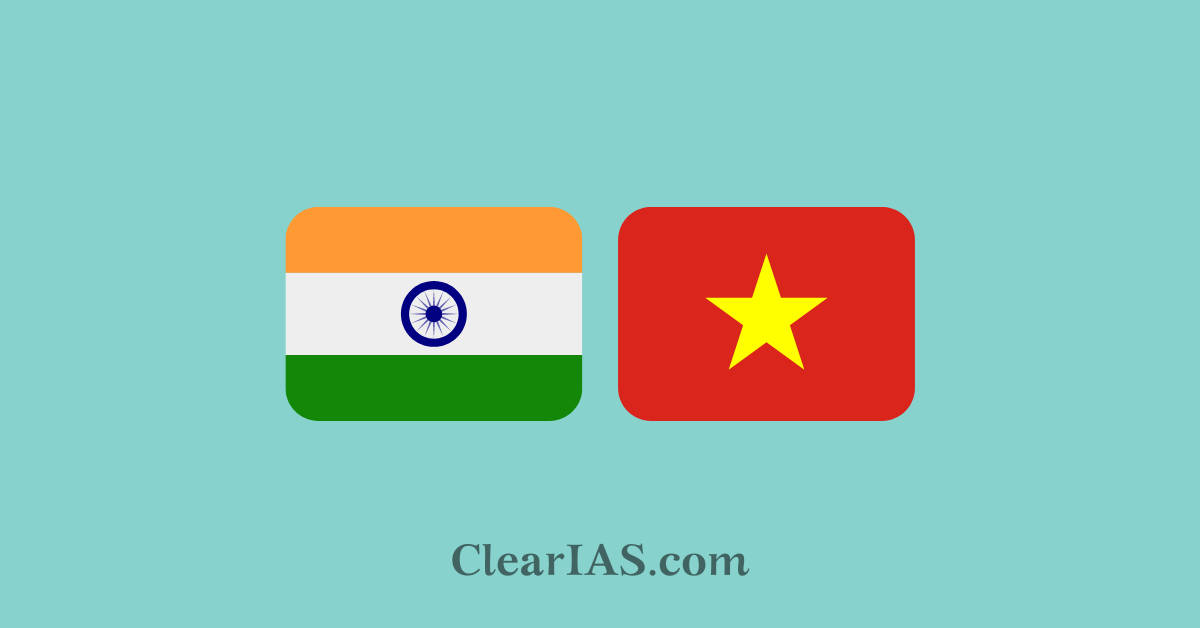 India-Vietnam relations are marked by growing economic and commercial engagement. Read here to know more about the bilateral engagements.
Indian Defence Minister visited Vietnam, where he signed some Defence Agreements, which will significantly enhance the scope and scale of existing defense cooperation.
India and Vietnam are marking 50 years of the establishment of bilateral diplomatic relations.
History of India-Vietnam relations
India-Vietnam relations have been exceptionally friendly and cordial since their foundations were laid by the founding fathers of the two countries – President Ho Chi Minh, President Rajendra Prasad, and Prime Minister Nehru.
The traditionally close and cordial relations have their historical roots in the common struggle for liberation from foreign rule and the national struggle for independence.
Pandit Jawaharlal Nehru was one of the first visitors to Vietnam after its victory against the French at Dien Bien Phu in 1954.
President Ho Chi Minh came to India in February 1958 and President Rajendra Prasad visited Vietnam in 1959.
India was the Chairman of the International Commission for Supervision and Control (ICSC) which was formed to implement the 1954 Geneva Accords and facilitate the peace process in Vietnam.
India supported Vietnam's independence from France, viewing it as being similar to India's struggle against British colonization.
India also opposed the American involvement in Vietnam was of 1955- Prime Minister Nehru emphasized that it will be a mistake for the US to get involved.
India established diplomatic relations with North Vietnam on 7 January 1972, a year before the US withdrawal from Vietnam and three years before the Fall of Saigon in 1975.
India supported the reunification of Vietnam and the two countries have maintained friendly relations.
Vietnam is an important regional partner in South East Asia. India and Vietnam closely cooperate in various regional forums such as ASEAN, East Asia Summit, Mekong Ganga Cooperation, and Asia Europe Meeting (ASEM) besides UN and WTO.
India-Vietnam Economic and trade relations
India granted "Most Favoured Nation" status to Vietnam in 197.
Both nations signed a bilateral trade agreement in 1978 and the Bilateral Investment Promotion and Protection Agreement (BIPPA) on 8 March 1997.
In 2003, a free trade agreement was negotiated and in 2010 the ASEAN-India Free Trade Agreement came into effect.
India is Vietnam's 10th largest trading partner, while Vietnam is India's 15th largest trading partner and 4th largest in ASEAN after Singapore, Indonesia, and Malaysia.
Bilateral trade has increased rapidly since the liberalization of the economies of both Vietnam and India.
Bilateral trade between India and Vietnam has been declining by 22.47% from the previous fiscal years largely due to disruptions caused by the COVID-19 pandemic.
Major export commodities from India are machinery and equipment, seafood, pharmaceuticals, cotton of all kinds, automobiles, textiles and leather accessories, cattle feed ingredients, chemicals, plastic resins, products of chemicals, fibers of all kinds, steel of all kinds, fabrics of all kinds, ordinary metals and jewelry & precious stones.
The main items of imports from Vietnam are mobile phones & accessories, computers, and electronics hardware, machinery and equipment, chemicals, rubber, ordinary metals, wood and wooden products, fibers of all kinds, pepper, means of transport, products of steel, coffee, footwear, products of chemicals and polymers and resins.
The bilateral foreign investments between the two countries have also been on the rise.
The main industries India has investments in include energy, mineral exploration, agro-processing, sugar, tea, coffee manufacturing, agro-chemicals, information technology, and auto components.
Vietnam had 6 active projects in India with a total estimated investment of $28.55 million as of 2020.
Vietnam's investments in India have primarily been in pharmaceuticals, information technology, chemicals, and building materials.
Oil exploration:
ONGC Videsh, the international subsidiary of Indian government-owned Oil and Natural Gas Corporation (ONGC), began operating in Vietnam in 1988.
It was awarded an exploration license for Block 6.1.
Block 6.1 is spread over a 955 km2 area in the Nam Con Son Basin of the South China Sea and has two producing fields – Lan Tay and Lan Rosneft.
ONGC Videsh owns a 45% in Block 6.1 and its share of condensate and oil equivalent gas production from the block was 1.33 million tonnes in 2020–21.
India-Vietnam Strategic Partnership
India and Vietnam agreed to strengthen their strategic partnership in line with India's Indo-Pacific Oceans Initiative (IPOI) and the ASEAN's Outlook on Indo-Pacific to achieve shared security, prosperity, and growth for all in the region.
India and Vietnam are both members of the Mekong–Ganga Cooperation, created to develop and enhance close ties between India and the nations of Southeast Asia.
Vietnam has supported India's bid to become a permanent member of the U.N. Security Council and join the Asia-Pacific Economic Cooperation (APEC).
India and Vietnam have also built strategic partnerships, including extensive cooperation in developing nuclear power, enhancing regional security, and fighting terrorism, transnational crime, and drug trafficking.
Defence Cooperation
Defence Cooperation has emerged as a significant pillar of our strategic partnership with Vietnam.
Vietnam is interested in India's Akash surface-to-air systems and Dhruv advanced light helicopters and Brahmos missiles.
Apart from this, the defence relations include capacity building, dealing with common security concerns, training of personnel, and cooperation in defence R&D.
Indian Naval Ship INS Kiltan undertook a visit to Ho Chi Minh City in 2020 to deliver flood relief materials for the people of Central Vietnam (Mission Sagar III).
It also participated in the PASSEX Exercise with the Vietnam People's Navy.
Recent developments in India-Vietnam relations
India-Vietnam Defence Partnership towards 2030: The Defence Ministers signed the 'Joint Vision Statement on India-Vietnam Defence Partnership towards 2030' to bolster bilateral defense cooperation.
A USD 500 million Defence Line of Credit has been extended to Vietnam with the implementation of the projects under it adding substantially to Vietnam's defense capabilities and furthering the government's vision of 'Make in India, Make for the World.'
A Memorandum of Understanding (MoU) on Mutual Logistics Support has been signed.
Way forward
Vietnam has a key role to play in India's act east policy which looks to expand engagement that is mutually positive and which ensures inclusive growth for all in the region.
Strengthening ties with Vietnam will eventually lead a step toward the realization of the SAGAR (Security and Growth all in the region) initiative.
India Vietnam partnership is important for boosting the blue economy of the indo pacific region as well as for security.
Previous year question
In the Mekong-Ganga Cooperation, an initiative of six countries, which of the following is/are not a participant/ participants? (2015)
Bangladesh
Cambodia
China
Myanmar
Thailand
Select the correct answer using the code given below:
(a) 1 only
(b) 2, 3 and 4
(c) 1 and 3
(d) 1, 2 and 5