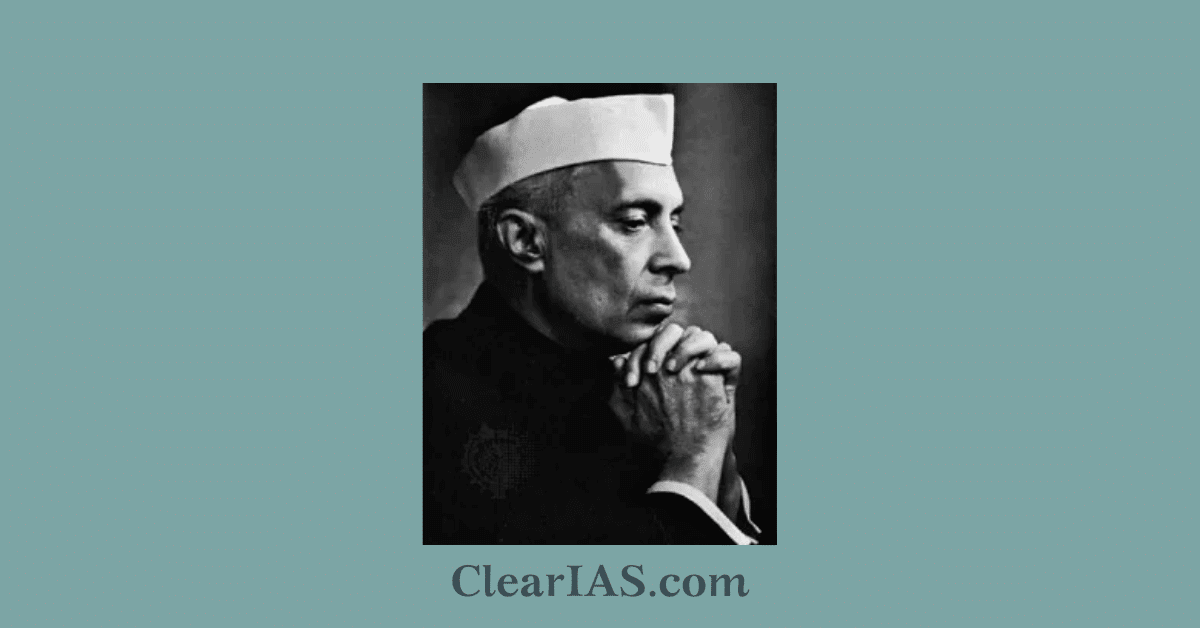 Jawaharlal Nehru was the first Prime Minister of independent India. One of the most prominent leaders of India's Independent Movement, Pandit Nehru is known as the architect of modern India.
Pandit Nehru or Chacha Nehru as he was affectionately called was a nationalist leader, social democrat, author, and humanist.
Nehru was known for his vision, administrative aptitude, and scholastic prowess.
He was a prolific writer and authored books such as 'The Discovery of India' and 'Glimpses of World History'.
Early life of Jawaharlal Nehru
Birth and family:
Jawaharlal Nehru was born in Allabahad on November 14, 1889. He was born into a family of Kashmiri Pandits, who had migrated to Delhi early in the 18th century.
His father was Motilal Nehru, a renowned lawyer, and leader of the Indian independence movement. His mother was Swarup Rani Thussu who was also part of a well-known Kashmiri Pandit family.
Jawaharlal Nehru has two sisters and a brother. His sister Vijay Lakshmi Pandit, later became the first female president of the United Nations General Assembly. His youngest sister, Krishna Hutheesing, became a noted writer and authored several books on her brother.
Education:
Nehru was educated at home by a series of English governesses and tutors until the age of 16.
In 1905 he went to Harrow, a leading English school, where he stayed for two years.
He then attended Trinity College, Cambridge, where he spent three years earning an honors degree in natural science. On leaving Cambridge he qualified as a barrister after two years at the Inner Temple, London.
As a student, he had been interested in the struggle of all nations that suffered under foreign rule. He took a keen interest in the Sinn Fein Movement in Ireland.
The political journey of Jawaharlal Nehru
He returned to India in 1912 and plunged straight into politics. Here, he was inevitably drawn into the struggle for independence. He enrolled as an advocate of the Allahabad High Court, but he had very little interest in the profession, unlike his father who was a successful barrister.
1912: Nehru attended the Bankipore Congress session as a delegate. The Congress party at that time consisted of moderates and elites, and Nehru immediately doubted the effect they could have on Indian society. But he agreed to work with the party in support of the Indian Civil Rights movement led by Gandhi in South Africa.
1914-15: World War I broke out and there were feelings among Indians regarding the war. Nehru worked as a volunteer for the St. John Ambulance during the war.
Nehru grew through the war years as a leader whose political views were considered radical. The political discourse at the time had been dominated by moderates like Gopal Krishna Gokhale, who considered independence a far-fetched idea.
The death of Gokhale in 1915 led to the fading out of moderate ideology and the political stage was taken over by radical leaders like Bal Gangadhar Tilak and Annie Besant who started the Home Rule movement.
1916: Jawaharlal Nehru met Gandhi Ji for the first time in the Lucknow session of Congress. He is said to have been inspired by the senior.
Nehru also got married to Kamala Kaul in 1916 and had a daughter Indira Priyadarshini in 1917.
1919: Nehru became the secretary of the Home Rule League, Allahabad.
1920: He organized the first Kisan March in the Pratapgarh District of Uttar Pradesh. He was twice imprisoned in connection with the Non-Cooperation Movement of 1920-22.
1922: Gandhiji called back the Non-Cooperation movement in 1922 due to the Chauri Chaura incident. This caused a rift in Congress and leaders like Motilal Nehru and CR Das formed the Swaraj Party, while Jawaharlal Nehru remained loyal to Gandhiji's decision.
1923: Nehru became the General Secretary of the All India Congress Committee in September 1923.
1926: Nehru toured Italy, Switzerland, England, Belgium, Germany, and Russia in 1926. He attended the Congress of Oppressed Nationalities in Brussels, Belgium as an official delegate of the Indian National Congress.
He also attended the tenth-anniversary celebrations of the October Socialist Revolution in Moscow in 1927.
1928: He was lathi-charged in Lucknow in 1928 while leading a procession against the Simon commission.
On August 29, 1928, he attended the All-Party Congress and was one of the signatories to the Nehru Report on Indian Constitutional Reform, named after his father Motilal Nehru.
He also founded the 'Independence for India League' along with Subhas Chandra Bose, which advocated complete severance of the British connection with India, and became its General Secretary.
Jawaharlal Nehru's presidency of INC sessions
1929: Nehru was elected President of the Lahore Session of the Indian National Congress, where complete independence for the country was adopted as the goal. At midnight on New Year's Eve 1929, Nehru hoisted the tricolour of India upon the banks of the Ravi in Lahore.
He drafted a resolution, Fundamental Rights and Economic Policy in 1929-31 which had the core aims of the Congress and the future of the nation.
The resolution was ratified by the Congress party in the Karachi Session, 1931, chaired by Saradar Vallabhai Patel.
He was imprisoned several times during 1930-35 in connection with the Salt Satyagraha and other movements launched by Congress. He completed his Autobiography in Almora Jail on February 14, 1935.
1936-38: Nehru traveled to Europe again due to his wife's illness. But this trip also sparked his interest in socialism and Marxism.
He was elected President of the Lucknow Session in 1936 again. The Congress party decided to contest the provincial elections of 1937 despite disagreement from Nehru and Gandhi Ji.
Nehru wanted to elevate Maulana Azad, who was also socialist, as the voice of Indian Muslims, but Gandhiji's support of Jinnah and the Muslim league undermined this view of Nehru.
1939: World War II broke out and Viceroy Linlithgow declared India into war without consulting the Indian representatives.
The Congress under Nehru informed the government that it would cooperate with the British but on certain conditions, but the Viceroy rejected the conditions.
On 23 October 1939, Congress called upon the Congress ministries in the various provinces to resign in protest.  Before this crucial announcement, Nehru urged Jinnah and the Muslim League to join the protest, but Jinnah declined.
Civil disobedience, Lahore resolution, and August offer
1940: Jinnah and the Muslim League also passed the Pakistan resolution in 1940, demanding a separate Muslim nation called Pakistan.
Linlithgow made the August offer to Nehru offering domino status to India in return for support in World War II. The Indian leaders rejected the offer calling it incomplete and vague.
Nehru was arrested for offering individual Satyagraha to protest against India's forced participation in the war. He was released along with the other leaders in December 1941.
The Japanese attack, Cripps Mission, and Quit India movement
In 1942, Japan attacked India through Burma, and the British threatened by the attack decided to hold talks with Indian Leaders.
Prime Minister Winston Churchill dispatched Sir Stafford Cripps, a member of the British War Cabinet who was politically close to Nehru and also knew Jinnah, with proposals for a settlement of the constitutional problem. Cripps's mission failed, however, for Indian leaders under Gandhi and Nehru would accept nothing less than independence.
1942: Nehru moved the historic 'Quit India' resolution at the All India Congress Committee session in Bombay.
On August 8, 1942, he was arrested along with other leaders and taken to Ahmednagar Fort. This was the longest and last of his detentions.
1945: He was released in January, after which he organized legal defense for the officers and men of the Indian National Army (INA) charged with treason.
1946: He was elected President of the Congress for the fourth time on July 6, 1946, and again for three more terms from 1951 to 1954.
Cabinet mission and the interim government
A final attempt was made by the viceroy Wavell to bring the Congress Party and the Muslim League together, which failed. The Labour government that had meanwhile displaced Churchill's wartime administration sent a Cabinet Mission to India and later replaced Lord Wavell with Lord Mountbatten.
1946: The Cabinet Mission was sent to India to propose a plan for the transfer of power. This led to elections to provincial assemblies, and members elected members of the constituent assembly. An interim government headed by Jawaharlal Nehru as Prime Minister. The Muslim league joined the government later with Liaquat Ali Khan as Finance minister.
On August 15, 1947, India and Pakistan were partitioned as two separate independent countries.
Jawaharlal Nehru: The first Prime Minister of India
Jawaharlal Nehru took office as Prime Minister of independent India on 15th August and his inaugural address was called 'Tryst with Destiny'.
1947: Nehru declares that no princely state would exist in independent India and that they need to join the constituent assembly. He made Vallabhbai Patel and V.P. Menon in charge of integrating the states, in which they were successful.
1950: The new Constitution of India came into force on 26th January 1950 making India a sovereign democratic republic.
1952: The first elections under the new constitution of India were held. Congress Party under Nehru's leadership won the elections and formed the first elected government of the Republic of India.
1952-57: Second Nehru Ministry at the Centre
Jawaharlal Nehru appointed the States Reorganization Commission in 1953 to organize states on a linguistic basis. This commission was headed by Justice Fazal Ali.
He advocated democratic socialism and encouraged India's industrialization by implementing the first five-year plans. He attempted to push the development by undertaking both agrarian reforms and industrialization together.
1958-62: Third Nehru Ministry at the Centre
The Congress party won the 1957 and later 1962 elections as well. Nehru served as Prime Minister of India for three consecutive terms, for 17 years.
He annexed Goa into India from the Portuguese occupation in 1961 after years of failed negotiations. He was lauded and criticized for the use of force internally and externally.
The Sino-Indian War of 1962 was a troubled time under his last term as Prime Minister.
Death of Jawaharlal Nehru
He died of a heart attack on 27 May 1964.
Lal Bahadur Shastri took over as the second Prime Minister of India.
Nehru's legacy
Nehru was popular among the citizens of India as well on a global level. His secular approach to politics contrasted with Gandhi's religious and traditionalist attitude. Because of his modern political and economic outlook, he was able to attract the younger intellectual crowd of India to the independence movement against the British.
Nehru embarked India on modern lines while keeping in touch with traditional Indian aspects. He imparted modern values and ways of thinking, which he adapted to Indian conditions.
He stressed secularism and the basic unity of India, despite its ethnic and religious diversities. He was deeply concerned with carrying India forward into the modern age of scientific discovery and technological development.
Nehru wanted his people to have an awareness and social concern for the poor and the outcast and respect for democratic values.
He was particularly proud of the reform of the ancient Hindu civil code that finally enabled Hindu widows to enjoy equality with men in matters of inheritance and property.
The Kashmir problem remained a perennial throughout Nehru's term as prime minister.
He had a great love for children and was fondly called Chacha Nehru. His birthday is celebrated as Children's Day in India.
He encouraged and advanced India's education by establishing the top-tier institutions of India including the Indian Institute of Technology, All India Institute of Medical Sciences, India's first Space Program, etc.
His former residence, the Trimurti Bhavan has been converted into a museum giving a glimpse of the former prime minister's life.
International relations under Nehru
His most important contribution to geopolitics is considered the Non-alignment moment (NAM). India and a few other countries decided to not align with any superpower during the Cold War era post World War II.
However, Nehru's popularity saw a decline when India was the only nonaligned country to vote with the Soviet Union on the invasion of Hungary in the United Nations. At last, the Sino-Indian War of 1962 forced Nehru to divert fully from the NAM to procure help from the Western forces.
In 1954, Nehru signed the Five Principles of Coexistence with China known as Panchsheel in India. India recognized Chinese sovereignty over Tibet with this. Relations with China under Nehru's leadership saw many ups and downs throughout.
Literary works by Nehru
He authored many books in his lifetime, to name a few-
The Discovery of India
Glimpses of the world
An Autobiography
Letters from a father to his daughter
All through his 17 years in the prime minister's office, he held up democratic socialism, emphasizing that India needed to achieve both democracy and socialism. The four pillars of his domestic policies were democracy, socialism, unity, and secularism. He successfully integrated these pillars into the building of modern India.
Also read: August Offer: A breakpoint in India's freedom struggle